Winter 2014
The Connection
Neighbors Helping Neighbors in Need

2014 has been a successful year for our volunteers and care receivers. Our volunteers were an important part of helping our frail elderly and adults with disabilities to maintain independence and quality of life. In 2014, our 105 adult and 31 student volunteers have:
Supported 135 Care Receivers
Driven more than 48,000 miles
Logged more than 4,500 hours
Provided Money Management support to 60 clients
Thank you for all you do in support of LVC's mission. The LVC staff looks forward to another successful year working side-by-side with all our volunteers.

With handmade quilts, volunteers seek to comfort cancer patients
By Caitlin Gibson, Washington Post, November 9, 2014
In a quiet Leesburg library on a recent November afternoon, a small group of teenage volunteers carefully folded stacks of brightly colored quilts, meticulously stitched and donated by quilters from Loudoun County and beyond with hopes of comforting cancer patients and survivors.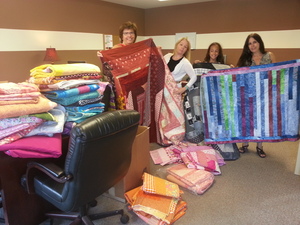 The quilt drive was organized by Purcellville business owner Carly Mul and Loudoun Volunteer Caregivers, a Leesburg-based nonprofit organization that helps ailing, disabled and elderly adults maintain independence and quality of life. The initiative was organized this year to warm the bodies and lift the spirits of people who are facing or recovering from a life-threatening illness in Loudoun.

"This was a very special project, because a lot of the quilters themselves are going through treatment, or have gone through treatment, or have buried someone they love due to cancer," said Mul, who owns Web Fabrics, a quilting and fabric store.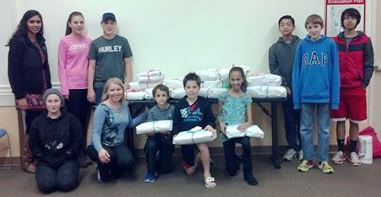 Mul said she was struck with the idea to organize the quilt donation drive last year after reading a CNN story about Richard Nares, a grieving father in California who lost his 3-year-old son, Emilio, to leukemia. Nares, who understood the demands of taking a child to the hospital for frequent appointments, created a transportation service called Ride With Emilio to help parents take their children to and from chemotherapy appointments.

Mul said she was touched by the story and inspired to help cancer patients in a different way. Her father had battled cancer, and she remembered how he had often felt cold when he was away from home or traveling to doctor's appointments.
"I thought, 'Wouldn't it be nice to make quilts for people who are going through this?' I wanted this to be a community support for cancer patients who are cold and struggling," she said.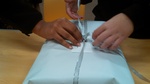 She contacted Loudoun Volunteer Caregivers this year and spoke to the organization's executive director, Susan Mandel Giblin, who was immediately enthusiastic.
"We help a lot of people with cancer," Giblin said. "Some of them are going through chemotherapy and radiation; some are cancer survivors. So we loved the idea and told her yes, we'd love the help."
Note: LVC student volunteers have delivered 11 quilts to our cancer patients to include our care receivers and volunteers. Photos by LVC.
LVC collaborating with Area Agency of Aging
In 2015, LVC will be working even more closely with
Area Agency of Aging
by enhancing LVC's supportive services; providing care receivers a handyman service...or...better put... assisting a care receiver in need to complete their "honey do" list.
The idea was inspired by LVC volunteer, Jack Capurso. Jack loves to "putz around" fixing anything that needs to be repaired. Jack has helped many of our care receivers with chores such as changing light bulbs, and fixing bird feeders. LVC and AAA agreed that there is a huge service to be provided for our elderly. A memorandum of understanding is currently being worked to allow AAA to provide LVC with referrals of elderly that need LVC volunteer support. Jack will be working closely with Barb Mendoza, LVC's Supportive Services coordinator, to assess the scope of the chores. More information on the enhanced supportive services program will be provided to our volunteers as we get closer to finalizing all the details.
LVC celebrates 2014 at the Volunteer Holiday Party
LVC Board of Directors and staff hosted their Volunteer Holiday party on Thursday, Dec. 18 at the Exeter Clubhouse. Hugh Forsythe, Board of Directors chair, thanked all the volunteers for their dedication and hard work thoughout 2014.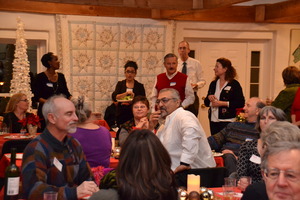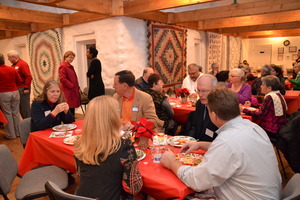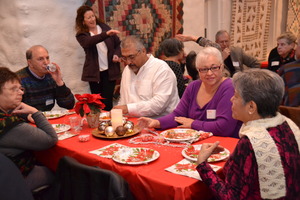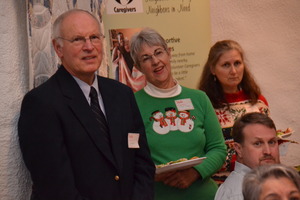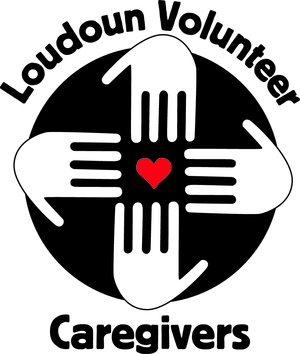 LVC welcomes our newest volunteers

Dan Cousino
Kristine DiLallo
Susan Everhart
Bianca Jackson
Sean Kim
Duaga Nallappa
Badri Narrayen
Miriam Nasuti
Jennifer Rashap
Eunjung Seok
Tracy Ware
Patty White
Who We Are
Loudoun Volunteer Caregivers is a 501(c) (3) non-profit organization of more than 220 volunteers from Loudoun County who help frail elderly and disabled adults maintain independent living. Caregivers provides a wide range of support services including transportation to medical appointments, grocery shopping, errands, household chores, special outings and help with managing personal financial affairs.

LVC Mission
Loudoun Volunteer Caregivers is a community of volunteers helping frail elderly and adults with disabilities to maintain independence and quality of life.
Ways to Help
Volunteer - Choose how much time and what services you'd like to provide. Email
info@lvcaregivers.org
to learn more about volunteering or to RSVP for a volunteer orientation.
Refer elderly or disabled Loudoun residents to the LVC.
Make a donation. Loudoun Volunteer Caregivers is a non-profit organization and all contributions are tax deductible.
Participate in your company's matching grant program and/or with the United Way campaigns. Loudoun Volunteer Caregivers' designation is #8497.
Offer in-kind donations of services or goods, from office help to office supplies, gas cards, and anything in between.
Host a Getting to Know LVC Event at your congregation, office, homeowners association or civic group. This hour-long presentation is informational only -- it is not a solicitation.
Include a gift to Loudoun Volunteer Caregivers in your will or estate plan
LVC BOARD OF DIRECTORS
CHAIR, Hugh Forsythe
VICE-CHAIR, Lisa Kimball
Secretary, Kathy Fetzer
Treasurer, Keith Leveret Wauchope
Mitchell Jacobson
Sandy Shihadeh
Patty White
Susan Mandel Giblin, (Executive Director)
LVC STAFF
Denise Forgione, Money Management Coordinator
Barbara Mendoza, Volunteer, Non-Medical Transportation, Supportive Services, and Loudoun Interfaith Relief Coordinator
Felicia Barber, Medical Transportation Coordinator
Davanna Black, Programs Assistant and Student Volunteer Coordinator
Mike Forgione, Money Management Assistant