Winter 2016
The Connection
Neighbors Helping Neighbors in Need

Loudoun Volunteer Caregivers - 2015 Highlights
In 2015, LVC's 175 adult volunteers and 45 student volunteers provided transportation and supportive services to 264 care receivers, money management services to 64 clients, drove 74,825 miles, and volunteered 6,500 hours! See the article below on more of our 2015 highlights!

LVC - 2015 Highlights
On October 20th, 2015, past and present staff, volunteers, supporters and friends gathered at River Creek Club in Leesburg to mark the 20th Anniversary of LVC serving the Loudoun County community. Nearly 100 guests celebrated the event with a lovely dinner, silent auction and dancing.
Retired Judge Thomas Horne delivered a moving, touching, funny and poignant speech, in which he said, "Volunteering is about the joy we get from doing something because we want to do it, not because we have to in order to make a living… "

LVC helps people from all walks of life in Loudoun County:
We were able to help almost 30 care receivers get to chemo and radiation treatment sessions in 2015. We helped over 65 mentally challenged or disabled adults manage their finances and live within a budget, while putting savings away for the future.

LVC volunteers drove almost 65,000 miles and gave over 7,000 hours of service so that elderly and disabled care receivers could remain in their own homes.

Our volunteers do so much more than driving. One volunteer takes an elderly man to the movies each week. Another brings an elderly woman to her hair appointment, her outing for the week. Still others go and read to bed-bound disabled care receivers.

Our new Chore Corps program helped dozens of elderly and disabled home owners with minor home repairs, ranging from building a new playset for the children of a young father with ALS, to repairing a sink and toilet, to replacing batteries in a ceiling smoke detector.

In addition, LVC has become a member of the Presidential Volunteer Serivce Award. This award celbrates the impact we can al lmake in bettering our communities and our world. This distinction is highly regarded as one of the highest awards that the President of the United States can give someone who donates time and resources to help others. Those qualified and recieved the award: Denise Forgione, James Galvin, David Mendoza, Barbara Mendoza, Rex Jaeschke, Allen Nissen, Cecilia Alcabay, Jack Capurso, Michael Forgione, Peggy Kopp, Evelyn Rollison, Steve Proux, Lee Stone and Pam Smarga.

LVC is so grateful for all our volunteers who made 2015 sucessful. "We look forward to working with each of you in 2016 to ensure our care receivers continue to receive the best services our office can provide," said Susan Mandel-Giblin, executive director.

Paredes, Wilkens, Stubin named LVC's Volunteers of the Quarter
LVC has named their three volunteers of the quarter for the months of October, November and December.

Medical Transportation Volunteer of the Quarter is Erlin Paredes. Erlin has been a volunteer with Loudoun Volunteer Caregivers for 12 years. She has helped many of our care receivers through the years with medical appointments, dialysis transportation, light house keeping, Loudoun Interfaith Food deliveries, shopping and visiting.

Erlin is currently helping an elderly care receiver with dialysis treatments. She transports Mr. Willie Tuesday, Thursday and Saturday to dialysis at 7:30 in the morning and home again in the afternoon. "She is always eager to assist those in need and lending a helping hand in most all of our programs," said Davanna Black, Medical Transporation coordinator. "It is with volunteers like Erlin that dedicate so much to LVC that has made us a success with helping our neighbors in need."

Bob Wilkens has been named as the Supportive Services Volunteer of the Quarter. Bob has been an active volunteer within the Chore Corps program of Loudoun Volunteer Caregivers since May 2015.

Most recently Bob has graciously given over 10 hours of his time, and drove over 100 miles, to assist an elderly community member to move out of her home after she had significant medical issues. Despite challenging circumstances, Bob maintained a caring and patient attitude, and went above and beyond what was expected. According to Betsy Johnson, Supportive Services coordinator, "It is volunteers like Bob that inspire us to continue working hard to serve our elderly and disabled community members!"

Jeff Stubin has been selected as the Money Management Volunteer of the Quarter. Jeff is a true advocate for his Care Receiver. He has looked out for the finances of the same individual for nearly six years. "He always works as a team with the Care Receiver's case manager and family to ensure that all of the financial obligations are more than taken care of," said Denise Forgione, Money Management coordinator. "Jeff makes sure that his Care Receiver is prepared for yearly County re-evaluations – in fact, prefers to attend them himself to make sure that all the information provided is accurate."

Thank you Erlin, Bob, and Jeff for your dedication, love and caring nature for oujr Care Recievers!

LVC honors Denise Forgione;
Denise retires after more than 4 years with LVC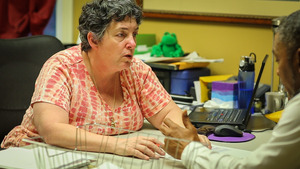 Denise Forgione has retired on January 1 after serving as the Money Management coordinator for more than 4 years.

A native from Jersey City, NJ, she began working with LVC in June 2011 after retiring from Alcatel-Lucent Technologies. Growing the Money Management program from 12 to 64 care receivers, Denise provied assistance to vulnerable low-income persons with few financial resources, yet who are the most vulnerable to financial exploitation or neglect. In addition, Denise managed a group of dedicated and trained volunteers who give their time to help with budget management for those in need.

We bid a fond and sad farewell to Denise and thank her for four and a half years of dedication to and the growing of the LVC Money Management Program, said Susan Mandel-Giblin, Executive Director. "We will miss you and Mike but wish you all the best! Thank you for giving your heart and love to LVC! We love you!"

Denise will continue to volunteer as a Rep Payee. We wish her and Mike the best in their future endeavors and look forward to seeing them at our upcoming LVC events!
LVC Staff Changes as of January 1
LVC has made several staff changes effective January 1. They are:

Barbara Mendoza - Money Management Coordinator
Evie Manuel - Money Managment Assistant
Betsy Johnson - Volunteer and Supportive Services Coordinator
Michelle McKnight - Program Assistant

Please be sure to reach out to the above personnel for the services listed at (703) 779-8617.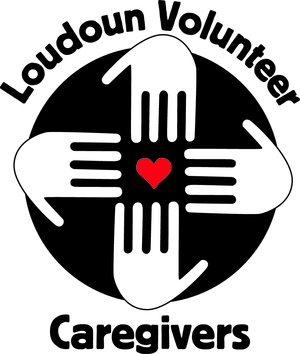 LVC Welcomes our Newest Volunteers



Laura Arrowsmith

Tom Arrowsmith

Jeff Coyle

Eyoel Defare

Bernadette Diep

David Dembrow

Karen Forbes

Paul Fraker

Debra Gdowik

Jerry Krumwiede

Kristy Pittas

Melissa Schlafman

Mary Swartzbaugh

Christiane Wiles

Marcus Williams
Who We Are
Loudoun Volunteer Caregivers is a 501(c) (3) non-profit organization of more than 220 volunteers from Loudoun County who help frail elderly and disabled adults maintain independent living. Caregivers provides a wide range of support services including transportation to medical appointments, grocery shopping, errands, household chores, special outings and help with managing personal financial affairs.

LVC Mission
Loudoun Volunteer Caregivers is a community of volunteers helping frail elderly and adults with disabilities to maintain independence and quality of life.
Ways to Help
Volunteer - Choose how much time and what services you'd like to provide. Email
info@lvcaregivers.org
to learn more about volunteering or to RSVP for a volunteer orientation.
Refer elderly or disabled Loudoun residents to the LVC.

Make a donation

. Loudoun Volunteer Caregivers is a non-profit organization and all contributions are tax deductible.

Participate in your company's matching grant program and/or with the United Way campaigns. Loudoun Volunteer Caregivers' designation is #8497.

Offer in-kind donations of services or goods, from office help to office supplies, gas cards, and anything in between.

Host a Getting to Know LVC Event at your congregation, office, homeowners association or civic group. This hour-long presentation is informational only -- it is not a solicitation.

Include a gift to Loudoun Volunteer Caregivers in your will or estate plan
LVC BOARD OF DIRECTORS
LVC STAFF
Susan Mandel Giblin, Executive Director

Davanna Black, Transportation and Youth Volunteer Coordinator

Barbara Mendoza, Money Management Coordinator

Evie Manuel, Money Management Assistant

Betsy Johnson, Volunteer and Supportive Services Coordinator

Michelle McKnight, Program Assistant