Summer 2015
The Connection
Neighbors Helping Neighbors in Need

Loudoun Volunteer Caregivers - Upcoming Events
June 15: LVC Night @ the Wine Kitchen (WK) Hearth Purcellville - 5:30 - 8:30 p.m. Tickets: $35 in advance or $40 at the door includes 2 glasses of wine and light fare, delightful conversation and networking. Soft drinks available for non-drinkers. Call 703.779.8617 to get your tickets!

August 15 - 16: Lucketts Fair - (Volunteers Needed)

October 20: LVC 20th Anniversary Gala - River Creek Club. 6-10:00 p.m. Tickets on sale NOW! $75 per person, includes dinner, dancing, cash bar, silent auction and raffle! Call 703.779.8617 to reserve your tickets! Sponsorship opportunities are also available. Call or email Susan for more details (smandelgiblin@lvcaregivers.org)

LVC names Dottie Stackhouse as LVC Volunteer of the Year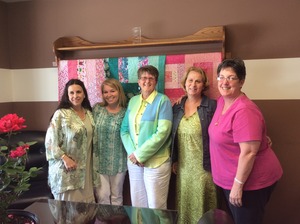 Loudoun Volunteer Caregivers is ending their Fiscal Year June 30 and they are pleased to announce their FY15 Volunteer of the Year Ms. Dottie Stackhouse.

Dottie joined LVC in January 2011 and she said then, when she retired she was fortunate to have the time to spend with her mother that she didn't have when she was in the working world. "I cared for her for two years until she passed, and her passing left a huge hole in my heart and a lot of time on my hands," said Dottie. "I scanned the web for volunteer opportunities and felt that Loudoun Volunteer Caregivers seemed to be where I could offer the most."

"It was through Caregivers that I met Mamie, my favorite care receiver by far. For two years I transported Mamie to her many medical appointments, hair appointments, and we had lunch together on many occasions," continued Dottie. "Mamie took my Mother's place even though she was nothing like my Mother except in her heart. They are now both gone but caring for Mamie fulfilled the loss I felt when I joined Caregivers. I've gone on to meet many other wonderful people through my volunteer work with Caregivers and their expression of appreciation for my time is the best part."

"Dottie is a very special and dedicated volunteer who has gone over and beyond helping our care receivers in many of our service program areas," said Executive Director, Susan Mandel Giblin. As a Loudoun Volunteer Caregiver volunteer, she signed up to help the elderly, disabled adults, and those battling long term illness, maintain independence by providing them with rides to doctor's appointments, companionship and support," said Susan.

LVC celebrates 20 Years in 2015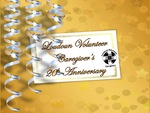 LVC is celebrating 20 years in 2015. To mark the event, LVC Board and Staff will be hosting a 20 Year Gala on Tuesday, Oct. 20 at the River Creek Club.

"We are very excited about the 20 Year Gala and we are looking forward to celebrating with our past and current Board Members, volunteers, care receivers, and community," said Susan Mandel Giblin, LVC's executive director. "We have so much planned for the evening, including a wonderful dinner, our distinguished guest speaker, retired Judge Thomas Horne, music, silent auction, and raffles!"

Tickets to the event are on sale NOW for $75 per person. Call (703) 779-8617 to reserve your tickets!. Stay tuned for updated communique from Susan on more details of the event.

LVC holds Interfaith Teen Night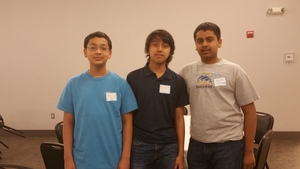 LVC Student Volunteer program hosted a Interfaith Teen Night on Saturday, April 11, with more than 30 people in attendance.

"We had an amazing event and we started off the evening with a Havdalah prayer then transitioned to food and sharing of faiths," said Davanna Black, LVC's Student Volunteer coordinator. "We had four different speakers from the Ba'hai, Muslim, Jewish and Christian communities. Everyone came away knowing a little more about each other's religion and beliefs."

The group also discussed and listened on how each faith how cares for the elderly and disabled. "I was touched at how this subject was given much consideration and thought. Two of the speakers brought their older parents along to share in the evening," said Davanna.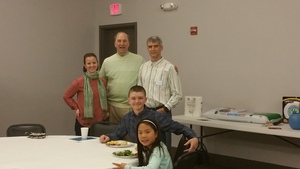 Games were also played during the event with winners receiving prizes. The first game called,"I Never Ever... (fill in the blank)" was led by Aylie Giblin. The next game was people bingo. "The kids had much fun socializing and some of the answers were insightful, funny and thoughtful," said Davanna.

One student who spoke from the Ba'hai congregation was so impressed with the event, he sent an email to a LVC Board Member, Mitchell Jacobson:

"Hi Mitch, I just wanted to thank you SO much for thinking to ask Riley about giving this talk. This opened some doors for us that I feel very grateful for. I picked up the paperwork for both Riley and I to begin volunteering with this program. And I realized while we were there, that I really enjoy the environment of interfaith activities, and I would love to be more involved in those activities. I will pay more attention to the emails sent out about those types of activities, but if there's anything coming up that might not be in an email I'd love to know."

To learn more about our Student Volunteer program, contact Davanna Black at dblack@lvcaregivers.org.
MONEY MANAGEMENT PROGRAM VOLUNTEERS ROCK!
10 Ten Reasons to Become a Rep Payee Volunteer
#10 It's easy and can be done at home
#9 If we don't, who will? There are very few free Representative Payee services in Loudoun County.
#8 A person required to have a Rep Payee will not get their monthly checks until they have a Rep Payee.
#7 To remove the panic and anxiety from care receivers who stress out over not being able to handle their money.
#6 To help care receivers save for items they have never been able to save for before such as furniture or expensive medical items such as orthopedic shoes
#5 To keep people living in the community as long as possible by paying their bills on time.
#4 To prevent people from being financially abused, scammed, or taken advantage of.
#3 To advocate for those who cannot advocate for themselves.
#2 To help pay back thousands of dollars to Loudoun County Community Services Board and local doctors
#1 To prevent homelessness

To learn more about our Rep Payee program, contact Denise Forgione at dforgione@lvcaregivers.org

LVC volunteers build playset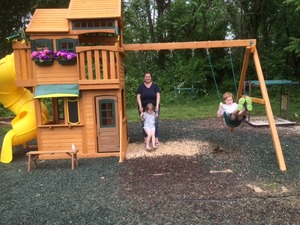 Over a span of 7 days and 95 hours, LVC volunteers built a playset for one of our disabled care receiver's children. A huge thank you goes to Dave Mendoza, project manager, Skip Friedhof, Bernadette Wladyka, Steve Proulx, Sam Devonshire, Joe Vega, and Bob Enright! You have brought many smiles for two little kids, Madison and Matthew!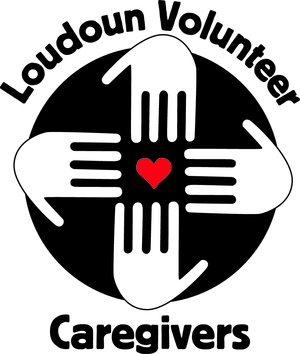 LVC welcomes our newest volunteers

Anne Anderson
Aaron Beaule
Roslyn Beaule
Michael Black
Ryne Black
Rick Ciotti
Sam Devonshire
Erin Jennings
Julie Nguyen
Harshini Pyata
Steve Proulx
Mazier Shahbazi
Joseph Vega
Joanie Walker
Robert Wilkens
In Rememberance
One of our volunteers, Mary Ann Ormes, passed away on June 6. Mary Ann has been a volunteer since August 2010 and supported our Money Management program . She will be greatly missed by our LVC staff and the care receivers she helped. Read more on how Mary Ann impacted our community.
Rest in peace, sweet friend.
Who We Are
Loudoun Volunteer Caregivers is a 501(c) (3) non-profit organization of more than 220 volunteers from Loudoun County who help frail elderly and disabled adults maintain independent living. Caregivers provides a wide range of support services including transportation to medical appointments, grocery shopping, errands, household chores, special outings and help with managing personal financial affairs.

LVC Mission
Loudoun Volunteer Caregivers is a community of volunteers helping frail elderly and adults with disabilities to maintain independence and quality of life.
Ways to Help
Volunteer - Choose how much time and what services you'd like to provide. Email
info@lvcaregivers.org
to learn more about volunteering or to RSVP for a volunteer orientation.
Refer elderly or disabled Loudoun residents to the LVC.
Make a donation. Loudoun Volunteer Caregivers is a non-profit organization and all contributions are tax deductible.
Participate in your company's matching grant program and/or with the United Way campaigns. Loudoun Volunteer Caregivers' designation is #8497.
Offer in-kind donations of services or goods, from office help to office supplies, gas cards, and anything in between.
Host a Getting to Know LVC Event at your congregation, office, homeowners association or civic group. This hour-long presentation is informational only -- it is not a solicitation.
Include a gift to Loudoun Volunteer Caregivers in your will or estate plan
LVC BOARD OF DIRECTORS
CHAIR, Hugh Forsythe
VICE-CHAIR, Lisa Kimball
Secretary, Kathy Fetzer
Treasurer, Keith Leveret Wauchope
Jim Galvin
Mitchell Jacobson
Sandy Shihadeh
Patty White
Susan Mandel Giblin, (Executive Director)
LVC STAFF
Denise Forgione, Money Management Coordinator
Barbara Mendoza, Volunteer and Supportive Services Coordinator
Davanna Black, Transportation Coordinator and Student Volunteer Coordinator
Michelle McKnight, Program Assistant (Temp)
Mike Forgione, Money Management Assistant