Loudoun Volunteer Caregivers
The Connection
Summer 2016
"Neighbors Helping Neighbors in Need"

Loudoun Volunteer Caregivers - 2nd Quarter Highlights
In the months of April, May and June, LVC's 175 adult volunteers and 45 student volunteers provided transportation and supportive services to 145 care receivers, money management services to 60 clients, drove 16,689 miles, and volunteered 1,403 hours! Thank you Volunteers!!

NVRideScheduler Update
Loudoun Volunteer Caregivers has a new feature in our NVRideScheduler computer system. Automated reminder calls (from a California area code phone number) about your scheduled ride or service will occur around 5:00 pm the day before your ride/service. Volunteers are still encouraged to reach out to caregivers once they pick up an assignment to introduce themselves.

In addition, all volunteers are to record their mileage. Volunteers can either call or email the office after their assignment or go into NV RideScheduler and put the total miles driven beginning and returning to your residence.

If you have any questions, please call our office at (703) 779-8617.

LVC Year in Review (Fiscal Year 2015-16)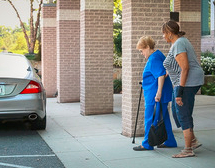 From July 1, 2015 to June 30, 2016, 180 LVC volunteers helped 276 unique care receivers with almost 5,300 services. They drove over 74,500 miles and gave almost 6,200 hours in service helping our care receivers to remain living independently.

Our volunteers provide assisted transportation to medical appointments, personal money management, and supportive services – including grocery delivery and trips to the bank as well as minor home repairs; all-important support necessary for our care receivers to remain in their own homes.

Without Caregivers, many of our care receivers would have to move into assisted living facilities and nursing homes in order to get to their appointments, obtain groceries, receive companionship and manage their finances. Often, we are these care receivers and their families' last hope.

Our services allow the disabled and frail elderly who no longer drive and are physically unable to ride a bus to get to their doctors' offices by vetted, insured, reliable, trustworthy volunteers. Caregivers is the only program in the county providing these services to these people without income barriers and without any charge. Our services also ensure our care receivers get groceries and supplemental food on a regular, ongoing basis. Sixty-eight volunteers delivered food to 57 care receivers; twice a month from Loudoun Interfaith Relief the local food pantry, and groceries from local stores.

We increased the number of individuals we serve by nine percent during FY 2016, just shy of our goal of 10 percent.

LVC Recognizes Steve Proulx as our Voluteer of the Year
Loudoun Volunteer Caregivers ended their Fiscal Year June 30, and they are pleased to announce their FY16 Volunteer of the Year Mr. Steve Proulx.

Steve joined LVC in April of 2015 after he retired from the federal government. He has been actively involved in all areas of service including routine medical transportation, dialysis and cancer transportation, shopping and errands, food delivery, money management, and the Chore Corps program. Read his story below:

"After 35 years of service in the federal government, I decided to move on. I can honestly say that, for the most part, I had a great career and many interesting experiences. But just as honestly I can say the last couples of years before I retired I had completely lost interest. Something inside of me had shifted and I couldn't quite put my finger on what it was. I knew I needed to do something else and I kept having the same thought, "It's time to feed the soul". I had no idea what that meant or where it came from but knew one thing for sure, I wasn't going to find the answer where I was. So, much to the dismay of those closest to me, I decided to retire but not without the fears of what was I going to do after I retire? Will I have enough money? Will I drive my wife nuts?

"While I did retire I also caved into the fears. I took one of those beltway bandit consultant/contractor jobs and ended up pretty much right back where I was, just a couple of cubicles down. The money was good, really good, but I hated it. I knew it wasn't what I was supposed to be doing anymore. And the voice telling me that "it's time to feed the soul" was relentless and only got louder the longer I put it off. I still had no idea what it meant to feed the soul but now four words keep coming into my mind: love, compassion, kindness and service.

"After a couple of years I left the contracting world behind and set off to figure out what it was I'm supposed to do now. I wasn't sure what I was going to do about the "love, compassion and kindness" aspects just yet but I thought I could at least start on the "service to others" part by volunteering and see where that would take me.

"I volunteered for a hospice organization for a while and the American Cancer Society's Road to Recovery program but it was with LVC that I finally began to understand what had changed inside of me.

"It took hundreds of hours and thousands of miles with many different "care receivers" until it finally struck me. I never really liked the terms "care receiver" or "care giver" (sorry LVC). Our "care receivers" give us, the volunteers, more than most of them will probably ever know. They give us the opportunity to "walk the walk", to learn and practice to be more compassionate, loving and kind. They give us a chance to experience the essence of whom, I believe, we truly are. They give us the greatest gift of all: the opportunity to feed the soul.

"To Barbara, Betsy, Davanna, Michelle, Susan, all those who came before and will come after- you, YOU are the angels who bring us all together and make these opportunities possible. What greater way to help make the world a better place? And I bow to the biggest angel of them all, my wife. I am her toughest care receiver."

"We cannot thank Steve enough for his sincere dedication to our care receivers," said Executive Director Susan Mandel Giblin. "He demonstrates the ideal characteristics that we hope for in our volunteers by being caring, thoughtful, patient, communicative and reliable. Steve's sacrifice and service is an example to us all, and he has no doubt changed the lives of so many that we help."
Volunteers of the Quarter: Sullivan, Smariga, and Murray
Roxie Sullivan has been selected as the Transportation Volunteer of the Quarter. Roxie has been with LVC since 2014. She is not a stranger to volunteering: Roxie provides administrative services with the Red Cross and Area Agency of Aging (also works a greeter during the tax season); organized Homebound meals – lunch program at Wingler House, and is on the Board and volunteers at the Leesburg Senior Center.

"I get many calls from our Care Receivers that want to thank us for Roxie's help and willingness to go above and beyond to those in need," stated Davanna Black, Transportation coordinator. "One recent Care Receiver called to say that 'Roxie has been such a blessing to me in this tumultuous time. She gives me transportation yes, but provides so much more like support and friendship'. Roxie wears many hats in our community, we are beyond proud to call her our Volunteer of the Quarter for Medical Transportation."

The Supportive Services Volunteer of the Quarter is Pam Smariga. Pam has been an active volunteer for Loudoun Volunteer Caregivers since May of 2012.

Pam is a dedicated volunteer in the joint LVC-Loudoun Interfaith Relief food delivery program. Since starting in 2012, Pam has always carried more than one food delivery care receiver on her schedule, and to date she delivers to seven people twice each month.

"She has been consistently reliable in her deliveries, and makes our job easier by always coordinating her need for a sub in advance. She has demonstrated flexibility with more challenging circumstances, and exudes patience with schedule changes," said Betsy Johnson, Supportive Services coordinator. "It is volunteers like Pam that inspire us to continue working hard to serve our elderly and disabled community members! Thank you Pam for your hard work, reliability, and your thoughtful nature!"

LVC's Money Management Volunteer of the Quarter is Jack Murray. Jack has been a volunteer with LVC since May 2009. He volunteers for the Money Management program and responsible for making sure his clients' bills are paid on time.

"During this last quarter, Jack has really taken a more active role with making sure our clients' needs were being met. With the new administrative changes in the program, Jack was very receptive and has taken on a more active role as a volunteer," said Barb Mendoza, Money Management coordinator.

"Thank you Roxie, Pam, and Jack for your dedication, love and caring nature for our Care Recievers," said Betsy, who also serves as LVC's Volunteer coordinator. "It is important to the staff at Loudoun Volunteer Caregivers to acknowledge and honor our volunteers who put forth great effort to serve our Care Receivers."

Student Caregiver Program Voluteer of the Quarter and Updates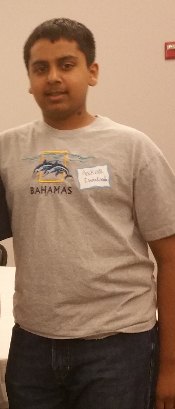 Congratulations to Aniketh Danakonda who has been selected as LVC's first-ever Student Caregiver Program Volunteer!

"Aniketh is a self-starter, great student, and innovative young man. He has come up with wonderful ideas that we have implemented into our Student Caregiver Program,' said Davanna Black, program coordinator.

Aniketh participated in all of our student activities and is always one of the first to offer help. His cheerful demeanor and can do attitude has made him a stand out in our program. Thank you Anikeith for all you do to help our community!"

Student Youth Caregiver Upcoming Events:
Back To School Luau
Sunday, August 29th from 11:00 to 2:00 at the Exeter Clubhouse, 350 Plaza Street NE, Leesburg.
Fun for the whole family!

Super Smash Bros Tournament
Friday, September 9th
6:00pm to 9:00pm
Evergreen Adventure Park in Leesburg
$15.00 to Enter

Care Receiver Picnic!
Saturday, September 17th
Algonkian Park, Sterling
11:00 am to 2:00 pm

Interfaith Teen Night
October 23rd
More Details to Come!

We have had great turn out at our Clubs at Madison House. All are invited to come and join the fun!!
First Saturday of each month from 10:00 to 12:00
Madison House
25 Monroe Street
Leesburg, VA 20175

LVC Calendar and Events
Sept. 10: Live United Way Fundraiser
Sept. 17: LVC Volunteer/Care Receiver Picnic

For more information on the events, contact our office at 703.779.8617.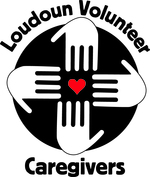 LVC Welcomes our Newest Volunteers
Jacob Benoit
Eileen Connelly
Jhoan Dela Cruz
Traci Davis
Christina Druther
Phil Flowers
Eric Guessford
Gary Herman
Cathleen Hoefler
Christina Kivler
Laura Lissak
Christine Moore
Kesva Naidoo
Gary Peragallo
Kemp Reardon
Maggie Salguero
Dana Seibel
Carolyn M. Walsh
Kristen Yarnelle
In Rememberance

Care Receiver
Charles VanBuskirk

Who We Are
Loudoun Volunteer Caregivers is a 501(c) (3) non-profit organization of more than 240 volunteers from Loudoun County who help frail elderly and disabled adults maintain independent living. Caregivers provides a wide range of support services including transportation to medical appointments, grocery shopping, errands, household chores, special outings and help with managing personal financial affairs.

LVC Mission
Loudoun Volunteer Caregivers is a community of volunteers helping frail elderly and adults with disabilities to maintain independence and quality of life.
Ways to Help
Volunteer - Choose how much time and what services you'd like to provide. Email
info@lvcaregivers.org
to learn more about volunteering or to RSVP for a volunteer orientation.
Refer elderly or disabled Loudoun residents to the LVC.

Make a donation

. Loudoun Volunteer Caregivers is a non-profit organization and all contributions are tax deductible.

Participate in your company's matching grant program and/or with the United Way campaigns. Loudoun Volunteer Caregivers' designation is #8497.

Offer in-kind donations of services or goods, from office help to office supplies, gas cards, and anything in between.

Host a Getting to Know LVC Event at your congregation, office, homeowners association or civic group. This hour-long presentation is informational only -- it is not a solicitation.

Include a gift to Loudoun Volunteer Caregivers in your will or estate plan.
LVC BOARD OF DIRECTORS
LVC STAFF
Susan Mandel Giblin, Executive Director

Davanna Black, Transportation and Student Caregiver Program Coordinator

Barbara Mendoza, Money Management Coordinator

Michelle McKnight, Programs Assistant
The Board and Staff wish Betsy Johnson, our Volunteer and Chore Corps Coordinator, all the best as she leaves LVC and heads back to school to get her Masters at George Mason University. We will miss Betsy and her wonderful laugh, but know that the future looks bright for her. Thank you Betsy!