Neighbors Helping Neighbors in Need

Loudoun Volunteer Caregivers - Upcoming Events
October 20: LVC 20th Anniversary Gala
- River Creek Club. 6-10:00 p.m. Tickets on sale NOW! $75 per person, includes dinner, dancing, cash bar, silent auction and raffle! Call 703.779.8617 to reserve your tickets! Sponsorship opportunities are also available. Call or email Susan for more details (smandelgiblin@lvcaregivers.org)
December 12: LVC Volunteer Appreciation Holiday Party
- LVC will host its annual Volunteer Appreciation Holiday Party on Saturday, December 12 from 5:30 - 8:30 p.m. at the Exeter Club House located at 350 Plaza Street, Leesburg. RSVP NLT Dec. 6 to LVC 703.7779.8617. This party is FREE for all volunteers!

LVC Celebrates 20 Years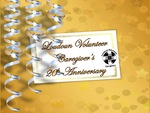 LVC is celebrating 20 years in 2015. To mark the event, LVC Board and Staff will be hosting a 20 Year Gala on Tuesday, Oct. 20 at the River Creek Club.

"We are very excited about the 20 Year Gala and we are looking forward to celebrating with our past and current Board Members, volunteers, care receivers, and community," said Susan Mandel Giblin, LVC's executive director. "We have so much planned for the evening, including a wonderful dinner, music, silent auction, and raffles!"

The guest speaker for the event is The Honorable Judge Thomas Horne (ret.), Lououn Circuit Court. LVC will also present distiguished awards to 15 volunteers for providing more than 100 hours of volunteer service in the last fiscal year.

Tickets to the event are on sale NOW for $75 per person. Call (703) 779-8617 to reserve your tickets!. Stay tuned for updated communique from Susan on more details of the event.

Prouls, Nissen, and Alacbay named LVC's Volunteers of the Quarter
Steve Proulx, Allen Nissen, and Cecilia Alacbay have been named the LVC Volunteers of the Quarter.

Steve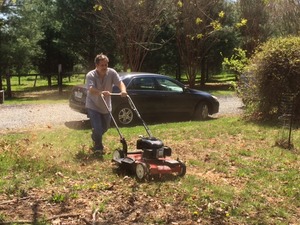 , the Supportive Services Volunteer of the Quarter, is recognized for his work with the Chore Corps program, but also for the transporation services he provides for our care receivers. During this quarter, Steve has volunteered more than 100 hours and drove more than 2200 miles. Care Receiver, Barbara F. said, "I'm so happy to have Steve take me shopping every month and for all the work he does around my house. Without LVC and volunteers like Steve, my life would be much harder."

Allen is being recognized for his volunteer work with the Medical Transportation services. Taking on more than 25 assignments and driving more than 500 miles this last quarter, Allen is always one that LVC can rely on to fill a last-minute assignment. "Allen has a heart of gold and we know we can always count on him," said Davanna Black, Medical Transportation coordinator.

Cecilia, a long-time volunteer for Loudoun Volunteer Caregivers, is being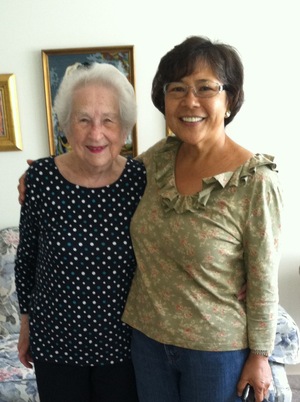 recognized for her work in the Money Managment Program. Her organizational and financial skills make her an ideal volunteer in the Money Management Program where she takes care of four Care Receivers each month. "Her constant smile is a welcome sight for care receivers who need help with transportation and shopping, " said Denise Forgione, Money Management coordinator. "Thank you, Cecilia, for your caring and compassionate way with people and your diligence in making sure those in our Money Management Program can live independently in the community!"


The LVC volunteers do so much for all of our care receivers. It's so hard to just pick one Volunteer of the Year so the staff decided to name three volunteers of the quarter for each quarter of the fiscal year," said Susan Mandel-Giblin, executive director.

Loudoun Volunteer Caregivers play key role in community

by Margaret Brown
Loudoun Volunteer Caregivers
(LVC) plays a vital role in the lives of those who are frail, elderly, sick or food insecure in our county by providing volunteers who take them to doctor's appointments, visit with them or ensure they receive food on a regular basis. The four primary programs that LVC offers are free to those who receive their services. They include:
1.
Food delivery
– In conjunction with Loudoun Interfaith Relief, LVC helps identify those who are food insecure and need supplemental food, but cannot make it to the food pantry. Once Loudoun Interfaith Relief accepts the person(s) into the program, LVC assigns a volunteer who picks up and delivers food twice per month. From January 1 – June 30, 2015, LVC made 809 deliveries for Loudoun Interfaith Relief.
2.
Grocery shopping
– For those who are not food insecure, but are frail, elderly or disabled, LVC volunteers assist with grocery shopping. The volunteer either takes the care receiver shopping or does the shopping for him or her, depending on the situation.
3.
Money management
– LVC helps people who cannot manage their finances, primarily Social Security payments.
4.
Other types of errands
– From 60 to 65 percent of LVC services are transportation to and from doctor's appointments, physical therapy, chemotherapy, dialysis or other appointments.
"The people we serve may be lonely or isolated, so a volunteer may take the care receiver to get a haircut or to lunch," said Susan Mandel Giblin, executive director of LVC. "The grants, such as the one from 100WomenStrong are vital to helping us to meet that need."
This year, 100WomenStrong provided $15,000 to LVC to expand delivery of food and services. Mandel Giblin said that they have used the funds to help grow the number of people they support with services from 55 per month to 63 per month.
"Our mission is to help people stay in their own homes as long as possible," she explained. "They may live in a senior living community, or have their own apartment or home, but cannot get to the doctor, get to the grocery store or get to Loudoun Interfaith Relief's pantry by themselves."
She explained that LVC tries to keep volunteer recruitment and growth at the same levels as growth in care receivers. "We currently have approximately 260 volunteers with a core group of 170 who handle the bulk of the assignments," Mandel Giblin said. "If we bring in five new care receivers, then we want to bring in five new volunteers so we can ensure ongoing support."
She went on to explain that the population receiving LVC support is very mobile, meaning they are not necessarily "permanent" recipients of LVC support. As she explained, recipients move, they pass away, they become too frail to live on their own or they no longer are food insecure.
"We could easily support more people if we had more volunteers," Mandel Giblin explained "For example, over the past six months, we have helped eight different people get to chemotherapy or dialysis treatments. Those visits are three days a week for four hours each treatment, so that amounts to a lot of volunteer hours, a lot of trips and a lot of volunteer miles. We were lucky enough to have 13 volunteers supporting those eight care receivers."
Mandel Giblin said that LVC strives to get to anyone who has need in Loudoun County, and grants make it possible for them to continue to do so.
"We don't charge anything for the errands and other services we provide, and we want to be available to anyone in Loudoun County who may need us," she explained.
(Article reprinted from the 100WomenStrong Spotlight)
LVC Spotlights
Bostian represents LVC at the 4th Annual Senior Spelling Bee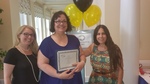 Congratulations to Mary Jane Bostian who represented LVC in the 4th annual Senior Spelling Bee, held at Falcon's Landing on Sept. 10. While she did not win, she stepped up to the plate and did her best, which is all we can ever ask of anyone! And we enjoyed watching all the contestants compete, including Carol, a former LVC care receiver. The killer word was "bouillabaisse".
LVC youth spend time with Madison House seniors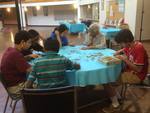 On Saturday, July 11 our Youth volunteers spent time with seniors at the Madison House puzzling. Youth volunteers are a very active part of LVC who mow lawns, visit with seniors, and participate in our events. For more information on the Youth Program, contact Davanna Black at dblack@lvcaregivers.org.


LVC Success Story
Ms. Jane called Loudoun Volunteer Caregivers earlier this year for assistance with getting to medical appointments. We quickly found out that she is a recent widow living in a single family home in Sterling. Ms. Jane is legally blind, uses primarily a wheelchair and lives in a multi level ranch home. Through the years she has managed to work with her disabilities and find ways to be active and self sufficient. She is able to do most everything on her own, but she was so happy when she found Loudoun Volunteer Caregivers. She does not have family in the area and relied heavily on her late husband for her care but most importantly he was her best friend.

During her assessment we discussed her needs which were to get to her much needed medial appointments, but would need assistance with grocery shopping. Knowing that she is disabled I offered our Chore Corps program to her which is sponsored by Loudoun Area Agency on Aging to help with her yard care. Ms. Jane was beyond thrilled, finding LVC was a game changer for her. She is able to stay in her home that she loves and shared with her late husband because of wonderful people in our community who donate time and resources to assist her in this season of life.

Ms. Jane called to use our Chore Corps program about her air conditioning problems. Her system was 20 years old and no longer works and the heat was getting to her. Fortunately, because of our partnership with Loudoun Area Agency on Aging we could refer her to their heating and cooling program. Ms. Jane called in an update on her situation, and not only was she approved but the system is in place. This happened just in time for our late July heat wave. Ms. Jane was very happy and thankful for all of the support, time and dedication to those who have helped her since her husbands passing.

To learn more about our Chore Corps program, contact Barb Mendoza at bmendoza@lvcaregivers.org.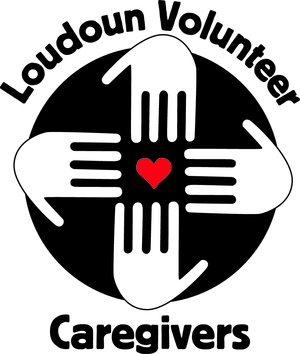 LVC welcomes our newest volunteers
Jill Benhart
Jane Biase
Elizabeth Bryer
Deborah Connor
MaryAnn Courtney
Tracy Croson
David Dillon
Michelle Flynn
Sigrid Fry-Revere
Jim Gill
Noah Harlow
Edna Howard
Faria Jalala
Betsy Johnson
Stephen Johnson
Sarah Klenk
Mary K. Lee
Evie Manuel
Michelle McKnight
Tzailí Mitchell
Byron Pointdexter
Joni Siker
Maggie Steinhilper
Delores Ulrich
Ornella Yasuhara
Robert Wilkens
Lucy Zimmerman
In Rememberance
Mary Caroll, Care Receiver
Mary Derby, Care Receiver
Awatif George, Care Receiver
Jay Kessler Ogden, Care Receiver
Gilbert Powell, Care Receiver

Taps
Day is done, gone the sun,
from the hills, from the sky.
All is well, safely rest,
safely rest, all is well.
Fading light dims the sight,
and a star gems the sky,
Gleaming bright from afar,
drawing nigh, falls the night.
Dear one, rest!
Who We Are
Loudoun Volunteer Caregivers is a 501(c) (3) non-profit organization of more than 220 volunteers from Loudoun County who help frail elderly and disabled adults maintain independent living. Caregivers provides a wide range of support services including transportation to medical appointments, grocery shopping, errands, household chores, special outings and help with managing personal financial affairs.

LVC Mission
Loudoun Volunteer Caregivers is a community of volunteers helping frail elderly and adults with disabilities to maintain independence and quality of life.
Ways to Help
Volunteer - Choose how much time and what services you'd like to provide. Email
info@lvcaregivers.org
to learn more about volunteering or to RSVP for a volunteer orientation.
Refer elderly or disabled Loudoun residents to the LVC.
Make a donation. Loudoun Volunteer Caregivers is a non-profit organization and all contributions are tax deductible.
Participate in your company's matching grant program and/or with the United Way campaigns. Loudoun Volunteer Caregivers' designation is #8497.
Offer in-kind donations of services or goods, from office help to office supplies, gas cards, and anything in between.
Host a Getting to Know LVC Event at your congregation, office, homeowners association or civic group. This hour-long presentation is informational only -- it is not a solicitation.
Include a gift to Loudoun Volunteer Caregivers in your will or estate plan
LVC BOARD OF DIRECTORS
CHAIR, Hugh Forsythe
VICE-CHAIR, Lisa Kimball
Secretary, Patty White
Treasurer, Keith Leveret Wauchope
Kathy Fetzer
Jim Galvin
Mitchell Jacobson
Sandy Shihadeh
Susan Mandel Giblin, (Executive Director)
LVC STAFF
Davanna Black, Transportation and Youth Volunteer Coordinator
Denise Forgione, Money Management Coordinator
Mike Forgione, Money Management Assistant
Betsy Johnson, Program Assistant
Barbara Mendoza, Volunteer and Supportive Services Coordinator