December 11, 2012,
Greetings!
Just because all of the markets are closed--except for the Riverfront Farmers' Market-- doesn't mean you have to go without fresh produce and herbs. Did you know that you can order fresh cooking herbs from Shelton Herb Farm via Downeast Connect?
Check out our offerings here:
Feast Downeast is another source for our fresh herbs and other
local produce throughout the winter months.
This is a great way to keep cooking with tasty and fresh herbs and produce form local farmers even after in-person Farmers' Markets are closed.
These two organizations are buying clubs that ensure fresh, local produce is available year-round within days after ordering. Check them out!
Here's a tip from the kitchen:
When cooking with fresh herbs, don't add the herbs until just before you're about to finish the cooking. If most fresh herbs cook for hours, they will lose their flavor. One exception is with dry rubs and herbs for roasting beef, pork, turkeys, and lamb.
Don't miss our Salad Bowl Class!
You can keep your own salad mini-farm growing if you come to our Salad Bowl workshop tomorrow!
Read on for gardener gifts from Shelton Herb Farm. You can find us at the Riverfront Farmers' Market, and by stopping by the farm.
Happy Holiday Cooking!
Margaret, Susie, Yvonne, Vickie, and your friends at Shelton Herb Farm
Perennial greens grow year-round. Examples include Hardy celery, minutina, watercress and sorrel, and chicories -- Belgium endive, radicchio, Italian dandelion.
Annual greens that prefer cool weather include: lettuces, spinach, cilantro, mizuna, mustards, turnips, bok choi, tatsoi, swiss chard Short lived have to do successive plantings.
Biennials last into warm weather, but like and will grow during cool weather. Biennials include beets, kales, cabbages, and collards.
Season Extension methods allow farmers a way to protect crops from extremes of weather in winter and summer. For a technical discussion of crops, structures and materials browse this:
Even if you're a home grower, there's useful information that you can apply.
For home applications, some easy protection methods will bring cool-season crops through our winter cold snaps.
Wire or pvc hoops with sheets over garden plantings; planters can be placed on the ground, next to a brick wall, or under a table.


Old windows and storm doors can be formed into an A-frame structure.


Storm doors leaning against a sunny wall of a deck will make a growth chamber. The openings on each end allow venting of heat on sunny days.
Basically, in our climate, we need some protection from cold snaps. Otherwise, our mild climate allows us to grow cool season greens and vegetables from fall through spring. Outdoors in a sunny spot. The roof of a sunny porch will provide protection from the cold night sky.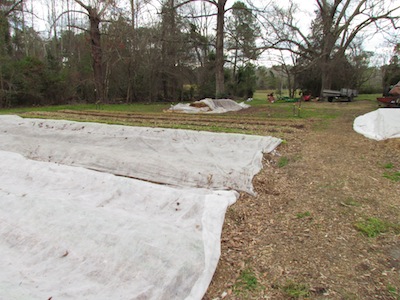 Row covers protect from the cold and from browsing deer.
December 12, 10:00 am at The Farm
$25 per person
Please RSVP to: sheltonhf1986@atmc.net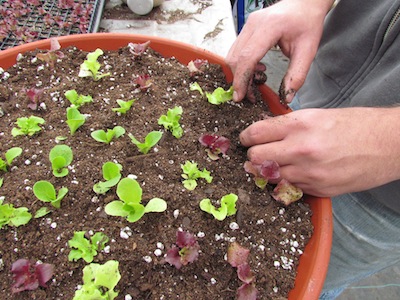 Make your own colorful, healthy, and nutritious Salad Bowl Garden to grow during the winter months. This makes a GREAT Christmas gift!
There is no charge to listen. Please RSVP and bring payment if you'd like to make your own bowl.
Grow Your Own Microgreens
January 9, 10:00 am at The Farm
$10 per person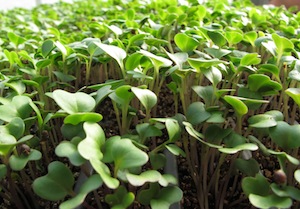 Start the New Year off healthy by learning how to grow your own microgreens. Take home a container of microgreens you've planted to grow inside or outside in a protected spot. Learn how to sow, what to sow, how to harvest, and how to use your microgreens.
Use rosemary liberally during the Christmas season. In decorations, cooking, and place a snip in your Christmas Cards for remembrance.
Here is more about rosemary from a more northern and seasoned herb gardener: