Our weather has cooled off!
It's time to get out and garden!
It's time to start growing greens: Lettuces and all varieties of cold hardy greens. Also onions, garlic, radish and other root vegetables. And more.
We will have classes here at the farm to discuss fall and winter gardening including the ever popular Salad Bowl Gardens. Our next mailing will include a schedule. Tentatively, plan for Wednesdays, or you can call us at 910-253-5964 to schedule workshops for your garden club or group of friends.
One Maine grower has written extensively about growing for market in the
winter. Even though there's snow on the ground, he has greens growing inside non-heated or minimally heated frames. If he can do it there, we can certainly do it here. For some ideas on cool season gardening in a really cold place, take a look at Elliot
Closer to home, some links for vegetable garden planning in North Carolina may be useful. The following sources include fall planting guides. Others include spring planting information. (That's just around the corner now!)
Whether you are a gardening novice or a seasoned and well calloused farmer, these resources should prove helpful:
The last link, from Chatham County, includes additional discussion on growing in cool weather using season extension methods. If you aren't familiar with that term, go to the Growing Small Farms website Home Page and look under the heading "Production" and click on "Season Extension." This can create growing conditions of at least one zone warmer. We are getting ready to start pulling out the row covers.

Charlotte Glen has written about cool-weather gardening lately. Check out her advice here:
Two of the local markets are still open: Riverfront and Poplar Grove. So, come see us Saturdays and Wednesdays.
Happy Planting!
Margaret Shelton and the Farm Crew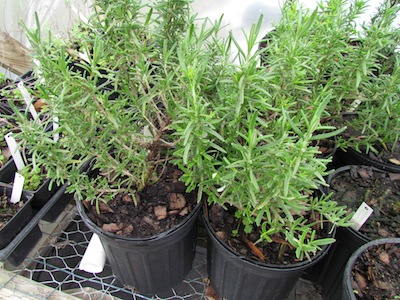 This summer I heard a lot about problems with rosemary: Leaves turning brown, limbs dying and wrapped with webbing that looks like fungus or spider mites.
It's a moth. The caterpillar chews leaves, spins webs and then wraps itself up in a clump of leaves to morph into a chrysalis which in turn emerges as a moth to start the cycle all over again. They were particularly pesky in the warm months peaking in September.
With the right treatment and some vigilance, they can be stopped! You can kill the moth (if you see it) by spraying with pyrethrum. Hanging out bug lights at night will zap and kill small moths.
This moth is about the size of your fingernail. B.t. (Bacillus thuriengensis) or Dipel will kill the caterpillar. Teasing apart the clusters of matted dead leaves will reveal a worm about ½ inch long or a brown wiggly chrysalis. They disappear in cool weather, but that doesn't mean they are gone.
Work on trimming and cleaning up affected plants now, and be prepared to take preventive steps next spring. With monitoring and treatments through the warm months you will have healthy hearty rosemary. This same moth also gets into thyme, sage oregano and mint. Be ready and be vigilant.
We have lots of exciting events coming up this fall in the Cape Fear region. Here are a couple that we are looking forward to:
Wednesday, October 17, 7:30-9:00pm. Douglas Tallamy, author of Bringing Nature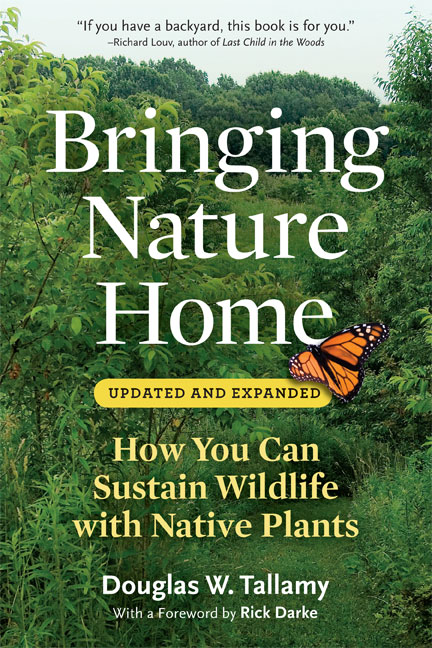 Thursday, October 24 8:00am-7:00 pm.
Food Day Wilmington.
Free workshops and activities to build awareness of and support for a healthy local food environment. Events begin at UNCW from 8am -- 4pm and Continue into the evening at Tidal Creek Coop from 5-7 pm. For a schedule of events:
http://www.feastdowneast.org