The Summer Cilantro Solution

May 18, 2012
Greetings!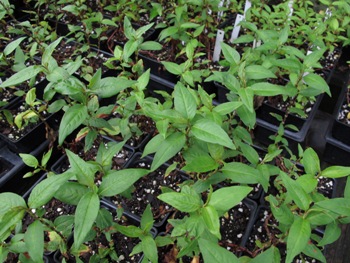 Now that the weather is heating up, your tomatoes are probably growing like gangbusters. That means it is almost time for fresh salsa.
And what's salsa without cilantro?
But WAIT! It's too hot for cilantro now. In your garden, it's going to seed (cilantro is coriander seed and vice versa).
Luckily we have two solutions for you--if you want the taste of fresh cilantro rather than grocery store herbs trucked in from hundreds of miles away.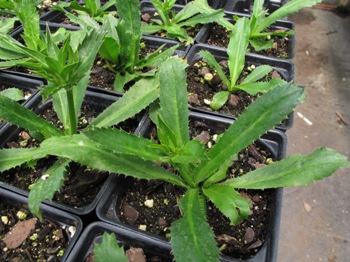 Vietnamese Coriander
(top)
Persicaria odorata
, or Vietnamese Coriander makes a nice substitute for cilantro in cooking. It has a coriander-like taste with a slightly lemony finish. This perennial herb grows well in full shade.
Culantro
(bottom)
Eryngium foetidum
, or Culantro, is a tropical herb native to Mexico, Central America, and the Caribbean. This plant can be easily grown from fresh seed. You have to plant the seeds immediately after they form if you want to keep your plants going.
The leaves of this plant also taste like cilantro, but with a "meatier" finish than the Vietnamese Coriander. The leaves of this plant have little soft spines. If you use it in fresh salsa, you can trim and discard the edges. Plant this herb in full shade to partial shade. This will promote more tender leaf growth (best for cooking) and less flower growth.
Learn more about Culantro here.
We're slowing down a bit from our frantic spring pace at the farm. Read below to see how you can book a special tour or workshop for your group. All of the markets are now open, too. Check the schedule below to see which market is closest to you.
See you soon!
Margaret and the Shelton Herb Farm Crew
---
International Herb Association Herb of the Year: Roses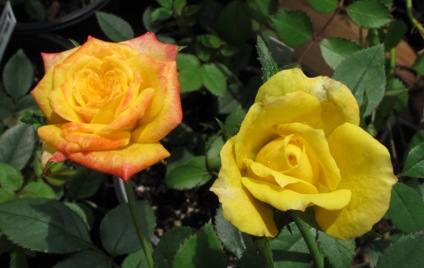 The International Herb Association (IHA) has named the Rose as Herb of the Year 2012.
Click here for rose recipes and trivia.
Click here for more info from the IHA.
At Shelton Herb Farm, we grow several antique varieties of roses that require no pest control, spraying, or excessive care needed by other roses in our area. Visit the Farm or our markets for a selection of beautiful care-free roses for your garden.
Rose Varieties
We have these rose varieties for you to grow.
Grande Duc Charles -- Lovely small fragrant maroon flowers.
Seven Sisters--Silver dollar-sized fuschia flowers.
Petite Scotch Pink Rose -- This shrubby rose has small pink flowers. It was discovered at Orton Plantation and brought into cultivation locally.
White Climbing Rose -- We found this unnamed rose growing on our property.
End of the Rainbow-- This beautiful miniature rose is pictured above. Flowers open a very clear yellow. As it opens, the edges of the petals are tinged pink. You can see a newly opening rose and an older one with the pink color in the picture.
Roses--if they're not sprayed with chemicals--are edible flowers. Toss some in your salads!
---
Schedule Your Farm Tour & Workshop
Did you know that you can schedule a personal tour of Shelton Herb Farm? Bring your ladies group, garden club, or other organization out to the farm. Call ahead to schedule a tour and class. We offer the following classes and workshops for groups:
Herb Propagation & Seed Starting
Take-home Tea Gardens
Butterfly Gardens
Herb Garden Hanging Baskets
Making Herbal Vinegars and Jellies

Salad Bowl Gardens
Edible Flowers and Garnishes
Microgreens for Home Use
Everlasting Gardens
and more!
Call to schedule: 910-253-5964
"Virtually" visit the farm by checking out our recent Facebook photo album with more farm pics.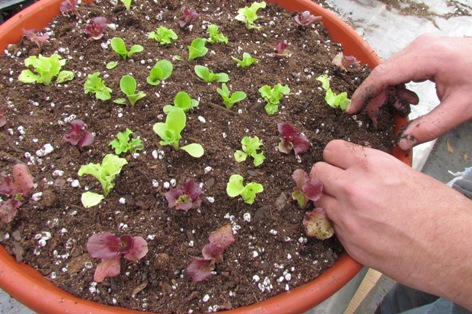 ---
Upcoming Events
North Carolina Herb Association Wild Herb Weekend
July 27-29, 2012
Valle Crucis, NC
Early Bird registration available through May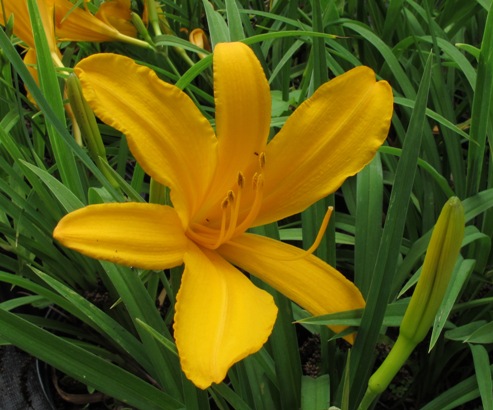 31.
Lots of hands-on workshops for everyone!
Click for details
Hobby Greenhouse Club Summer Plant Sale
Friday, June 1 & Saturday June 2 9AM to 6PM
2318 Metts Avenue (in Forest Hills) Wilmington NC
The plant sale will feature a lot of plants that were not yet in bloom during the spring sale, including daylilies and salvias.
Click for more information
---
Market Schedule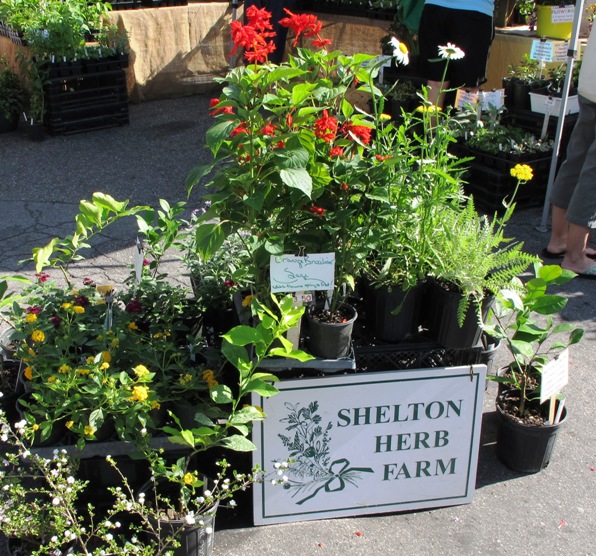 All of the Markets are Now Open!
Riverfront Farmers' Market
-- Saturdays in Downtown Wilmington along the riverfront between Market and Princess. 8am-1pm.
Poplar Grove Farmers' Market
-- Wednesdays at Poplar Grove. 8am-1pm.
Shallotte Farmers' Market
-- Saturdays from 8am-12pm Riverside Park
Waterfront Market, Southport
-- Wednesdays, 8am-1pm. Fort Johnston Garrison Lawn.
Wrightsville Beach Farmers' Market
-- Old Causeway Drive across from the Post Office. Mondays 8am-1pm.
Leland Farmers' Market -- Opens May 12. Second Saturday of the month 10am-2pm at the Leland Town Hall.
Please Support your Local Farmers' Markets
We attend several farmers' markets around the area, working hard to bring you fresh herbs and transplants weekly. We appreciate all of the communities that support these markets. We've noticed that the most successful markets receive a lot of community support--in the form of attendance, advertizing, promotion, and space. If you value local produce and transplants, please support your local farmers' markets!
---
Road Work
If you've visited the Farm lately, you know there's road work going on.

You can now only access the farm from Goodman Road off of US 17. Please ignore the "No Thru Traffic" sign on Goodman Road. We are open!


---