January 7, 2013
Greetings!
I'm urging you to "go green" in the new year! Or, at least, eat some greens!
Cool season greens that have grown past the tender salad stage are a favorite ingredient for a winter evening meal. Think of it as easy and quick comfort food. On the way home from the garden I pick a small basket of greens. Mustard varieties, kale varieties, bak choy, sorrel, broccoli raab or whatever looks good for braising.
Pasta and Braised Greens
Ingredients:
Fresh chopped greens, 6-8 cups
1 lb. pasta
1 onion
2-5 cloves garlic
Hot peppers, a few for spice
1 qt. (or can) diced tomatoes
¼ cup cider vinegar
Optional: grated cheese on top.
Directions:
In the kitchen start a pot of salted water for pasta. Put a large, deep skillet on medium- high, add olive oil and chopped onion. As the onion gets soft, toss in several cloves of chopped garlic and maybe a hot pepper for seasoning. By now the water pot is boiling; add the pasta. Pour diced tomatoes, vinegar, and one cup of the pasta water into the skillet with softened onions and garlic. While you are chopping the greens allow the skillet liquid to reduce by ~1/2. Stir in the chopped greens and toss until they turn bright and are lightly cooked, a minute or two. Drain the pasta at the al dente stage. Toss the pasta in the skillet with the greens. Sprinkle cheese on top, cover and reduce heat. Simmer ~5 minutes while you set the table and pour yourself another glass of cider.
This recipe can be improvised as per your taste and ingredients you have on hand. For example use broccoli instead of chopped greens. Or, if you use southern mustard which may be more bitter, add brown sugar or homemade plum jam to counter the sharpness. I love to improvise with whatever is available and growing fresh.
Here's another recipe that calls for using what you have in the Fridge and improvising:
Cheers to a Healthy New Year!
Margaret, Susie, Yvonne, Vickie, and your friends at Shelton Herb Farm
Grow Your Own Microgreens
January 9, 10:00 am at The Farm
$10 per person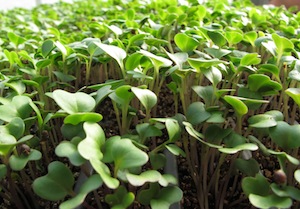 Start the New Year off healthy by learning how to grow your own microgreens. Take home a container of microgreens you've planted to grow inside or outside in a protected spot. Learn how to sow, what to sow, how to harvest, and how to use your microgreens.
Salad Bowl Gardening
Saturday, January 12, 10:00 am at The Farm
$25 per person
Please RSVP to: sheltonhf1986@atmc.net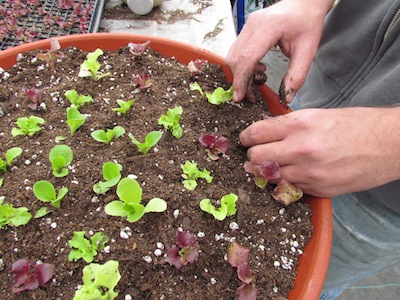 Make your own colorful, healthy, and nutritious Salad Bowl Garden to grow during the winter months. Get a healthy start to the new year!
There is no charge to listen. Please RSVP and bring payment if you'd like to make your own bowl.
Mark your Calendar for these Great Upcoming Events!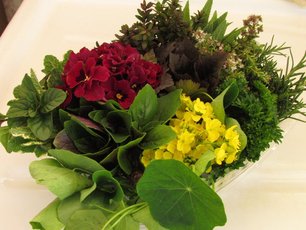 January 21: Food Corps Event for volunteers to help LINC Farm get ready for spring planting:
February 5: Master Gardener Program at New Hanover County Cooperative Extension starts.
Here's the latest news from Pender County Cooperative Extension Agent Charlotte Glen:
February 5. Brunswick County Master Gardener Classes start. Register by Jan 11.
February 16-17: Wilmington Garden Show, Schwartz Center, Downtown Wilmington. To benefit New Hanover County Arboretum and the Ability Garden.
Strolling around the nursery, one can't help but notice the lush and bright green curly-leaved parsley among the many shades of cool season greens. Parsley loves cool weather, survives our winter freezes and even endures our hot summers. It's more than a plate garnish or a border plant for gardens and containers. Its leaves are actually quite high in vitamins: A, B1, B2, and C; niacin, calcium, and iron. And if good nutrition doesn't convince you to eat it, know that it also freshens the breath. After a garlic enriched entrée or an onion seasoned salad, parsley may be just what you need.
Nutrition facts are quoted from The Big Book of Herbs by Art Tucker, PhD, a botanist who specializes in the flavors of herbs. He goes on to say that "the essential oil in parsley varies, but is not correlated with flatness of the leaves; as with other herbs, genes are important to produce a flavorful parsley." Based on research done at Purdue, he lists 'Catalogno', a cultivar grown in Italy or 'Giant Italian' parsley, a variety grown in the United States as superior in flavor and yield to other flat-leaved parsleys.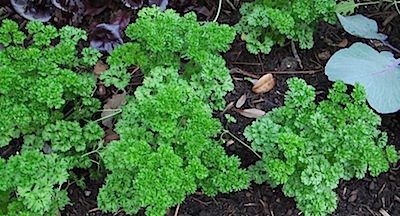 Parsley is described as a biennial or a short-lived perennial. We grow parsley year-round and recommend starting new plants in the spring and in the fall. Curly-leaved varieties have a tighter growth habit, and may live for 2 or more years. For us, flat-leaved or Italian varieties grow larger, faster, and usually bolt before they are a year old. When they start flowering, the leaves are more bitter and less desirable for culinary use. However, bees love the flowers, and we leave the flowering parsley for caterpillars which are the larval stage of a swallowtail butterfly. When you start new plants, you can pick caterpillars off the young plants and let them munch on older flowering ones. One caterpillar can mow down a half dozen new transplants overnight. Keep watch and plant enough to share. When the caterpillars get about as large as your little finger, they will "disappear" and you may find them attached to the flower stems in the form of a chrysalis. If a bird doesn't pluck them off, they will emerge as a swallowtail butterfly. Don't worry about the caterpillars until the weather warms up. Late summer and fall are the main butterfly seasons.
We have cold-hardened parsley ready to plant out now. Contrary to what some sources may say, it is easy to transplant. Just don't disturb the roots too much, or try to transplant it bare-rooted. Parsley is probably the best known of all herbs. No garden should be without it.
A good source for more information about Parsley:
Herb Society of America - Essential Facts for Parsley:
Herbalpedia pdf has a lot of good recipes:
This text is on the bookshelf in my office. It is one of the best authoritative references on herbs of flavor and frangrance. The Big Book of Herbs. A. Tucker and T. DeBaggio
You can invite Margaret Shelton to speak at your events or you can bring a group out for a private class or tour. A good time was had by all at our Salad Bowl class last week!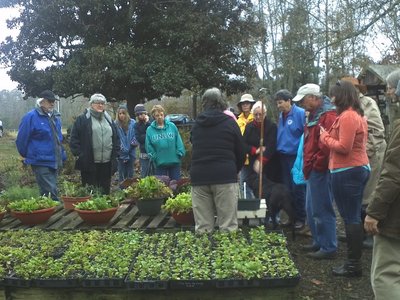 Photo by Barbara Bach
Margaret will present talks about edible flowers, cooking herbs, growing herbs, and more. Email us to schedule your class or group!