Quick Cool-Off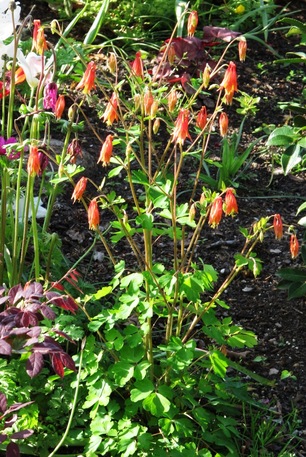 April 6, 2012
Greetings!
Remember how we reminded you not to plant your tomatoes too early? Noticing a bit of a cool down this week? Evening temperatures are forecast to drop into the low 40s and upper 30s this weekend. That's bad news for your tomatoes. The further inland you are, the more concerned you should be, and you might want to cover the tomatoes. If you have basil make sure it is also protected from temperatures below 40 degrees.
We've added the rest of the Market schedules to the Upcoming Events section. A big thanks to all of you who showed up in the rain last weekend! Susie was glad to see everyone!
At the Farm, our pomegranates are blooming, and so are the lovely little native red columbine. These drought-tolerant perennials do well in shady areas of the garden, and they re-seed each year (giving you more bang for your buck). Pictured, left.
Take advantage of this coolish weather to finish popping in your lettuces and greens.
Happy gardening!
Margaret & the Farm Crew
---
Grow Hot Color during Cool Weather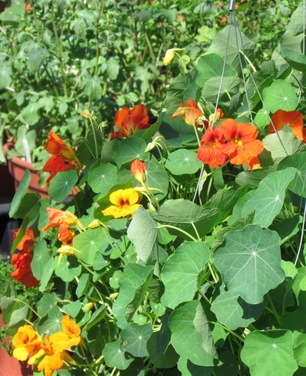 Are you looking for a spectacular cool-weather flower that's also edible? You're looking for the Nasturtium. These trailing flowers grow well in our soil. No matter what the seed companies say, these prolific bloomers do better if you add some compost or organic fertilizer to the soil.
Nasturtiums bloom in shades of orange, yellow, red, magenta, and other "hot" colors. You can toss the peppery-tasting flowers in a fresh spring salad for extra taste and pizazz. The leaves are edible, too. Grow these plants on the north side of the house in filtered light or partial shade. To extend their season, move your containers to a shadier, cooler spot. They're excellent in hanging baskets as well as along the edges of raised garden beds.
We'll have gorgeous, full hanging baskets at our Market booths this spring.
---
Upcoming Events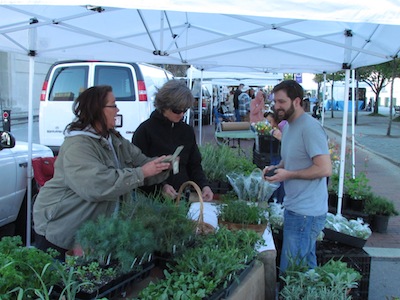 ---
In the Garden with Meg: Need some Thyme?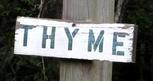 Everyone needs extra time, er, Thyme, right?
We have you covered! At the Farm, we have close to two dozen of different thyme varieties, including: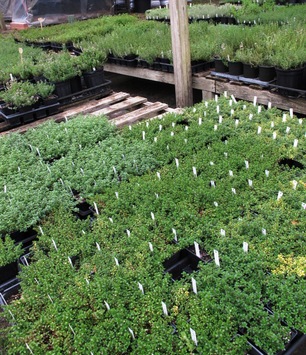 Lemon lime
French
English
Oregano (thyme)
Orange
Orange balsam
Creeping mother of thyme
Doone valley
Longwood creeping
Porlock
German winter
Golden lemon
White-flowered creeping
Plant these in your garden to attract the ever-important pollinators for your vegetables!
Meg's Tip: Good drainage and air circulation are a must for growing thymes. They do well in containers, in raised beds, around stepping stones, in sunny locations - Think Mediterranean to attract Italian bees.

---
Great Book for Beginners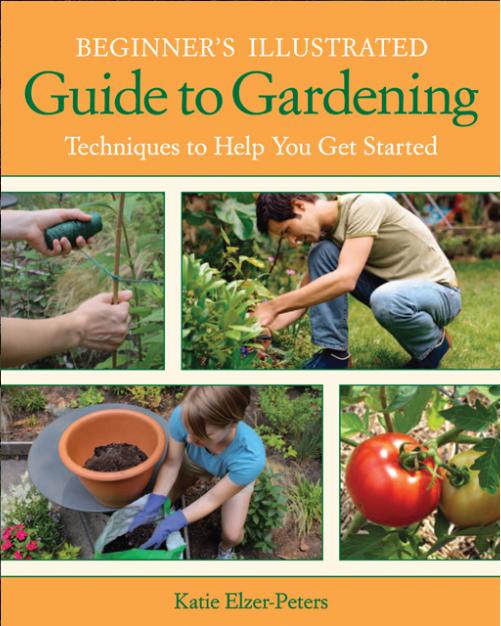 Katie Elzer-Peters, marketing helper for Shelton Herb Farm, recently published a gardening book for beginners called
Beginner's Illustrated Guide to Gardening.
If you're new to gardening this book will get you started with the right way to do plant, prune, care for vegetables, harvest, and make container gardens, among other techniques.
Even longtime gardeners will find new information based on the latest horticultural research.
The whole first printing sold out, and while the re-print is in progress, the only places to get it are at
Pomegranate Books
,
Lou's Flower World
. Both shops have autographed copies! (It is currently sold out online.)
---
Visit from Little Herb House owner Lisa Treadaway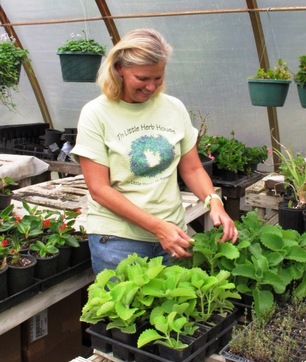 Lisa Treadaway, the proprietress of
The Little Herb House
, stopped by to pick up some goodies for her shop up near Raleigh.
Treadaway founded her family's herb farm ten years ago on their horse farm in Raleigh, North Carolina. Part of the horse pasture was converted into 10,000 sq. ft. of display herb and flower gardens, featuring 8 different herbal themes. An old horse barn was renovated to house the gift shop, workshop area and drying loft for the wonderful herbal products that Lisa crafts and sells.
The Little Herb House gardens have been featured in Our State magazine (April 2004), Triangle East magazine (Summer 2009), Country Gardens (Spring 2010), Nature's Gardens (May 2010), Fox 8 News, and numerous newspaper articles throughout the state of North Carolina.
The next time you're heading toward Raleigh, definitely swing by and see Lisa and her
beautiful shop
!
---
Stop By The Farm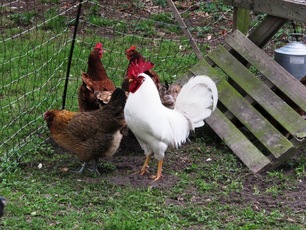 We've enjoyed seeing many of you at the farm! You're welcome to visit Monday-Saturday 8am-5pm.
Remember-the animals here are all busy working, so you can observe them, but please don't try to scare them into making them "talk."
---