Keeping it Local

Greetings!
This week, I wanted to share some information with you about great local food sources.
If you are interested in eating healthy the best rule is to keep it local. I love to encourage everyone to grow their own food. You KNOW its fresh and you know how it's grown. If you can't grow it yourself or can grow only part of what you want, you can still have access to good quality and locally grown and produced food. Check out two new local resources: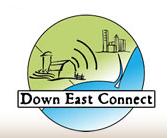 Down East Connect:
Recently formed, a buying club that sources local produce and other products from farms in Southeastern NC. You shop their website and place your order online. They deliver within 24 hours of harvest. They sell our microgreens. We will be adding more items soon.
Carolina Farmin':
We have recently started selling plants at Carolina Farmin' - lettuces, specialty greens, and cool season herbs. Whenever I deliver to the store, I notice that they have good community support. This grocery store is truly different from the vast majority of grocery stores which will NOT buy from local farms.
Of course I maintain a membership at
Tidal Creek Food Coop
. I was a member when they started up in a little house located near Bradley Creek on Wrightsville Ave. They are a good source of organic food and they make an effort to source from local farms as well. They are also a site for CSA (Community Supported Agriculture) pick-ups. They were selling "organic" before it became a household word.
Meanwhile, across the road from our farm, Heritage Produce at Shelton Herb Farm is busy working the soil, planting seed and transplanting seedlings that will grow into the harvest for their CSA spring boxes. They still have some subscriptions for sale. Contact Margaret Moore Bowen at heritageproduce@hotmail.com.
To get some insight into what is developing/growing locally, visit the Local Food System

website:
Feast Downeast
. The website lets you meet some of the farmers, chefs and others who are networking in Southeastern NC. It lists CSAs, and is in the process of updating schedules and locations for our Farmers' Markets. Feast Downeast continues to stitch, weave and repair the fabric of connections between local farmers and markets. All this is easier said than done. Without elaborating, I will simply say:
Don't take farmers and your access to good food for granted.
Happy Gardening!
Margaret Shelton and the Shelton Herb Farm Crew
---
In the Garden with Meg
How to Grow Microgreens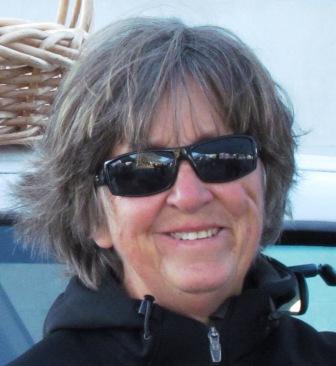 We grow microgreens at Shelton Herb Farm year-round. Microgreens are different than sprouts because they are grown in sunlight and in growing medium (potting soil) as opposed to a sprouting jar. We sow the same seeds for microgreens that we grow on for specialty greens, They include arugula, beets, chard, cilantro, chinese cabbage, endive, kales, mizuna, mustards, turnip, radishes and more. In warmer weather we will add basils, corn and sunflowers to our selection.
We sow them in seed trays four times as thick as we sow for growing on as transplants. We harvest when the 2nd pair of leaves appears.
The 1st leaves are called "seed leaves", the 2nd are the true leaves or the leaves that look like tiny versions of what the plant will look like when it's mature. (You can see the seed leaves pictured, left.)
It takes about 1 1/2 to 2 1/2 weeks from seed to harvest. Cut closely to the medium so as not to waste any of these small young plants.
They are packed with flavor and nutrition - a tasty and colorful addition to salads, sandwiches, soups and entrees.
Microgreens are a favorite with many of the better chefs in our area. You can grow them at home - I will be teaching a "Home-Grown Microgreens" class at the Poplar Grove Herb and Garden Fair.
---
Upcoming Events
Shelton Herb Farm supports these great community events. Make time to stop by!
Hobby Greenhouse Meeting
-- Mar. 13, 7:30 pm. Meeting at the New Hanover County Arboretum with guest speaker Katie Elzer-Peters, author of
Beginner's Illustrated Guide to Gardening.
Katie will be presenting a visual tour of gardens and arboreta around the United States.
Coastal Living Showcase
-- Mar. 17 & 18 Schwartz Center, Cape Fear Community College (We will be there with plants for sale.)
Poplar Grove Plantation Herb & Garden Fair
-- March 24 & 25, Poplar Grove Plantation (We will have plants for sale and Margaret is presenting some workshops.)
---
Plants of the Week: Cool-Season Herbs!
Don't wait to plant dill (pictured) and cilantro! Both of these plants grow best in cool weather, and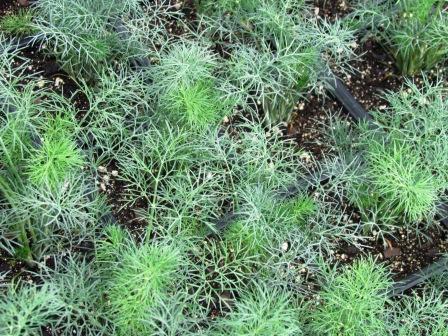 thrive from autumn to spring here in coastal NC.
Cilantro is hardy to 15 degrees Fahrenheit and dill is hardy to 20 degrees Fahrenheit, so you want to give dill some protection when temperatures are in the low 20s. Cilantro tolerates more cold and thrives in our winters with no cover.
Enjoy these herbs now, because when the day time temperatures reach the 80s, both dill and cilantro will bolt (go to flower). Cutting back the flowers may make the plants more bushy, but will do little to prolong their life. They want to do their "annual thing." Let them flower and go to seed. Save seed and use them for cooking and keep enough for replanting in the fall. So often I hear that cilantro will not grow here - It grows like a weed! You just need to grow it in cool weather.
We have transplants of dill and cilantro available now at the Farm. Come by Monday-Saturday, 8am to 5pm.
---