March 23, 2012

Greetings!
The East Coast is basking in warmth. Spring officially arrived March 20th, but here in Southeastern NC it seems more like summer is rushing in! We are presently regaled by the spectacle of azaleas. Take lots of pictures. There may be some Encore azaleas when the Azalea Festival rolls around next month, and don't worry, there will be lots to do and the gardens will still be lovely and fresh for spring even if the azaleas are just a memory.
We have been flat out busy with local garden events. The earth is warming up. Everyone is ready to do spring planting!
Pay Attention to the Last Frost Date
In SE North Carolina, our last frost date is April 15th. I have seen frost, yes, even a good freeze in the 3rd week of April. Just a few years ago we had an unusually warm winter like this one. Many plants came out of dormancy and oops, we had a freeze in April! Mother Nature can do things like that. I get asked every day when the last frost will be. I wish I knew. My mother always said frost is past when the pecan trees bloom, and they aren't even budding out yet.
Full Moon Planting
The deep rooted tradition of planting on Good Friday is practiced by many old time southern gardeners and farmers in the south. Many believe it is a good time to plant everything from potatoes to mustard to the summer crops that are frost tender. If you are watching the moon phases, this year Good Friday is on the full moon. That's also a likely time to see a dip in temperature that could mean frost. Then, after this full moon, frost should be gone. However, be alert, watch the weather forecasts and be prepared to protect any tender plantings that you have rushed to get in earlier.
Harden Off for Success
A lot of folks have been busy planting already. We have continued planting since fall and keep protective covers ready to pull when temperatures dip in the low 20s. This year that only happened a few times. Cool season herbs and vegetables are lush and growing faster as the days grow longer. Mild night temperatures keep them healthy, so there is still time to grow cool season lettuces and salad greens. Because most herbs are hardy perennials, they can safely be set out now. "Hardening off" is a good practice for planting those plants that have been raised in greenhouses. Here's how to do it:
Expose the young tender plants to outside conditions while keeping an eye on the weather and protect the tender growth from wind and cold.
The first few nights, bring them in from the cold and set them back outside in the morning.
Several weeks of this will condition them to their new surroundings.
Don't Jump the Gun on Tomatoes, Peppers, or Basil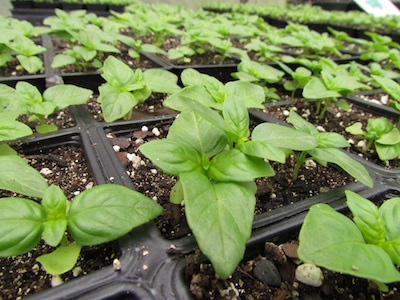 March is still a bit early to set out tomatoes. Stepping up tomato seedlings and growing them on in larger pots will allow them to develop robust plants to transplant after danger of frost. Tomatoes are not easy to grow here, but getting them off to a good start will encourage them to set fruits earlier while the night temperatures are still mild. Hot nights in July and August will halt tomato production.
And, you are asking for trouble if you expose basil to cold. Temperatures below 40 degrees will damage it and a frost will kill it. I find basil hard to grow in cool weather, but you almost can't cut it fast enough in the heat of summer. Wait until mid April, or even May is soon enough to set out basil.
Peppers or Chiles may be stunted if planted in cool soil. They love to grow in hot weather and keep producing into fall. Actually Chiles are perennials in warmer climates. They are native to Central America, Mexico and South America. Columbus discovered them, much to the joy of European and Asian cooks and physicians of the 15th century. They are an American herb. We have several dozen varieties of chiles/peppers from sweet bells and Ajis to mild Anchos, to the fiery habeneros, pequens and my favorite 'Numex Twilight'.
We'll see you in the garden!
Meg and the Shelton Herb Farm Crew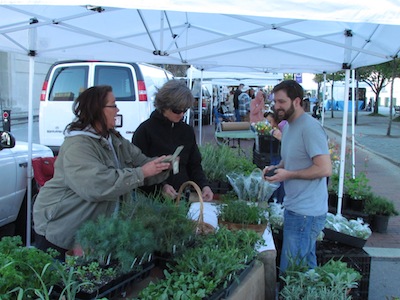 Poplar Grove Plantation Herb & Garden Fair
-- March 24 & 25, Poplar Grove Plantation (We will have plants for sale and Margaret is presenting some workshops.)
Herb & Plant Roadside Sale. Brunswick County Location, Midway Road at Backwater Trail. March 24. About 1 1/2 mile from Worms and Coffee. Look for the sign: "HERBS" and a covered wagon. Yvonne will be there. (I don't have a link to insert here.)

Herb Gardening and Stacked Stone Class
-- March 31 Stone Garden, Market Street. (Margaret will do a presentation and we'll have plants for sale too.)
Riverfront Farmers' Market
-- Opening Day Saturday, March 31, Downtown Wilmington along the riverfront between Market and Princess. 8am-1pm.
Poplar Grove Farmers' Market
-- Opening Day Wednesday, April 4 at Poplar Grove. 8am-1pm.
Southport Spring Festival
-- April 6 and 7. Kiwanis will be there with our herbs, tomatoes and a lot of other beautiful plants.