The Emersonian is a weekly e-newsletter sent to the Emerson Waldorf School community every Wednesday during the school year.
919.967.1858 | emersonwaldorf.org


---
From the Administrator's Desk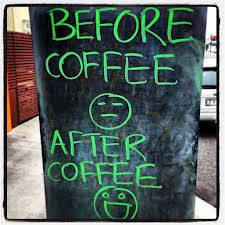 Hello Everyone!
Great to see the school back up and running. It was such a busy summer for us all. As lovely as the property is, it's not the same without the sounds of the students' voices and the rhythm of bells and chimes.
My experience over the years is that our path to fall is a testing of our healthy rhythms and practices. In this light, please try to get all those routines up and running as soon as you can, and let us in the office know if you are unsure of any details – check those parent evenings, book those festivals – get ready for another wonderful year. And remember, the Admin team is here to serve the teachers and the community, and wherever we can, we will do whatever we can.
The message that seems to be in the air at the moment is to talk to one another, to keep those lines of communication open, and to enjoy the flow of information. In that light, I remind you of our coffee table in the mornings off the Grades car park. Where in previous years we have allocated funds to Professional Development, we are bringing the focus to the property this year, so any profits we make from our morning cuppa will now go straight to the gardens and to support PO work days.
See you there.
Steve Bennett
Administrative Reminders
---
Holiday Faire News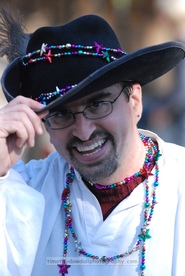 Holiday Faire, our largest public festival of the year, is a gift we give our children as well as the broader Triangle community. Candle-dipping, horse-drawn carriage rides, food, music, games…it's a great way to celebrate the end of fall and the beginning of winter. From time to time as chair of this event, I will be updating you in the
Emersonian
. If you have questions, please email me at
janetbuehler@mindspring.com
.
First, save the date!
The Faire is 2 weeks earlier than in years past, namely, on Saturday, November 23, from 10 am – 3 pm. Whether you are roasting a turkey for Thanksgiving the following week, or planning to have a family weekend at Six Flags Over Fuquay, please do plan to attend! Not only is it loads of fun for your children and yourself, and a great way to welcome visitors to our campus, your children's classes will NEED YOU to help that day on your given class activity.
Second, invite your friends!
Holiday Faire is a lovely, easy way to share some Waldorf magic with your friends and neighbors. Many families have ended up later enrolling at EWS after first experiencing our wonderful community festival.
Third, volunteer early, volunteer often!
Each class will need a Faire parent (not necessarily the class parent as in years past) to be the point of contact for Faire-related work. We also need help in other areas, such as crafting small items for the Enchantment Shoppe, food preparation, decoration, etc. Volunteering is a great way to build friendships between parents at school! I have some volunteers but need more, so if you'd like to help, please email me at
janetbuehler@mindspring.com
.
After School Sports Schedule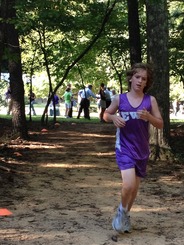 Please make sure you have signed a consent form and a physical form, both of which are due this week. (MS = Middle School; HS = High School; XC = Cross Country)
Schedule for next two weeks:
Wednesday Aug 28
MS/HS XC practice After school until 5 – meet at Lower School basketball court
HS Soccer practice After school until 5 – meet on the field
Thursday Aug 29
No practices
Friday Aug 30
MS/HS XC practice after school until 5 – meet at Lower School basketball court
HS Soccer practice after school until 5 – meet on the field
Monday Sept 2
Labor Day – NO SCHOOL

Tuesday Sept 3
HS XC meet @ HOME vs. Fletcher & Southern Wake – 4pm walk-through
HS Soccer practice after school until 5 – meet on the field
Wednesday Sept 4
MS/HS XC practice after School until 5 – meet at Lower School basketball court
HS Soccer practice after school until 5 – meet on the field
Thursday Sept 5
No practices or games
Friday Sept 6
MS/HS XC practice after school until 5 – meet at Lower School basketball court
HS Soccer game @ HOME vs. Camelot 4pm
Important announcement:
Please remember to check the online calendar
www.calendarwiz.com/emersonwaldorf
and use the drop-down to EWS Extracurricular Activities. If you click on a game you can get the address.
Go Gnomes!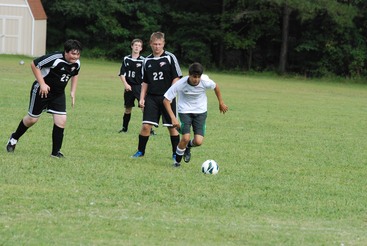 Michaelmas Celebration Coming Up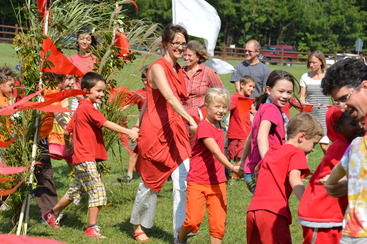 Our community, along with Waldorf schools the world over, will celebrate Michaelmas on the afternoon of Friday, September 27 on the athletic field. Students in Grades 1-8 are to wear flame-colored shirts – yellow, red, or orange. High School students should wear white. The Early Childhood will celebrate in the morning in class. More details will be shared in the next few
Emersonians
about this amazing festival!
Order EWS Spirit Wear ONLINE! New Product Line!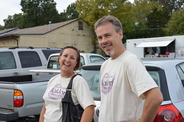 Need new EWS t-shirts for field trips, white EWS polos for assemblies, synch sacks for sports, book bags, rain coats, fleeces, sweatshirts, baseball caps? Now you can easily order all EWS Spirit Wear online with your credit card anytime and in any quantity. Just
click here
and order away. Our awesome Spirt Wear volunteer, Bonnie Cady, has been busy adding new merchandise, including a tie-dyed t-shirt, hooded rain jackets, hoodies, and more. She will pick up orders when they're ready, will bring them to the EWS office, and will let you know they're available for pick up. We're keeping prices low, because we want you to buy as much as possible and help spread the word about EWS! There are 1,025 Waldorf schools in 60 countries worldwide and just one in NC – let's make sure everyone knows about us!
Eye on our Alumni

---
Graeme Durovich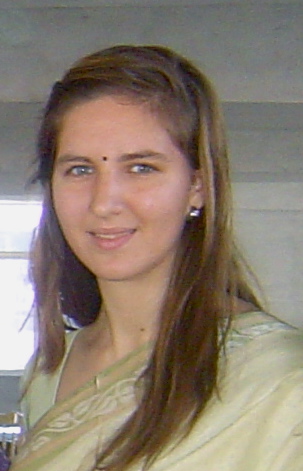 Graeme just finished her sophomore year at Wellesley College last spring, where she is double-majoring in South Asian Studies and Russian Area Studies. At Wellesley, she rows on the nationally ranked crew team and is an active member of the music department and Chamber Music Society.
In June, she was at Peking University in Beijing involved in an inaugural partnership between Peking University and the Madeleine Albright Institute for Global Affairs at Wellesley College. Students participating in the institute were analyzing and discussing critical global issues relating to urbanization in an interdisciplinary setting with the guidance of high-profile professionals, including former Secretary Albright. At the end, they presented their findings and suggestions to a panel of experts for review and critique.
Stateside, Graeme then participated in the Learn-Work-Share Youth Conference at the Steiner Health Center in Ann Arbor, Michigan for three weeks. This included classes in anthroposophical care and opportunities to work with low-income patients, as well as an opportunity to lead a camp for adolescent girls that focused on living a healthy lifestyle.
During the month of August, Graeme was in Siberia conducting biological research and learning about the local environmental struggles at Lake Baikal, the world's oldest and deepest freshwater lake. Her return to Wellesley is imminent. We wonder what she will be up to next year!


---
The Bucket Brothers Performing!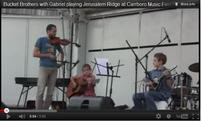 EWS students Logan (7th grade) and Casey (4th grade) (aka The Bucket Brothers) will be playing the pre-show for Paperhand Puppet Intervention this coming
Saturday, August 31,
at the Forest Theater.
The puppet show this year (Invisible Earth) is as wonderful as always, well worth seeing (and for those who have younger ones, it's not as dark/scary as in past years).
The pre-show starts around 6:15, puppet show is at 7:00.
http://paperhand.org/
La Bête Magique Performing!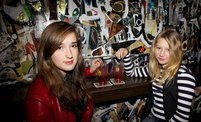 7th-grader Bella Mead will be performing with her band, La Bête Magique, this
Friday evening, August 30th at 8pm at Caffe Driade in Chapel Hill.
All songs are original compositions by La Bête Magique. CDs will be available for purchase. Caffe Driade is located at 1215 East Franklin Street, near the intersection with Estes Drive. A beautiful outdoor setting – perfect for music and magic!
Hope to see you there!
Join Us Tonight!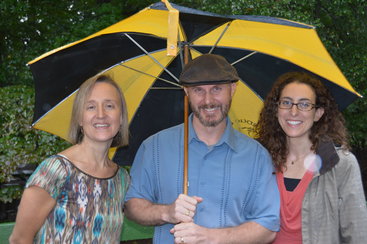 Join us for our first PO meeting TONIGHT from 7-9 pm in the Eurythmy room! Topics to discuss include welcoming our new members, elections for our 2013-2014 officers, renewing Renewal, and envisioning the coming year. See you there!

Mark your calendar for the September meeting, and please note that it is a morning meeting! Wednesday, September 11, 8:30 am at the Gazebo. -Tina Stevens
--You have a choice to have a voice--

Eurythmy for Parents and Friends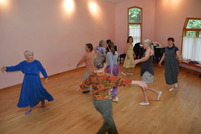 Eurythmy classes will start up again Wednesday, September 12.
We hope we will be joined by many new parents. No prior experience is necessary. Classes are from 8:30 am - 10:00 am Wednesdays. Come and enjoy!
"Movement in Tune with the Rhythms of Life"

Dates:
Sept. 18, 25
Oct. 2, 9, 23, 30
Nov. 6, 13, 20
Dec. 4, 11, 18
Cost: $110 can be paid in installments and benefits the EWS Eurythmy program. For more information call Eve Olive at 919-489-2564.

---
Daily Rhythm at Home and Its Lifelong Relevance by Helle Heckmann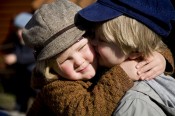 As parents of little children, you are often very tired and you get too little sleep, and when you have too little sleep you also have too little energy and then often you give in when you think you should not have done, or you get angry or irritated so you are not present and when you are not present you lose the children and you do not like yourself. To make it easier for you to deal in the daily life with your children there are three important considerations:

Read more here

---
Seniors Welcome First-Graders with Rose Ceremony


BY JAMICA C. ASHLEY
WEDNESDAY, AUGUST 21, 2013
CHAPEL HILL – It was more than just a ceremony performed before family and friends on Tuesday at Emerson Waldorf School. It was an opportunity for the one group of students to welcome another. (
Read more
)

---
All High School Parent Evening Sept. 3rd

All parents of 9th-12th graders, please join us for the High School parenting evening Tuesday, September 3, 2013, 7-8:30 pm. We will gather together for introductions of new and returning faculty. Parents will receive a "picture" of the year from their class sponsors. The High School faculty is looking forward to connecting with you and hopes parents will make every effort to attend.

---
Emerson Farm Market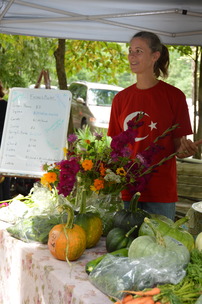 The Emerson Farm Market will be open from 7:45-8:45 am and 2:45-3:45 pm on Thursdays. You can find us between the Lower School parking lot and the Lower School.
This week we'll have
:
Garlic
Sorrel
All blue potatoes
Flowers
Local honey raised by EWS parents Corey Alicks and Will Hicks
Chives
If you are interested in Monday delivery of flowers for your classroom or place of work, please send an email to
mmueller@emersonwaldorf.org
for details.
It is now possible to start a line of prepaid credit at the market or for flower delivery. Just bring in a cash or check for any amount. We will start a market card with a running balance on it for you. Once your balance reaches $10 or less, we will send you a reminder email to refill. If you have extra money on your card at the end of the year, you can carry over the balance to the next year or receive a refund during the last week of school.

---
CNN News Clip: Enrollment Up in No Test, No Tech School (Waldorf Works!)

August 26, 2013
Waldorf education is catching on from coast to coast. Dr. Sanjay Gupta examines this innovative approach to learning.

Waldorf School CNN Report
How to Help Your Kids Avoid the Back-to-School Cold | Seventh Generation

The back-to-school cold is a rude invader, sneaking into classrooms unannounced and exposing kids to sniffles, sneezes, and who knows what else. You can't prevent them from coming into contact with cold germs, but you can help protect them from getting sick with these strategies suggested by health care experts.
Read more
here
.
A Moment of Pause

---
Quote of the Week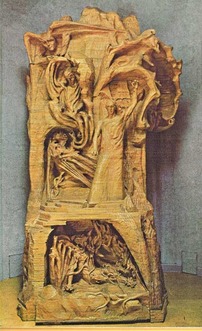 I have come to the frightening conclusion
that I am the decisive element:
It is my personal approach
that creates the climate;
It is my daily mood that makes the weather;
I possess tremendous power
to make life miserable or joyous.
I can be a tool of torture or an instrument of inspiration.
I can humiliate or humor, hurt or heal.
In all situations, it is my responsibility that decides whether a
crisis is escalated or deescalated and a person is humanized or
dehumanized.
If we treat someone as a limited person, they think they are,
and we support their sense of limitation.
If we treat people as who they could be, we help them become all
they are capable of becoming.
Johann Wolgang von Goethe


---
EVENTS OR CLASSES
Foundation Studies Program in Anthroposophy
and the Arts. Foundation Courses with local group leaders sponsored by the Sophia Institute have been set up in several locations and can be set up with the help of the Sophia Institute in your location also. We have detailed and adaptive course materials and lesson plans available for local foundation courses. Groups of 6 or more students may enroll in the courses with a local group leader. The group leader works as an adjunct faculty of the Sophia Institute using the Sophia Institute course materials. Group leaders need to have completed a Waldorf Teacher Training and have successfully taught in a Waldorf school, Camphill Community or similar Anthroposophical institution and need to have experience in adult education, being able to provide feedback and mentoring in the areas of Waldorf education, Anthroposophy and the path of self development. Typically the local foundation courses comprise 2 semesters and meet weekly or bi-weekly during the school year. Individuals interested in working as (or training to become) group leaders, and students interested in taking these courses please contact the Sophia Institute at
www.sophiainstitute.us
or
info@sophiainstitute.us
ITEMS
This End Up solid end pine bunk set + for sale; 3 beds - upper/lower bunk beds with 3rd day bed, 4 pine under the bed storage units that are on heels. Very good condition, of course, after use by my boys! $550.00 or best offer - Jon Mandeville (919) 880 6973
SERVICES
Interested in a simple skin care system with essential antioxidants and nutrients your skin craves?
Our Shaklee's clinically proven Nutrition Therapy Skin Care System is guaranteed to see your skin age 10 years in reverse with just 3 minutes morning and night. It contains a synergistic blend of seven targeted antioxidant nutrients. Go to this
link
to learn more. 10% off for Waldorf families. (I will reimburse you with a check when the order comes through) 100% money-back guarantee Joanne Estes (919) 929-4534
greencafeonline@gmail.com


PIANO LESSONS:
Spaces open for children, teens & adults in the home piano studio of Beth Shirey, EWS choral and eurythmy accompanist. Please call 919-969-9545 or email
beth.shirey@yahoo.com
for more information.


Dr. Hauschka Facials/Retailer:
CORI ROTH/Licensed, Certified, Holistic Esthetician. Revive your body, mind and senses with a nourishing and soothing Divinerose Facial. Offered in an unhurried and retreat-like setting. 15% off first time client. Visit
www.divinerose.com
for more info.
PRANA KOMBUCHA:
Enjoy Fresh Kombucha! We are a Waldorf family brewing raw organic Kombucha delivered straight to you!
Kombucha is more than just an ancient healthy drink. It has a wide range of organic acids, vitamins enzymes and probiotics that give it its extraordinary value. It contains a range of B vitamins, particularly B1, B2, B6 and B12, that provide the body with energy, help to process fats and proteins, and which are vital for the normal functioning of the nervous system. There is also vitamin C which is a potent detoxifier, immune booster and enhancer of vitality. AND it's DELICIOUS!
We sell our KOMBUCHA in 34oz. re-useable glass bottles at $7/bottle. For a free tasting and to order your Kombucha contact Gaura Humek at
ghumek@gmail.com
KatieBeth's Learning Garden!
We are a retail store and community class space located at 400 S. Elliott Road in the Galleria Shopping Center. Here, you can find the supplies you need for a Waldorf-friendly home, including imaginative natural toys from Camden Rose, Ralph Evans and Sarah's Silk, fiber arts kits and supplies from Harrisville, beeswax candles, stones and supplies from Mercurius. We sell new and consigned educational materials and games for your whole family.
www.katiebethsgarden.com
REALTORS/HOUSING
We have a lovely home located one mile from EWS.
It has two bedrooms,two baths all appliances, fenced yard and sits on 2.5 acres with deer and blue birds visiting daily. Situated in a quiet neighborhood just off rte 86. Home will be available September 1. Rental fee is $1500.00 per month. To visit or ask questions you may call Chris Quinn (919) 949-1950
Advertising Changes for the Emersonian
We accept small classified-type advertisements. Each submission to the Classifieds should be no more than 6 lines of text, which is approximately 60 words. The costs are as follows: $5.00/week; $10.00/month or $100.00/school year (10 months). Payment for Community Bulletin Board Submissions should be made by the Friday before the publication week (we publish every Wednesday school is in session.) No charge for advertisements of free events or non-profit organizations. Submit ads to: emersonian@emersonwaldorf.org.

General Policy for the Bulletin
No political or religious advertisements. No competitive program advertisements. No outside fundraisers. The editors will decide the placement of advertisements. Submissions may be edited for content and length. The Emerson Waldorf School retains the right to choose not to print an advertisement.
Public announcements and services offered in the Emersonian or other circulars produced by Emerson Waldorf School are paid advertisements and do not necessarily reflect the views and opinions of Emerson Waldorf School or its employees.
---
E-Newsletter Design and Graphics

Emersonian Publishing Team:
Kelley Wiley - Content, layout, correspondence, advertising
Raelee Peirce - Header design, layout
Barbara Holloway - Photo & creative content, editing
Kathleen Jackson - Editing
---
This Week

---
Wed 8/28
PO Meeting
7:00 pm - 9:00 pm
Thurs 8/29
Jazz Band Rehearsal
3:30 pm - 4:30 pm

8th Grade Parent Evening 7:00 pm - 8:30 pm

Mon 9/2
Labor Day
NO SCHOOL

Tues 9/3
HS XC HOME vs. Fletcher and Southern Wake
4:00 pm

All HS Parent Evening 7:00 pm - 8:30 pm


---
School Staff

---
919.967.1858

Steve Bennett x11
Director of Administration

Mary Deutsch x12
Finance Director

Lynda Hollar x10
Administrative Support

Barbara Holloway
Marketing Director
919.480.1026

Ian Ostrowski x29
Facilities Manager

Raelee Peirce x14
Admissions Director

Therisa Pienaar x20
High School Coordinator

Kelley Wiley x13
Communications Director


---
School Hours

---
N/K 8:30 am - 12:30 pm
1st-5th 8:30 am - 3:15 pm
6th-8th 8:15 am - 3:15 pm
HS 8:10 am - 3:15 pm

Aftercare N/K until 3 pm
Aftercare 1st + until 6 pm

Office Hours 8 am - 4 pm


---