---
We're Cookin' in the High School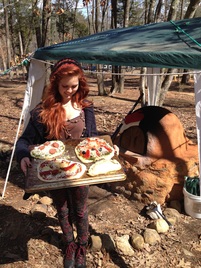 This semester, High School students have been creating feasts in their elective cooking class – without a kitchen! Not surprisingly, EWS teens are quite inspired chefs. Some of their meals to date include: handmade pasta with herb cream sauce, handmade ravioli with spinach ricotta filling and buttered herbs, Nutella-filled ravioli with fried sage leaves (you'd be surprised!), crepes (endless filling possibilities), and recently, pizza using EWS's very own cob oven (thank you Ms. Comaniciu's class)! In addition to honing their cooking skills and dreaming up delicious things to eat, students have discussed issues around what we eat and where our food comes from by reading excerpts from Michael Pollan's In Defense of Food: An Eater's Manifesto. Foraging for herbs around campus and harvesting produce and eggs from the EWS Farm is really eating locally!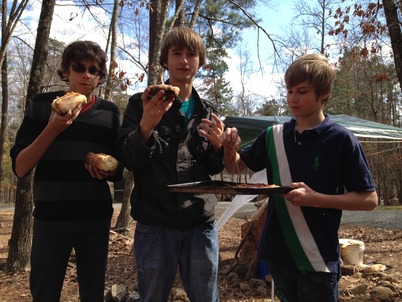 If you've been waiting for a reason to start your spring cleaning at home, why not begin with the kitchen? The High School would love to add some basic equipment to our "cupboard" including, but not limited to: mixing bowls, wooden spoons, sharp knives, cutting boards, grater, Pyrex measuring cup, measuring spoons, utensils, whisks, table linens, spices, mixer, blender, etc. Like every good meal in a Waldorf classroom, at the end of class, we set a pretty table, sit down together, say a blessing, and enjoy. Drop by sometime and you just might be asked to join!

---
Attention Parents:

Due to a scheduling glitch, we will not be having the choral concert at the church we usually use for concerts. I apologize for this late change.

Our concert will take place on Friday, May 22 at 6:30 pm at the Eno River Unitarian Universalist Fellowship (ERUUF) on Garrett Road in Durham, just off of 15-501.

This is the church where our Thanksgiving assembly was held and where assemblies in past years have taken place. Address is 4907 Garrett Road, Durham, NC 27707

All other details remain the same.

Please have your child at ERUUF by 6:20 to line up and warm up, dressed in formal concert attire as usual.

Thank you!
Jason Child



Waldorf Parenting Discussion Group


Sharifa Oppenheimer, Kim John Payne, Dr. Gordon Neufeld... so many wonderful resources for parents. How does it come together? Join the discussion!

Free Parenting Group
that explores ways to connect with our children in the modern world. Waldorf families and their friends are welcome to attend this monthly gathering. Parents of Early Childhood and Lower School children will find the discussion most helpful.
Bring a snack to share!
7-9pm, Saturday, March 23, 2013
Brown Wing at the High School
TOPIC: Anxiety and Our Children – Prevention
Review the information here for discussion points
Children and Anxietyparentingtouchstones.com
by Kelly Matzen
Neufeld, through his research and vast experience, believes that anxiety in children is on the rise due to our hectic lifestyles, which dramatically increase the number of separations our children endure. Too many separations cause children to feel that their world is just not a safe place to be. Common separations include:
Daycare
Divorce
Too many playdates
Parents working long hours
Nannies who come and go
Parents traveling for work and being away overnight
Too many extracurricular activities
Longer school hours
Less time with extended family
In and of themselves, these separations can be overcome when children are guided to develop strong resiliency. Yet, when there are too many separations and not enough connecting family activities, our kids feel unsafe, anxious, and when they aren't feeling attached to us, they will attach to their peers. A frightening thought, really.
It brings to mind the critical question: Do we really want our kids raised by their peers?
Recently, one of our dear mommy friends was called to come pick up her daughter from preschool. The skilled Early Childhood development teachers were unable to console her four-year old after an hour of crying. The problem? After discovering that her best friend was sick (the one she sticks to like velcro when at school), she became totally distraught. This is an excellent example of a child who attaches herself to a peer for greater emotional safety when her parents aren't around and then feels completely anxious without her friend. Healthy? No, but becoming more and more typical.
~ Dr. Gordon Neufeld
Aside from spending more time with our kids and reducing the separations our children face, Neufeld shared one of his most important parenting tips for reducing anxiety in our kids. He calls it "Bridging the Separation," and you may find you are already intuitively doing this.
Simply put, Neufeld states that bridging the separation with our children means constantly placing our focus on the very next time we will see them or be connected with them. He suggests using the Irish Blessing, May the Road Rise To Meet You as a good-bye inspiration.
An Old Irish Blessing for Until We Meet Again
May the road rise to meet you,
May the wind be always on your back,
May the sun shine warmly upon your face,
And the rain fall softly on your fields,
And, until we meet again,
May the God hold you in the hollow of His hand.
The following are some examples of what you can say to minimize your child's anxiety at bedtime, during school drop offs, and even when you are traveling without them.
How to Connect and Bridge the Separation with Your Child Before They Go to Sleep
– "I look forward to seeing you in my dreams."
– "I can't wait to see you in the morning and have breakfast with you."
– "I'll come in later and pull up the covers and give you a kiss."
How to Connect and Bridge the Separation When Going to Work or Dropping Your Child Off at School
– "When I pick you up, we'll have our lunch together and will then go to the park together."
– "On my desk at work, I have a picture of you, so when I get there, I'll be looking at it, thinking of you, and sending you lots of love."
– "After school, we will walk home together and stop in for a snack at our favorite place."
How to Connect and Bridge the Separation With Your Child When You Are Traveling WIthout Them
– "So I will call you when I arrive at the airport."
– "As soon as I get back, I look forward to playing that game with you."
– "OK, I will call you at 6:30pm every night and will send you kisses over the phone and will want to share and hear all about your day, too."
Bridging separation with your child also means doing your best to use positive discipline that doesn't focus on sending our children away from us, or on us leaving them. As maternal (and paternal) rejection is what can cause some of the greatest anxiety, it is critical to stay away from saying things like:
"Go cry in your room."
"You're making me crazy. I need time away from you."
"Get out of my sight."
Obviously, separations with our children are inevitable, but with a little conscious parenting, positive discipline, and a healthy dose of attachment parenting (whether we are stay-at-home moms, working moms, divorced, or just crazy busy!), we can minimize the impact.
Although I do not have a family bed, nor am I going to make matching family outfits from our curtains (I never learned how to sew or I might be tempted ;-) ), I am regularly using attachment parenting to ensure that my preschooler feels more safe and secure and remains connected to me and our family, so he does not need to find substitute connections outside the home.

---
Gnome Brigade Begins The Ultimate Season!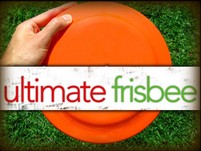 Monday, March 11th marked the beginning of the High School Ultimate Frisbee season for the EWS Gnome Brigade. Their first game ended in a 15-5 loss to East Chapel Hill High School. This was a good opener to the season, as the Gnomes played hard against one of the better High School teams in the area.
Come out and support the team on Wednesday, March 20th as the Gnomes play their first home game against Riverside High School at 4:30pm.
Go Gnomes!


A Moment of Pause

---
Stages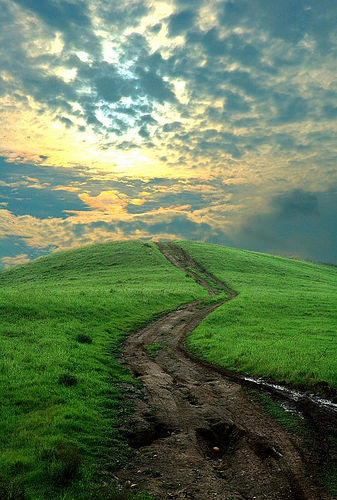 Hermann Hesse
As every flower fades and as all youth
Departs, so life at every stage,
So every virtue, so our grasp of truth,
Blooms in its day and may not last forever.
Since life may summon us at every age
Be ready, heart, for parting, new endeavor,
Be ready bravely and without remorse
To find new light that old ties cannot give.
In all beginnings dwells a magic force
For guarding us and helping us to live.
Serenely let us move to distant places
And let no sentiments of home detain us.
The Cosmic Spirit seeks not to restrain us
But lifts us stage by stage to wider spaces.
If we accept a home of our own making,
Familiar habit makes for indolence.
We must prepare for parting and leave-taking
Or else remain the slave of permanence.
Even the hour of our death may send
Us speeding on to fresh and newer spaces,
And life may summon us to newer races.
So be it, heart: bid farewell without end.
This is one of the poems by Hermann Hesse that can be found in his last novel The Glass Bead Game. With that novel Hesse won the Nobel Prize of Literature in 1946
.

---
Help Wanted

Morning Coffee Volunteers!
Volunteers needed for Morning Coffee Table. 1 hour per week.
All proceeds fund professional development for EWS teachers. Contact Pat McKenzie (4th grade parent) at (919) 316-9567 to sign up.


Services
SUMMER HORSE CAMP @ Blue Skies of Mapleview LLC.
Deborah Pearson-Moyers, Mr. Moyers's wife, will be offering five weeks of summer horse camp. What is different about our camp? 1. Deborah and her daughters Sara and Sonja are three Waldorf-inspired adult riding instructors. 2. We offer a gentle approach to horsemanship which focuses on being the leader your horse wants to follow. 3. We offer drawing and painting of the horse from a Waldorf-trained painter and then a jump into a cool pool.
www.blueskiesmapleview.us
919-933-1444 Deborah Pearson-Moyers "Where horse sense is stable thinking" since 1996!

Pure, raw, local, lovingly collected HONEY for sale now!
From the bees and our family's Secret Garden Apiary. A beautiful 1-pound jar is $9.00. Call Will (919) 407-0205.
Would you like a counselor for yourself, your child, and/or your family who understands the uniqueness of Waldorf philosophy
? HarDarshan Khalsa, MA, LPC, raised two children who attended the Emerson Waldorf School and are now grown. HarDarshan is now a psychotherapist trained in transpersonal counseling, with office in Chapel Hill and Durham. Most insurance plans are accepted. Some of HarDarshan's specialities are sandtray therapy (for adults as well as children), stress reduction, grief, and the highly sensitive person. To learn more, visit her website:
www.sacredlistener.com
, or call (919) 257-7814. Email: hardarshan@sacredlistener.com

Are you living with questions about your life, your relationships, your parenting, your future?
Lynn Jericho offers compassionate listening and creative guidance – a Waldorf wisdom for adult needs and challenges. Call Lynn (919-240-4094) or learn more
www.imagineself.com/about-Lynn/
.

Introducing Shaklee 180
~ a complete program with clinically tested weight loss products, designed to help you lose the right kind of weight ~ fat, not muscle. I have been on this program and have now reached a weight I have not been at for the last 20 years! With these great results I am sharing with others at my Shaklee "Turnaround" Parties - check out the next date (or call me (919) 929-4534) at this website`
http://www.joanneestes.myshaklee180.com
Drop by for some free samples. Joanne has just turned 70, feeling more energy than she did at 50, and is the proud grandmother to 4 Waldorf children.

Are you looking for a New or Slightly Used Car?
Great Deals for EWS Parents, Friends & Faculty. Call David Rabius, Proud EWS Parent at 919-408-9633 Johnson Lexus @ SouthPoint- 2013 New Lexus Line Up..Certified Pre-Owned Lexus and a wide range of slightly used cars to meet your budget.
(David Rabius)

DIVINEROSE FACIALS
Offering illuminating and renewing Dr. Hauschka facial treatments. Cori Roth, NC Licensed/Holistic Esthetician and Dr. Hauschka retailer. Please visit Divinerose.com for more info.

New Medical Practice
We are pleased to announce our practice "Integrative Medical" (
www.imevpc.com
) at Haven Medical Clinic on 121 S Estes Dr, Suite 205 D, Chapel Hill 27514. For appointments, you may contact us directly:
Rula Freiji 919-525-5626 General Pediatrics & Pediatric Infectious Disease Consults
Dani Mouawad 919-525-5625 General Pediatrics & Integrative Medicine.
– Rula and Dani Freiji-Mouawad
Realtors/Housing

Let The Home Team help you "Find Home" Now conveniently located in Timberlyne Shopping Center, our locally-owned real estate company has been helping clients, including several EWS families, "find home" since 1990. For more information or to speak to one of our experienced agents call 919.967.6363 or visit www.Home-Team.com. Also, please stop by to check out our exclusive, interactive window display!

Buying a home? Selling a home? Investing in real estate? HEAD, HEART and 20+ years of HANDS-ON EXPERIENCE giving caring advice and guidance to hundreds of happy home buyers and sellers – let me help you with all of your Real Estate needs!
Judy Weinstock, REALTOR, EWS Alumni parent. Joyfully donating to EWS with every sale. Phone 919-951-1800. www.seejudy.com.

Waldorf families are unique and special.
You need a realtor who is unique and special too. Lynn Hayes has been helping Waldorf families for over 25 years, offering caring and sensitive service while supporting Waldorf education in our community. For MLS searches, community information and lots more visit www.lynnhayes.com or call Lynn at 919-968-9989.


Advertising in the Emersonian

---
We accept small classified-type advertisements. Each submission to the Classifieds should be no more than 6 lines of text, which is approximately 60 words. Each submission costs $5.00. Payment for Community Bulletin Board Submissions should be made by Friday of the publication week. No charge for advertisements of free events or non-profit organizations. Submit ads to: emersonian@emersonwaldorf.org.

General Policy for the Bulletin
No political or religious advertisements. No competitive program advertisements. No outside fundraisers. The editors will decide the placement of advertisements. Submissions may be edited for content and length. The Emerson Waldorf School retains the right to choose not to print an advertisement.

Public announcements and services offered in the Emersonian or other circulars produced by Emerson Waldorf School are paid advertisements and do not necessarily reflect the views and opinions of Emerson Waldorf School or its employees.


---
E-Newsletter Design and Graphics

Emersonian Publishing Team:
Jamie Lamkin - Design and Layout
Raelee Peirce - Coordinator
Claire Viadro - Creative Content
Forrest Jackson, Kathleen Jackson, and Barbara Holloway - Editing
Kelley Wiley - Correspondence and Advertising