---
7th Grade Play - March 6th & 7th

---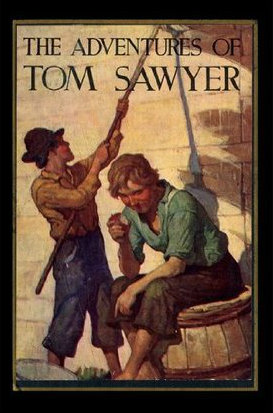 Written by - Michele L. Vacca
Produced by Special Arrangement with CLASSICS ON STAGE! of Chicago
---
College Acceptances
---
EWS Class of 2013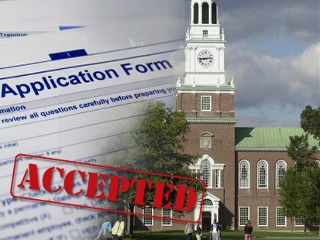 As of 2/13/2013
-Allegheny College (PA) + Merit Scholarship
-Appalachian State University (NC)
-Columbia College Chicago (IL)
-Elon University (NC) + Merit Scholarship
-Guilford College (NC) + Presidential Scholarship
-Hampshire College (MA) + Merit Scholarship
-Hendrix College (AR) + Merit Scholarship
-Kalamazoo College (MI) + Merit Scholarship
-University of North Carolina at Asheville (3)
-University of North Carolina at Greensboro
-Stetson University (FL)
-Warren Wilson College (NC)
---
Thank You For Your Contributions

---
Syria Donations: Huge Success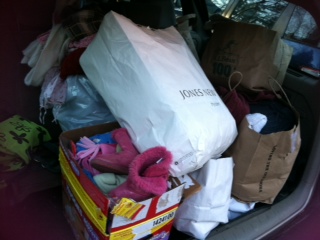 Four boxes have already made it to Zahle (two sent by air last week and two the week before to Red Cross.) It cost a lot so now a kind man in Raleigh who is Syrian in origin will be shipping a container of goods and will add our boxes to it.
Your generosity has been amazing!
We collected 304 items:
15 coats and 8 raincoats
2 large blankets
39 sweaters and 3 large sweatshirts
26 jackets
9 pairs of gloves and 10 hats
29 kid-sized pants
17 pajamas (3 thermals)
7 large thick adult-sized pants
44 long-sleeve shirts
3 dresses
11 t-shirts
27 pairs kids' socks, 21 pairs large wool socks
7 scarves
---
Bucket Brothers on Radio!
---
Tune In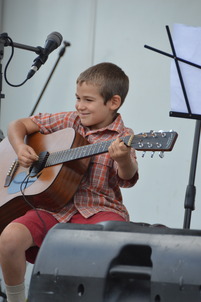 The Murphey School Radio Show, set for February 23, 2013, is a music/theater/comedy program in the format of an old-time radio show. Beneficiaries of this show, the fifth in a successful series, are SEEDS of Durham and Book Harvest, two of the best youth-oriented efforts around.
The Bucket Brothers, who are both Emerson Waldorf School students, will perform.
For ticket information and to learn more the show visit
www.murpheyschoolradio.net
---
8th Grade Project Overview

---
A Tradition at EWS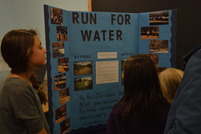 by Chloe Nash
Not very many Waldorf schools have eighth grade projects, but I count myself lucky to be in one of the schools that carries this tradition. I felt that the projects were a great experience for me and all my classmates. It was obvious to see that each project reflected the student's individual personality. The projects tested our abilities to work independently, dedicate ourselves, and find something we enjoyed that could also make us proud. I wish you all could have been there to see the culmination of our efforts. Here is a short summary of each eighth grader's project in alphabetical order.
Dorian made jewelry using two techniques: wire wrapping and chain maille. She made eleven pieces of jewelry and had them on display during Project Night.
Rowan Bedick learned different styles of painting. She recreated masterpieces using watercolor, acrylic, and oil paints. These paintings were on display on Project Night along with original sketches.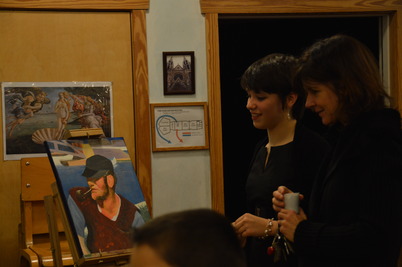 Soren Emerson built a Tesla coil, a machine that generates purple lightning, and performed a demonstration with it on Project Night.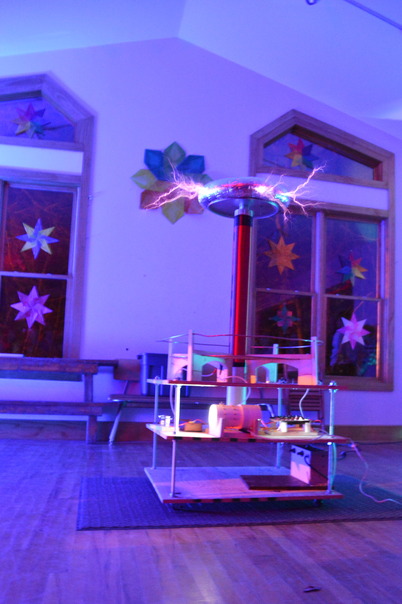 Zachary Gunn made a text-based computer game. The game was at his booth so visitors could try it out.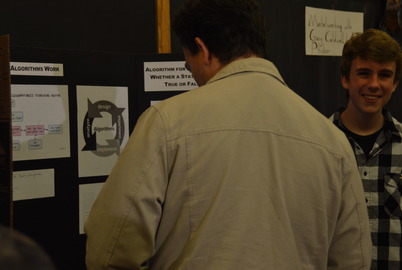 Lizzie Holloway learned how to telepathically communicate with animals. She collected animal experiences of her own along with others' which were all at her booth for everyone to read.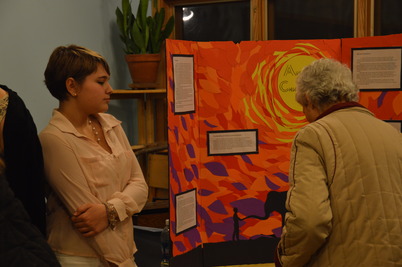 Eden Hopkin wrote a novella about a foster child named Tatum Hawke. She read aloud an excerpt from it on Project Night.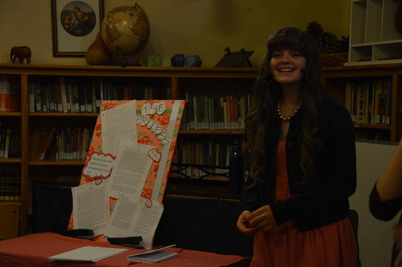 Emma Hulbert interned at Peaceful River Farm and learned hands-on the farm-to-table process. She collected her favorite recipes she learned and made a small cookbook of her own. She also had samples of some of the food she learned to make at her booth.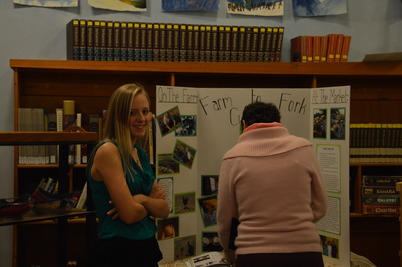 Gabriella LaLumia learned to play the guitar from her mentor, our School Administrator Steve Bennett. On Project Night she performed "Home" by Phillip Phillips along with the help of Lizzie Holloway.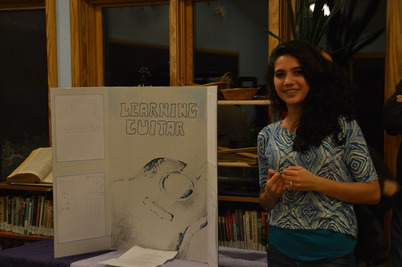 Mlana Lore trained her dog Izzy in dog agility and created a book explaining the eight different obstacles she used to train her dog. She showed a video of Izzy running through the course on Project Night.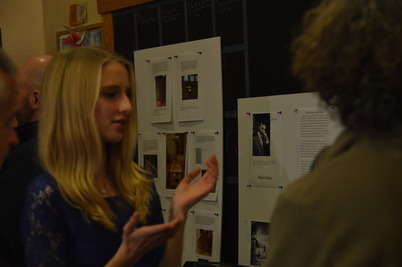 Stelle Mandeville showed the history of dance, from ballet to jazz to hip hop, by choreographing a dance which she performed on Project Night.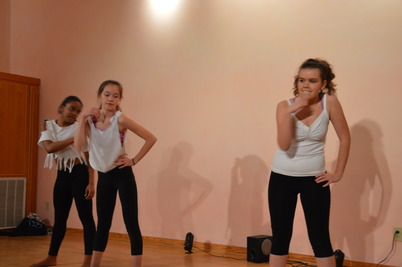 Cate Matthews helped Ms. Rogers make the school yearbook, which will be available a week before school is out.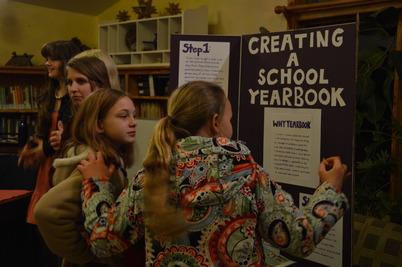 I, Chloe Nash, organized a run at the school on November 10th to raise money for Charity:Water. I ended up raising $262 for the organization. Pictures of the race and information about the charity were displayed on Project Night.
Eli Pfister learned different techniques of metal working. He made a two- foot-long hummingbird from stainless steel. The bird was on display on project night and will be auctioned off at the Gala.
Clare West traveled to Quito, Ecuador to learn about international traveling and to assist in a public health project in schools.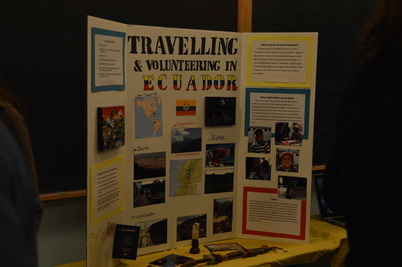 ---
MS Ultimate

---
Gnomes Victorious!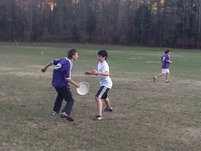 With five games in as many weeks, the Middle School Ultimate Frisbee team has been busy. Two matches with Triangle Day ended with close victories for the Gnomes, who bravely rallied in spite of several players being sick with the flu. Although we lost our games against Durham Academy and Carolina Friends, both league teams with more players and more experience than our own, they were good matches and we had fun! Our last game was a resounding victory against Durham School of the Arts, leaving the Gnomes with 5 wins and 2 losses on the season. We celebrated with a bowling party and a friendly match between the team and their parents and siblings.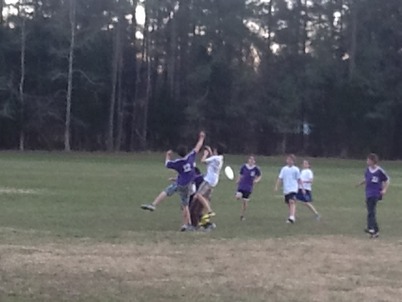 Our first ever Winter Ultimate Season has been a wonderful success. One of the most gratifying aspects has been the introduction of the SPIRIT CIRCLE at the end of each game: both teams stand in a circle with their arms around each other and choose the player who has exhibited the best sportsmanship. EWS has brought the spirit circle to every team we've played, and it has spread to other teams and become a tradition. Hope you will join us next winter!
---
Basketball
---
Coaches Proud of Teams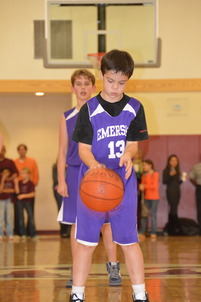 The past two Fridays the Middle School basketball teams have played with great intensity and focus. The Boys' coach, Strouse Campbell, said that he was really proud of how well his team played last Friday against Gorman even though our young team lost. The Gorman coach came over after the game and gave many compliments to our EWS boys. The Girls' team defeated Gorman. They had to endure some rough play but kept their focus and played good solid basketball.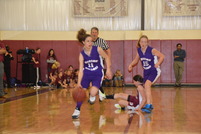 Cameron MacDonald, the Games
teacher from Charlottesville, was visiting our school on Friday and went to the Middle School games at Durham Academy. Cameron was very impressed with our teams. He could not get over how well all our players played against such a prestigious school as Durham Academy, where Duke and Olympic basketball coach Mike Krzyzewski was in the stands! Sometimes it takes an outsider to appreciate what our students are accomplishing with such little gym time or experience. We are very proud of how both of our teams played with composure and focus on Friday.
High School Basketball
- Semi Finals this Friday Night!
Last Friday both High School teams played Pace Academy. Pace never let up in either game but our girls and boys kept their cool and ended up on top. It was the High School Girls' last game of the season. This extremely young team played very well and look forward to next year when they are able to practice consistently together.
Last Wednesday night our High School Boys' basketball team played their best basketball of the season and defeated a very determined Woods Charter team 58-47. The High School team was tied for 3rd with 3 other teams but this win gave them sole possession of third place in their conference for the season! The seniors, playing in their last season game of their high school career, played inspiring basketball. Jonah Davidson finished with 11 points and 4 assists, Forrest Jackson 13 points and 7 rebounds, and Brendan Sanders had a season high 24 points and 9 rebounds.
Our boys basketball team played East Wake Academy in the quarter finals of the Central Carolina Athletic League and won last night! That win allows our team to play in the semifinals this Friday night at 7:00 at Woods Charter, (please come cheer us on!!) and if they win that night they will play in the finals Saturday night at 6:00 again at Woods Charter. Tickets are $3 for students/$5 for adults and in the finals it is $5 for students/$8 for adults.

---
Help Wanted

---
Admissions Assistant Needed.
Seeking a volunteer Admissions Assistant to help with administrative tasks. 5-10 hours/week ideal. Gain experience in providing professional support to applying families with follow-up
calls
, thank you notes, event planning, and data entry. Volunteer can assist any time between 8am-4pm in the office, have computer experience, and professional manner. (4-10 hours weekly)
Contact
admissions@emersonwaldorf.org
if interested.
---
Events & Classes

---
HORSES, HORSES, and more HORSES. Late February afterschool horsemanship lessons and Women's Intuitive Riding groups for moms are now forming for daytimes and Saturdays. Renew your love for these "Dolphins of the Land" or begin a new relationship formed on partnership and trust. Blue Skies of Mapleview LLC is "Where horse sense is stable thinking" since 1996. Also currently accepting applications for summer 2013 Horse Camp. Please go to www.blueskiesmapleview.us or call Deborah Pearson-Moyers 919-933-1444 for more information


---
Services
---
Maple Spring Gardens is accepting CSA registrations
for our 2013 season. Members will receive weekly boxes of fresh produce delivered to convenient locations in Durham, Hillsborough, Chapel Hill and Carrboro. Boxes contain a wide variety of seasonal fruits and vegetables ranging from Arugula to Zucchini, with strawberries, blueberries and lots of tomatoes. We have been providing fresh produce to the local community for over 30 years. As EWS grandparents, we are committed to growing food that is delicious, nutritious and safe for kids. Info at www.maplespringgardens.com On Facebook at http://www.facebook.com/pages/Maple-Spring-Gardens-LLC/512258068819416
Nick's Plumbing and More:
Nick Schneider continues to solve problems with plumbing, water filtration, heating, general maintenance, carpentry, winterizing equipment, pools, and general mechanical issues. Nick has been a Waldorf dad of two for 14 years and a plumber for twice that. He is the favorite "go-to problem solver" for the Pearson-Moyers family. Call Nick's Plumbing and More at 336-684-7407. Reasonable rates.

Looking for a new or used Waldorf related item
... toy, musical instrument, book? Visit The Waldorf Exchange at www.thewaldorfexchange.com.
Are you living with questions about your life, your relationships, your parenting, your future?
Lynn Jericho offers compassionate listening and creative guidance – Waldorf wisdom for adult needs and challenges. Call Lynn (919-240-4094) or learn more www.imagineself.com/about-Lynn/
Are you at a weight you are not comfortable with?
Consider a "turnaround" with a safe and effective program to lose inches and pounds. I have been able to reach a weight and size that I have not been in the last 20 years with the Shaklee 180 Program I am offering information and free samples at a "Turnaround Party" at my home on February 21 (Thursday) from 7:30 pm ~ 8:30 pm. To RSVP and more information go to
http://www.joanneestes.myshaklee180.com
Feel free to bring your friends and find out how you can get your products for free! Hope you will join us! (Joanne is a proud grandmother to 4 Waldorf children and feeling more energy every day :)
Are you looking for a New or Slightly Used Car?
Great Deals for EWS Parents, Friends & Faculty. Call David Rabius, Proud EWS Parent at 919-408-9633 Johnson Lexus @ SouthPoint- 2013 New Lexus Line Up..Certified Pre-Owned Lexus and a wide range of slightly used cars to meet your budget.
(David Rabius)

Create a space that aligns with your dreams!
EWS First Grade teacher, Shannon Dawn O'Connor happily uses her "super-power" to organize, lazure, simplify or re-create your home or office so that your environment supports what really matters to you. Shannon received a BFA from Parsons School of Design and studied the Environment and Its Effects on Psychology through Lesley College and has been happily beautifying the world ever since. For free estimates, work samples, or references contact Shannon Dawn @ 919.259.5252 and watch your world transform as it grows brighter and clearer around you!
"She's got the midas-touch" - Tyler G.
"Everything she lays her hands on turns golden"- Charlotte S.
"Shannon purely sparkles, and your home will too" - Megan W.

DIVINEROSE FACIALS
Offering illuminating and renewing Dr. Hauschka facial treatments. Cori Roth, NC Licensed/Holistic Esthetician and Dr. Hauschka retailer. Please visit Divinerose.com for more info.

New Medical Practice
We are pleased to announce our practice "Integrative Medical" at Haven Medical Clinic on 121 S Estes Dr, Suite 205 D, Chapel Hill 27514. For appointments, you may contact us directly:
Rula Freiji 919-525-5626 General Pediatrics & Pediatric Infectious Disease Consults
Dani Mouawad 919-525-5625 General Pediatrics & Integrative Medicine.
– Rula and Dani Freiji-Mouawad
---
Realtors/Housing

---
House Available.
You might pass it every day on your way to EWS on Merrittmill Road. The owners are selling and/or renting. Ever dream of being less than a minute from EWS? Now is your opportunity!
Click Here to Learn More
Let The Home Team help you "Find Home" Now conveniently located in Timberlyne Shopping Center, our locally-owned real estate company has been helping clients, including several EWS families, "find home" since 1990. For more information or to speak to one of our experienced agents call 919.967.6363 or visit www.Home-Team.com. Also, please stop by to check out our exclusive, interactive window display!

Buying a home? Selling a home? Investing in real estate?
HEAD, HEART and 20+ years of HANDS-ON EXPERIENCE giving caring advice and guidance to hundreds of happy home buyers and sellers – let me help you with all of your Real Estate needs!
Judy Weinstock, REALTOR, EWS Alumni parent. Joyfully donating to EWS with every sale. Phone 919-951-1800. www.seejudy.com.

Waldorf families are unique and special.
You need a realtor who is unique and special too. Lynn Hayes has been helping Waldorf families for over 25 years, offering caring and sensitive service while supporting Waldorf education in our community. For MLS searches, community information and lots more visit www.lynnhayes.com or call Lynn at 919-968-9989.