Administrator News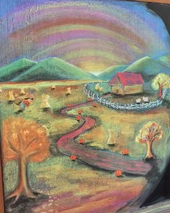 Dear Parents,
This has been an emotionally charged week. The anticipation of a national election and the emotional fall-out of a result which has been demonstrative of a divided nation has been challenging for our entire community. I personally go forth with renewed appreciation for educators who hold a long view and work daily to teach, inspire, and shape the lives of children who will impact our future society; as well as a deep appreciation for a community of adults who are mutually respectful and supportive of one another.

Friday mornings now offer us the opportunity to gather together near the lower school parking lot, meet-and-greet new parents, and support the fundraising efforts of our 8th grade class. This week's class offering was a Song of Peace from our 5th grade.

Today is also Martinmas and our Early Childhood, 1st, 2nd, 3rd, and 4th grade classes will all be participating in evening activities, lantern walks, and the mesmerizing new puppet show "Spindlewood," with all new intricately-designed, diverse characters. Largely unique to Waldorf schools, these light-filled festivals offer us inspiration and carry our hopes for the future as we enter a time of increased darkness.
We are also quickly approaching our annual Emerson Waldorf Children's Faire (Holiday Faire) & Artisan Marketplace. Our biggest fundraising and outreach event of the year, the Faire requires a tremendous amount of planning and volunteer effort. Thank you to everyone who is playing their part – big and small. Please help this Saturday to spruce up the campus and spread the word to friends and families to join us on November 19th.
And finally, please make sure your calendars are marked for our Thanksgiving Assembly on Tuesday, November 22nd.
Thank you for all you do in support of our school.
Christina Wise
Director of Administration



---
EWS Annual Children's Faire & Artisan Marketplace!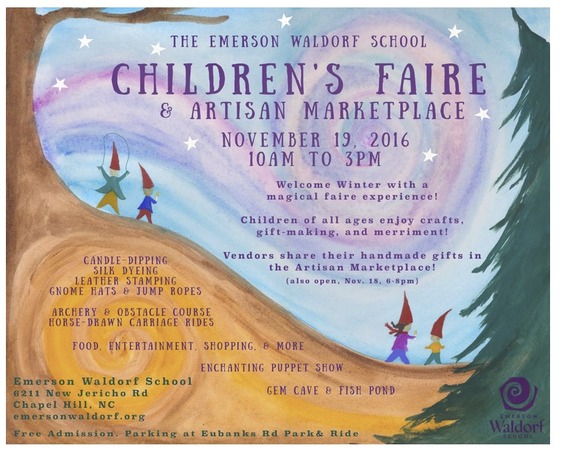 CLICK HERE FOR MORE INFORMATION & BE SURE TO INVITE YOUR FRIENDS!
CLICK HERE TO LEARN WHY HOLIDAY FAIRE HAS A NEW NAME!
CHECK OUT OUR NEW ACTIVITIES!
Wee Folk Area for toddlers and preschool children on the First Grade Playground
Obstacle Course on the Lower School Playground
Face Painting in the High School Courtyard
Family Photos by Seasons of Life Photography near the High School Basketball Court
Interactive Music Presentation at

1:30pm

in the 8th Grade Classroom
And all parents, faculty, and staff are invited to the adults-only Artisan Marketplace Shopping Evening & Reception on
Friday, Nov. 18
from
6-8pm
.
---
Leaf-Changing in Early Childhood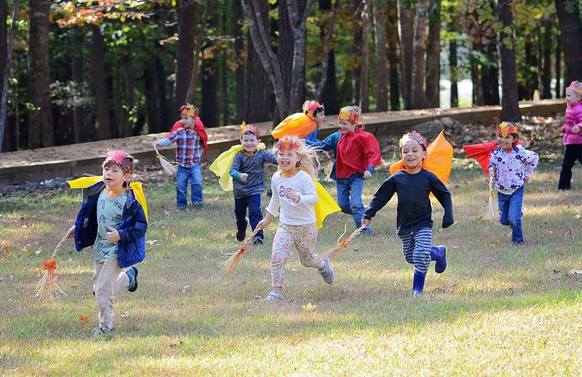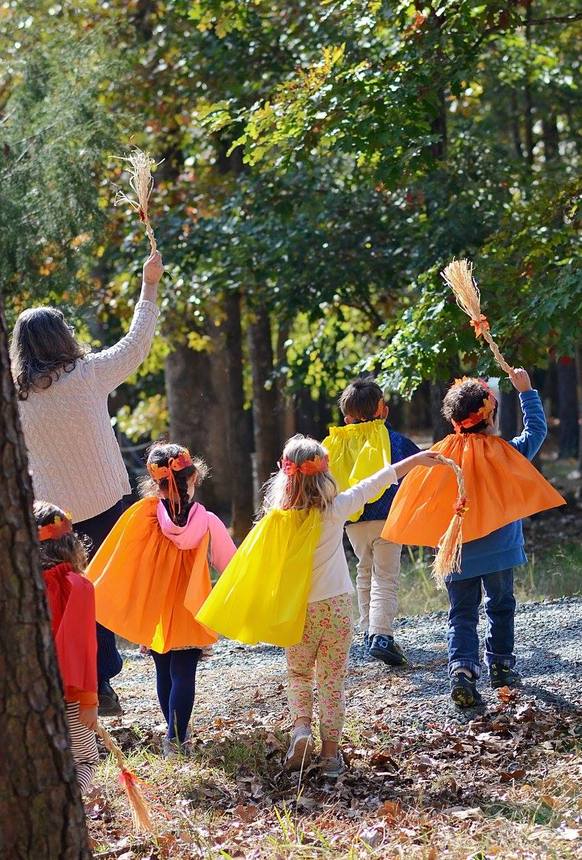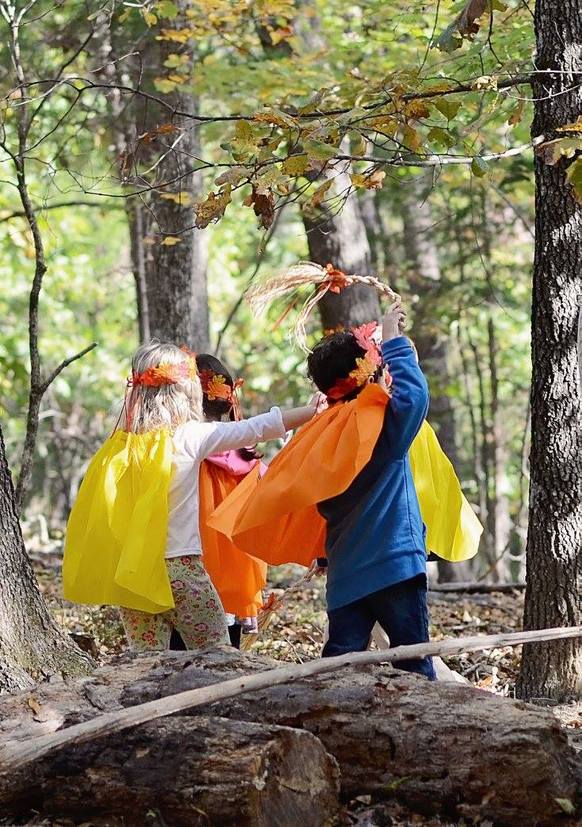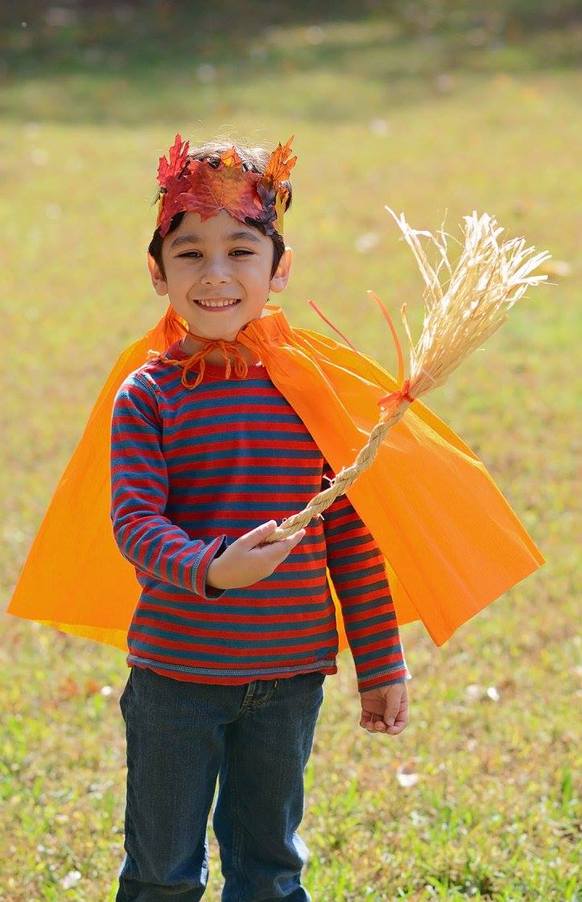 EWS Early Childhood celebrated Halloween with a magical leaf-changing expedition.

CLICK HERE FOR MORE PHOTOS
---
Pumpkin-Carving in Grades 1-12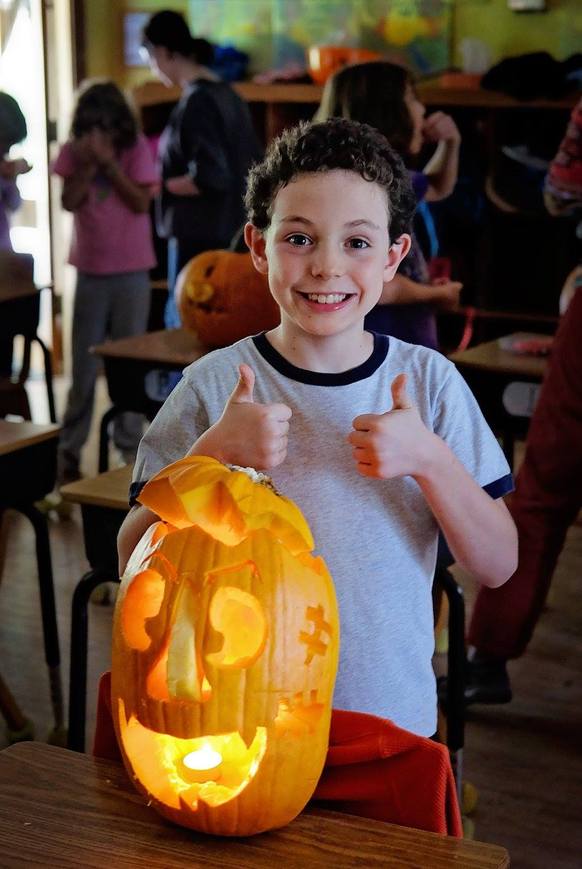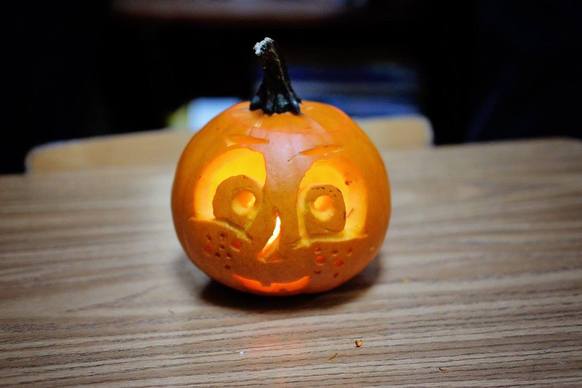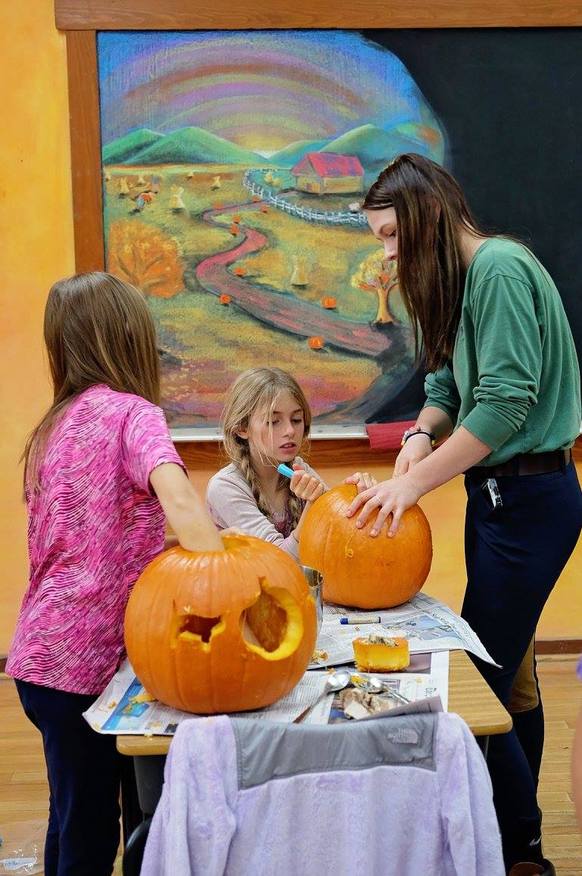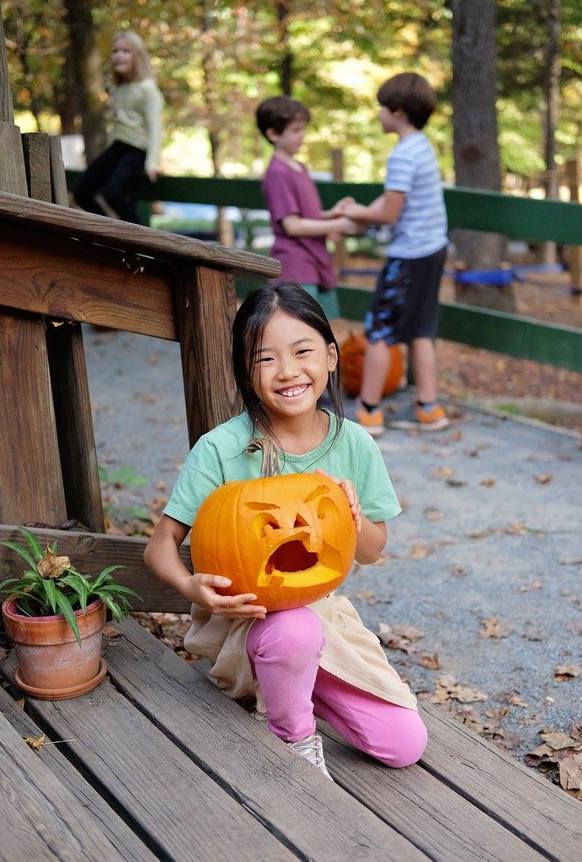 EWS High School students assisted Lower School students to create some magical pumpkin creations!
CLICK HERE FOR MORE IMAGES
---
Grade 5 Celebrates Diwali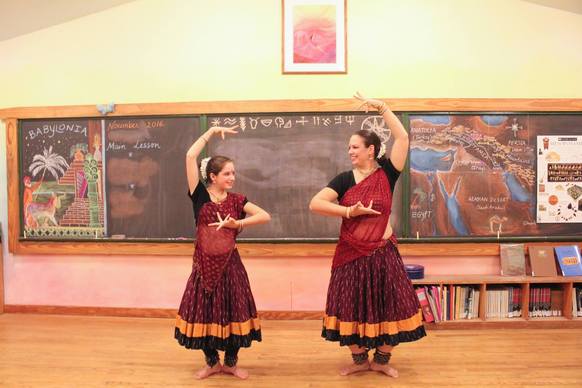 EWS 5th Graders commemorated Diwali last week. While primarily known as a Hindu festival, Diwali, which also coincides with the Hindu New Year, is also celebrated by Sikhs, Buddhists, and Jains for different reasons. Diwali means "row or series of light" and dates back to ancient times when it was an important harvest festival. However, it also has a number of legends attached. Perhaps the most significant is that of Lord Rama and his wife Sita. After serving 14 years in exile, Rama returned to the city of Ayodhya and vanquished the 10-headed demon king Ravana, who had kidnapped his wife. To celebrate, residents of the city lit rows of clay lamps, thus coming to signify the triumph of good over evil.
---
New Parent Coffee & Tea Meet-and-Greet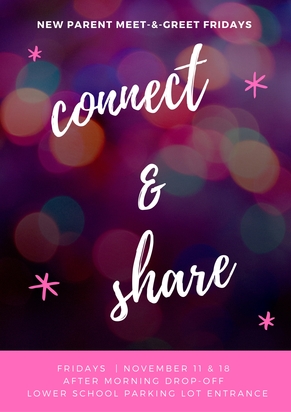 Fridays - November 11 & 18! Come to one or both!
This month's "New Parent Tea" at The Cottage has transformed into the "New Parent Meet-and-Greet Fridays" at the Lower School parking lot entrance near the 1st grade playground every Friday morning in November!
First cup of tea or coffee is FREE to all new parents! (Raelee will provide you with a Name Tag so you can get your Free cup and so others will know to introduce themselves to you!)
Dress warmly and join us on Fridays to support the 8th Grade Class coffee & baked goods fundraiser (Only $1/cup). Festivities begin after drop-off until the goodies are gone.
Admin staff and subject teachers will help to introduce new parents to current parents. This is a great way to make connections and ask questions! Each Friday a different grades class will share something with the gathered parents – another wonderful feature of this event!
See you there!
---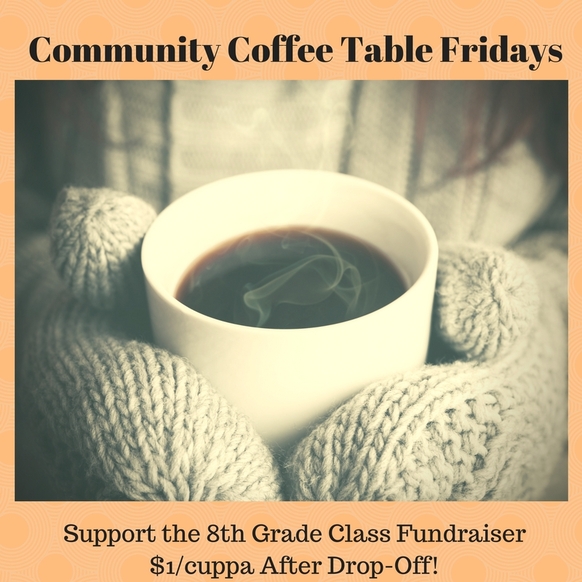 ---
Sports Update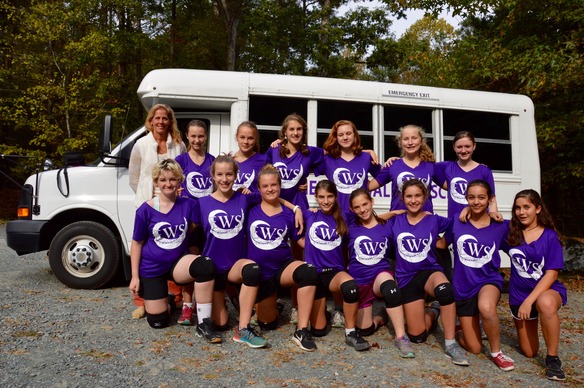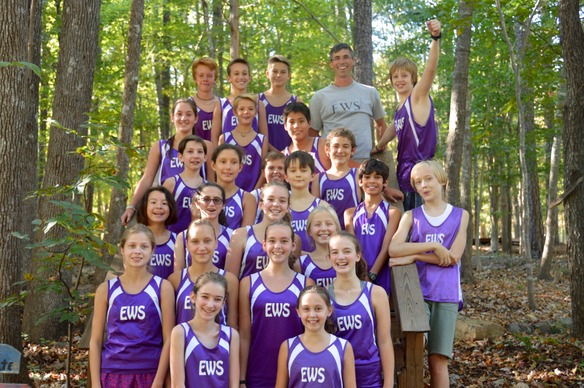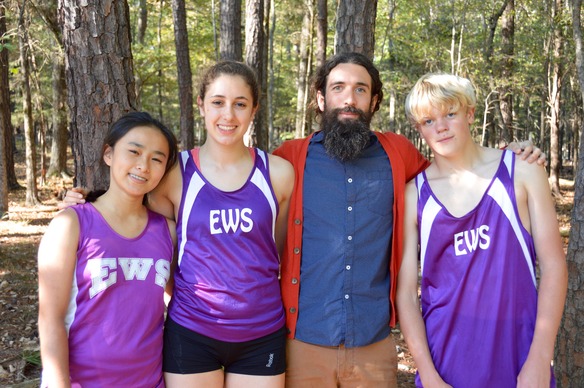 The fall season of athletics has ended and the winter season of basketball is underway!
Foremost, we thank our coaches for their wonderful work with the students. We rely on their grace to guide our teams and we appreciate them so much.
Often, I smile when I wonder where they will come from, and then they show up — literally as if they floated down from heaven. Thank you so much coaches!
-8th Grade and HS Soccer: Keith Bartholomew and Tony Jackman
-HS Volleyball: Amber Bettilyon
-MS Volleyball: Lynda Hollar
-HS Cross Country: Mr. Ford
-MS Cross Country: Mr. Hall
Also, special thanks to all the parent volunteers who supported our teams this year in so many ways. Likely, you are noticing EWS athletics apparel on campus, guest coaches, special trips to UNC games, cross country course volunteers and guides, great fans, bus drivers, team parties, etc, etc, etc, and this is the direct result of parents who have come forward to support all this — with time, talent and treasure! Thanks parents!
At Emerson, we provide a growth-based program focused on enhancing the physical, social, and emotional development of our student athletes. Our expectation is that our students, through their coaches, prepare well and show up to play in a noble way. Winning can be the outcome of solid preparation and noble play. Losing can be the outcome as well. Either way, when the focus is on preparation and how we play, we learn important lessons about ourselves and each other every single time we step on the field, court, and course.
From where I sit, I have the honor of witnessing the daily transformation of our student-athletes across all our sports teams. This fall, I was proud to see our athletes be brave and try new things to grow our MS Volleyball program; show grit to overcome adversity like broken bones, bad weather, and lower participation in soccer; embrace hard work as well as sportsmanship to grow new skills and new relationships in HS Volleyball; learn how to (literally) fly on your (her) own and begin to explore the spiritual component of distance running in HS Cross Country; and to see so many 6th, 7th, and 8th grade students go from "I can't" to "I can" in the peaks and valleys of MS Cross Country running.
When it all comes together — everyone has the opportunity to play, our coaches foster age-appropriate development, our parents and teachers and administrators are supportive — our program thrives. Sometimes, people ask me why I don't report the scores and highlight that we win so much (like most schools and sports teams). Look — I love to win as much as anyone else — I just see it from a higher level — it is a nice byproduct — and frankly, I don't think it should be news that we win more than we lose. When we focus, patiently, on developing the whole child, really preparing well for our games, and showing up to play in a noble way…winning happens more often.
And so we close a very successful fall season. Great job athletes and thanks to all who helped make it happen. I'm glad we get a little moment to reflect, even though it seems we are well into the basketball season with our five teams! More on that next time!
One quick ask: if you are interested in helping to form what might eventually look like the athletics arm of the parent organization (sometimes known as booster clubs in the outside world) — please give me a call. As we continue to grow our programs we will need additional support from volunteer parents and there is much that needs to be done. One big piece of our plan is to develop an athletics parent organization and I'd love to hear from anyone who is moved to help!
Thanks again — and Go Gnomes!
Best wishes,
Mr. Hall
---
Grade 10 to Perform Ironic Version of Antigone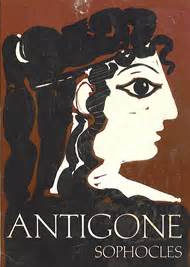 Please come out and enjoy an evening of irony as the 10th Grade shows us how the ancient play of Antigone is still relevant today. The timing of this play falls perfectly on the heels of the recent election, as the chorus represents the media and Donald Trump is King Creon. This performance is guaranteed to be a fascinating smash-up, as ancient text is combined with our world today. Antigone is a tragedy by Sophocles that was written in or before 441 BC.
Appropriate for ages 13 and older.
Tuesday, November 15, 7-9pm
Wednesday, November 16, 7-9pm
Thursday, November 17, 7-9pm
All performances will take place in the Brown Wing of the High School.
---
Student Shows EWS Pride at Durham Art Event

Briana & Jason Roane attended The Mural Art Durham event in October with their children– Pyper (Ms. O'Connor's 5th Grade), and Cypress (Ms. Andrea's Goldfinch Kindergarten). This is Pyper and Cypress's 2nd year at EWS!
Here's a picture of Pyper sharing her love of EWS with the community!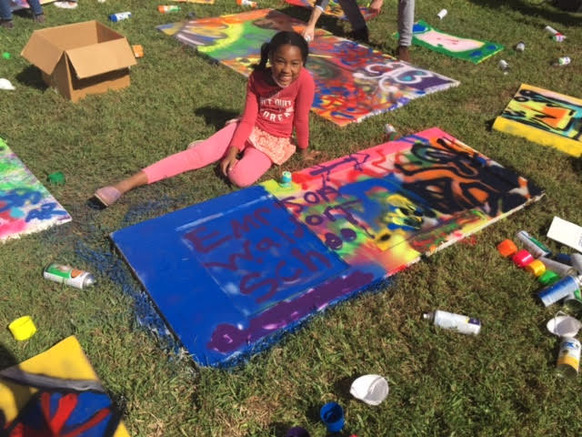 "The event was awesome! They opened the building to let children and artists participate and watch other professional artists do the massive murals outside. Pyper also participated in the free dance class taught by a Duke Dance student, who was great with her. Everything was completely free, even the food truck." – Briana Roane, EWS Parent
Do you have a picture sharing your love of EWS in the community? Send the love to
emersonian@emersonwaldorf.org
for the next Emersonian Issue!
---
Order Holiday Pies from Grade 12 Today!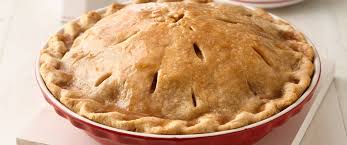 The 12th Grade is having a pie sale! Delicious, homemade pies, perfect for the holidays or simply to enjoy straight away!

CLICK HERE
to order regular, gluten-free, and dairy-free pumpkin, apple, and key lime pies.
Order forms are due in the High School office by Monday, November 14th. Pie pick-up will be on November 22 at ERUUF after the Fall Assembly.
---
PORCH FOOD DRIVE TODAY!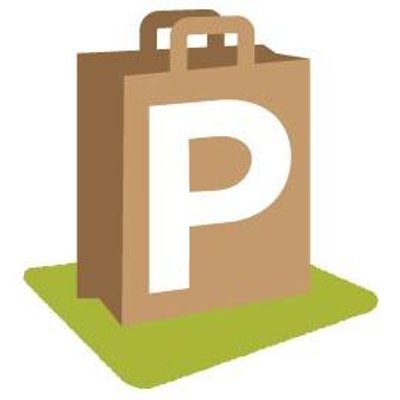 The twelfth grade thanks all families who donated to our monthly food drives last school year. Your generous donations were distributed to local food pantries that serve the Chapel Hill and Carrboro communities. Thank you! We invite all families at EWS to participate in the monthly food drives this current school year.
All families wishing to donate are asked to bring a bag of groceries TODAY and leave the bag with the students who will be present in the parking lot in front of the gazebo at afternoon pick up. You can also leave donations on the tables in the gazebo during the day. The 12th graders will gather the donations and make the delivery to PORCH at the end of the day. This is an exciting opportunity for our community to participate in the good work of this grassroots organization!
What is PORCH? People Offering Relief for Chapel Hill Carrboro Homes.
PORCH is an all-volunteer, grassroots hunger relief organization whose mission is to collect and distribute food for families going hungry in the Chapel Hill and Carrboro community. Through monthly neighborhood food drives, PORCH stocks the shelves of eight local food pantries with canned goods. Once a month, folks in neighborhoods in our area leave a bag of food by their mailbox. Their neighborhood PORCH coordinator picks up the bags on the appointed day and delivers the food to PORCH, which then distributes the food to the local pantries.
The local food pantries that PORCH serves request the following items:
cans of meat (tuna, chicken, or spam)
cans of soup and stew
peanut butter and jelly
bags of rice (white or brown)
cans of vegetables of all kinds
cans of fruit of all kinds
cans or bags
---
Transition to Grade 1 Information Session & Tour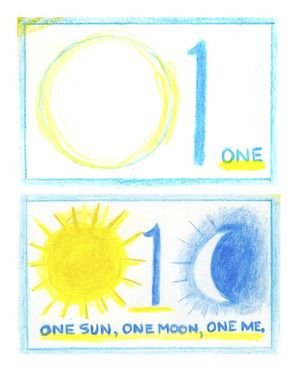 Date:
Tuesday, December 6, 2016 8:30am-10:30am
Location: Starts in The Cottage


Attendees: Suggested for Nursery & Kindergarten Parents who are curious about elementary Waldorf education and who are currently enrolled or new to EWS.
Join current Grade 2 Teacher, Shannon Wiley, for a conversation about the transition from Kindergarten to Grade 1. Mr. Wiley will talk about the role of the class teacher and the concept of the continuing relationship with a teacher for several consecutive years. He will describe the changes in the daily rhythm and will talk about the subject teachers the children will get to know. Practical guidelines for supporting your children as they transition to a full day of school will be suggested.
FYI: In late Spring, enrolled students' parents for Grade 1 for the 2017-2018 school year will meet with the Rising 1st Grade Teacher for a Meet-the-Teacher evening. Similar information will be shared.
---
Admissions Tours & Application Deadlines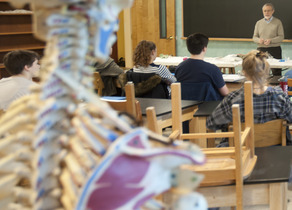 Personal Tours are available weekly.
2017-2018 Application Deadlines:
Early Childhood Due 1/6/17
Grades 1-11 Due 2/27/27



All School Open House



Please join us for
Waldorf Education Day on Saturday, January 14, 2017 9am-1pm. This is a great event for current families and their friends to learn about Waldorf education and our school.

---
PO Happenings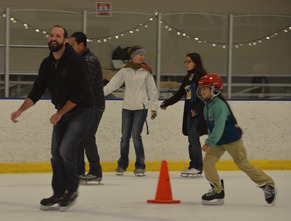 Parent Satisfaction Initiative Update
Thank you to all who participated in our recent brainstorming session in person and online for our Top Five Areas for Improvement! Your P.O. leadership team along with parent facilitators are compiling the information to share with the Administration, College of Teachers and Board of Directors in the coming weeks!

Moms and Dads Common Interest Groups!


One of the many wonderful things that came out of the recent P.O. meeting was an interest in creating more frequent, informal gathering opportunities for moms and dads to connect. Thus...
Dads announce EWSdads Google Group!

If you're an EWS dad and would like to get together with other dads monthly to play cards, eat chicken wings, sit around a bonfire, etc., join the Google Group for updates and invites! Simply send email to "
EWSdads+subscribe@googlegroups.com
" from the email address you'd like to add. Tentative 1st gathering on Fri, 12/2. More details to come! Questions? Contact Jason McDonald -
jasontutors@gmail.com
Moms announce EWS Mom's Book Club!

Do you consider yourself "a reader"? Are you looking for a way to connect meaningfully with other moms at EWS? Well, then this NEW Mom's Book Club is for you! You're welcome to join the Google Group for updates and invites to book club and other activities for EWS moms! Simply send email to "
EWSmoms+subscribe@googlegroups.com
" from the email address you'd like to add. Tentative 1st gathering on Thurs, 12/8. More details to come! Questions? Contact Kristine Williams -
kristine_williams@rocketmail.com
.
UP & COMING EVENTS

Children's Faire Workday
- Saturday, November 12th, 9am to 12pm

Ice Skating at the Orange County Sportsplex
following the Thanksgiving Assembly at ERUUF - Tuesday, November 22nd, 1pm.
Kim John Payne Lecture, "Loving Limits in a Digital Age"
- Tuesday, November 29th, 7-9pm at ERUUF (Eno River Unitarian Universalist Fellowship). Free!
Kim John Payne Lecture, "Being Your Best When Your Kids are at Their Worst"
- Wednesday, November 30th, 6-9pm in EWS Brown Wing. Free!
Please contact one of us if you have any questions or comments. We look forward to seeing you around campus this month!
Regards,
Jason McDonald & Metta Prieto
EWS Parent Organization Co-Coordinators
---
Tuesday, November 29, 2016 7-9pm at ERUUF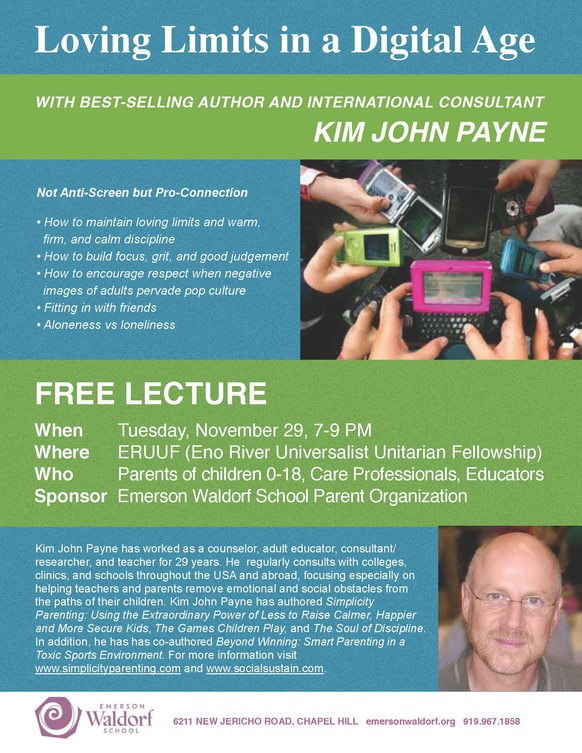 CLICK HERE
for additional information on Kim John Payne and a 4 minute video clip on Simplicity Parenting. And please invite your friends!
---
Wednesday, November 30, 2016 6-9pm at EWS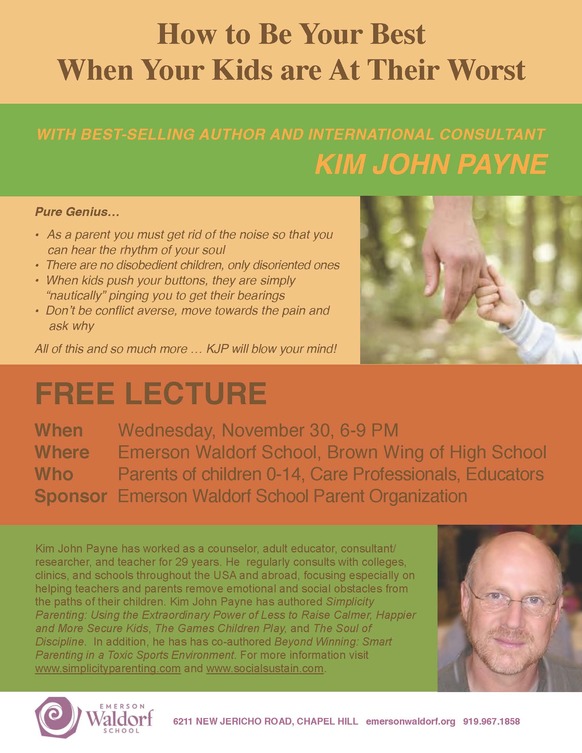 CLICK HERE
for additional information on Kim John Payne and a 4 minute video clip on Simplicity Parenting. And please invite your friends!
---
Upcoming Climate Change Lecture – Open to All!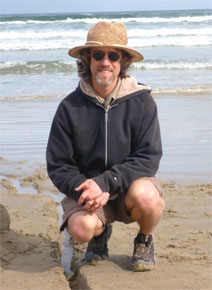 Stephen Griffies, Physical Scientist in the Oceans and Climate Group of Princeton University's GFDL (Geophysical Fluid Dynamics Laboratory) will discuss Climate Change with all EWS High School students on November 21 from 8:30-10:00am and will be hosting a brown-bag lunch discussion entitled "Waldorf Education and Climate Change" for all interested adults from 12:45-1:30pm in the Brown Wing.
CLICK HERE TO LEARN MORE ABOUT STEPHEN GRIFFIES
Please invite your friends to join us!
---
Quote for the Week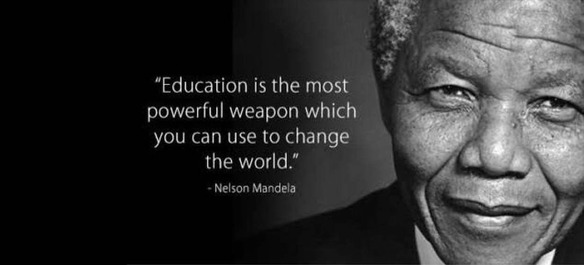 ---
Upcoming Events

11/11 Parent Handwork group in Handwork Classroom 8:30am
11/11 EC Puppet Show and Lantern Walk 5:30pm
11/11 Gr. 1 & 2 Lantern Walk - Gr. 2 6:30pm, Gr. 1 7pm
11/11 Gr. 3 & 4 Lantern Walk & Bonfire 7pm
11/12 P.O. Sponsored: Children's Faire Workday 9am
11/15 MS Boys & Girls Basketball vs. Gorman @ Orange Rec. 3:45pm
11/15 10th Grade Play in the Brown Wing 7pm
11/16 10th Grade Play in the Brown Wing 7pm
11/17 MS Boys & Girls Basketball vs. Eno River Academy @ Orange Rec. 3:45pm
11/17 10th Grade Play in the Brown Wing 7pm
11/18 New Parent Coffee at the 1st Grade Playground 8:30am
11/18 Parent Handwork group in the Handwork Classroom 8:30am
11/18 Children's Faire & Artisan Marketplace - Adults ONLY vendor evening 6pm
11/19 EWS Childen's Faire & Artisan Marketplace 10am-3pm
11/21 Climate Change lecture by Stephen Griffies in High School 12:45-1:30pm
11/22 10:10am Dismissal to ERUUF for Thanksgiving Assembly
11/22 12noon DISMISSAL at ERUUF - NO AFTERCARE/NAP
11/22 P.O. Sponsored: Ice Skating at Triangle Sportsplex 1pm
11/22 MS Boys & Girls Basketball vs. Trinity @ Orange Rec. 3:45pm
11/23-25 NO SCHOOL for Thanksgiving
11/28 Return to School

---