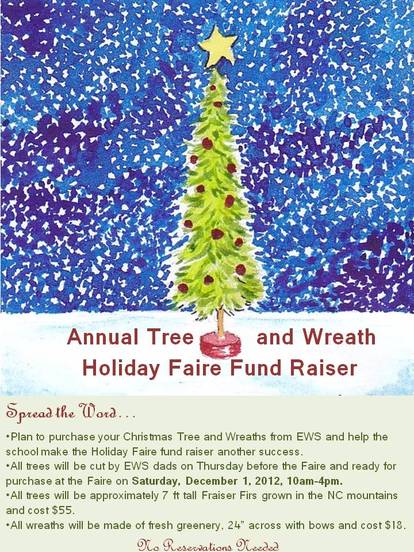 ---
High School Visits NC Museum of Art

---


On Tuesday, November 20, the whole High School went to the North Carolina Museum of Art to see two exhibitions. The first was an exhibition of about 100 different still lives and the second was an exhibition of some of the works of Edvard Munch.
Ms Guinan started off the day by giving the students some background information on Munch and having them all participate in the creation of one of Munch's most famous pieces, entitled "The Scream".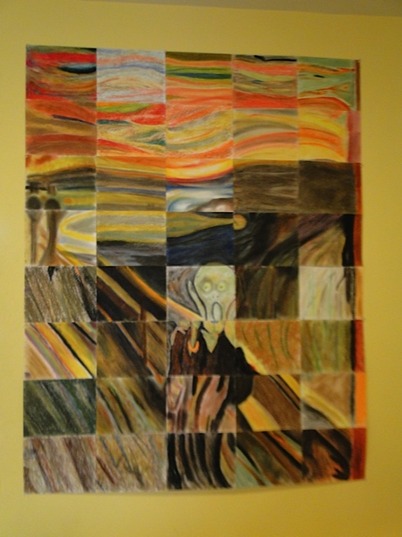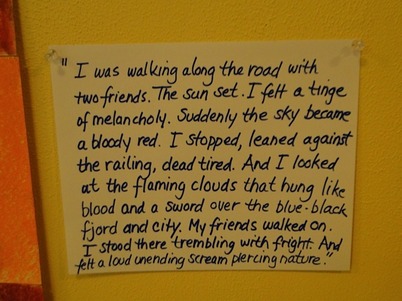 After arriving at the museum the students had time to look at an exhibition of photographic work done by some High School students. This exhibition, called "The Power of the image" included the works of 2 of our students: Shanti Rogers and Shay Stifelman. We then had some docents guide us through the Still Life exhibition, before proceeding to the Munch exhibition. We had time at the end of the day to continue browsing through the museum, walk to the cloud chamber and pose for some pictures before returning to school.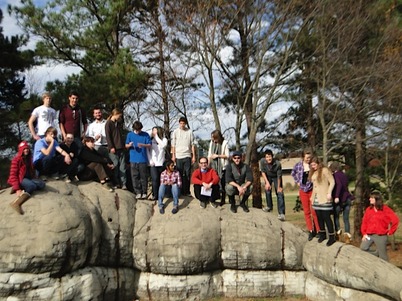 Therisa Pienaar
High School Coordinator
---
We Have a New Shed!
---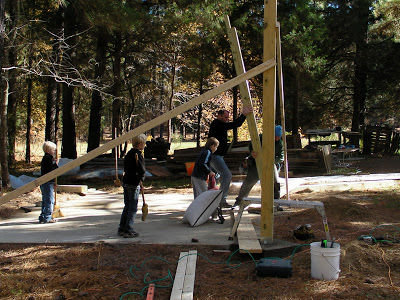 This weekend was very productive at Emerson Farm. We made huge progress on both our new shed and the flow form that second and third grades helped to pour in spring of 2011.
Read the Full Story on Our Farm Blog
---
Waldorf Works

---
from a Waldorf blog...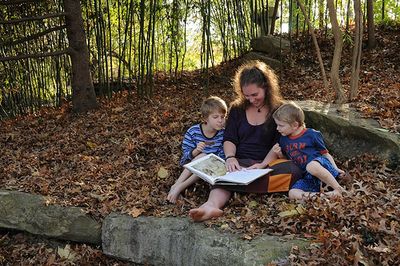 The TV stays off. The laptop stays closed for the most part. The blinds are open to let the sunshine in (though it's summer in the desert, so the windows must stay closed tight until it starts to cool down). We sing songs. We read fairy tales. We do the dishes together. We fold laundry (something that I used to dread, but is now a beloved part of every Monday and Thursday). We paint. We take walks. We visit friends and family. We make things. We lay quietly together. We make up silly stories. We laugh. We ignore Facebook. We ignore email. We ignore Pinterest. Those things are still there when N is asleep in bed, dreaming little nearly-four-year-old dreams, and they don't seem to mind that I have ignored them all day. N, on the other hand, would very much mind.

Things are peaceful in our home. Things are happy. They haven't always been, when things and other people were more important. When we allowed television and the internet to control our schedules and take our attention away from each other and the beautiful world around us. When we felt like everything was forced, and everything was a struggle.
This way is so much better for us.
Read the Full Post
---
Help With Bullying

---
THE MANY FACES OF BULLYING FROM THE CORRIDORS OF OUR SCHOOLS TO THE CORRIDORS OF POWER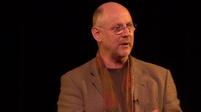 This CD explores an alternative to the punitive - permissive dilemma we often face when responding to wrongdoing such as bullying. This third way is known as 'accountability without blame'. The presentation traces the many layers of bullying from the school environment through to current events. It offers practical home- and school-based solutions that when implemented can be a part of lasting change in the world.
"So often I feel helpless when I see what's going on in the world. Hearing this presentation not only gave me hope but it gave me a point to begin." Misha Kemp (Parent & Doctor)
We have great CDs to lend from the EWS Library located in the Main Office. The CD listed here is available along with others by Kim John Payne. In addition to great audios, there are many Waldorf parenting books available.
---
This Week's Verse

---

The first light of Advent is the light of stones.
Stones that live in crystals, seashells, and bones.
The second light of Advent is the light of plants.
Roots, stem, leaf, flower and fruit by whom we live and grow.
The third light of Advent is the light of beasts.
Animals of farm, field, forest, air and sea.
All await the birth in greatest and in least.
The fourth light of Advent is the light of humankind.
The light of love, the light of thought, to give and to understand.
--Rudolf Steiner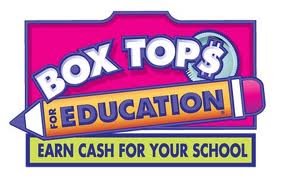 Box Tops for Education
Save your "Box Tops for Education" and raise funds for EWS!
Deposit your box tops in the green box with the gold bow in the Main Office. Many products have these magenta coupons on their labels.
---
Events and Classes

---
Cold & Flu Season Getting to You? Discover the Family Physician Kit
doTERRA's Family Physician Kit contains 10 essential oils and blends - the "feel better" essentials that parents need on a daily basis to care for their families. Join us to learn of the infinite ways that doTERRA's CPTG Certified Pure Therapeutic Grade essential oils can help you to help your family. Erin Anderson, doTERRA Consultant, from Raleigh will be providing the class. You are invited to experience doTERRA - Free Class.
Where: Raelee & Glenn Peirce Home (Hosts)
When: December 4, 2012, 7-9pm
Please RSVP: noblemama@gmail.com by Nov 30, 2012
---
Free to a Good Home

---
We are looking for a home for our lovely tortoise shell cat, Callie.
We adopted her when someone found her wandering around an empty parking lot. She does not tend to be a lap cat but she does like to be petted. She likes to spend the majority of her time outside (especially at nights). Usually she just comes inside to eat and sometimes to take a "cat nap." She has been unhappy with the latest two dogs that we have brought into the house, so we feel obligated to find her a better place. We are hoping there may be someone who lives in the country (or at the very least in a neighborhood that does not have a lot of traffic) and would be willing to adopt our dear cat. Please contact Pat McKenzie at pamckenz1951@gmail.com or call 919.308.0721.


---
Services
---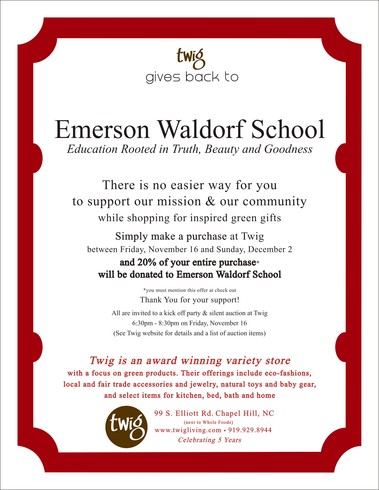 Gnomes, Fairies, Chickens and Bees, Oh My!
by ehkarp - This Waldorf parent, from Atlanta, has painted some lovely portraits of Gnomes, Fairies, and other creatures. They make the perfect stocking stuffer or ornament.
All are available at
etsy.com/shop/Aisforpainting
. Follow me on FB at
facebook.com/AIsForPainting
for the latest postings. Free shipping for the Waldorf community coupon code WALDORFEMER.
Get the best beef and pork delivered to you at EWS, by the cut! Grassfed beef and pastured pork raised humanely with no antibiotics, added hormones, pesticides or herbicides. Call or email for pricelists: farmer@MinkaFarm.com or 919-304-4999. Delivering to EWS every Tuesday that school is in session.


Support a Waldorf family and enjoy beautiful hair at the same time!
Put your hair in the hands of artist-hairdresser Nancy Moore. She is good with hair of every kind, yes even curly. Call for appointment, you may have to leave a message, 919 260-2495. Or make your appointment online, www.mandrewdesign.com 4905 Pine Cone Drive Durham, NC 27707


Looking for a new or used Waldorf related item... toy, musical instrument, book? Visit The Waldorf Exchange at
www.thewaldorfexchange.com
.
Are you living with questions about your life, your relationships, your parenting, your future?
Lynn Jericho offers compassionate listening and creative guidance - a Waldorf wisdom for adult needs and challenges. Call Lynn (919-240-4094) or learn more
www.imagineself.com/about-Lynn/
Are you D-ficient?
Take this quiz
to find out AND how to receive a FREE bottle of Vitamin D3. According to Michael Holick, PhD, MD, and author of The Vitamin D Solution, "Improvement in the world's vitamin D status could significantly reduce risk of many chronic illnesses including cardiovascular disease, autoimmune disease, type 2 diabetes and many deadly cancers as well as infectious diseases including upper respiratory tract infections, influenza and tuberculosis." (Joanne Estes is a grandmother of 4 EWS students and at 69 she is living healthy, strong and prescription-free!).
Are you looking for a New or Slightly Used Car?
Great Deals for EWS Parents, Friends & Faculty. Call David Rabius, Proud EWS Parent at 919-408-9633 Johnson Lexus @ SouthPoint- 2013 New Lexus Line Up..Certified Pre-Owned Lexus and a wide range of slightly used cars to meet your budget.
(David Rabius)
Create a space that aligns with your dreams!
EWS First Grade teacher, Shannon Dawn O'Connor happily uses her "super-power" to organize, lazure, simplify or re-create your home or office so that your environment supports what really matters to you. Shannon received a BFA from Parsons School of Design and studied the Environment and Its Effects on Psychology through Lesley College and has been happily beautifying the world ever since. For free estimates, work samples, or references contact Shannon Dawn @ 919.259.5252 and watch your world transform as it grows brighter and clearer around you!
"She's got the midas-touch" - Tyler G.
"Everything she lays her hands on turns golden"- Charlotte S.
"Shannon purely sparkles, and your home will too" - Megan W.

DIVINEROSE FACIALS

Offering illuminating and renewing Dr. Hauschka facial treatments. Cori Roth, NC Licensed/Holistic Esthetician and Dr. Hauschka retailer. Please visit
Divinerose.com
for more info.
New Medical Practice
We are pleased to announce our practice "Integrative Medical" at Haven Medical Clinic on 121 S Estes Dr, Suite 205 D, Chapel Hill 27514. For appointments, you may contact us directly:
Rula Freiji 919-525-5626 General Pediatrics & Pediatric Infectious Disease Consults
Dani Mouawad 919-525-5625 General Pediatrics & Integrative Medicine.
– Rula and Dani Freiji-Mouawad
---
Realtors/Housing

---
Our house is for sale and we want to spread the word around as much as possible so that people will come take a look.
We live in an older established neighborhood (started in the 70s) just minutes from three of the Eno River parks and just over the line from Orange County. It has a great fenced back yard and over 13 different kinds of hardwood trees It sits on a corner lot, and best of all has not only a double garage that connects to the house but also a finished wired separate garage that is great for storage, a workshop and other wonderful possibilities.
Click Here for the Link
Buying a home? Selling a home? Investing in real estate?
HEAD, HEART and 20+ years of HANDS-ON EXPERIENCE giving caring advice and guidance to hundreds of happy home buyers and sellers – let me help you with all of your Real Estate needs!
Judy Weinstock, REALTOR, EWS Alumni parent. Joyfully donating to EWS with every sale. Phone 919-951-1800.
www.seejudy.com
.
Waldorf families are unique and special.
You need a realtor who is unique and special too. Lynn Hayes has been helping Waldorf families for over 25 years, offering caring and sensitive service while supporting Waldorf education in our community. For MLS searches, community information and lots more visit
www.lynnhayes.com
or call Lynn at 919-968-9989.
---
Advertising Changes for the Emersonian
We accept small classified-type advertisements. Each submission to the Classifieds should be no more than 6 lines of text, which is approximately 60 words. Each submission costs $5.00. Payment for Community Bulletin Board Submissions should be made by Friday of the publication week. No charge for advertisements of free events or nonprofit organizations. Submit ads to: emersonian@emersonwaldorf.org.

General Policy for the Bulletin
No political or religious advertisements. No competitive program advertisements. No fundraisers. The editors will decide the placement of advertisements. Submissions may be edited for content and length. The Emerson Waldorf School retains the right to choose not to print an advertisement.

Public announcements and services offered in the Emersonian or other circulars produced by Emerson Waldorf School are paid advertisements and do not necessarily reflect the views and opinions of Emerson Waldorf School or its employees.
---