The Emersonian is a weekly e-Newsletter sent to the
Emerson Waldorf School community every Wednesday during the school year.
919.967.1858 | emersonwaldorf.org


From Administration & Faculty...

---
Lost and Found Tub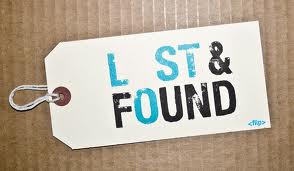 Please make sure to go through the Lost and Found items by this Friday, March 15. Any items left will be donated.
Thank you.
– Kelley Wiley
Grandparents' Day March 28th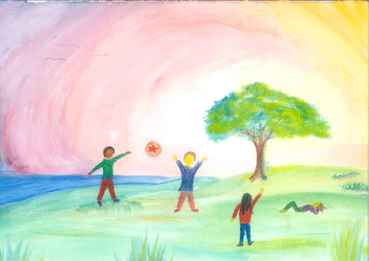 Heralding the Spring is our Emerson Waldorf School Grandparents' Day on Thursday, March 28th.

We welcome grandparents, parents, and friends to visit classes for a glimpse into the children's wondrous world of learning.
All are invited to a reception and orientation in the Brown Wing at 8:30 a.m. followed by visits to the classrooms from 9:00-10:00 a.m.
Children will then be picked up at 10:20 a.m. and transported to Eno River Unitarian Universalist Fellowship (ERUUF), where an assembly for the 1st through 12th grades will begin at 11:00 and end at noon.

Grades and High School dismissal will be from ERUUF.
We look forward to seeing you all there!
--
The Festivals Committee
Eno River Unitarian Universalist Fellowship
4907 Garrett Road, Durham
A Wish

by Barbara Holloway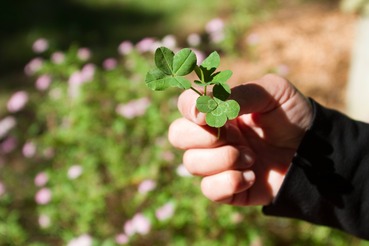 Imagine my delight when one of the EWS High School students silently handed me several four-leaf clovers and smiled. I truly love this place, I thought to myself; this place where there are moments for students to find clovers on warm, sunny days and where students are aware enough, open enough, to discover them. I thanked the student and made my wish, and it has almost come true! My wish was simple, yet critical for the well-being of EWS: I wished for all of our families to pull together and give as generously as possible so that we could meet our Annual Fund goal and continue to build our incredible programs, programs that allow students to be as strong, bright, and wise as the student who picked the clovers on that warm, sunny day.

According to tradition, four-leaf clovers bring good luck to their finders I consider this student lucky, as he has experienced the riches of our curriculum since Kindergarten and has evolved into a magnificent human being who is about to ship out into the wider world. According to legend, each leaf represents something. The first is for faith, which I have in this community; the second is for hope, which I have when I think of the financial well-being and continued growth of the school; the third is for love, which permeates every facet of our fine institution; and the fourth is for luck, which will no doubt bring us a gym, a performance space, a dorm for boarding High School students and much more. How blessed we and our children are to be part of such a rich community!
Thank you to all who have already given. If you wish to contribute or contribute again to help make sure my wish comes totally true, please
click here
!
Parent Organization Events

---
PO Meeting TONIGHT!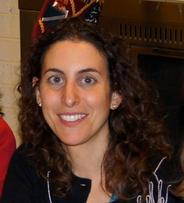 Reminder: PO meeting tonight from 7-8:30 in the Eurythmy room.
Topics for discussion include campus workday/potluck, getting a sink installed in the high school break room, Friday Soul Cafe Breakfasts, and changing the voting process.
All community members encouraged to attend to share their thoughts and concerns.
Thanks,
Tina
All Family Work Day

prune – plant – water – weed – plow – dig – flowers – sweep –
deadhead – earth up – hoe – hedge – rake –
revive – root up – seed – sow –
sprout – thin – transplant –
Grow!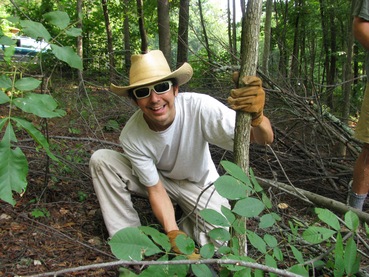 Saturday, March 23
8:30 a.m. – 12:30 p.m.
8:30 – 11:30 a.m.: Beautifying the campus
11:30 a.m. – 12:30 p.m.: Potluck lunch
Be a part of the Parent Organization and
join the 'Hands' at our first 2013 Work Day
An RSVP response to

kwiley@emersonwaldorf.org

would be helpful, but not necessary.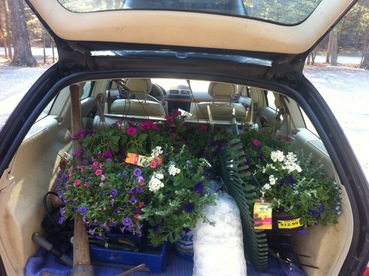 Board News

---
Save the Date!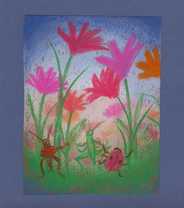 EWS 2013 Gala Auction Fundraiser "Fields of Fun!" Dinner, Socializing, Silent & Live Auctions, & Dancing!

Saturday, May 11th
6-11 p.m.
The event will be held at the charming historic Murphey School, with a veritable smorgasbord of musical delights by EWS musicians, plus dance music by Cyril Lance and the Outskirts.
---
Calling All Auction Donations!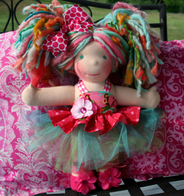 Dear Emerson Waldorf Community,
The annual EWS Gala
is not only one of the largest fundraising events for our school, it also is a very special night, held once a year, when we join together to celebrate with other adults in our community. This year's Gala is shaping up to be an exciting evening of music, dining, socializing, and dancing.

We need your help to make this Gala a huge success.
Please make a donation to the auction or help us find businesses and organizations in the Triangle who would be willing to donate goods or services to be offered in the auction.
This year the silent auction will be going online!
In the days before the event, the bidding will begin online and be available to people both within and outside the EWS community, also making it possible for grandparents and folks who otherwise cannot attend to participate. Folks who donate will have the option of having a link to their business directly from the auction site. And you will have plenty of time to peruse and bid as you feel moved, saving more time for dancing and catching up with friends at the event, where the bidding will continue!
We do welcome donations from both within and outside of our community.
If you have a service you would be willing to donate, we welcome it. Or, if you have a vacation home you would be willing to donate for a week or weekend, please consider entering that in the auction. Other items that often are favorites are tickets to sporting events, the theater, concerts, or museums. If you are an artisan and would like to submit a sample of your work, by all means, let us know.
And finally, the Auction Committee would gladly accept offers to help with procuring items
from the larger community. If you are willing and able to help with this, even just from your favorite spots, please contact Merideth Tomlinson, at 919-932-0834, or MeridethT711@gmail.com

IF YOU WOULD LIKE TO MAKE A DONATION:
Just stop by the Lower School Office and pick up an "Auction Donation Form." Once you've completed the form, bring it back to the office and place it in the Auction mailbox. Someone from the Auction Committee will then contact you to make any necessary arrangements.
In summary, the two ways you can help:
1. Donate a service, vacation spot, tickets, art or other item by filling out an Auction Donation Form.
2. Call Merideth to let her know that you would be willing to help procure items from the larger community (or call Merideth with great ideas!)
And of course, most importantly, MARK YOUR CALENDARS FOR THE GALA
– May 11th!! And join us for what is sure to be an evening to remember!
Sincerely,
The Auction Committee,
Bonnie Cady, Dana Nichols, Nice Polido, Joelle Ramos, Charlotte Schnetler, Danielle Tanzer, Merideth Tomlinson, Gaye Weaver & Kelley Wiley


---
EWS Yearbook - Order Now & Save!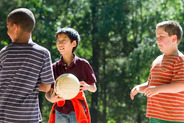 Deborah Rogers and the Yearbook Committee have been hard at work bringing together the content and the design for the 2012-2013 EWS Yearbook. This eighty-page book will be a gorgeous full-color bound keepsake of your children's 2012-2013 school year, including beautiful portrait pages as well as candid photos of each class and each individual. Feature pages will depict sports, festivals, farming and gardening, field trips, chorus, bands, orchestra, and more.
This one-of-a-kind keepsake will be a lifelong reminder in glowing color of your child's halcyon days in school. Keep in mind that one day our children will fly the nest and take their copies of the yearbook with them – parents will want to order an extra copy for themselves to keep forever!
Between now and Spring Break the Early Bird price for a yearbook is just $42.50. This represents a savings of $7.50 for each book – after Spring Break the cost will be $50.
Payment is by check or cash only (no TADS.) Order form envelopes have been distributed to students, and can also be picked up in the Lower School Office. Orders and payments should be submitted in the Lower School Office.
Don't miss out on this deep discount for the yearbook you and your family will treasure always. Submit your order and payment before Spring Break begins on March 28!
Waldorf Parenting Discussion Group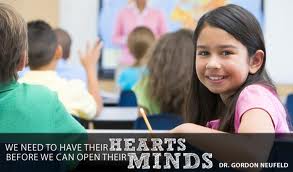 Sharifa Oppenheimer, Kim John Payne, Dr. Gordon Neufeld...so many wonderful resources for parents. How does it come together? Join the discussion!

Free Parenting Group
that explores ways to connect with our children in the modern world. Waldorf families and their friends are welcome to attend this monthly gathering. Parents of Early Childhood and Lower School children will find the discussion most helpful.
Bring a snack to share!
7-9 p.m. Saturday, March 23, 2013
Brown Wing at the High School
TOPIC: Anxiety and Our Children
Review the information here for discussion points

---
Brilliant Performance, 7th Grade!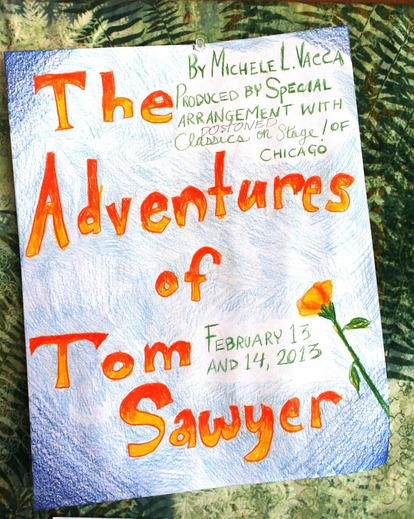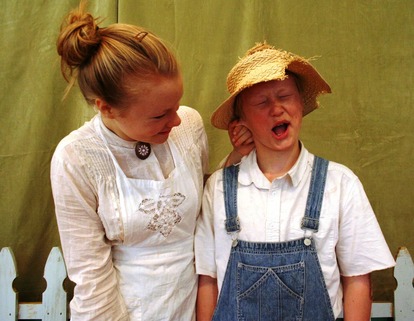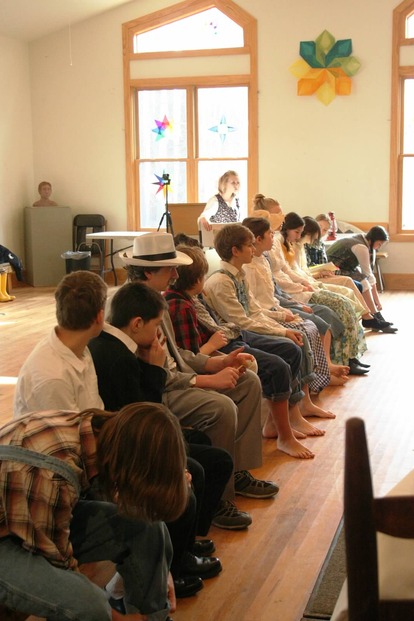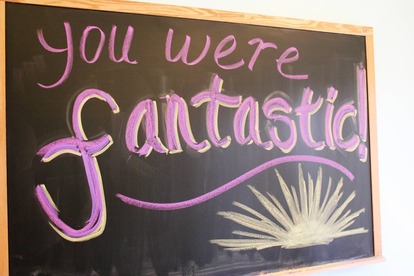 ---
Holocaust Survivor Visits High School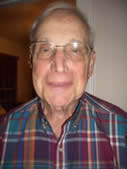 by Kaylen Alexis, 10th Grade
On February 27th, the High School welcomed Hal Hanauer Myers from the Holocaust Speakers Bureau to share his memories with the students and faculty. Hal commanded a captive audience throughout his presentation with stories of his time in Camp de Gurs, a concentration camp in southern France, and his subsequent rescue by the Quakers.
Hal was born in 1930 in Karlsruhe, Germany. At the age of 10 his family was deported from their home by the Nazis and imprisoned in a concentration camp. Less than a year later, a Quaker group liberated a number of children from Gurs, and Hal was lucky to be one of them. Unfortunately, his parents were not part of the rescue, and Hal would never see them again.
Hal has lived in America with his brother since 1941, and was joined by his sister soon after. The three children later discovered that both of their parents had been killed in Auschwitz, Poland, the deadliest concentration camp. For the audience, just being in the same room as a Holocaust survivor was powerful. Hearing first hand from Hal was a unique, moving, and educational experience, and gave me a greater appreciation for the difficulties he underwent.
What struck me about Hal was that despite his dreadful experiences, he still maintained a sense of humor during the Q and A that followed his presentation. His blunt wit helped to offset the tragedies of his past. Afterwards, I had a number of thoughtful, serious conversations with fellow students, and I realized that Hal had given us a great gift that is undervalued and taken for granted, a gift that is lacking in many places, a gift that has the potential to right many wrongs. Hal had given us the gift of awareness.
Waldorf Students Have What It Takes
"We ask people to read Cato the Elder," Boyes says. "We ask people to read Suetonius."
Jobseekers, take note: you better brush up on your on your early Roman history.
"We do that because we ask them to look at the process – the abstract process – of organizing ideas," Boyes says.
Sounds a lot like an argument for liberal arts education, at a time when more students are being told to study science and technology as a path to a career. Maguire Associates, the firm that conducted the survey, says the findings suggest colleges should break down the "false dichotomy of liberal arts and career development," saying they're "intrinsically linked."
Or, as Boyes puts it: "We don't need mono-focused people. We need well-rounded people." And that's from a tech employer.
For his part, Abbareddy says he's had a well-rounded education at Virginia Commonwealth. Granted there was no Suetonius in the mix, but he took rhetoric along with courses on data structures and algorithm analysis.
And he did something else that employers really go crazy for. "I did an internship," Abbareddy says.
And that brings us to one of the most surprising things we learned from our survey. In industries across the board, employers viewed an internship as the single most important credential for recent grads – more than where you went to school or what you majored in. Even your grades.
Read the Full Article
COLLEGE ACCEPTANCES EWS CLASS OF 2013
As of 3/8/2013
Allegheny College (PA) + merit scholarship
Appalachian State University (NC)
Columbia College Chicago (IL)
Drexel University (PA) + merit scholarship
Elon University (NC) + merit scholarship
Guilford College (NC)
Guilford College Honors College (NC) + Presidential scholarship
Hampshire College (MA) + merit scholarship
Hendrix College (AR) + merit scholarship
Kalamazoo College (MI) + merit scholarship
University of North Carolina at Asheville (4 students admitted)
University of North Carolina at Greensboro
Stetson University (FL)
Warren Wilson College (NC)
CONGRATULATIONS!!

---
Events
Families of the Forest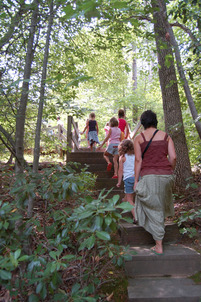 A Program for
Grandparents, Parents and Children
Sunday, April 7, 2013
We invite you to join us for a "Families of the Forest" program on April 7, 2013 led by Sandy Bisdee, Director of Children's Programs at the Center for Education, Imagination and the Natural World.
The ever-accelerating pace of change is leading families to a hurried existence that separates them from their connection to the Earth. Join us for this family day at the Earth sanctuary where we will gather around the fire circle, go on a guided earth walk, enjoy the fellowship of a meal together, and share our experiences from the day.
Sandy Bisdee completed her Association Montessori International (AMI) Teaching Certificate in 1979. She brings over 30 years of experience as an educator of young children to her work at the Center. An avid gardener, naturalist, storyteller and musician, Sandy has engaged in a deep study of Native American perspectives. She completed her certification in the NC Environmental Education Certification Program in 2009. Sandy brings to her work a lifetime of loving children and of loving the earth and of finding ways to bring the two together!
Cost: $15 per person (please bring a bag lunch)
Time: 10:00 am - 2:00 pm
Place: Timberlake Earth Sanctuary, 1501 Rock Creek Dairy Rd, Whitsett, NC
Registration: You can register online at http://beholdnature.org/nurturing.php
Registrations must be received by April 3, 2013.
Help Wanted

Morning Coffee Volunteers!
Volunteers needed for Morning Coffee Table. 1 hour per week.
All proceeds fund professional development for EWS teachers. Contact Pat McKenzie (4th grade parent) at (919) 316-9567 to sign up.


Volunteer to Help With Admissions Office Work.
Help needed in the office 4-10 hours per week. Contact
admissions@emersonwaldorf.org
if interested.
Services
Chainsaw and tree work hourly or by the job by Emerson Waldorf graduate saving money to go back to school. Call or email for odd jobs as well! Will Reily at 919.225.1024 or wreily@gmail.com.

Maple Spring Gardens is accepting CSA registrations for our 2013 season. Members will receive weekly boxes of fresh produce delivered to convenient locations in Durham, Hillsborough, Chapel Hill and Carrboro. Boxes contain a wide variety of seasonal fruits and vegetables ranging from Arugula to Zucchini, with strawberries, blueberries and lots of tomatoes. We have been providing fresh produce to the local community for over 30 years. As EWS grandparents, we are committed to growing food that is delicious, nutritious and safe for kids. Info at www.maplespringgardens.com On Facebook at http://www.facebook.com/pages/Maple-Spring-Gardens-LLC/512258068819416

Would you like a counselor for yourself, your child, and/or your family who understands the uniqueness of Waldorf philosophy? HarDarshan Khalsa, MA, LPC, raised two children who attended the Emerson Waldorf School and are now grown. HarDarshan is now a psychotherapist trained in transpersonal counseling, with office in Chapel Hill and Durham. Most insurance plans are accepted. Some of HarDarshan's specialities are sandtray therapy (for adults as well as children), stress reduction, grief, and the highly sensitive person. To learn more, visit her website: www.sacredlistener.com, or call (919) 257-7814. Email: hardarshan@sacredlistener.com


Looking for a new or used Waldorf related item... toy, musical instrument, book? Visit The Waldorf Exchange at www.thewaldorfexchange.com.

Are you living with questions about your life, your relationships, your parenting, your future? Lynn Jericho offers compassionate listening and creative guidance - a Waldorf wisdom for adult needs and challenges. Call Lynn (919-240-4094) or learn more www.imagineself.com/about-Lynn/

Introducing Shaklee 180 ~ a complete program with clinically tested weight loss products, designed to help you lose the right kind of weight ~ fat, not muscle. I have been on this program and have now reached a weight I have not been at for the last 20 years! With these great results I am sharing with others at my Shaklee "Turnaround" Parties - check out the next date (or call me (919) 929-4534) at this website` http://www.joanneestes.myshaklee180.com Drop by for some free samples. Joanne has just turned 70, feeling more energy than she did at 50, and is the proud grandmother to 4 Waldorf children.

Are you looking for a New or Slightly Used Car?
Great Deals for EWS Parents, Friends & Faculty. Call David Rabius, Proud EWS Parent at 919-408-9633 Johnson Lexus @ SouthPoint- 2013 New Lexus Line Up..Certified Pre-Owned Lexus and a wide range of slightly used cars to meet your budget.
(David Rabius)

Create a space that aligns with your dreams!
EWS First Grade teacher, Shannon Dawn O'Connor happily uses her "super-power" to organize, lazure, simplify or re-create your home or office so that your environment supports what really matters to you. Shannon received a BFA from Parsons School of Design and studied the Environment and Its Effects on Psychology through Lesley College and has been happily beautifying the world ever since. For free estimates, work samples, or references contact Shannon Dawn @ 919.259.5252 and watch your world transform as it grows brighter and clearer around you!
"She's got the midas-touch" - Tyler G.
"Everything she lays her hands on turns golden"- Charlotte S.
"Shannon purely sparkles, and your home will too" - Megan W.

DIVINEROSE FACIALS
Offering illuminating and renewing Dr. Hauschka facial treatments. Cori Roth, NC Licensed/Holistic Esthetician and Dr. Hauschka retailer. Please visit Divinerose.com for more info.

New Medical Practice
We are pleased to announce our practice "Integrative Medical" (www.imevpc.com) at Haven Medical Clinic on 121 S Estes Dr, Suite 205 D, Chapel Hill 27514. For appointments, you may contact us directly:
Rula Freiji 919-525-5626 General Pediatrics & Pediatric Infectious Disease Consults Dani Mouawad 919-525-5625 General Pediatrics & Integrative Medicine.
– Rula and Dani Freiji-Mouawad


Realtors/Housing

Rental Needed. We are a family of 3 who will be living in Chapel Hill for a sabbatical at UNC. We are looking for an Aug 1, 2013 to July 31, 2014 rental arrangement. If it had some furnishings, that would be ideal. We are just trying to get a sense of the area and location. I will be working at the Frank Porter Graham Child Development Institute and it is our plan for our daughter to be attending Emerson Waldorf. We would want 2 bedrooms. We can deal with one bath. We do not need a yard but would want access to green space without getting in the car. Would rather not have to drive >30 minute to work or Waldorf. Contact Bob at 215.707.8676 or rwhitaker@temple.edu if you can help.

Elegant Farmhouse with separate apartment on 5 rolling acres within walking distance of Emerson Waldorf. Warm and welcoming floor plan has 5 spacious bedrooms and 3 ½ baths with hardwood floors, 2 fireplaces, new tiled backsplash, sink, and appliances in the kitchen and- new paint, carpet, light fixtures and more. Contact Dene Lee or Alexis Rudolph at 919.968.9989. $416,900.00

Let The Home Team help you "Find Home" Now conveniently located in Timberlyne Shopping Center, our locally-owned real estate company has been helping clients, including several EWS families, "find home" since 1990. For more information or to speak to one of our experienced agents call 919.967.6363 or visit www.Home-Team.com. Also, please stop by to check out our exclusive, interactive window display!

Buying a home? Selling a home? Investing in real estate? HEAD, HEART and 20+ years of HANDS-ON EXPERIENCE giving caring advice and guidance to hundreds of happy home buyers and sellers – let me help you with all of your Real Estate needs!
Judy Weinstock, REALTOR, EWS Alumni parent. Joyfully donating to EWS with every sale. Phone 919-951-1800. www.seejudy.com.

Waldorf families are unique and special.
You need a realtor who is unique and special too. Lynn Hayes has been helping Waldorf families for over 25 years, offering caring and sensitive service while supporting Waldorf education in our community. For MLS searches, community information and lots more visit www.lynnhayes.com or call Lynn at 919-968-9989.


Advertising in the Emersonian

---
We accept small classified-type advertisements. Each submission to the Classifieds should be no more than 6 lines of text, which is approximately 60 words. Each submission costs $5.00. Payment for Community Bulletin Board Submissions should be made by Friday of the publication week. No charge for advertisements of free events or non-profit organizations. Submit ads to: emersonian@emersonwaldorf.org.

General Policy for the Bulletin
No political or religious advertisements. No competitive program advertisements. No outside fundraisers. The editors will decide the placement of advertisements. Submissions may be edited for content and length. The Emerson Waldorf School retains the right to choose not to print an advertisement.

Public announcements and services offered in the Emersonian or other circulars produced by Emerson Waldorf School are paid advertisements and do not necessarily reflect the views and opinions of Emerson Waldorf School or its employees.


---
E-Newsletter Design and Graphics

Emersonian Publishing Team:
Jamie Lamkin - Design and Layout
Raelee Peirce - Coordinator
Claire Viadro - Creative Content
Forrest Jackson, Kathleen Jackson, and Barbara Holloway - Editing
Kelley Wiley - Correspondence and Advertising
---
This Week

---
Eurythmy for Parents and Friends 8:30 am - 10:00 am
PO Meeting Tonight!
7:00 pm - 9:00 pm
Thursday 3/14
Board Meeting
7:00 pm - 9:00 pm
Tea With Steve - Cottage

8:30 - 9:30 am
6th Grade European Food Fair and Poster Night
5:00 pm - 7:00 pm
Monday 3/18
9th Grade Parent Evening 7:00 pm - 8:30 pm
Wednesday 3/20
Eurythmy for Parents and Friends 8:30 am - 10:00 am
H.S. Ultimate Frisbee vs. Riverside @ HOME 4:00 pm
4th Grade Parent Evening 7:00 pm - 8:30 pm
---
School Staff

---
919.967.1858

Steve Bennett x 11
Director of Administration

Mary Deutsch x 12
Finance Director

Barbara Holloway
Marketing Director
919.480.1026

Ian Ostrowski x29
Facilities Manager

Raelee Peirce x14
Admissions Director

Therisa Pienaar x20
High School Coordinator

Kelley Wiley x13
Communications Director


---
School Hours

---
N/K 8:30am-12:30pm
1st-5th 8:30am-3:15pm
6th-8th 8:15am-3:15pm
HS 8:10am-3:15pm

Aftercare N/K until 3pm
Aftercare 1st + until 6pm

Office Hours 8am-4pm


---