---
Work Day Weekend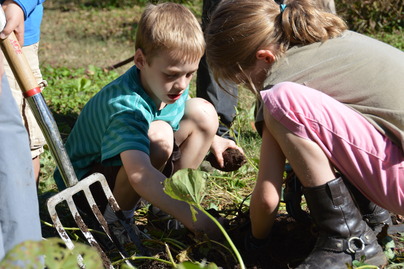 Come out for a morning, an afternoon, or a weekend to help transform the Hinoki Theater and the Kindergarten path and beautify our campus. We'll have building projects for the construction-minded, and beautifying projects for the gardeners.
8 am - 5 pm on Saturday and Sunday, October 5 and 6.
The Gazebo will serve as our headquarters: stop by to check out the to-do lists, snag a cup of coffee, and share a healthy lunch with fellow families.
Remember,
Childcare is available
– please contact Tina Stevens at
tinalstevens@gmail.com
if you need childcare.
If possible, bring rakes, shovels, tarps, pitchforks, wheelbarrows, cordless drills, and hand tools for weeding.
Remember to bring water bottles as the weather is looking nice and warm.
Let's show our campus some love!
Click Here for a Work Shift
Questions
– please contact Keith Bartholomew at
kgbmon@gmail.com
.
See you there!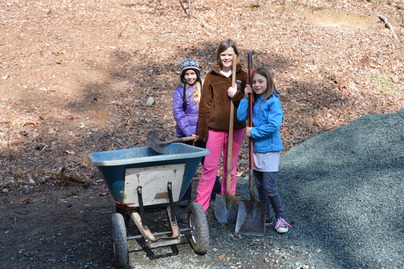 Holiday Faire Needs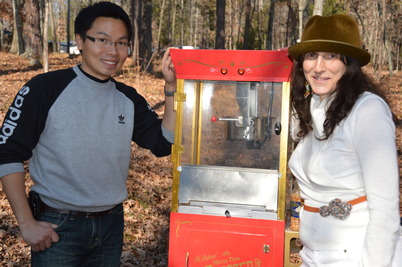 1. Who was that masked popcorn man?
Well, OK, he wasn't masked. He is a parent who told me his family owns a popcorn machine and has experience running it. But I have talked to so many people about Holiday Faire business, I cannot for the life of me remember who he was! So sorry! Please help jog my memory and e-mail me at janetsbuehler@gmail.com. I need to chat with you.
2. Vendor Village at the Holiday Faire
– If you make lots of handcrafted, Waldorf-y items and would like to sell them at Holiday Faire, consider becoming a vendor! All you need is a table and $40 to have a space in our vendor market. If you don't have quite enough items to furnish an entire table yourself, but would still like to sell some of your handcrafts, consider placing them on our EWS craft consignment table. You will receive 70% of the sale price. Please contact Robyne Borhanian if you are interested: robyneb@gmail.com.
3. Thursday morning crafting continues
– If you'd like to craft small items for the Enchantment Shoppe, join us Thursday mornings after drop-off in the Handwork Room. Very easy options are available, even some non-sewing ones! This event is held by the Early Childhood classes, but folks from any grade are welcome to participate. If you want to help out from home or from playdates at the park instead, and just need ideas, check out this incredibly cool resource:
http://www.pinterest.com/whiteapples/enchantment-shoppe-2013/
.
4. Yarn, craft supplies still needed
* 100% acrylic yarn is needed for the jump rope activity – please place in pink donation bin behind 4th grade classroom.
* De-clutter your craft closet and donate "raw materials" for use by the Enchantment Shoppe crafters! Felt, wool roving, yarn, glue sticks, fabric, beads, etc. – anything you think might be useful, bring it on! Craft supply donation bins for these raw materials are Nursery, Kindergarten, and 2nd Grade. Contact Marta Matsumoto with questions, okieokasan@gmail.com.
Parent Library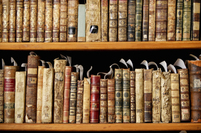 Support your children's education by using our Parent Library!
Whether you're new to Waldorf education or have had children in a Waldorf school for years, you'll find our Parent Library a great resource. Our ever-growing collection now has over 400 items, including books, DVDs, videos, and other materials. Explore the Waldorf curriculum and educational philosophy, read about parenting and family life, and gather ideas about crafts, festivals, and developing connections between school and home.
The Parent Library is located in the Main Office, with additional books in the Early Childhood Office. Books can be checked out for up to three weeks, with extensions if you are using them for a particular project or study. Check out your books by filling in your name and the date on the card found in the back of each book; then put the card in the checkout envelope on the shelf. When you return the book, replace the card and put the book in the bin provided.
You'll be notified of long overdue books. If books are not returned, your TADS account will be charged for the replacement cost of the book, plus shipping.
To access the EWS library's online catalog go to the EWS website Home page, click on Community and then click on Library on the Community page. You can then search by author, title, subject, or call number (we use the Dewey Decimal system.)
Your volunteer librarians will be happy to answer any questions you may have about the library. Dee Anne Lamb's email is deeanne@embarqmail.com and Nancy Trueblood's is trueblood.nancy@gmail.com . Welcome to the Parent Library!
Steiner Study Group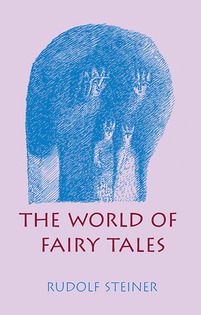 Steiner Study Group is for parents or anyone who is interested. This fall we will be reading
The World of Fairy Tales.
Waldorf schools are based on the ideas that Steiner presented; one was that children must experience the power inherent in fairy tales while young.
If you have wondered why fairy tales, or Norse myths, or Michaelmas, this group will interest you. We plan to meet off campus on Thursdays before pickup time but would be open to discussing and choosing a different time. marylou909@bellsouth.net for more information.

---
Great Week in EWS Athletics!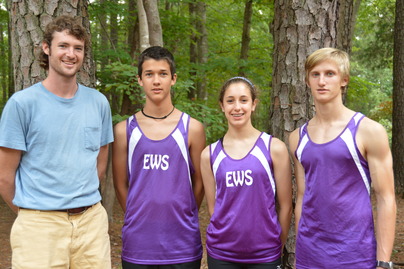 The High School Cross Country team traveled to Chapel Hill to take on the Woods Charter team as well as teams from Carolina Friends School and Southern Wake. Dorian Alexis took third place among all the girls, while Jake Marchman took 6th, and Hagen Stauffer took 16th among all the boys from the four schools. Please come support these great runners TODAY, Wednesday, Oct. 3, at 4:30 pm for their HOME meet against Fletcher Academy and Southern Wake Academy.
The High School Soccer team defeated Camelot last week 3-0. Betsy Graham was outstanding in goal, stopping everything that came her way. Anthony Day got us on the scoreboard with our first goal, Alex Merckel came weaving in through the defense for the next score, and Emily Jolly kicked one in to the right hand corner for our final goal.
Wednesday Oct 2
MS XC Practice after school until 5:00 pm
HS XC @ HOME 4:00 pm Walk, 4:30 pm Start
HS Soccer Practice after school until 5:00 pm
Friday Oct 4
MS XC @ HOME 3:30 pm Walk, 4:00 pm Start
HS XC Practice after school until 5:00 pm
HS Soccer Practice after school until 5:00 pm
Monday Oct 7
MS/HS XC Practice after school until 5:00 pm
HS Soccer Practice after school until 5:00 pm
Tuesday Oct 8
HS XC Practice after school until 5:00 pm
Wednesday Oct 9
MS XC @ HOME 3:30 pm Walk, 4:00 pm Start
HS XC Practice after school until 5:00 pm
HS Soccer @ Springwood Park, Burlington vs. Clover Garden 4:30 pm
Important announcement:
Please remember to check the
online calendar
and use the drop down to EWS Extracurricular Activities. If you click on a game, you can get the address.
Go Gnomes!

---
3rd Grade Builds Sukkah to Honor Sukkot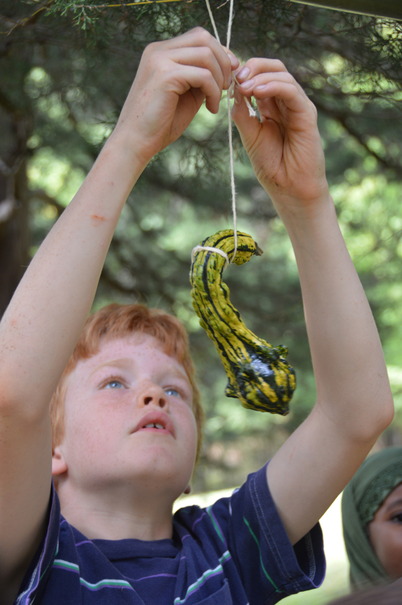 Central to our curriculum in Third Grade are the Hebrew Scriptures. Throughout the year we will recognize or celebrate several Hebrew festivals. One such festival is Sukkot which began at sundown Wednesday, September 18, and lasted for a week. Sukkot is the Hebrew word meaning booths or huts and refers to the festival of giving thanks for the fall harvest. It is marked by the tradition of erecting a sukkah, which is a temporary booth used during the seven-day festival for eating, entertaining and even for sleeping. It represents a time to give thanks for the bounty of the earth during the fall harvest.
We created our temporary sukkah in the Fairy Meadow and ate all of our snacks and lunches in it for a week. It is tradition to hang bits of the harvest to decorate the sukkah. We adorned our temporary structure dried corn, gourds, miniature pumpkins, and paper chains. Before eating, we sang a blessing of gratitude in Hebrew.
We experienced great joy and sharing in our lovely sukkah as well as in our play in the Fairy Meadow. Two children even had birthdays during this time, which were celebrated in our airy tabernacle. The children were truly sad when the time came for us to dismantle the sukkah. The delightful memories will live in our hearts for a long time to come.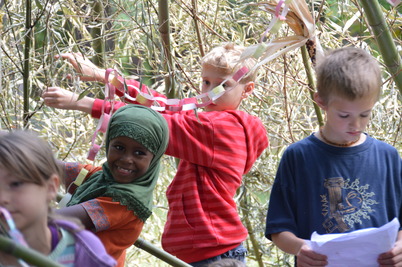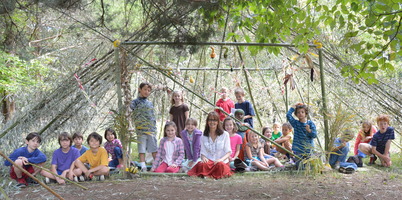 4th Graders Attend Haw River Learning Celebration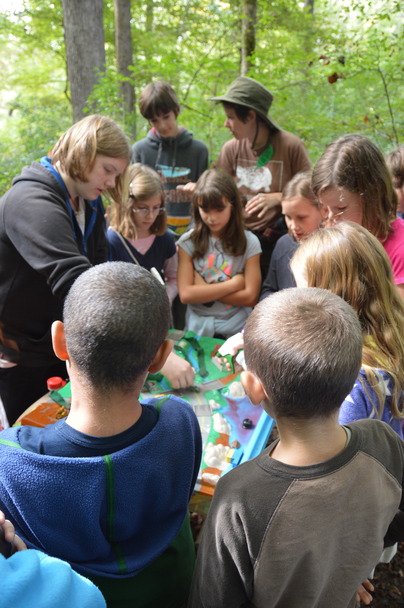 Last week, our 4th graders caravanned to Bynum, where they spent the day learning about the Haw River's ecosystem and wonders. This great adventure was led by volunteers who taught our students how to ensure that this source of NC drinking water and recreation stays clean and healthy. Tributaries of the Haw River and Jordan Lake flow through Guilford, Rockingham, Caswell, Alamance, Orange, Chatham, Wake, and Durham counties. Almost one million people are part of this watershed where sedimentation, wastewater, and runoff impair its waters. Our children learned about conservation and pollution prevention and how to be effective guardians of the river. The river walk and enlightening time spent at learning centers along the river were followed by a captivating puppet show put on by volunteers using Paperhand Puppet Intervention's enchanting creations. For more information on how you can help defend the river, visit
http://hawriver.org
.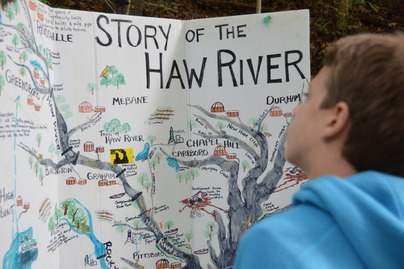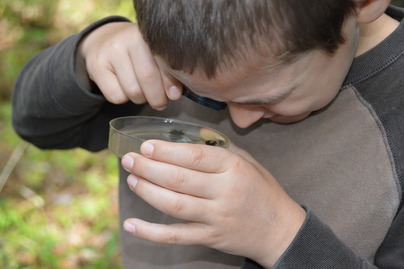 ---
Why We Teach Fairy Tales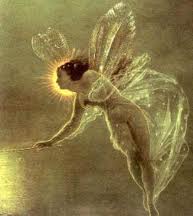 Lecture by Benjamin Trueblood,

Grade 1 Teacher
Transcribed by Lynda Hollar

Why did Rudolf Steiner place such emphasis on teaching through fairy tales? Why are they taught in the 1st grade?

• History – Fairy tales are the oldest stories ever told. Much of the folklore is older than the Mahabharata, Norse tales, or the Sagas and the Icelandic Edda. They're older and have the quality that anyone can relate to them. Ben referenced a quote by Albert Einstein where he said, "If you want your children to be intelligent, read them fairy tales. If you want them to be more intelligent, read them more fairy tales."
• There are many esoteric reasons why we teach fairy tales. "The effect of a fairy tale on our soul is spontaneous, elementary, and therefore remains unconscious." They can be compared to tragedies – they're a universal mode; everyone at some point can relate to them, and at some point in your life, you will be a part of a tragedy. Fairy tales transcend tragedy, teaching valuable moral lessons, and every stage of life is represented.
• Archetypes are taught – the old crone, the woodcutter (usually asked to do something ugly), the 3 brothers (the 2 eldest are wise, and youngest is often a simpleton), the 3 step sisters, the little old man, or the dwarf. All of these characters are images of different elements of our own soul nature, and they create a whole picture of experiences that are universal, and not complex intellectual riddles. Fairy tales work on the unconscious.
• Fairy tales can awaken the soul. Humans get to wake up from the sleep of ordinary lives to reunite with their souls. This is marked by moments of conflict when the spiritual body reconnects with the physical, and creates longing & questioning. Fairy tales can also help teach children the right relationship to sleep. By telling fairy tales we help them let go when it's time to go to sleep… and help them come back in. Children can lose the anxiety around sleep, and those who sleep well do better in school.
• The significance of fairy tales continues through adulthood. Conflict doesn't go away after childhood, but carries out into our life. Fairy tales remain something that we're still drawn to as adults. They become for the soul like nutritious food when put to use by whole organism. Even though we don't experience digestion, we still eat the food. Unconsciously this happens with fairy tales... they bring us back to our history.
• Who Am I Questions – at school age, children begin to express life's big questions. At this age, children wouldn't necessarily be able to articulate that question or be ready for Parsifal, but fairy tales begin to introduce the larger questions and the conflicts of the soul. How do we, as teachers, work with the characters of the fairy tale and the wisdom that works on the will? How do we bring that forward so it unfolds in the will for years to come… not stopping? The stories continue through the grades, but what do we change for the developing child? The Biography of Ben Franklin is a great teaching example. He was the youngest son sold into indentured servitude. He escapes by tricking his brother into freeing him legally, and becomes a wealthy businessman, politician, statesman etc. The story is beloved by children. His life shares qualities of the fairy tale as an 8th grade subject.
It's OK to deconstruct a fairy tale. Symbolically, the stories are whole and no amount of toying with them will harm them… they will still carry the truth when you delve into their meaning. Studies by Bruno Bettelheim and others support that traditional fairy tales allow children to symbolically grapple with their fears. Children really want that. When you change the ending, or soften the story, the magic is lost. Young children need the resolution. If denied that, something is left unresolved for the child… taking away the hope that good will triumph over evil.
Fairy tales grapple with the questions of our struggling souls – how do we face the larger world, the powers in nature? There are giants in stories. The only way a character overcomes a giant is by being clever. We are scared about the prospect of having to be in nature, to grow old, to do things that seem impossible. Rumpelstiltskin's character turned straw into gold. We say that's impossible, but the Miller's daughter meets a little man who can do it… but there's a price.
A Moment of Pause

---
Autumn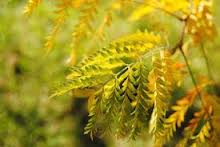 Yellow the bracken
Golden the sheaves
Rosy the apples,
Crimson the leaves:
Mist on the hillside,
Clouds grey and white.
Autumn, good morning!
Summer, good night!
– Florence Hoatson

This is a beautiful song to sing alone, or as you walk with your young children through the gorgeous autumn unfolding. If you don't know the tune, ask an Early Childhood teacher, or perhaps a parent who seems to have been at EWS for awhile. If you're like me, you'll carry it with you for the rest of your life and will pull it out on stunning autumn mornings, even after your children have left you to your own devices.

---
EVENTS AND CLASSES
The Piedmont Wildlife Center has designed a Fall camp just for Emerson Waldorf Students to be held during our Fall Break week of October 14 – 18.
Their regular camp day runs from 9:00 - 3:00. They can offer Early Care from 8:00 - 9:00 and After Care from 3:00 - 5:30.
Full Camp Day Rates:
Weekly Rate: $240 ($215 for Members)
Early Care: $20 per week
After Care: $35 per week
To register, go to
www.piedmontwildlifecenter.org
and click on the green "Register Now" button. This will direct you to their online registration system. The program is in Children's programs in the Fall. If you have any questions about registration, please contact Crystal Morel, Office Coordinator at PWC. Her email address is:
pwcnature@gmail.com
Projective Geometry and Counter-space Talk
- Projective geometry is a non-Euclidean Geometry taught in Waldorf Schools. If you have wondered why or what relevance this has to thinking and practical life, please join us in the Eurythmy Room from 7:30-9:00 pm on Monday, October 7. Charles Gunn, a UNC-CH graduate who has worked for R&D Pixar Animation Studios and taught at Green Meadow Waldorf School, is visiting family here. He has offered to build up an alternative concept of space, known as "counter-space", through a demonstration of basic geometric exercises for those who are interested.
He will bring the concept of counter-space into connection with some riddles of nature and of the human being, leading to the suggestion that its unfamiliar aspects, properly interpreted, might open up new vistas for understanding the world around us and the role our concept of space plays in shaping this understanding. Donations will be accepted.
SERVICESWhy not have an artist do your hair?
Nancy Moore has been an artist/hairdresser for over 20 years, and an EWS mom for 16. Now located at the beautiful FLOW Salon, 587 Old Farrington Road, Chapel Hill NC 27517 For appointment call or text (919)260-2495 ...or book yourself online at
www.nancyannmoore.com
. Let the good hair days begin!

With Enfuselle, it's like aging 10 years in reverse!
The foundation of Enfuselle is our exclusive Vital Repair+ Complex. It's a synergistic blend of seven targeted antioxidant nutrients that produces results so much greater than the sum of each nutrient individually with 7 patents ~ you can only get it from Shaklee ~ Check it out
here
or call Joanne Estes 919-929-4534 ~ All Waldorf customers receive 10% off from me.

Dr. Hauschka Facials/Retailer:
CORI ROTH/Licensed, Certified, Holistic Esthetician. Revive your body, mind, and senses with a nourishing and soothing Divinerose Facial. Offered in an unhurried and retreat-like setting. 15% off first-time client. Visit
www.divinerose.com
for more info.
KatieBeth's Learning Garden!
We are a retail store and community class space located at 400 S. Elliott Road in the Galleria Shopping Center. Here, you can find the supplies you need for a Waldorf-friendly home, including imaginative natural toys from Camden Rose, Ralph Evans, and Sarah's Silk, fiber arts kits and supplies from Harrisville, beeswax candles, stones, and supplies from Mercurius. We sell new and consigned educational materials and games for your whole family.
www.katiebethsgarden.com
REALTORS/HOUSINGCozy Rental Cottage
on wooded lot .5 mile from I-40 and 9 minutes from EWS (4 miles). 3-BR 1 bath, hardwood floors, new fridge, dishwasher, AC, natural gas stove, deck, storage shed, pets negotiable. 3 miles on country roads to Mapleview Ice Cream sunsets! 911 New Hope Church Rd. $1,000. 919-413-5767, 919-382-9846 evenings.


Buying a home?
Selling a home? Investing in real estate? HEAD, HEART and 20+ years of HANDS-ON EXPERIENCE giving caring advice and guidance to hundreds of happy home buyers and sellers – let me help you with all of your Real Estate needs! Judy Weinstock, REALTOR, EWS Alumni parent. Joyfully donating to EWS with every sale. Phone 919.951.1800.
www.seejudy.com
.
Advertising Changes for the Emersonian
We accept small classified-type advertisements. Each submission to the Classifieds should be no more than 6 lines of text, which is approximately 60 words. The costs are as follows: $5.00/week; $10.00/month or $100.00/school year (10 months). Payment for Community Bulletin Board Submissions should be made by the Friday before the publication week (we publish every Wednesday school is in session.) No charge for advertisements of free events or non-profit organizations. Submit ads to:
emersonian@emersonwaldorf.org
.

General Policy for the Bulletin
No political or religious advertisements. No competitive program advertisements. No outside fundraisers. The editors will decide the placement of advertisements. Submissions may be edited for content and length. The Emerson Waldorf School retains the right to choose not to print an advertisement.
Public announcements and services offered in the Emersonian or other circulars produced by Emerson Waldorf School are paid advertisements and do not necessarily reflect the views and opinions of Emerson Waldorf School or its employees.
---
E-Newsletter Design and Graphics

Emersonian Publishing Team:
Kelley Wiley - Content, layout, correspondence, advertising
Raelee Peirce - Header design, layout
Barbara Holloway - Photo & creative content, editing
Kathleen Jackson - Editing