---
New Emersonian Features!

The Caring Corner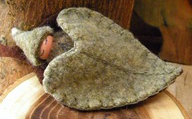 Welcome Little One!

Renee Schwartz and David Kennedy (Anea Kennedy in the Hummingbird Kindergarten) have a new baby girl, Sage Alexandra, born on March 30th. Congratulations!
-------------------------------------------
Submit a birth, death, illness, or other family milestone to emersonian@emersonwaldorf.org and allow your school community to support you!
EWS Parent Perspectives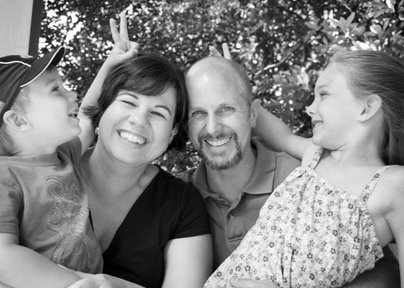 The Peirce Family Back in 2009 at the Beginning of Their EWS Journey


I'm not just the Admissions Director at Emerson Waldorf since October 2011, I am, and was, a parent here first.
I have a thriving 4th grader and a soulful 1st grader at EWS. We've been part of this community since 2009 and our children, our family, have found it to be such a wonderful fit for us. My husband and I were looking for a school that allowed for a seamless transition between home and school.
We didn't want to compromise our values and we loved that this school upheld the belief in preserving childhood and allowing our child's development to unfold rather than to be academically pushed too soon, enveloped in a world of media and pop icons, void of the arts and nature.
Although Isabel excelled in her public charter school 1st grade in the Fall of 2009, each day I saw and felt her love of learning light grow more dim. The busy work of worksheet packs loomed before her each night leading up to dinnertime. Her school experience was impacting who we were as a family. She became more defiant, anxious, and sensitive - crying afterschool became the pattern. Tearfully she would share with me that their "art class" (where they made shrinky dink postage stamps as "art") was canceled that day as a disciplinary action.
It wasn't long before I felt drained by school and I wasn't the student! We weren't sure what would happen sending her into a Waldorf 1st grade when she was already a strong reader and the alphabet was something we didn't think she would enjoy reviewing letter-by-letter. How wrong we were! Isabel emerged each afternoon with a spring her step and the sparkle back in her eyes. Her thirst for the arts was quenched and she was truly engaged in the academics because of this approach.
~Raelee Peirce,
mom to Isabel & Keaton
-----------------------------------------------------------------------------------------------------
Whether you are a long-time EWS household, or your family just joined our community this year, (or anything in between), please consider submitting a short article (1-3 paragraphs) describing any aspect of your own or your child's/children's involvement with EWS that you consider noteworthy.

If interested, please submit 1-3 paragraphs to Claire Viadro, viadro@mindspring.com.


Please note: Your submission is subject to light editing.

Thank you!

Claire Viadro
Creative Content

---
Asparagus Growing Fast!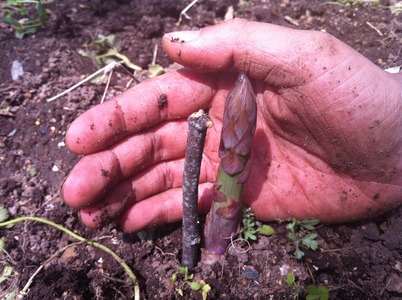 EWS 3rd grader, Michael Awai, shows that our asparagus is going strong at the EWS Farm. As part of the Grade 3 Farm curriculum, students weed, harvest, prepare soil, plant, mulch, build new chicken tractors, and spray biodynamic preps on the healthy beds and plants. Whilst weeding the patch on Monday, students tested the rate of growth the 75 degree warm and sunny day was encouraging and discovered that the new asparagus shoot grew a 1/4-inch in just one class period! Mary Beth Mueller, EWS Farm Director, had noticed that the shoot had begun to emerge just that morning.



---
1st Graders - Toothless and Ready to Learn!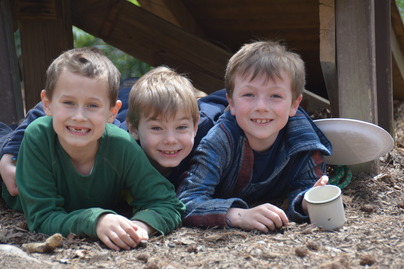 In Waldorf education a child generally isn't considered ready for learning to read until that first little tooth starts wiggling. This came as no surprise to me as a parent. Sam was much more interested in fairy tales and imaginative play than in academic lessons. Forcing him would be damaging, I knew. So I gave him the space to play. I considered myself steward of his magic years, guardian of the kingdom of his early childhood.
Around the time my little guy's tooth started wiggling, he taught himself to read. I was amazed at this change in him. But the significance of the first tooth loss is so much bigger than a reading lesson. It was as if Sam wasn't growing up, but growing down from someplace heavenly. Now his toes were just starting to touch ground.
Waldorf educators believe in late reading instruction because the first few years of a child's life are dedicated to physical development. They master monumental tasks like learning how to crawl, walk, run, speak, and think. The change of teeth can, along with other indicators, show that the first stages of body building are complete. The energy that was put into growing can now be directed at learning.
Read article here

---
Teacher on Bike Tour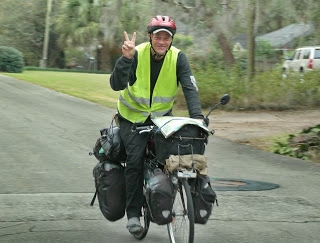 Meet Swedish Waldorf Teacher on Worldwide Bike Tour!
Monday, April 15 7PM Brown Wing
Wilfried Steinbach is taking a wee break from teaching Geography, Biology, and Ecology in Stockholm, Sweden. He started a worldwide bike trek just nine months ago and is riding East. His plan is to go around the world within twelve months!

So far, he has traveled through Lithuania, Russia, Mongolia, China, Korea, Japan, Canada, Washington, Oregon, California, Arizona, New Mexico, Texas, Louisiana, Mississippi, Alabama, Florida (Key West), New York, Philadelphia, and is now on his way to Chapel Hill, NC. From here, he will head to Miami and then on to Madrid.
Won't you join us for an enlightening evening as Wilfried details his trip and encourages us all to travel more by bicycle? Wilfred Steinbach strives to make the world better a better place by showing people that it is possible and fun to go by bicycle – even long distances.
During his travels, Wilfried has visited Waldorf schools in Moscow, Irkutsk, Beijing, Kyoto, Tokyo, Yokohama, Portland (OR), Pennsylvania,
Alexandria, and New York. What a wonderful network we Waldorf schools have worldwide! Just think – as of 2012, there were 1,025 independent Waldorf schools and 2,000 kindergartens located in 60 countries.
A Moment of Pause

---
I Look Out Into the World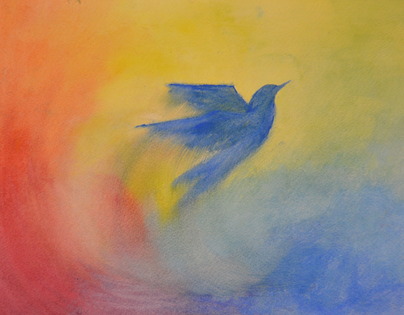 Painting by Bella Mead, Grade 6
I look out into the world

Wherein there shines the Sun
Where glimmer all the stars,
Where lie the silent stones
The plants that live and grow
The beasts that feel and move
Where man in soul creates
A dwelling for the spirit.
I look inward to the soul
That lives within my being
The spirit of God is weaving
In sunlight and in soul-life
In heights of world without
In depths of soul within.
Spirit of God to thee
I turn myself in seeking
That strength and grace and skill
For learning and for work
May live and grow in me.
-Rudolf Steiner -

---
Events
The Soul's Awakening: Take Responsibility for Destiny
Threefold Auditorium, Chestnut Ridge, NY
Conference:Wednesday, August 14 - Sunday, August 18, 2013
Full Performance: Saturday, August 17 9:30 a.m.
To learn more, please go to
www.threefold.org/awakening
.
Help Wanted

Morning Coffee Volunteers!
Volunteers needed for Morning Coffee Table. 1 hour per week.
All proceeds fund professional development for EWS teachers. Contact Pat McKenzie (4th grade parent) at (919) 316-9567 to sign up.


Services
EWS's resident artist/ hairdresser
Nancy Ann Moore, has moved her business to Flow, 587 Old Farrington Road Chapel Hill NC 27517
http://mapq.st/10Lx6m3
Book your own appointment online at
www.vagaro.com/nancyannmoore
or call the salon at (919)918-7776 or Nancy's private cell (919)260-2495 Go with the Flow and support Nancy and let the good hair days begin!


Auto Body Work
- Support your local craftsmen! Tim Ward, whose shop is nearby on Murphey School Road, does excellent auto body work at a fraction of the cost of big body shops. Our family has had three repairs done by Tim (yes, three) and we have been very pleased with his work. Feel free to call us for more information or call Tim directly at 919-886-8550. Merlin Walberg and Brendan Sanders 919.929.0064
DON'T MISS OUT ON KROKA EXPEDITION'S 2013 SUMMER OFFERINGS!
Our summer programs for ages 9-18 span one to three weeks and offer experiences in wilderness living, traditional native skills, rock climbing, caving, and whitewater paddling. Centered around the principles of Waldorf education, our daily adventures are punctuated by singing, swimming, building with natural materials, learning practical handcraft skills, and exploring with new friends. All of this is done within the holistic lifestyle of a nurturing community: celebrating food, sharing living spaces, and working and playing hard in nature. For more information visit our website at
www.kroka.org
or call us at 603-835-9087.

SUMMER HORSE CAMP @ Blue Skies of Mapleview LLC.
Deborah Pearson-Moyers will be offering five weeks of summer horse camp. What is different about our camp? 1. Deborah and her daughters Sara and Sonja are three Waldorf-inspired adult riding instructors. 2. We offer a gentle approach to horsemanship which focuses on being the leader your horse wants to follow. 3. We offer instruction in drawing and painting of the horse from a Waldorf-trained painter, followed by a jump into a cool pool.
www.blueskiesmapleview.us
919-933-1444 Deborah Pearson-Moyers "Where horse sense is stable thinking" since 1996!
Would you like a counselor for yourself,
your child, and/or your family who understands the uniqueness of Waldorf philosophy? HarDarshan Khalsa, MA, LPC, raised two children who attended the Emerson Waldorf School and are now grown. HarDarshan is now a psychotherapist trained in transpersonal counseling, with offices in Chapel Hill and Durham. Most insurance plans are accepted. Some of HarDarshan's specialities are sandtray therapy (for adults as well as children), stress reduction, grief, and the highly sensitive person. To learn more, visit her website:
www.sacredlistener.com
, or call (919) 257-7814. Email: hardarshan@sacredlistener.com
Are you living with questions about your life,
your relationships, your parenting, your future? Lynn Jericho offers compassionate listening and creative guidance - a Waldorf wisdom for adult needs and challenges. Call Lynn (919-240-4094) or learn more
www.imagineself.com/about-Lynn/
Introducing Shaklee 180
~ a complete program with clinically tested weight loss products, designed to help you lose the right kind of weight ~ fat, not muscle. I have been on this program and have now reached a weight I have not been at for the last 20 years! With these great results I am sharing with others at my Shaklee "Turnaround" Parties - check out the next date (or call me (919) 929-4534) at this website`
http://www.joanneestes.myshaklee180.com
Drop by for some free samples. Joanne has just turned 70, feeling more energy than she did at 50, and is the proud grandmother to 4 Waldorf children.

Are you looking for a New or Slightly Used Car?
Great Deals for EWS Parents, Friends & Faculty. Call David Rabius, Proud EWS Parent at 919-408-9633 Johnson Lexus @ SouthPoint- 2013 New Lexus Line Up..Certified Pre-Owned Lexus and a wide range of slightly used cars to meet your budget.
(David Rabius)

DIVINEROSE FACIALS
Offering illuminating and renewing Dr. Hauschka facial treatments. Cori Roth, NC Licensed/Holistic Esthetician and Dr. Hauschka retailer. Please visit
Divinerose.com
for more info.
New Medical Practice
We are pleased to announce our practice "Integrative Medical" (
www.imevpc.com
) at Haven Medical Clinic on 121 S Estes Dr, Suite 205 D, Chapel Hill 27514. For appointments, you may contact us directly:
Rula Freiji 919-525-5626 General Pediatrics & Pediatric Infectious Disease Consults
Dani Mouawad 919-525-5625 General Pediatrics & Integrative Medicine.
– Rula and Dani Freiji-Mouawad
Realtors/Housing

Let The Home Team help you "Find Home"
Now conveniently located in Timberlyne Shopping Center, our locally-owned real estate company has been helping clients, including several EWS families, "find home" since 1990. For more information or to speak to one of our experienced agents call 919.967.6363 or visit
www.Home-Team.com
. Also, please stop by to check out our exclusive, interactive window display!

Buying a home? Selling a home? Investing in real estate?
HEAD, HEART and 20+ years of HANDS-ON EXPERIENCE giving caring advice and guidance to hundreds of happy home buyers and sellers – let me help you with all of your Real Estate needs!
Judy Weinstock, REALTOR, EWS Alumni parent. Joyfully donating to EWS with every sale. Phone 919-951-1800.
www.seejudy.com
.

Waldorf families are unique and special.
You need a realtor who is unique and special too. Lynn Hayes has been helping Waldorf families for over 25 years, offering caring and sensitive service while supporting Waldorf education in our community. For MLS searches, community information and lots more visit
www.lynnhayes.com
or call Lynn at 919-968-9989.
Advertising in the Emersonian

---
We accept small classified-type advertisements. Each submission to the Classifieds should be no more than 6 lines of text, which is approximately 60 words. Each submission costs $5.00. Payment for Community Bulletin Board Submissions should be made by Friday of the publication week. No charge for advertisements of free events or non-profit organizations. Submit ads to: emersonian@emersonwaldorf.org.

General Policy for the Bulletin
No political or religious advertisements. No competitive program advertisements. No outside fundraisers. The editors will decide the placement of advertisements. Submissions may be edited for content and length. The Emerson Waldorf School retains the right to choose not to print an advertisement.

Public announcements and services offered in the Emersonian or other circulars produced by Emerson Waldorf School are paid advertisements and do not necessarily reflect the views and opinions of Emerson Waldorf School or its employees.


---
E-Newsletter Design and Graphics

Emersonian Publishing Team:
Jamie Lamkin - Design and Layout
Raelee Peirce - Coordinator
Claire Viadro - Creative Content
Forrest Jackson, Kathleen Jackson, and Barbara Holloway - Editing
Kelley Wiley - Correspondence and Advertising