The Emersonian is a weekly e-newsletter sent to the Emerson Waldorf School community every Wednesday during the school year.
919.967.1858 | emersonwaldorf.org


---
Administrator's Corner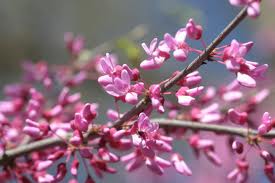 As the President declares weather-affected areas in NC a disaster, the Governor considers reducing the number of annual makeup days for county schools, and Orange County forfeits 3 days for this most difficult Winter, Spring finally begins to show itself. (I was wrong to announce its coming several weeks ago and will keep my mouth shut next year until the redbuds are well into bloom.)
After the 'worst' Winter (I am told) in 40 years, I would speak again, following meetings with College, about the determination to have no makeup days for this last period. This is done as a part of policy gleaned from teachers and staff with more years of experience working in Chapel Hill than I possess in life. Many conversations around the effectiveness, in a Waldorf context, of adding days and extending hours to merely comply with a number, have taken place. The decision and the policy will be adhered to. And you, I trust, understand it as a decision not taken lightly.
The Southern Association of Independent Schools (SAIS), our accrediting body, directs us to be at school 170 days; state law gives us no rules but indicates a compliance with the '9 months of regular instruction' requirement that the public schools are guided by. Our annual hours, even at 170 days, meet any state minimum, and in fact exceed it, with each year holding 6, 7, or 8 days built in with just such a winter as this in mind. Our obligations to state and accrediting bodies fulfilled, as they are, we look towards the future where we may be met with lighter winters and continued planned and regulated weekly schedules.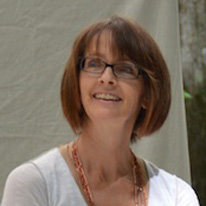 Also beyond the school's control is the announcement by Deborah Rogers that she will not be returning in the next academic year. We are sorry to see her depart but happy to hear of her plans and her exciting new journey. Thank you Deborah for the years of care and teaching you have shared with the children, parents, and colleagues of EWS. We wish you well in your adventures.
Efforts begin in haste to find a wonderful replacement to augment the many newly arriving faculty members at EWS for the coming school year. A detailed note will be given as each new arrival is confirmed.
In that respect, we will be welcoming Kyle Dunlap into the EC next year and her son Jude-Edward into rising Grade 3. Kyle hails from the Waldorf School of Princeton. More details will be forthcoming in the weeks that follow.
I am seeing redbuds.
Regards,
Steve Bennett
Grandparents' and Special Friends' Day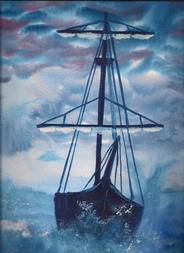 Friday, April 11th8:30 am
Reception and Orientation
Brown Wing
9-10 am
Classroom Visits
10-10:20
Drive to ERUUF

Please pick up your child from school or make carpool arrangements for the Assembly
10:45-12
Assembly: Grades 1-12 Perform
12:00 pm
Dismissal from ERUUF
We look forward to seeing you all there!
– The Festivals Committee
ERUUF
Eno River Unitarian Universalist Fellowship
4907 Garrett Road, Durham


---
8th Grade Play Limited Space

Please note that the 8th Grade play is being performed in the 8th Grade classroom. This means that there is very limited space and the Monday, April 7th evening performance is for parents & grandparents of the 8th Graders ONLY. Thank you for your understanding.



Yearbook News!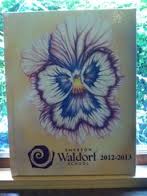 Order your copies of the EWS 2013-14 Yearbook by April 11th and SAVE!!
Don't miss out! Your child will be pleading with you to buy one once they arrive, so why not order one today at the discounted price of $42.50? Additional copies may be ordered at a 20% discount for just $34. Parents and grandparents – you'll want one of these keepsakes for yourselves, too!


After Spring Break, the cost goes up to $50 ($40 for additional copies) and the yearbook may well sell out, so don't delay – order today!
Bring checks to the Lower School Office by April 11. Your children will be so grateful you reserved a copy just for them.
EWS Farm Market Open Thursdays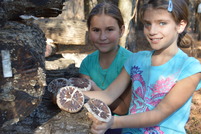 Thursday morning market NOW OPEN near the coffee table by the Lower School parking lot. We'll be open from 8:00-8:45 am.
This week we will have:
Shiitake mushrooms
Sorrel
Collards
Bunching onions
Daffodils*
Homemade dog biscuits, made with Emerson Farm eggs by Sarah Mueller (8th grade student).Snack size or training size.
Goat milk soap (made on a small family farm in Tennessee from goat to soap, this soap is some of the best you will ever encounter)
*If you are interested in purchasing flowers for classroom, home, or office to be picked up (or delivered to a classroom or office on campus) on Mondays, please send an email to
mmueller@emersonwaldorf.org
, or sign up at the market table.
See you at the market!
Mary Beth Mueller | Biodynamic Farming Instructor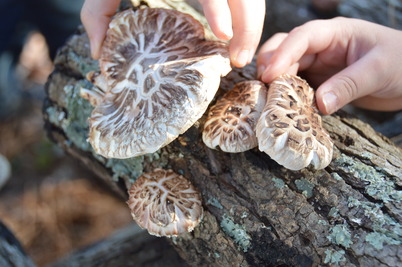 Rent a Community Garden Plot at Emerson Farm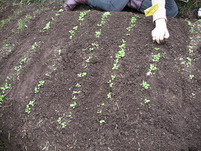 Itching to grow something but lacking good soil, sunlight, irrigation, or knowledge?
You can have all four if you rent a plot at Emerson Farm in exchange for either monetary payment ($25 per year per 24 square foot bed) or volunteer hours (2 hours per year per 24 square foot bed). Just open the attached
pdf
for a contract describing all the details. You won't be disappointed! Completed contracts can be dropped in Mary Beth Mueller's mailbox in the Lower School Faculty Room, along with payment or a note stating that you intend to pay with volunteer hours. See you in the garden!
Mary Beth Mueller | Biodynamic Farming Instructor
Biodynamic/Eurythmy Conference at EWS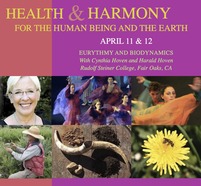 INCREDIBLE OFFERING!
Please join us at the EWS High School on April 11 & 12
as we explore Health and Harmony for the Human Being and the Earth with Harald and Cynthia Hoven of Rudolf Steiner College in Fair Oaks, CA.
The true sources of health for both people and the planet come from finding and cultivating the right relationship to all of the dimensions of life that we live in, including both what we know as the physical and the spiritual world. Join us to explore two fields that can enrich your life: the twin practices of Eurythmy and Biodynamic Agriculture.
Eurythmy
is a movement art that awakens and integrates body, soul, and spirit, drawing upon deep understanding of how the human being is related to both the earth and the universe, the personal and the spiritual.
Biodynamic Agriculture
is the most comprehensively holistic method of farming on the planet, drawing upon all four kingdoms of nature to create a unified field for your farm or garden and offering food of unsurpassed nutritious value and flavors.
Click here
for a full description of this dynamic weekend! DO NOT MISS!!!
Contact
Dani Mouawad
if you would like to sponsor this event at the $100 level. Sponsoring organizations will be listed on our website.

---
PO Health & Wellness Series - To Be RESCHEDULED!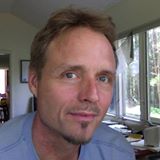 Sorry for the short notice - this has been canceled and will be rescheduled. Please stay tuned!
"Using Nutrition to Bolster Your Mood, Attention, Focus, and Memory"
by Mark Mead
Join us on Saturday, April 5,
10:30 am - 12:00 pm
in the Brown Wing



PO Workday Thank You!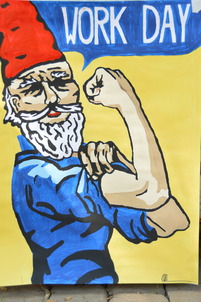 The Parent Organization would like to thank the following EWS parents, teachers and grandparents for coming out for our March workday and beautifying our campus:
Keith Bartholomew, Leigh Sparacino, David Kennedy, Tiffany Shubert, Brian Soher, Thomas Merckel, Peter Minnelli, Shannon O'Connor, Brandon Yarborough, Leah Gibbons, Marlene Panet-Raymond, Penny Sparacino, Renee Militante, Karen Durovich, Lars Nyland, Lauren Nyland, Ildiko (Ildi) Horovitz Balintfy, and Joseph Balintfy.
So much was accomplished! This small but mighty group managed to complete the water management component of the Kindergarten/EC walkway, to prune and mulch the plants around the gazebo, to remove and dispose of the rotting roof structure in the woods next to the Cottage, to tidy up the 1st Grade playground, and to shore up the playhouse next to the 1st Grade playground.
The PO provided coffee and breakfast treats in the morning and pizza for lunch. A special thanks to Leigh Sparacino, PO Vice President, for organizing hospitality and to Keith Bartholomew, PO Hands Coordinator, for overseeing and guiding the day!
Mark your calendars now for our next PO Community Work Day, Saturday April 26th!!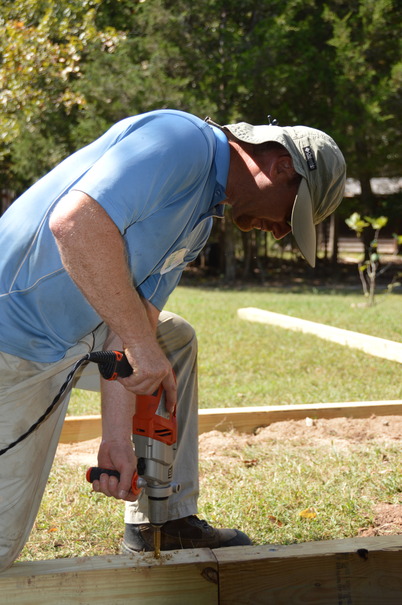 Social Inclusion Parent Study Group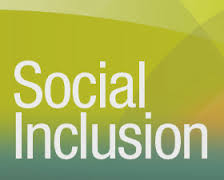 All children are exposed to bullying and teasing in some form – either by teasing, being teased, or witnessing teasing. Come learn how parents can support children in any of these situations and cultivate resiliency and the strength to be proactive bystanders who can support inclusive social dynamics. The Social Inclusion Parent Study Group Morning Group meets this Wednesday, April 2 at 8:30 am and the Evening Group meets Monday, April 7 at 7:00 pm in the Cottage. For more information contact Lauren Nyland -
lnyland@emersonwaldorf.org
, Leigh Sparacino -
annefairleigh@gmail.com
, or Merideth Tomlinson -
MeridethT711@gmail.com
.

---
7th Grade Field Trip to Washington DC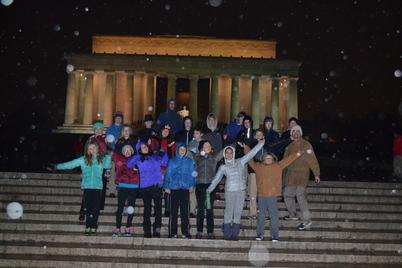 It is difficult to convey in words the experiences I witnessed these 7th Graders going through on the DC trip. Between the train ride, the night hike in the city, reading the words of Abraham Lincoln as he sat there glowing in the darkness, the tears shed at the Vietnam Memorial, the visible awe on their faces with each new experience, art, and people they were exposed to – it was unforgettable for all of us.
One of the most defining moments was the chatter I overheard among the students after we met the senators and the congressman. Some of them were excited and amazed to discover these people they see on the news and who help run our country are just normal people. You could literally see the shift or "light bulb" moment when they realized that one day they could do this too! Others were less interested in the political chat, but they grew in their ability to recognize the gravity of who was meeting with them and were patient and respectful. But that's another great thing about DC; there was the potential for an "awe" moment for every child, not just those interested in government, journalism, or law.
In the National Art Museum, I watched as some children took extreme close-up pictures of sections of the paintings from masters so they could later study the brush strokes. Some sought out the sculptures for inspiration for characters and drawings in books they want to write later. Others comfortably engaged a professional artist in the Rembrandt section who was trying to duplicate what he saw, intelligently discussing with him his methods.
When we moved as a group to the Natural History Museum, there were a few students we could hardly pull away from the geological section. They were reading and journaling away, not just admiring the "sparkly rocks". One child expressed the wish to have had a UV light to use when we were caving last year after discovering the rocks and organisms that glow in different lighting.
Some groups chose to go to the Botanical Garden when they were allowed to spread out and choose new museums. We were lucky enough to arrive when they were having an orchid show. There were beautiful sculptures made of flowers; one student commented that making that would not be impossible, it would just take a lot of patience, determination, and time. So many little nuggets came out of the students on this trip… and so many of them were "this is doable, I can do this" in nature.
Others spent hours in the Air and Space Museum looking beyond the grand planes and ships to see the hands-on mechanics of each. There were many discussions on how the mechanics and electronics have evolved over time. I heard "You should build that for your 8th grade project!" or "I bet I could do something like that!"
I truly expected to have to wait around while the groups made their decisions about where to go, since the adults weren't allowed to help at that stage. But I didn't witness a single argument. I was pleasantly surprised to see them navigating the big city with their maps and watching out for each other. Different personalities and groups that don't usually seek each other out respected each other's opinion and made decisions quickly, so as not to waste a moment with all they wanted to see.
I can absolutely see why it makes sense to go to DC before studying government in depth. After touring the Capitol, Supreme Court, and Library of Congress, they will be able to grasp and picture it all as something tangible. They should be able to ask better questions after seeing that our government is run by people just like them. I would advise every 7th Grade to end their year like this.
Thank you Mr. Wiley for the privilege of watching these children blossom, and most of all for how my child grew during this amazing trip.
Candace Berry, 7th Grade Parent & Chaperone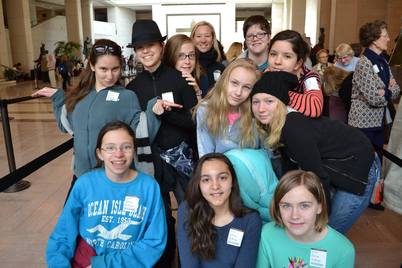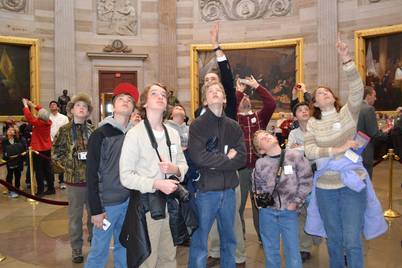 ---
Kaylen Alexis Selected for NC Junior Elon Scholars Program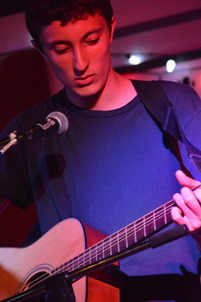 Kaylen Alexis, 11th Grade, has been selected to participate in Elon University's North Carolina Junior Elon Scholars Program. Kaylen applied to the program in February, submitting academic transcript, PSAT scores, counselor recommendation, a resume of extracurricular activities, and an essay; he was accepted to participate because of his excellent achievement so far in high school. Kaylen and his family will attend a recognition banquet on the Elon University campus in April to learn more about Elon's academic programs and student life. At the end of his junior year, Kaylen's transcript will again be submitted to Elon Admissions for review. By September of his 12th grade year he may receive an offer of admission to Elon for fall 2015; a Presidential Scholarship valued at $18,000 over four years; and an invitation to apply to the prestigious Elon Fellows Programs, which may carry additional scholarship money as well as special academic opportunities and Elon Experiences grants.
Congratulations to Kaylen Alexis for this recognition of his academic achievement and contributions to his community.
Kathleen Jackson, College Counselor, HS
Class of 2014 Fundraising

Hi Friends!
We (the Senior Class of 2014), are getting ready for our 12th Grade class trip to NYC in May. Currently, we're trying to figure out all of the places we want to go, food we want to eat, and people we want to see. We won't be able to enjoy these things without the money to fund the trip, so we've decided to host a babysitting night here at EWS.
What:
Childcare Night. Enjoy a relaxing night out without the children.
Cost:
$25 dollars per child, plus $10 additional for a sibling--all donations will directly support our trip to NYC
Where:
Emerson Waldorf High School – Brown Wing.
When:
This Friday, April 4th 5:30-8:30 pm
Please RSVP by clicking
here
.
We hope you'll bring your children to the Brown Wing for a fun, safe evening. We'll play games, host fun activities, and feed them snacks. Plus, you'll get a night out! It's a win-win situation. Feel free to email us with any comments/concerns: Senior Jebe Moiwai
jebemoiwai@gmail.com
or parent Rhonda Lanning at
jasonrhonda@bellsouth.net
.
See you April 4th.
Love,
The Senior Class of 2014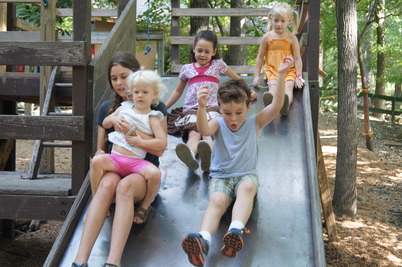 College Acceptances - EWS Class of 2014

As of 4/2/2014;
new decisions in BOLD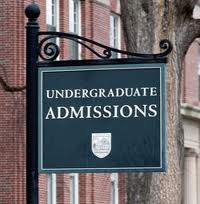 Antioch College (OH) + full tuition scholarship
Bennington College (VT) + merit scholarship
Birmingham-Southern College (AL) + merit scholarship
Brevard College (NC) + merit scholarships
Berry College (GA) + merit scholarship
Clark University (MA) + merit scholarship
College of Charleston (SC)
Columbia College Chicago (IL)
Cornell College (IA) + merit scholarship
Dartmouth College (NH)
Earlham College (IN) + merit scholarships
Eckerd College (FL)
Guilford College (NC) + merit scholarship (3 students)
Hampshire College (MA) + merit scholarship (2 students)
Haverford College (PA) + merit scholarship
Kenyon College (OH)
Lynchburg College (VA) + merit scholarship (2 students)
Niagara University (NY) + merit scholarship
University of North Carolina at Asheville (3 students)
University of North Carolina at Chapel Hill
Oxford College of Emory University (GA)
University of Richmond (VA)
Sewanee, the University of the South (TN) + merit scholarship
Ursinus College (PA) + merit scholarship
University of Vermont + merit scholarship
Wake Forest University (NC)
Warren Wilson College (NC) + merit scholarship
Western Carolina University (NC) + Honors College + merit scholarship
CONGRATULATIONS!


---
Both Ultimate Teams Undefeated Last Week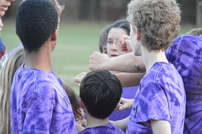 Last Tuesday the MS Ultimate team played in cold, wet weather and still defeated Duke School in their first game 15-3. They played well as a team and demonstrated great passes and catches, as well as super hustle. Coach Katy was very proud of their efforts. Their next home game is Monday, April 28 against Triangle Collaborative, and the next day they have their last home game against Duke School, Tuesday April 29. Both games start at 4:00 pm.
Last Monday the High School Ultimate team defeated Southern Wake Academy 15-4 and then played Fletcher Academy on Wednesday and defeated them by the same score. The team is undefeated in the Central Carolina Athletic League. They have 3 games this week at home: Riverside on Tuesday at 4:00, Pace Academy on Wednesday at 4:00, and NC School of Science and Math on Friday at 5:00. Please come out to cheer on your Gnomes!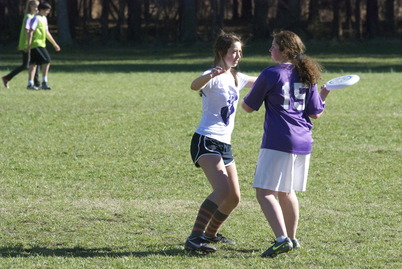 ---
Looking for Signs of Spring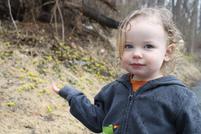 by Heather Manning
March 17, 2014 One of our favorite family activities is going on nature walks. Whether we're hiking all day or just taking a short walk in the woods, it is one way we stay grounded, balanced, and connected to nature. And after this very snowy and cold winter, we are eager to spend time outdoors, looking for signs of spring. It's an exciting time for my 2-year-old, Miles, since these spring experiences are somewhat new to him. For Lucas, my 8-year old, it is just a thrill to be out and about again enjoying the outdoors without lugging winter gear around.
Click here
for some ways to start getting your kids excited for warmer weather and looking for signs of spring.
A Moment of Pause...

---



---
SERVICES
AND ITEMSSUMMER HORSE CAMP:
Blue Skies of Mapleview offers its sixteenth year of summer horsemanship daycamp. Children aged 7-18 learn all aspects of horsemanship, including leadership skills, safe bareback riding, mounted games, trail ride, and visits from the farrier, vet, and equine chiropractor . We ride every day and have two unmounted clinics each morning as well. We come into our house for art projects, games, and fun and then end the day with a dip in the pool. Deborah is happy to offer this camp with her grown daughters, her lovely horses and other counselors who grew up riding at Blue Skies. A fabulous place to learn to ride and a great place to continue learning about horses and yourself.
www.blueskiesmapleview.us
919-933-1444 Special 20% off for Waldorf students and friends attending camp on week 1 June 9-13!!
CARPOOL/CHILDCARE ASSISTANCE NEEDED:
We have a critical need for a teenager/stay at home mom/grandparent to help with morning/after school rides and /or childcare for a rising 3rd grader during the 2014-2015 school year. We live in downtown Durham, but location (ie. your house or ours) and payment are flexible.
Jen McGonigle
"She could get a colony of ants singing!"
enthused a workshop participant. Singer, songwriter, community activist Elise Witt will be bringing her Impromptu Glorious Chorus™ adult singing workshop to EWS on Saturday April 25, 1:00 - 4:00 p.m. Admission is $25-85 sliding scale - please be generous! Space is limited - please pre-register by sending an email to emworld@mindspring.com
Want to support a local, organic farm and two Emerson Waldorf alumni, and get fresh veggies every week?
Join us this season by subscribing to our 28-week CSA. We provide fresh, locally and organically grown vegetables to you every week in exchange for your support! We even offer a home-delivery option. Visit our website to subscribe at
www.timberwoodorganics.com
. Or contact us to find out more about our farm at
timberwoodorganics@gmail.com
.
Balance your Life with Ayurveda~ Health & Lifestyle Consultations and Restorative Bodywork.
The focus of this consultation gives you direction in creating optimal health by making simple alterations in daily eating and lifestyle habits which are specific to your unique constitution. Restorative Bodywork nourishes the nervous system as well as the body with Hot Stones, Warm Oil & Steam Therapy. A wonderful gift for loved ones, friends, colleagues, or yourself! Gift Certificates for special occasions or just giving thanks. Offered in my lovely home office just minutes from Emerson. For monthly specials & more details:
www.stoneandspa.com
or call Shoshanna at 919-309-9989.
Why not have an artist do your hair?
Nancy Moore has been an artist/hairdresser for over 20 years, and an EWS mom for 16. Now located at the beautiful FLOW Salon, 587 Old Farrington Road, Chapel Hill NC 27517 For appointment call or text (919)260-2495 ...or book yourself online at
www.nancyannmoore.com
. Let the good hair days begin!
In celebration of Earth Day I am proud to present Shaklee's non-toxic home products.
Would you like me to show you how to set up a non-toxic home? I will come to your home with free samples and let you find out how great these products work. Just connect with me at
joanneestes@nc.rr.com
or call for an appointment at 919-929-4534. Home should be the safest place on earth. Clean it up with the safe, powerful, green, smart clean that is Shaklee. And surround yourself with health :) My Product Site:
http://www.joanne-estes.myshaklee.com
Dr. Hauschka Facials/Retailer:
CORI ROTH/Licensed, Certified, Holistic Esthetician. Revive your body, mind, and senses with a nourishing and soothing Divinerose Facial. Offered in an unhurried and retreat-like setting. 15% off first-time client. Visit
www.divinerose.com
for more info.

REALTORS/HOUSING
Looking to buy or sell a home?
As your fellow EWS parent and a REALTOR, I can help! Moving can be chaotic, especially with children. As your REALTOR, I will guide you through the process of buying or selling your home with sensitivity, integrity, and patience. Serving your best interests is my #1 focus! Contact EVE VAN BUREN at 919-259-1042 or
eve@gorealty.biz
.
Waldorf families are unique and special.
You need a Realtor who is unique and special too. Lynn Hayes has been helping Waldorf families for over 25 years, offering caring and sensitive service while supporting Waldorf education in our community. For MLS searches, community information and lots more visit
www.lynnhayes.com
or call Lynn at 919-265-8600.
Buying a home? Selling a home? Investing in real estate?
HEAD, HEART and 20+ years of HANDS-ON EXPERIENCE giving caring advice and guidance to hundreds of happy home buyers and sellers – let me help you with all of your Real Estate needs! Judy Weinstock, REALTOR, EWS Alumni parent. Joyfully donating to EWS with every sale. Phone 919.951.1800.
www.seejudy.com
.

Advertising Changes for the Emersonian
We accept small classified-type advertisements. Each submission to the Classifieds should be no more than 6 lines of text, which is approximately 60 words. The costs are as follows: $5.00/week; $10.00/month or $100.00/school year (10 months). Payment for Community Bulletin Board Submissions should be made by the Friday before the publication week (we publish every Wednesday school is in session.) No charge for advertisements of free events or non-profit organizations. Submit ads to:
emersonian@emersonwaldorf.org
.

General Policy for the Bulletin
No political or religious advertisements. No competitive program advertisements. No outside fundraisers. The editors will decide the placement of advertisements. Submissions may be edited for content and length. The Emerson Waldorf School retains the right to choose not to print an advertisement.
Public announcements and services offered in the Emersonian or other circulars produced by Emerson Waldorf School are paid advertisements and do not necessarily reflect the views and opinions of Emerson Waldorf School or its employees.
---
E-Newsletter Design and Graphics

Emersonian Publishing Team:
Kelley Wiley - Content, layout, correspondence, advertising
Raelee Peirce - Header design, layout
Barbara Holloway - Photo & creative content, editing
Kathleen Jackson - Editing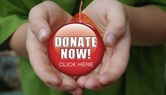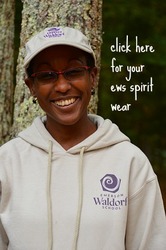 ---
Happenings

---
Wed 4/2
Social Inclusion Parent Study Group
Woodland Cottage
8:30 - 9:30 am
Committee Meetings
3:30 - 5:00 pm
CCAL Ultimate Frisbee League vs. Pace
@ HOME 4:00 - 5:30 pm
High School Parent-Teacher Conferences
6:00 pm

Thurs 4/3
EWS Jazz Band Rehearsal 3:30 - 4:30 pm
2nd Grade Parent Evening
7:00 - 8:30 pm

Fri 4/4
HS Ultimate Frisbee
vs. NCSSM @ HOME
5:00 pm
CANCELLED:
"Using Nutrition to Bolster Your Mood, Attention, Focus and Memory" by Mark Mead in the Brown Wing
10:30 am - 12:30 pm

Mon 4/7
6th Grade Mineralogy Trip
HS Ultimate Frisbee
vs. East Chapel Hill @ HOME
5:00 pm
8th Grade Play in the 8th Grade Classroom: Shakespeare's The Comedy of Errors 7:00 pm
Social Inclusion Parent Study Group
Woodland Cottage
7:00 - 8:00 pm
Tues 4/8
6th Grade Mineralogy Trip
8th Grade Play in the 8th Grade Classroom: Shakespeare's The Comedy of Errors 8:45 am
8th Grade Play in the 8th Grade Classroom: Shakespeare's The Comedy of Errors 1:45 pm
MS Ultimate Frisbee
@ Duke School
4:00 pm
Senior Project Presentations
Brown Wing 7:00 pm
---
School Staff

---
919.967.1858

Steve Bennett x11
Director of Administration

Mary Deutsch x12
Finance Director

Lynda Hollar x10
Administrative Support

Barbara Holloway
Marketing Director
919.480.1026

Ian Ostrowski x29
Facilities Manager

Raelee Peirce x14
Admissions Director

Therisa Pienaar x20
High School Coordinator

Kelley Wiley x13
Communications Director


---
School Hours

---
N/K 8:30 am - 12:30 pm
1st-5th 8:30 am - 3:15 pm
6th-8th 8:15 am - 3:15 pm
HS 8:10 am - 3:15 pm

Aftercare N/K until 3 pm
Aftercare 1st + until 6 pm

Office Hours 8 am - 4 pm


---