---
Halloween Celebration at EWS

Halloween will be celebrated tomorrow, Thursday, October 31 in Early Childhood with autumn crowns, capes, and magical leaf-changing wands made by your teacher (shhh...don't tell your little one). This is a student-only event: parents will behold their little leaf-changers upon pick-up tomorrow. Additional information about Halloween will be provided to you by your class teacher.

Halloween will be celebrated on Thursday, October 31 for Grades 1-12 from 11:05 am -12:40 pm in the Grades classrooms. When the 11:05 am bell rings, Grades 8-12 will meet in the classrooms of the younger grades with whom they have been paired to carve pumpkins. The grade pairings are as follows:

Grade 1- Grade 12
Grade 2- Grade 10
Grade 3- Grade 9
Grade 4- Grade 8
Grade 5- Grade 11
Grade 6-carve independently
Grade 7-carve independently
From 12:00 – 12:20 pm, students will clean up the classrooms and put the pumpkins on display. At 12:20 pm the outside bell by the playground will be rung, signaling the start of the viewing of the pumpkins. Students will visit the classrooms starting with the grade above them until they get to 7th Grade and then from 1st Grade to their own classroom for lunch.
At 12:40 pm the school day will resume its normal schedule for the remainder of the afternoon. At the end of the school day, students will take their pumpkins home to light and enjoy on Halloween night!
Note to Grades parents:
Parents, please help your child select the right size pumpkin to carve, one that he or she can handle and carry independently.
Pumpkins need to be brought to school by Wednesday, October 30
.
On Thursday, please send to school carving tools and utensils designated for pumpkin carving (tiny knives like saws).
NO REAL KNIVES, PLEASE!
Many children enjoy leaving their candy out for the Halloween Witch or the Sugar Sprite Fairy on Halloween evening. When they wake up in the morning the Halloween Witch or Sugar Sprite Fairy has switched the candy for a special treasure! Be sure to make arrangements with the Halloween Witch or Sugar Sprite Fairy ahead of time…..
EWS Bunraiser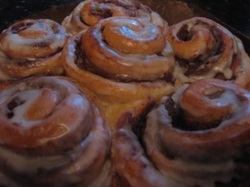 Looking for a scrumptious, easy breakfast for your family and holiday guests during this busy season?
Cinnamon rolls from Tobi's Bakery will be delivered to the school on Monday, November 25 to the families who place orders.
Order forms can be found in the Main Office, or order online
here
. Orders are due by 3:00 pm on Wednesday, November 20.
A round of 6 cinnamon rolls costs $12, precisely what local markets charge, and all proceeds go to programs that directly support our incredible school and our wonderful children.
Tobi is a former parent and Board member and sells her baked goods at local Farmer's Markets. The cinnamon rounds travel and freeze well, so stock up for the upcoming holidays!
Did You Know?

Little gnomes are gathering to invite you to take part in the creativity and imagination of wonderful authors and illustrators. Who knew? More to come…
Health and Wellness Series Begins Nov 2nd!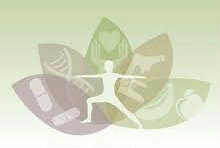 This series consists of lectures presented by community members on topics related to health and well-being. Join us for one or more of our seven enlightening talks, all of which will take place on Saturdays in the Brown Wing from 10:30 am-12:30 pm. Childcare provided upon request.
TinaLStevens@gmail.com

November 2nd
– Dani and Rula Mouawad "Winter Preparedness" "Inflammation and Anthroposophical Remedies"- Dr. Dani Mouawad
"Infection Prevention with Vaccine Controversies"- Dr. Rula Freiji-Mouawad
December 7th
– Leah Gibbons "Strengthen Your Body for the Winter Months: Whole Foods Nutrition and Natural Immune System Boosters" Healthy holiday recipes will be shared!
January 11th
– Dennis DeJianne "Inner Smile: Internal Alchemy of Self-Acknowledgement, Self-Acceptance, Self-Love"
February 8th
– Tina Stevens "Hidden Toxins in Your Environment"
March 1st
– Shoshanna DiBetta "Balance Your Life with Ayurveda"
April 5th
– Mark Mead "Using Nutrition to Bolster Mood, Attention, Focus, and Memory"
May 3rd
– Dani Mouawad "Anthroposophical Remedies"
For more information contact
TinaLStevens@gmail.com
Triangle Youth Ballet


Four EWS students and their parents will be participating in this year's production of The Nutcracker: Rania Mouawad and Isabel Peirce, 5th Grade; Thea Anderson-Head, 4th Grade; and Kaya Anderson-Head; 7th Grade. Please come out and enjoy the performances; ticket prices $10-$25 visit http://www.triangleyouthballet.org/The_Nutcracker.html:
December 7th @ 7pm & 8th @ 2pm
Hanes Theatre, Chapel Hill High School
919-932-2676

December 14th @ 7pm & 15th @ 2pm
Carolina Theatre, Durham
919-560-3030


With LIVE MUSIC
by the
Tchaikovsky Virtuosi
conducted by Andrew McAfee
Games Night Thank You!

Thanks to the PO for a wonderful evening. So nice to see so many families share a meal together, have time around the bonfire, and play games of strategy, wit, charm, and flexibility on the floor, as well as on the tables! Such fun for everyone! Hope you'll join us next time. These events can be especially wonderful for our new families to meet more of our community in an intimate setting with the chance for conversation.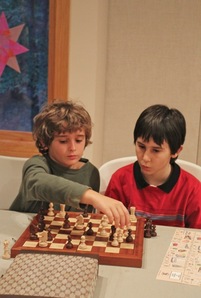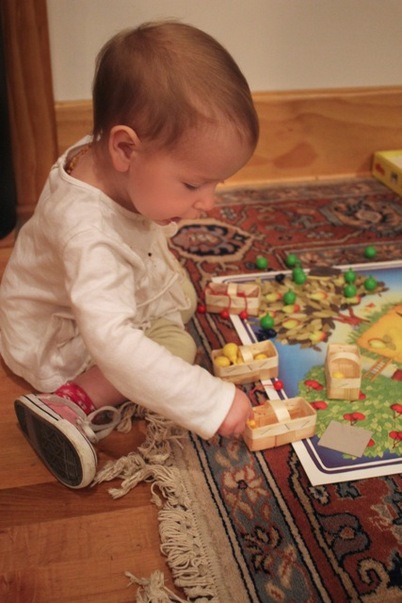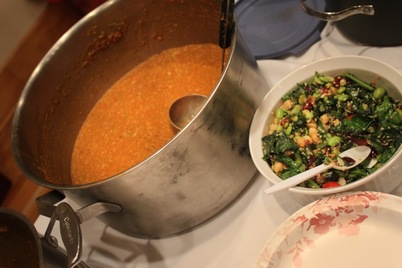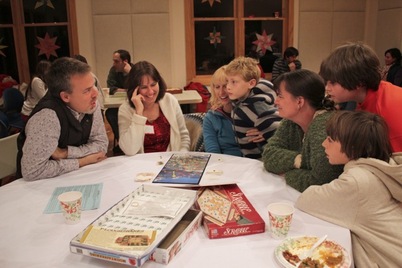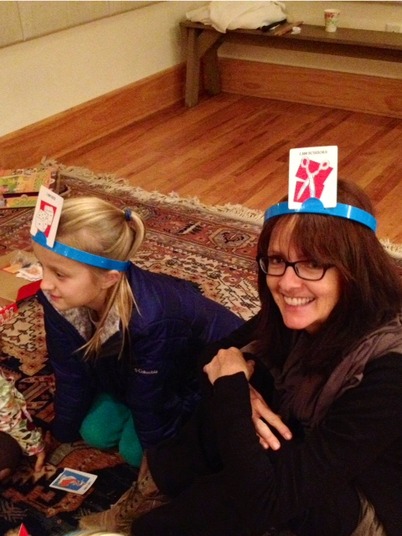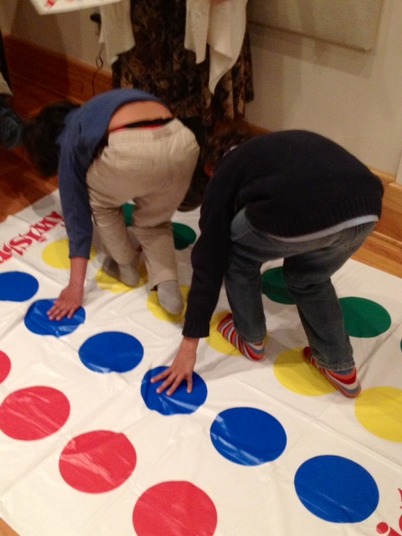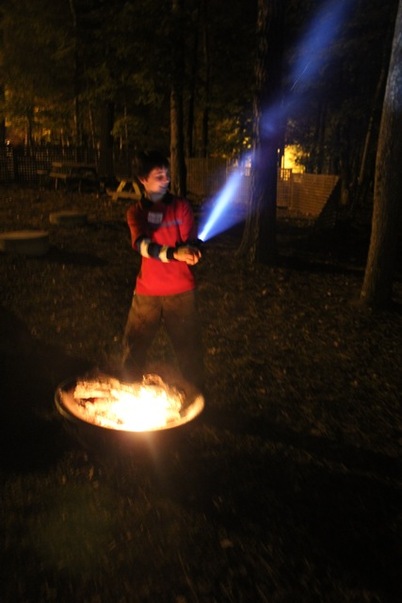 (Thanks to Annie Haas for photographing!)

Holiday Faire Still Needs YOU to Help!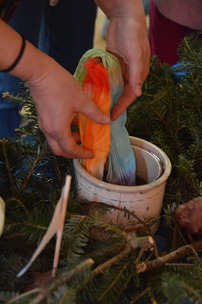 Many thanks to those of you who have already signed up to work a shift for your class' activity, or for a non-class-specific activity like archery. You are the people who help me sleep well at night! If you have not yet signed up, please do so now. I know we are all busy, and many of us juggle the needs of multiple children and classes. Yet Holiday Faire is the biggest event we put on for the entire community and we all need to pitch in for this to be a success. This is how we raise money for the school, and how we show the Triangle some of the wonders of Waldorf!
Here's a
link
to all the sign-ups available.
New Park & Ride Shuttle for Holiday Faire
Thanks to the help of EWS parent and Town of Chapel Hill sustainability officer, John Richardson, we have obtained permission to use the town's Park and Ride lot on Eubanks Road for parking for Holiday Faire. As this event has grown, we need to accommodate more visitors safely. You'll be able to park free of charge in the Eubanks lot, hop onto an EWS bus, and be on campus in just minutes. If you have special needs (handicapped access for grandparents, equipment that must be delivered on site on Saturday morning of the Faire, etc.) please contact janetsbuehler@gmail.com and we'll make arrangements, no problem.
However, we need more parking guides/greeters to help make this part of the Faire work, so sign up:
http://www.signupgenius.com/go/9040A44A8AD238-parking/1496293
Orange is the new black, people. You can wear an orange safety vest and you will look FAB-u-lous!
Soup Makers:
Please email Alice Armstrong at
AARMSTRONG4@nc.rr.com
if you can make soup for the café. We are making both lentil and pumpkin soups, and she will send you the recipes.
Holiday Faire needs cakes from each class!
We need 3-4 cakes from each class, nursery through grade 8, to bake for the cake walk (The high school bakes for the dessert café, but certainly HS folks are welcome to bake for the cake walk as well!)
http://www.signupgenius.com/go/9040A44A8AD238-cake1/1496293
Calling All Musicians!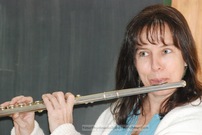 The Emerson Waldorf School Holiday Faire is an all-ages event which is eagerly anticipated each year by our community. This year's Faire takes place on Saturday, November 23. Along with crafting, archery, hayrides, and many other enjoyable activities, music is a vital element of the magic of the Faire. As music coordinator for this year's Faire, I am looking for interested musicians to contribute their talents. Whether you are interested in sharing 15 minutes of music for the fun Cakewalk activity or would like to perform in one of our High School venues, please contact me as soon as possible. Thank you, and see you at the Faire! Claire Viadro, 919-967-8215 (home) or
Viadro@mindspring.com
.
Crafty Thank You!

Many thanks to all of the parents and wee ones who have been crafting for Holiday Faire. Check out the beautiful creations that were made for the Enchantment Shoppe during the crafting session over Fall Break!
Let's keep crafting! Bring your non-EWS friends and join the weekly festivities in the Handwork Room on Thursdays after drop-off. Only 5 more Thursdays before the Holiday Faire!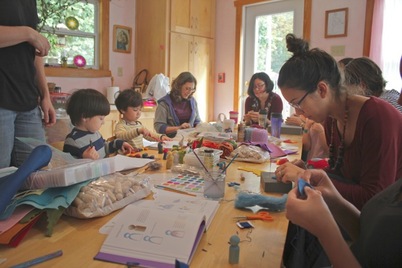 ---
Second Place Finishes for High School Cross Country and the Soccer Team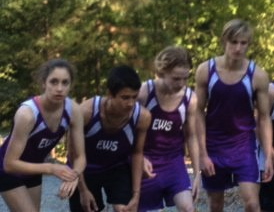 Both High School teams finished second in the post-season competitions.
For the Cross Country team it was an excellent finish on Wednesday, with all four runners recording their best times for the season. Our course is 5 kilometers or 3.2 miles. Hagen Stauffer came in tenth place at 25:09, 46 seconds ahead of his best time. Dorian Alexis was just in front of him in ninth place at a time of 24:43, which was over one minute better than her previous record. Owen Dowdall ran in his first race of the season and came in 6th place with a time of 23:18. Running in his last high school cross country race was Jake Marchman, who placed second among all the runners with a time of 21:23, over 1 minute better than his previous record.
This was good enough for our small but mighty team to finish second among the five participating schools.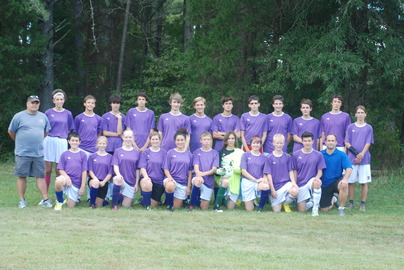 The first-ever EWS Soccer team to play in the end-of-season finals traveled to Clover Garden on Thursday evening... The Grizzlies defeated the Gnomes in a hard fought game, 4-0. The EWS team never gave up and dominated the last quarter of the game with numerous shots on goal. Playing in their last game for the Gnomes were seniors Tudor Comaniciu, Anthony Day, Tristan Mead, Jebe Moiwai, Liam Pearson-Moyers, and Emily Jolly.
Middle School Cross Country Wins!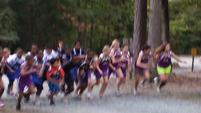 Both the girls' and the boys' teams defeated Maureen Joy Charter School to end their season on a high note last Tuesday. Coach Paul Reily was very impressed with this team and their individual achievements, and let them know it in their post- season celebration.
Sam Marchman was the first to cross the finish line of this 3 kilometer, or 1.8 mile course with a time of 11:58, his best time by 19 seconds, Agostino Luisetti bested his 13:09 time by running 11:59 and coming in second. Cooper Lamb was third at 12:03, improvement of 33 seconds. Eric Awai was fourth at 12:42, bettering his 14:07 time, and Eli Hicks was fifth at 12:59, bettering his 14:27 time. Alex Bodkin came in eighth out of fifteen runners, and the most improved for the season was his time of 14:57, 2 minutes and 35 seconds ahead of his first meet. A fantastic finish for the boys!
The girls were led by Aly McKinnis with a time of 13:59, next was Dharvi Gopal in third place, who was the most improved of the girls for the season, bettering her time by 3 minutes and 7 seconds! Fourth place goes to Annika Emerson with a time of 14:45 showing a minute improvement, and right behind her was Alaina Chandler at 15:04 bettering her time by 2 minutes and 36 seconds. In seventh place was Mia Vinas at 15:18 bettering her time by 2 minutes and 25 seconds. Luci Martinez ran ahead of three competitors with a strong finish at 15:51, an improvement of 40 seconds.
The other important note is that everyone on this team will be back next season. All season they raced against teams that had 8th graders, with our team made up of only 6th and 7th graders. Congratulations to Coach Paul Reily and his Middle School runners.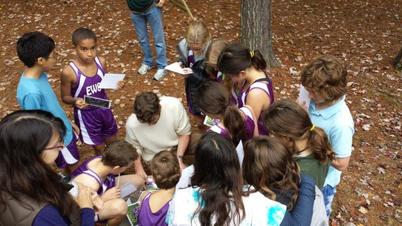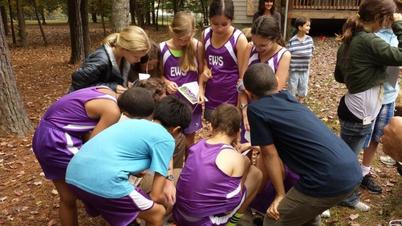 Thanks to Jeff Chandler for photographing!

Soccer Fun!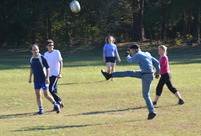 Last Friday the High School Soccer team took on the EWS faculty/parent team on a beautiful fall afternoon. The game featured exciting changes in momentum, with the faculty and parents taking an early lead 2-0 only to have the High School team come back to tie 2-2. Faculty/parents kicked in 2 more, but the High School team responded with a goal and then a final score right at 5:00 pm, ending the game in a 4-4 tie. Smiles on all faces after the game made for a perfect ending to a wonderful and successful soccer season. – Mary Kirchoff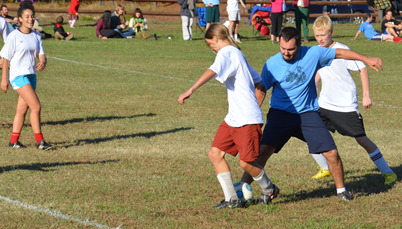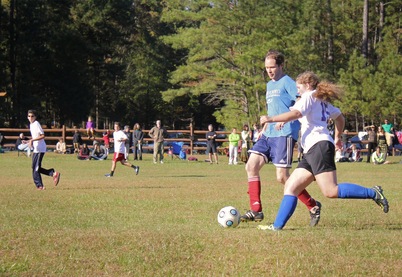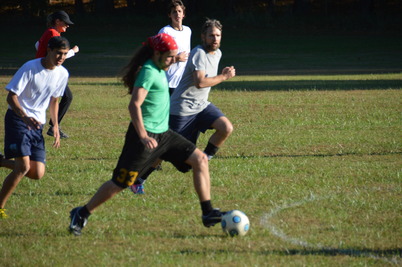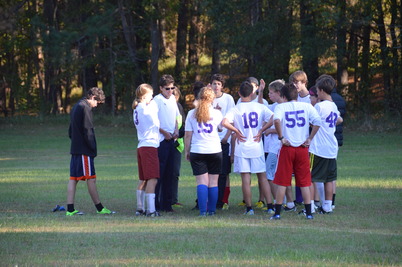 Thanks to Charlie Viles and Annie Haas for photographing!



---
Seventh Grade Cup Song


---
Gary Phillips Inspires EWS High Students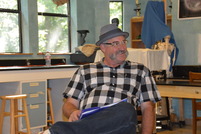 By Sierra Bradshaw-Kreimer, Grade 11
When Gary Phillips visited the Emerson Waldorf sustainability class, he told us how as a child he roamed the mountains all night with his grandfather, who rarely carried a flashlight, so as to better take in their full and vibrant alpine surroundings. He explained to us how his ram-dirt home was constructed from the cement, earth, and shells. He talked about his strong bond with his grandmother, and about the awesome hawk migration on Mount Sugarloaf in Massachusetts. He talked about other things, too, far too many to squeeze into this little paragraph. What I can squeeze in, however, is a sentiment taken away from that talk.
This man is a doer. He has so much widespread, diverse passion—for writing, connections, the earth, life....for so much. So do most people, though. Nearly everyone has something that will animate them, that when they talk about it this light comes into their eyes, and they clearly have zeal. Despite that, it seems to me that a disproportionate number of humans end up with unfulfilled passion, working or living a life that, sadly, incorporates very little of this sparkling thing that they care about. Gary lives the things he cares about. He embodies them in his lifestyle and his speech. Clearly it's feasible, possible, to pursue and actually live your passion. And that was lovely to see.
A Moment of Pause

---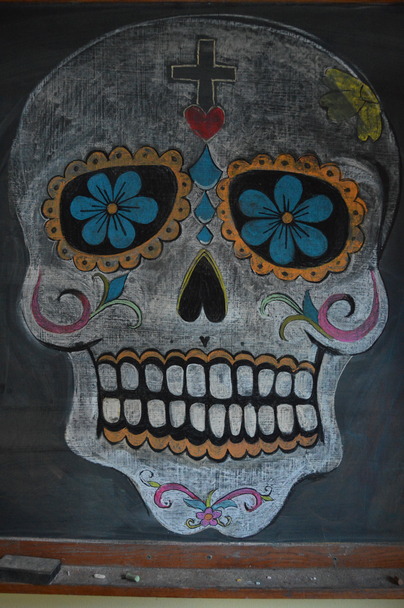 Chalkboard Drawing by Nicholas Schneider & Shanti Rogers (Grade 12)
This is Halloween!
Goblins on the doorstep,
Phantoms in the air,
Owls on witches' gateposts,
Giving stare for stare,

Cats on flying broomsticks,
Bats against the moon,
Stirrings round of fate-cakes,
With a solemn spoon,

Whirling apple parings,
Figures draped in sheets,
Dodging,disappearing,
Up and down the streets,

Jack-o'-Lanterns grinning,
Shadows on a screen,
Shrieks and starts and laughter—
This is Halloween!

Dorothy Brown Thompson


---
EVENTS AND CLASSES

Science and Spirit ComeTOGETHER to shinea new light onEVOLUTION!
It's not about either/or. Michael Judge will share his 35 years of research on the topic and demonstrate how science and spirit can plausibly complete one another.
Location:
Eno River Unitarian Universalist Fellowship, 4907 Garrett Road, Durham NC 27707
For more information and Early Bird Registration go to
http://newlightonevolution.eventbrite.com
or contact Peg Carmody at
mcarmody@nc.rr.com
or phone 919-537-8142


Circle of the Seasons:
A series of four creative workshops for adults
We will enter into the breathing process of the soul of the earth as expressed in the circle of the seasons, beginning in autumn, with pastels, nature observation, singing, creative writing and watercolor painting (wet-on-wet).
Saturday, November 9th
(Followed by workshops in January, March & May)
1:30-4:30 p.m.
At the Emerson Waldorf High School – Richards Room

Cost: $25 plus $5 for supplies, per session.
Martha Kelder, a former Waldorf kindergarten teacher, is an artist and arts facilitator who studied at Emerson College and Tobias School of Art.
Registration: Peg Carmody 919-537-8142 or
mcarmody@nc.rr.com
only 12 slots available so pre-registration is needed.

Cosmic Dance Classes
: The Third Sunday of the Month (Oct. 20, Nov. 17, and Dec 15) 1-3 pm in the Eurythmy Room. This movement path is one of self-healing through Re-union. We utilize the Eurythmy gestures and forms given by Rudolf Steiner as a way of manifesting both the strength and beauty of the Divine Feminine. All are welcome! Donations please : )
Kelly Calegar, The Sophia School of Movement
www.SophiaSchoolOfMovement.Org
ITEMS
Dragonfly Natural Toy and Craft Store:
A Waldorf-inspired toy, craft, and school supply store run by two moms at Emerson Waldorf School. We'll be set up at the cottage on Fridays from 12-4 until Thanksgiving Break so come on by. Also check us out at the Holiday Faire on November 23rd. We carry beautiful items from many companies including Mercurius, Buntspecht, Ostheimer, Sarah Silks, Camden Rose and much more. For more information call Charlotte @ 919-265-9734
.

SERVICESBalance your Life with Ayurveda~ Health & Lifestyle Consultations and Restorative Bodywork.
The focus of this consultation gives you direction in creating optimal health by making simple alterations in daily eating & lifestyle habits which are specific to your unique constitution. Restorative Bodywork nourishes the nervous system as well as the body with Hot Stones, Warm Oil & Steam Therapy. A wonderful gift for loved ones, friends, colleagues, or yourself! Gift Certificates for special occasions or just giving thanks. Offered in my lovely home office just minutes from Emerson. For monthly specials & more details:
www.stoneandspa.co
m or call Shoshanna at 919-309-9989.
I am a mother of a 10-month-old daughter and I am looking for work as a nanny.
I am inspired by Waldorf education. When caring for children I value, among other activities, daily rhythm, exploring nature, singing songs, reading stories, making up stories and quiet time. I can provide references from EWS parents. Please email me at
jacobs.lizzie@gmail.com
Why not have an artist do your hair?
Nancy Moore has been an artist/hairdresser for over 20 years, and an EWS mom for 16. Now located at the beautiful FLOW Salon, 587 Old Farrington Road, Chapel Hill NC 27517 For appointment call or text (919)260-2495 ...or book yourself online at
www.nancyannmoore.com
. Let the good hair days begin!
Shaklee Enfuselle Nutrition Therapy Skin Car
e is formulated with our exclusive Vital Repair+® to block ALL those skin-damaging free radical reactions and encourages you to have healthy cells so you see smooth, luminous skin. 100% money-back guarantee. Check it out
here
or call Joanne Estes 919-929-4534 ~ All Waldorf customers receive 10% off from me. Have questions about Shaklee? Visit me any Tuesday morning at the Lower School coffee table during my volunteer shift until 8:30 am!

Dr. Hauschka Facials/Retailer:
CORI ROTH/Licensed, Certified, Holistic Esthetician. Revive your body, mind, and senses with a nourishing and soothing Divinerose Facial. Offered in an unhurried and retreat-like setting. 15% off first-time client. Visit
www.divinerose.com
for more info.
KatieBeth's Learning Garden!
We are a retail store and community class space located at 400 S. Elliott Road in the Galleria Shopping Center. Here, you can find the supplies you need for a Waldorf-friendly home, including imaginative natural toys from Camden Rose, Ralph Evans, and Sarah's Silk, fiber arts kits and supplies from Harrisville, beeswax candles, stones, and supplies from Mercurius. We sell new and consigned educational materials and games for your whole family.
www.katiebethsgarden.com
REALTORS/HOUSINGBuying a home?
Selling a home? Investing in real estate? HEAD, HEART and 20+ years of HANDS-ON EXPERIENCE giving caring advice and guidance to hundreds of happy home buyers and sellers – let me help you with all of your Real Estate needs! Judy Weinstock, REALTOR, EWS Alumni parent. Joyfully donating to EWS with every sale. Phone 919.951.1800.
www.seejudy.com
.
Advertising Changes for the Emersonian
We accept small classified-type advertisements. Each submission to the Classifieds should be no more than 6 lines of text, which is approximately 60 words. The costs are as follows: $5.00/week; $10.00/month or $100.00/school year (10 months). Payment for Community Bulletin Board Submissions should be made by the Friday before the publication week (we publish every Wednesday school is in session.) No charge for advertisements of free events or non-profit organizations. Submit ads to:
emersonian@emersonwaldorf.org
.

General Policy for the Bulletin
No political or religious advertisements. No competitive program advertisements. No outside fundraisers. The editors will decide the placement of advertisements. Submissions may be edited for content and length. The Emerson Waldorf School retains the right to choose not to print an advertisement.
Public announcements and services offered in the Emersonian or other circulars produced by Emerson Waldorf School are paid advertisements and do not necessarily reflect the views and opinions of Emerson Waldorf School or its employees.
---
E-Newsletter Design and Graphics

Emersonian Publishing Team:
Kelley Wiley - Content, layout, correspondence, advertising
Raelee Peirce - Header design, layout
Barbara Holloway - Photo & creative content, editing
Kathleen Jackson - Editing