Administrator's Corner

Dear Parents,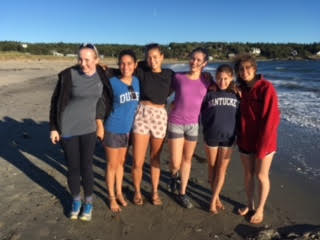 Everyone seems to be settling nicely into the routines of the school year. Our high school seniors are on their annual trip to Hermit Island, Maine. Each fall, our seniors join students from other Waldorf high schools from around the country on this unique trip which combines the study of invertebrate zoology – part of the 12th grade curriculum – with marine-based science labs and artistic activities. Truly a uniquely Waldorf experience!
The pace of construction is slowing down on our campus. Mr. Ostrowski, our Facilities Manager, has moved into his new space, and Mr. Kratzer's renovated music classroom is nearing completion. Thank you to everyone in our community for making these projects possible.
The excitement for Michaelmas is already beginning to build and we hope you will join us on Thursday, September 29th to celebrate the festival AND the official opening of our new high school building.
Thank you for all that you do in support of our school,
Christina Wise
Director of Administration



---
Michaelmas and High School Ribbon Cutting on Horizon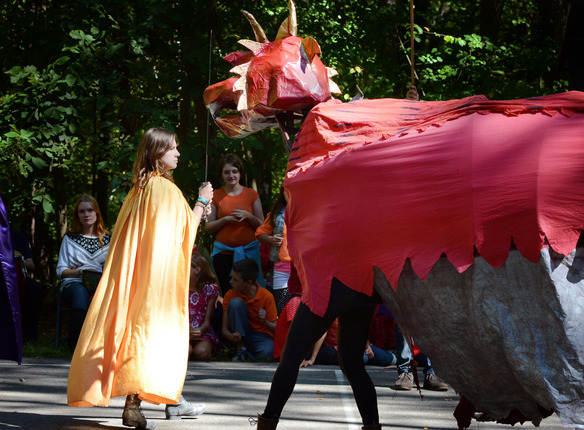 Each year the rich Waldorf curriculum offers opportunities for children to celebrate different festivals from around the world.
Michaelmas
, the feast of Saint
Michael
, is a festival that we celebrate yearly as a school community and EWS families, friends, and alumni are welcome to join us.
Read more about the
Michaelmas
Festival on our
ANNUAL EVENTS
website page.

THURSDAY, SEPTEMBER 29, 1-3PM AT HINOKI AND HIGH SCHOOL


Grades 1-12
Remember to Wear Red* on the Day of the Event
1:20pm Songs and verses from the grades. Grades 1, 2, 3, and 4 will perform "

Michael

and the Dragon" play at the outdoor Hinoki Theater behind the High School.

2:00pm "Town Crier" invites Hinoki guests and students to the HS Courtyard where Michael will "fight" the dragon.

2:30pm Board President, Mark Hulbert,

will share some remarks, and we will cut the ribbon for the new building.
* We traditionally wear Red on
Michaelmas
as a symbol of courage and will. Other "flame" colors such as yellow or orange are also acceptable.
---
Queen Bee Puppet Show Next Saturday!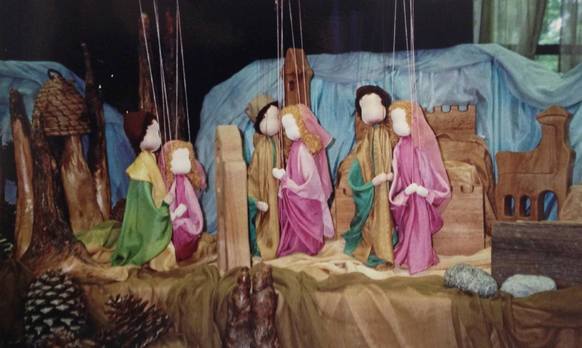 SATURDAY, SEPTEMBER 24, 11:15AM-12PM

"Queen Bee" at Chapel Hill Public Library
Nothing sparks a child's imagination like a puppet show!
Come enjoy the simple beauty of a table-top puppet show and discover how kindness has hidden treasures. Performed by the Emerson Waldorf School's Early Childhood teachers with naturally-dyed silks for stage background and handmade puppets. Stay for a short while afterwards and create a simple craft with your child! Free and open to the public. Suggested for ages 3 to 93!
Please join us and bring a friend!
---
Parent Handwork Group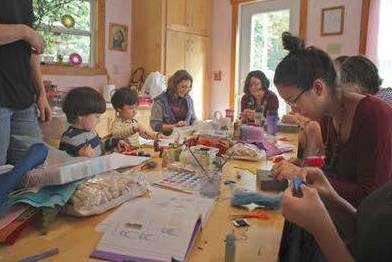 We warmly welcome all crafters and handwork lovers – complete beginners to accomplished experts! Please join us in the Handwork Room on any Friday (starting September 16th) after drop-off until 10:30am.
Each week we will work on a very simple craft project for the children's shop at the annual Holiday Faire on November 19th. This is a wonderful time to meet other parents, learn some handwork skills (or teach, if you wish to share!), and help make this year's Faire a beautiful experience for our community and visitors. There are no commitments, so join us when your schedule allows, even if it's just to stop by and see what we're working on!
Wendy Ziegler, Sarah Hatami, and Catherine Reyes
---
Did You Miss the Volunteer Fair Last Wednesday?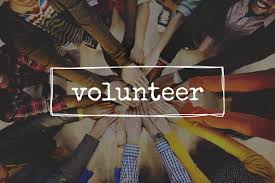 You can still connect with the activities and the opportunities that were recruiting!
---
Fall Sports Off and Running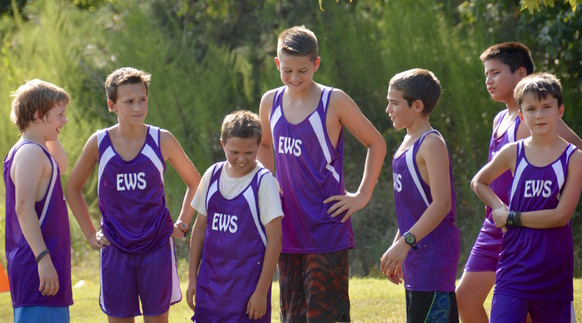 The EWS fall athletics season is off to a great start even with some high heat and humidity! We are happy we've added girls middle school and high school volleyball to our fall lineup to compliment middle school and high school cross country running as well as high school soccer.
Our middle school cross country team survived the heat of their first meet at Duke — with the boys winning overall and the girls coming in a very close second (even with 5 girls who were misdirected on the course)! Lots of great energy and the kids are looking forward to tackling Trinity's tough course this week and next week!
HS volleyball had a scrimmage last week and a game against Bradford Academy this week. In typical fashion for kids educated in Waldorf schools, they are open to the challenge — learned a ton in the first scrimmage — and are quickly well down the path of figuring out how to play what is a new game for all of them— to the point where the Bradford game was really a close contest! I'm eager to see this continue!
Emerson hosted a cross country meet with 55 runners from area high schools this week — unfortunately we had no runners due to Dorian Alexis being away on her class trip. Soccer begins the season Friday and middle school cross country also has a meet
on Friday
. Our middle school girls volleyball play their first game next week!
Busy and fun start to the fall athletics season! Come out and support our teams!
Go Gnomes!
Mr. Hall
---
Foundation Studies in Anthroposophy and the Arts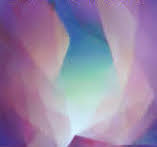 Year Two – Term Two 2016
Fridays 7-9pm & Saturdays 9am – 3pm

Sept. 24, 9am-3pm Veil Painting: Color Arising out of Light and Darkness 9am–1pm with Martha Kelder

Oct. 21, 7-9pm and October 22, 9am-3pm "Medicine for the Earthly and Human Bodies" Anthroposophic Medicine – Renee Page Meyer
MD Home Health Care – Joy Kwapien, RN
Earthly Remedies – Biodynamics – Jon Lyerly

Nov. 16, 5-9pm "Cultural Festivals & their Relationship to Astronomy" – Michael D'Aleo
Nov. 18, 5-9pm Graduation "Cultural Festivals & their Relationship to Astronomy" – Michael D'Aleo
New participants may join for September 2016.
Foundation Studies Program Coordinator: Barbara Richardson, brichardson@centerforanthroposophy.org or 207-865-6482
Local coordinator: Jessica Meyers, 919/623-3835, jessicacmeyers@gmail.com
(Re: books, eurythmy shoes, potluck brunch, directions, etc.)
Finances: Milan Daler, Administrator, Center for Anthroposophy, PO Box 545,
Wilton, NH 03086, 603-654-2566, milan@centerforanthroposophy.org
Certificate

A Certificate in Foundation Studies in Anthroposophy and the Arts is granted upon completion of Year I and Year II. This includes 128 hours in total, allowing 8 hours absence each year. Tuition must be paid in full to receive Certificate.
Mission Statement
The Center for Anthroposophy welcomes adults dedicated to the education of today's youth and to the practice of self-transformation.Working out of the science of the spirit pioneered by Rudolf Steiner, the Center offers innovative adult educational programs that
stimulate new inner growth and development
transform existing gifts and talents into new creative capacities
re-enliven life's experiences so that they may become seeds for future work in the world.
The Center supports schools worldwide, inspiring Waldorf teachers and those who stand with them as administrators, trustees, parents, and friends.
Center for Anthroposophy
P.O. Box 545
Wilton, NH 03086
603/654-2566 - Register online at:
www.centerforanthroposophy.org
---
P.O. Save the Date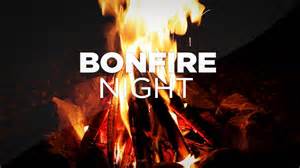 Back by popular demand... MNO and DNO! More details to follow but in the meantime mark your calendars to hang out with some familiar faces you will see in a new light!
Mom's Night Out Bonfire – Saturday, October 1st, 6pm
Dad's Night Out Bonfire – Saturday, November 5th, 6pm
---
Join Us in October for the Next New Parent Tea
Last Friday staff and faculty talked with new parents in The Cottage for a morning tea. This monthly fall event is a wonderful way for new parents to meet others, get questions answered, and learn more about Emerson Waldorf.
Our next New Parent Tea will be...
Friday, October 14, 2016 at 8:30-9:30am. Join Us!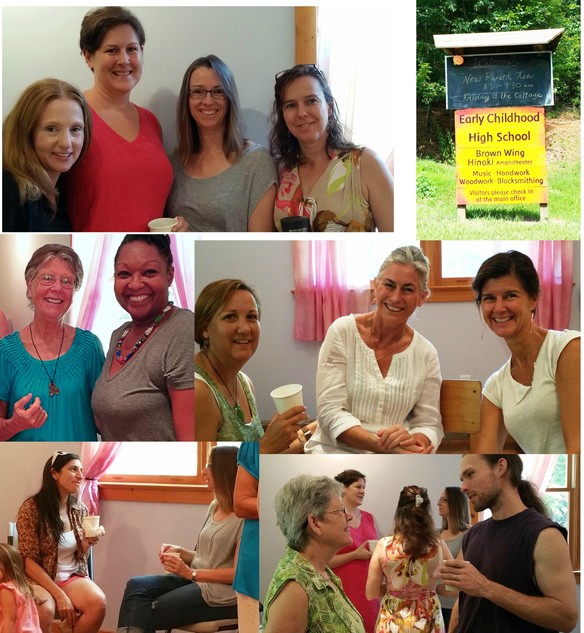 ---
Early Childhood Weekly Tours & Info Sessions!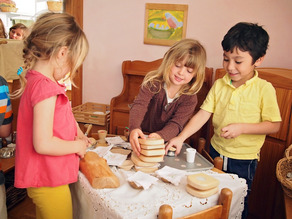 Parents of 2-5 year olds are invited to register to attend our weekly tour and information session in the Kindergarten. This event allows interested parents to meet our Nursery and Kindergarten teachers if they are seeking enrollment for this fall or next.
Your child plays in the classroom while parents learn more about our unique approach to the young child and may ask questions and get a taste of our program firsthand.
---
Parent-Child Classes - A Few Spots Still Available!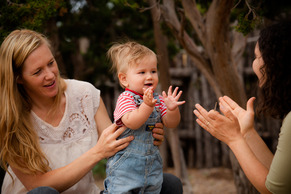 Our Fall Parent-Child class for babies under 15 mos by September 1st still has spots available! The Morning Glory Parent-Baby class is Mondays 11:30am-1pm.
We also have a few spots remaining in our Tuesday Garden Gate class for children ages 16-26 mos by September 1st that meets 1-3pm.
CLICK HERE
to learn more about the dates, cost, and visit.
To register for either class, please contact admissions@emersonwaldorf.org.



---
From the Forge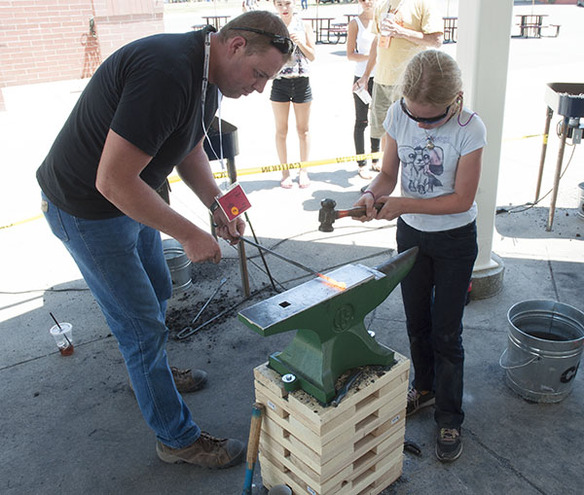 This past July I attended the biennial Artist Blacksmith Association of North America (ABANA) conference in Salt Lake City. A truly wonderful experience. The theme of the conference was EDUCATION. I'll be making a presentation as promised .... you'll maybe get to meet some of the wonderful adult smiths who have taken the classes at EWS.
ABANA

Conference Report by Mark E-W
Friday, September 16th, 7:00 PM
Emerson Waldorf School
Brown Wing of the High School
---
Quote for the Week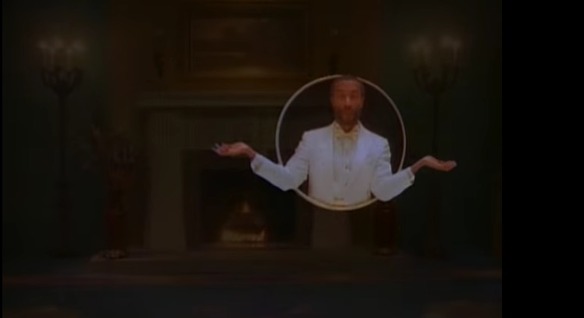 ---
Upcoming Events
9/14 EC Information Session 1:15pm
9/14 HS X-Country @ HOME 3:45pm
9/14 HS Girls Volleyball vs. Bradford Academy 4pm
9/14 HS Soccer @ HOME vs. Southern Wake 4pm
9/14 MS Girls Volleyball vs. Trinity 4pm
9/15 6th Grade Parent Evening 7pm
9/16 MS X-Country vs. Trinity 3:30pm
9/16 HS Soccer vs. Hawbridge School 4pm
9/16 Blacksmithing Conference in the Brown Wing 7pm
9/21 EC Information Session 1:15pm
9/21 MS X-Country vs. Trinity 3:30pm
9/21 HS Soccer @ HOME vs. Camelot Academy 4pm
9/22 HS X-Country @ Hawbridge School 3:45pm
9/22 HS Girls Volleyball vs. Bradford Academy 4pm
9/22 3rd Grade Parent Evening 7pm
9/22 5th Grade Parent Evening 7pm
9/23 HS Soccer vs. Fletcher Academy 4pm
9/23 MS Girls Volleyball vs. The Duke School 4pm
9/24 HS X-Country @ WakeMed Soccer Park 9am
9/24 Public Puppet Show @ Chapel Hill Library 11:15am
9/26 HS Girls Volleyball vs Fletcher Academy 4pm
9/26 Board Meeting in the Richards Room 6pm
9/27 4th Grade Field Trip to Bynum, NC 8:30am
9/27 1st Grade Parent Evening 6:45pm

---