Administrator News

Dear Parents,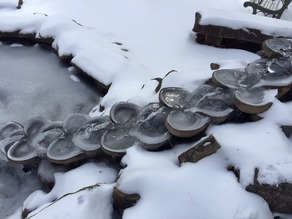 It is hard to believe that this picture was taken only a week ago. The weather certainly likes to take dramatic changes here in North Carolina! This week does feel as if we are all settling back into the comforting routine of school life.
We had a wonderful turnout last Saturday at Waldorf Education Day and it was great to see so many of our current parents take advantage of the opportunity to delve a little deeper into Waldorf education. Thank you to all of the parents who helped with the event and all of our faculty and staff who dedicated so much of their time to make the event a successful one. Special thanks to our current and alumni parents and students who participated in the panel.
Please join us this evening for the first of a four-part speaker series that EWS Senior Emma Hulbert has put together for her Senior Project. These events can help us to 'Wake Up' and raise our social awareness through deeper conversation. This week focuses on Islamophobia in the region in which we all live. We hope to see as many parents and students (middle and high school) there as possible.
Thank you for all you do in support of our school,
Christina Wise
Director of Administration



---
Emma Hulbert's Senior Project – Join Us TONIGHT!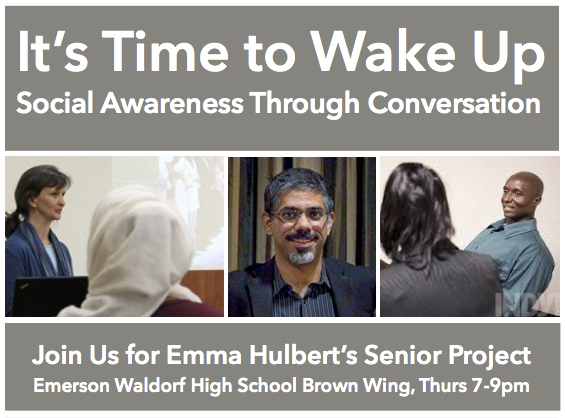 EWS senior Emma Hulbert has created a speaker series with four events for her senior project. These events are on Islamophobia (1/19), Tuition Inequality for Undocumented Students and the Future of DACA (1/26), Racism in the Justice System (2/9), and a film screening of "Ties that Bind", a documentary about a family's journey with their transgender sister (3/16).

Each event is free and open to the public.
Please join us TONIGHT for:
ISLAMOPHOBIA PANEL DISCUSSION

Thursday, January 19th at 7:00pm at the Emerson Waldorf High School

Listen to panelists UNC Professor Juliane Hammer, Duke Imam Abdul Waheed, Activist Manzoor Cheema, and Activist Aisha Anwar speak about their experiences with Islamophobia. Come and listen, and then engage with a group discussion/Q&A with the panelists. This issue is of utmost importance, especially going into the next election cycle. This event is guaranteed to challenge the paradigm we are living in!

Emma created this project to start the conversation at Emerson Waldorf School, as well as in the wider community, about issues that are vitally important but may not directly impact those in the audience. Come to these events and hear renowned panelists speak on issues that may have never occurred to you, and engage in lively community discussions! All are welcome.
CLICK HERE FOR MORE INFORMATION
---
Grade 10 Inorganic Chemistry Experiment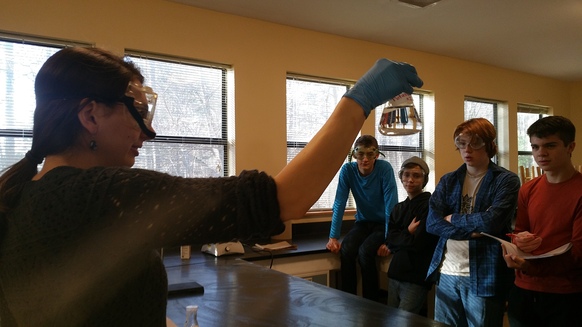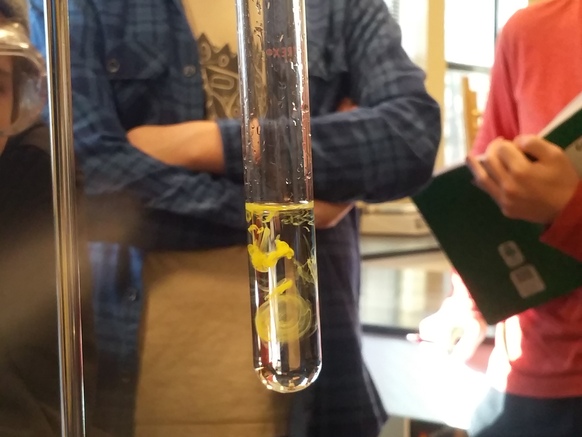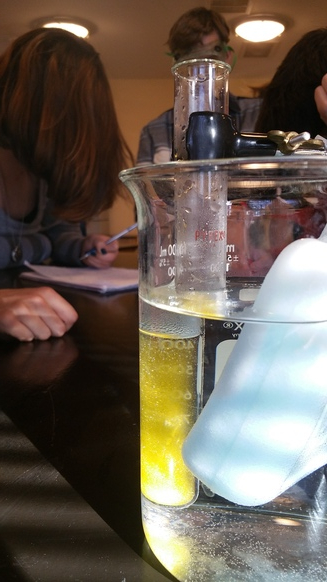 In Waldorf schools around the globe, tenth graders study Inorganic Chemistry – the chemistry of acids, bases, and salts and where are they commonly found in the human body, acid/base indicators, electrolysis of water, generation of acids and bases, neutralization, Arrhenius' theory of electrolytes, formula weights, moles and concentration, writing chemical formulas and naming chemical compounds, writing and balancing chemical equations, the pH scale and the definition of pH, salts as the result of acid and base, decomposing a salt to acid and base, crystallization and crystal forms, common salt substances, acidic and basic salts (hydrolysis), buffers, amphoterism, and oscillating reactions.
Today, EWHS Grade 10 studied chemicals in solutions and observed a precipitation reaction. They started with two transparent solutions, which when combined, reacted to form a new chemical compound that is not soluble in water at room temperature. It precipitated out of solution as a swirling yellow solid. When they then heated the solution, the yellow precipitate dissolved, and the solution became clear again. When they cooled it off again, the precipitate appeared once more, but this time in the form of beautiful golden crystals that floated to the bottom of the test tube like golden rain.
---
Isabel Peirce's Grade 8 Project – Race Literacy

---
College Acceptances for Our Seniors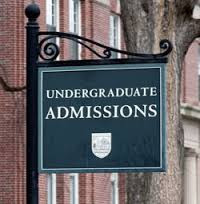 Below is a list of colleges where our seniors have been accepted thus far in the school year.
Denison University
Virginia Tech
Goucher College
Ithaca College
University of Mary Washington
Guilford College
Hollins College
Juniata College
University of Loyola Maryland
Eckerd College
University of Kentucky
UNC Charlotte
UNC Asheville
Ursinus College
UNC Greensboro
Hampshire College
About 90% of the senior class has been accepted to at least one college at this point. Most admission decisions come out in March/April, so we are excited to see what else this spring brings! Way to go, Class of 2017! We are all so proud!

---
P.O. Happenings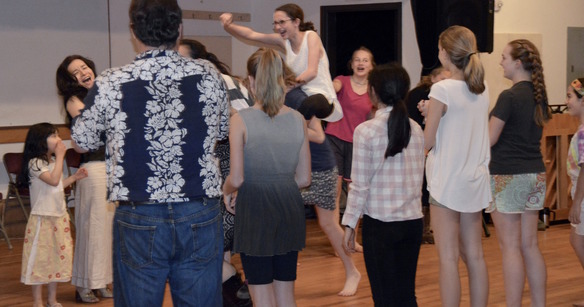 UP & COMING EVENTS

School-wide P.O. Meeting with College of Teachers Rep. -
Wednesday, February 8th, 8:30am in the Woodland Cottage. Come hear the College of Teachers' response to some of the feedback from the Parent Feedback Initiative! There will be time for discussion and socializing as well.
Community Contra Dance is on the Books! -
Mark your calendars for
Saturday

evening,

March 11th
for a family-fun event for all ages. More details to come. Thank you to Jack Latham and Metta Prieto for making it happen!
Your Parent Organization Leadership Team
---
Winter Instrumental Next Friday, January 27


Our concert next Friday will take place at AL Stanback Middle School, 3.4 miles from EWS, located at 3700 NC 86 S, Hillsborough.
• All 6th - 12th Grade band and orchestra students participate

• Students report by 6:00pm, concert begins at 6:30
pm
• Black & white formal wear

Everyone in the community is encouraged to attend – perfect family activity for a Friday evening!
---
Quote for the Week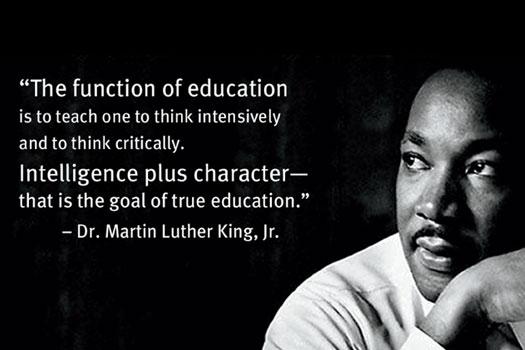 ---
Upcoming Events

1/19 MS Girls Basketball @ Durham Academy 4pm
1/19 MS Boys Basketball @ Durham Academy 5:15pm
1/19 4th Grade Parent Evening 7pm
1/19 Emma H. Senior Project in Brown Wing 7pm
1/20 MS Girls Basketball @ Duke School 4pm
1/20 MS Boys Basketball @ Duke School 5:15pm
1/23 Co-ed 6th Gr. Basketball @ Trinity 4pm
1/23 HS Girls Basketball @ Carolina Mustangs 5pm
1/23 Nursery Parent Evening 6:30pm
1/23 Board Meeting 6:00-9:00pm
1/23 12th Grade Parent Evening 7pm
1/24 MS Boys & Girls Basketball @ HOME 3:45 girls; 4:45 boys
1/25 HS Girls Basketball @ Carolina Friends School 5:30pm
1/26 Emma H. Senior Project in Brown Wing 7pm
1/27 Winter Instrumental Concert Gr. 6-12th 6:30pm
1/30 HS Boys Basketball Tournament @ Fletcher Academy Time TBD
1/30 6th Gr Girls Basketball @ Durham Academy 4pm
1/31 Kindergarten Parent Evening 6:30pm

---