The Emersonian is a weekly e-Newsletter sent to the
Emerson Waldorf School community every Wednesday during the school year.
919.967.1858 | emersonwaldorf.org


From Administration & Faculty...

---
Parent Organization Meeting Tonight!

Wednesday, May 15th, 7pm Eurythmy Room


---
Administrator's Desk...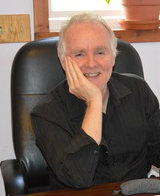 Last year's Gala was my first real experience of the wonderful Emerson Waldorf community. Your warmth and generosity convinced Dianne and me that this was the place to be for our foreseeable future. Last Saturday night only enhanced that experience as we gathered again to support the school and to enjoy each other's company.
All praise to Meredith Tomlinson and her uncountable collaborators, supporters, and assistants. It was a night to remember.
Join me on Friday, May 17, 2013 from 8:30-9:30am in The Cottage for Tea With Steve. I would love to discuss with interested parents "Education Towards Freedom"
. If you have an hour it would be great to meet. This is our 3rd and final day on this subject. Next: "A Teacher's Meditation Life."
Steve Bennett
Administrator
Oh What A Night!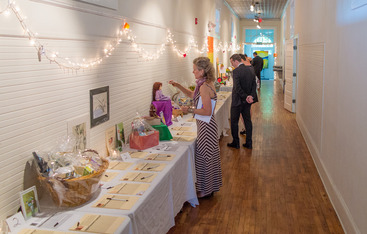 We truly rocked the old Murphey School on Saturday night! What a tremendous evening of fun-raising! The 90-year-old school was transformed by Gala committee members – twinkle lights, grape vine, and giant tissue paper flowers made by our Handwork group created a vibrant, elegant setting for our evening. Erich Lieth and One Sun, featuring Catherine Grodensky, opened the evening with smooth jazz, followed by Neil Alexis who further charmed crowd with his live improvised piano music. Folks settled in, mingled with friends decked out in everything from jeans to pearls, perused the gorgeous displays of auction items, and indulged in plenty of beer, wine,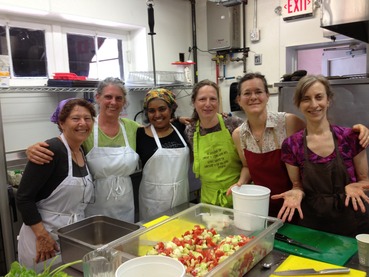 Delicious food by Vimala and the team of volunteer sous chefs was served! Vimala's desserts were the perfect complement to the biodynamic Whitted Bowers strawberries and cream. YUM!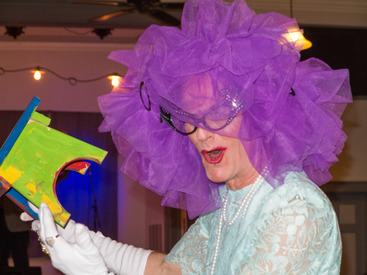 Our lovely Peter "Vannah" of the purple hair and smashing red lipstick, along with his beautiful side-kick Deborah Rogers, charmed the full house as they displayed the live auction items. What a riot! The big surprise was the Grade 2 coffee table mosaic that kept going up and up and finally raised $1100 after an exciting bidding war.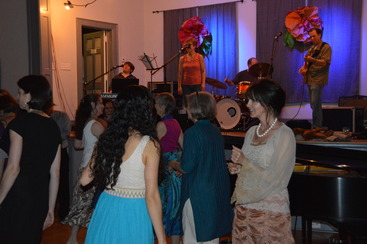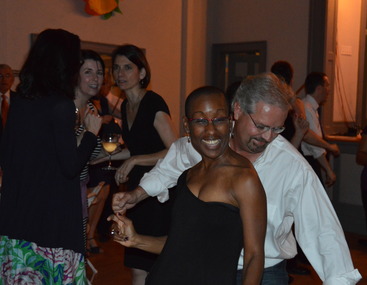 The dancing crew was thrilled when Cyril Lance opened with his rocking "Hot Tamale Baby". The dance floor filled quickly and was hopping for the rest of the night, just underscoring what a lively, wonderful, open community we have here!
A
tremendous thank you goes out to the Gala Committee
, Shawn "Bidding For Good Guru" Sullivan, Vimala, Whitted Bowers, and last but certainly not least, our fearless diva Merideth Tomlinson, Gala Chair extraordinaire! Oh what a night. Thank you to all who labored for our pleasure!!!
Oh, and by the way, we raised $24,575 whilst having all that fun.
EWS Alumni Reunion Coming Up!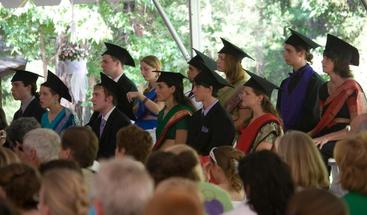 Please join us at
The Depot
in Hillsborough on Tuesday, June 4, 7-9pm for infectious grooves, intoxicating guitar, and a relentless drive of soul and passion. Receive your complimentary "Depot Bucks" card at the door welcoming all EWS alumni, EWS HS students, and EWS faculty to choose age-appropriate beverages, wine and craft beer, and indulgent snacks. Please bring your friends, family, significant others, and instruments for jam session that will happen after we catch up and enjoy the rhythms of our HS Rock Band and other talented members of the EWS music scene.
We're looking forward to catching up with you. Please share this invitation with all alumni you know, and make sure to like the
EWS Alumni Facebook
page!


---
Morning Garden: 2013-2014 Registration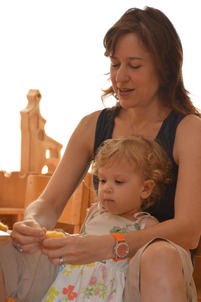 The parent-child program known as Morning Garden will open Fall registration soon.
Former Morning Garden participants will be notified with the registration link as soon as the dates and program details have been confirmed.

2nd Grade Play - "Jumping Mouse"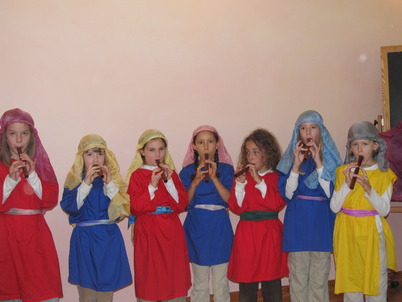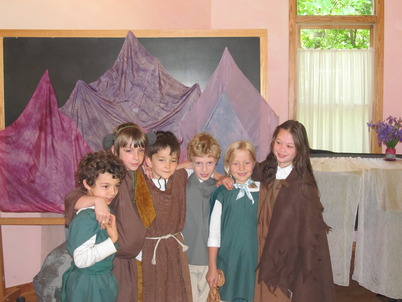 There were three successful performances of "Jumping Mouse." The Second Grade packed the house and performed beautifully! Congratulations to the students and Ms. Rogers!
Spanish Market Olé!
Excited Third Graders practiced their Spanish skills as they purchased treats in Senora D'Angelo's Spanish Market. Frijoles, maíz morado, malanga, yuca, papas, jicama, tomatillos, nopales, tamarindos, especias, barras, and harinas were all available for Mexican, Venezeulan, and Peruvian currency or barter. What a lively bunch of bilingual traders!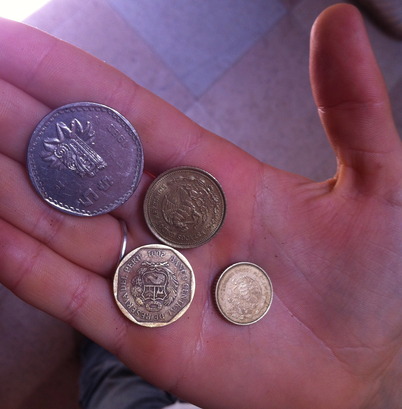 3rd Grade Play - "Noah and the Flood"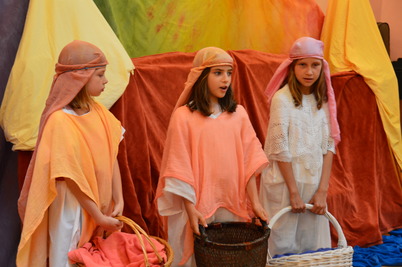 Despite a significant delay from their original April performance date due to illness, the Third Graders brought tremendous enthusiasm and skilled memorization to their performance last week. Thank you to all of the Third Grade parents for your patience – your children performed brilliantly! Congratulations and a huge round of applause to Ms. Stoychev for her ability to reschedule – her flexibility and fortitude are unrelenting.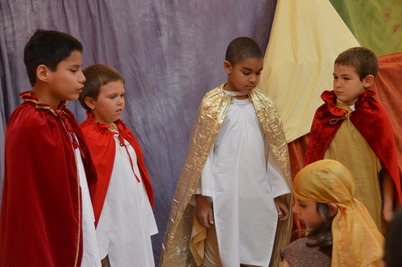 5th Grade Play - "Heracles The Hero"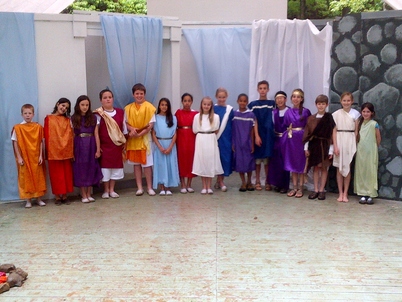 When you know more about these fascinating gods of the Greeks, you understand their importance in the curriculum life for our Fifth Grade students. Last week's performance by the Fifth G
rade was outstanding in its portrayal of these intriguing characters.
It would be easy to view Heracles as a muscle bound buffoon; however this one-dimensional view is unfair. Although he held grudges, he would also do anything to help a friend. Once his anger passed he was the most critical judge of his own actions. He was too strong for anyone to force a punishment on him. That he willingly did severe penance shows a fundamental sense of justice. During his punishments he showed patience, fortitude, and endurance as heroic as his strength. Terrible things happened to him because of Hera's hatred, a hatred that he was not responsible for. That he persevered through it all is a moral victory beyond simple strength.
The Romans valued him highly as he best fit their idea of a hero. He eventually had a substantial following who worshiped him as a god.
Wonderful work Fifth Grade, and hats off to Ms. Ritz for another stellar performance!
5th Grade Olympics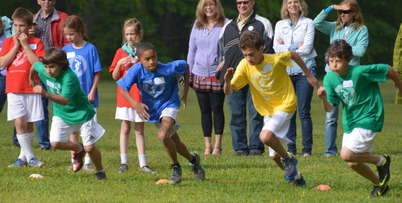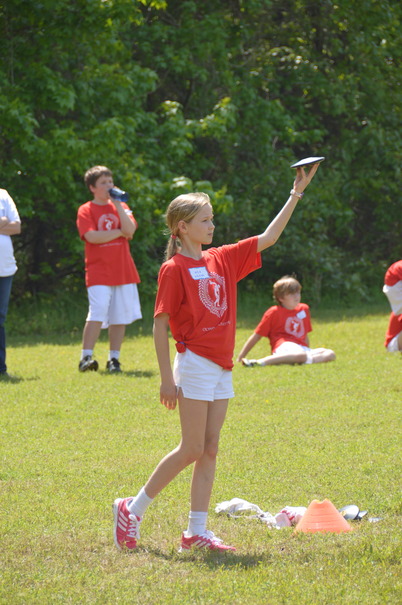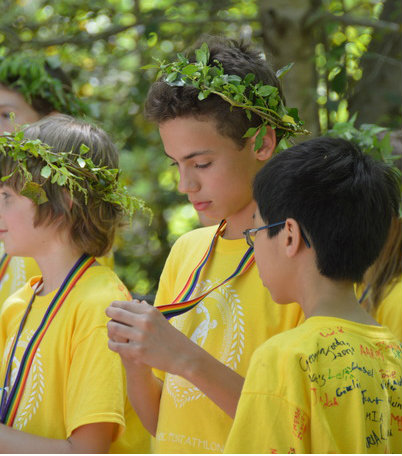 Ask not alone for Victory,
Ask for Courage.
For if you can Endure,
You bring Honor to Yourself
Even more, you bring Honor to us all.

-- Olympic pledge


The 5th Grade students culminate their study of ancient Greece with an Olympic ceremony that combines music along with verse, dance, and five field athletic events. The event is shared with fellow students from the Washington Waldorf School, Charlottesville Waldorf School, and Richmond Waldorf School.
This event is profoundly moving and memorable in the journey of a Waldorf Fifth Grader. The year has been spent in preparation for these momentous games: the different events have been practiced in games class, and Greek mythology and history have unfolded during Main Lesson. Along with the physical skills that have been strengthened so too have the qualities of character, both in class and on the playground. These blossoming gifts, both tangible and intangible, manifest on the field of the Olympic games and continue to permeate their day-to-day interactions. Parents are an important witness to the students' journey toward their highest selves, observing how the earthly offerings unite with the divine and, as a result, how the human spirit triumphs.
The Pentathlon included discus, javelin, running, wrestling, and long jump. The students prepare together with the emphasis on doing their personal best – balancing strength, grace, beauty, and speed to help integrate all aspects of a healthy body, mind, and soul.
7th Grade Trip - Eagle's Landing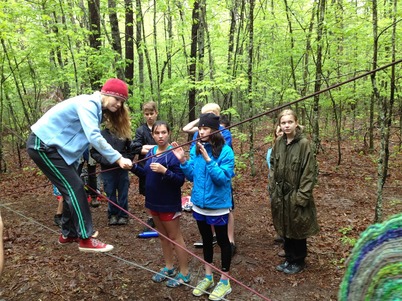 Seventh Grade is a time of exploration and adventure, and boy did we have some adventures last week at Eagle's Landing! We climbed up a 50-foot rock face and rappelled down, walked across a rickety bridge high above a gorge (with no railings!), climbed up a monstrous pine tree (no branches for footing) and jumped off, and sailed through the air on a 900-foot zipline.

In between our daring adventures, we did low-ropes games, hiked, explored the woods and edible plants, swam and canoed in the pond, set up camp, cooked dinner (and s'mores!), sang, laughed, and some of us even slept....a bit. We are ready for any challenges life may bring!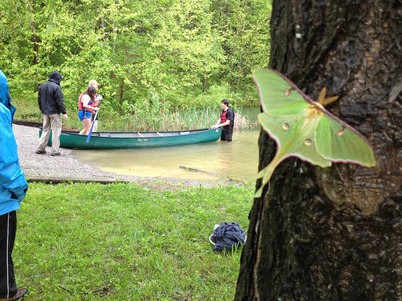 ---
Senior Projects Smashing!
On May 1 and 2 the EWS community enjoyed two evenings of riveting performances and fascinating presentations as the Class of 2013 offered their Senior Projects. From classic car restoration to music composition and from giant puppet theater to fire poi, the projects reflected the eclectic interests and sophisticated skills of our accomplished 12th Graders.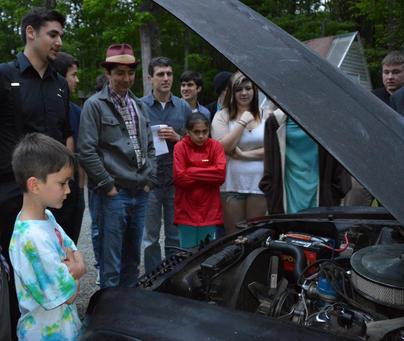 Brendan Sanders lovingly restored a classic 1969 Ford Mustang, from engine to suspension.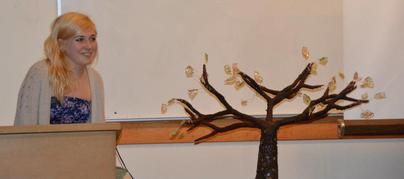 Cerri O'Connor learned a new art form and created a stunning 3-D mosaic sculpture.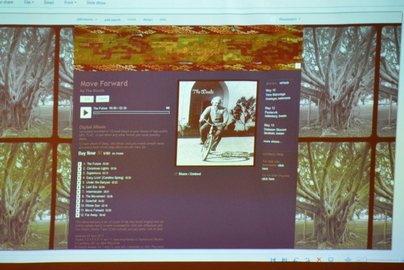 David D'Angelo created beats and composed original music, mixing his work online and working collaboratively in a recording studio in Carrboro.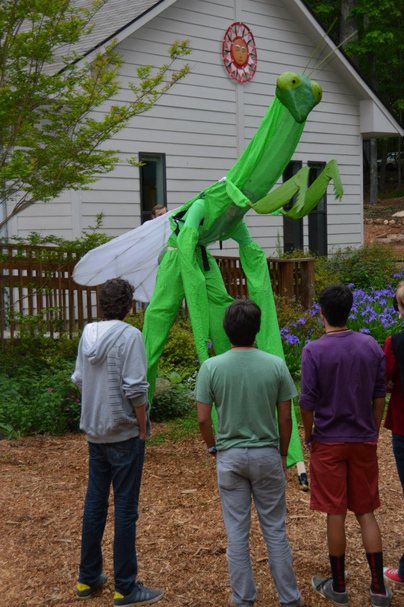 Mentored by the originators of Paperhand Puppet Intervention, Forrest Jackson dipped into the world of giant puppetry by designing, creating, and performing as an 11-foot praying mantis.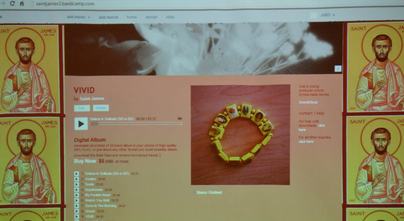 Jonah Davidson produced a beat tape using digitally shared music.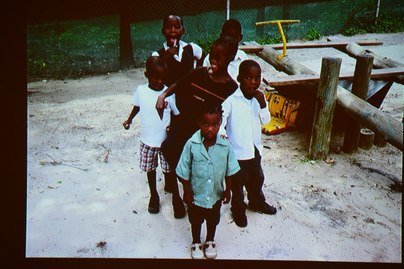 Serving in Botswana at a support facility for at-risk youth, Jon Deutsch taught students of all ages and mentored teens to develop curriculum vitae and job applications.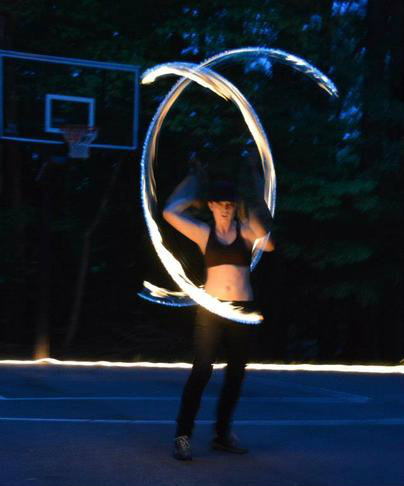 Kate Rich composed war protest and gay rights songs and performed them in street venues. Her fire poi performance, choreographed to "The End of the Innocence," brought the house down as a finale to the project presentations.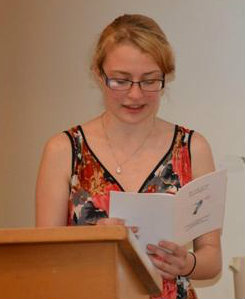 Combining her love of children and her passion for Spanish, Menolly Bentley-Dyess translated a children's book from Argentine Spanish to English.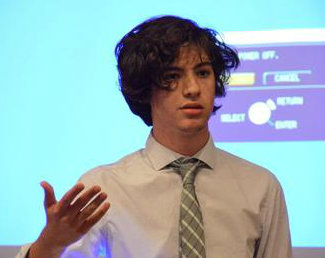 Shay Stifelman composed poetry and music and worked through film, painting, and photography to depict stages of human life.
Best in Show!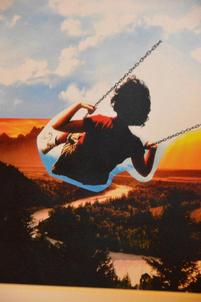 Everyone! Please join us on Friday, May 24, 5:30-8:30 pm in the High School for the best entertainment in town! Bring family and friends to witness the culmination of EWS High School art & music programs. Last year, we had a packed house of adults and children who were on the edge of their seats and positively awed by the performances. From skits to music gigs, woodwork, poetry, paintings, and sculpture, our Best in Show is guaranteed to delight both young and old.

Check out EWS Facebook for pictures from last year's show.

---
Box Top Reminder

---
Jack Petrash on TED Talks!

This ten minute
TED talk
explains Why Waldorf Works – Being in the Zone, Being Prepared for Life & Weathering the Crises that Children Will Inevitably Face, and Teaching Our Children to Ask the Questions that Our World is Still Waiting to Ask. Definitely worth watching!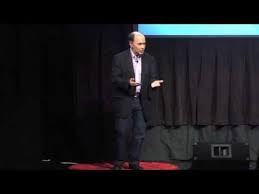 Moment of Pause...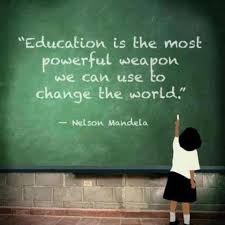 ---
Events & Classes

Spring Vendor Faire -
This Saturday, May 18, from 10 am ~ 5 pm come to Patterson's Mill 7 acre Farm/Country Store/Museum (Fearrington Road-right off I-40). There will be musicians, tag sale vendors, artists, crafters, food trucks and children's attractions. Drop by my Shaklee 180 table and try some free samples and register for a door prize!
http://www.joanneestes.myshaklee180.com


The Lyre and the Human Voice: 2013 Summer Conference
- Saturday, July 20 - Wednesday, July 24 at Emerson Waldorf School. Please read more about this conference at the following link:
Lyre Conference PDF
If you can offer your home for lodging accommodations please contact Suzanne Mays at suzannemays@gmail.com or call 919-929-1073. The nightly rate is between $25-45. Anyone who has an extra bedroom and would like to host one or more lyre players should contact Suzanne directly.
Services
Three weeks of summer horse camp at Blue Skies of Mapleview
now FULL. Only weeks 4 (July 8-12) and 5 (July 15-19) have a few openings left. I hope to fill the spots with Waldorf students (my favorites after being a Waldorf mom for 26 years). This holistic horse camp runs from 8:30-3:00 Monday-Friday and involves all aspects of horsemanship and riding every day including mounted games, bareback riding and trail ride. Beautiful art projects, horsey games and a dip in the pool round out the day. For boys and girls 7-17 years of age. www.blueskiesmapleview.us or call 919-933-1444 for a brochure from Deborah Pearson-Moyers.... or run up and ask the Woodworking teacher, Mr. Moyers for a reference!


GLUTEN FREE?
Empty Nest Bakery, a 100% gluten free baker, sells both sweet and savory GF baked goods of the highest quality. NOT GLUTEN FREE? Tobi's Bakery sells cinnamon buns, and European inspired breads & desserts. Find us Saturday mornings 8 am -noon at the Hillsborough Farmers Market, just 5 miles north of EWS on HWY 86 in the Home Depot parking lot.


Do you or your organization need a skilled editor?
I enjoy helping people organize their words and ideas. I have 25 years of writing and editing experience as well as master's and doctoral degrees in public health. If you know of editing opportunities (either freelance or steady part-time), contact Claire Viadro at viadro@mindspring.com or (919) 967-8215.


Spring has Sprung!
And so now will your grass. But worry not, for Anthony Day and his lawn care expertise will keep your grass in check. With over four years of lawn mowing experience under his belt, Anthony will find a way to tame your lawn's needs, be they big or small. Average small lawns for the low-low price of $20. Call Anthony at 919.537.8206 to arrange a free estimate.


EWS' resident artist/ hairdresser
Nancy Ann Moore, has moved her business to Flow, 587 Old Farrington Road Chapel Hill NC 27517
http://mapq.st/10Lx6m3
Book your own appointment online at
www.vagaro.com/nancyannmoore
or call the salon at 919.918.7776 or Nancy's mobile phone (919) 260-2495. Go with the Flow, support Nancy and let the good hair days begin!


Are you living with questions about your life,
your relationships, your parenting, your future? Lynn Jericho offers compassionate listening and creative guidance - a Waldorf wisdom for adult needs and challenges. Call Lynn (919.240.4094) or learn more
www.imagineself.com/about-Lynn/
Are you looking for a New or Slightly Used Car?
Great Deals for EWS Parents, Friends & Faculty. Call David Rabius, Proud EWS Parent at 919.408.9633 Johnson Lexus @ SouthPoint- 2013 New Lexus Line Up..Certified Pre-Owned Lexus and a wide range of slightly used cars to meet your budget.
(David Rabius)

DIVINEROSE FACIALS
Offering illuminating and renewing Dr. Hauschka facial treatments. Cori Roth, NC Licensed/Holistic Esthetician and Dr. Hauschka retailer. Please visit
Divinerose.com
for more info.
New Medical Practice
We are pleased to announce our practice "Integrative Medical" (
www.imevpc.com
) at Haven Medical Clinic on 121 S Estes Dr, Suite 205 D, Chapel Hill 27514. For appointments, you may contact us directly:
Rula Freiji 919.525.5626 General Pediatrics & Pediatric Infectious Disease Consults
Dani Mouawad 919.525.5625 General Pediatrics & Integrative Medicine.
– Rula and Dani Freiji-Mouawad
Realtors/Housing

Dear EWS Community, My daughter and I are looking for housing.
We are grateful to have lived in a beautiful home this last year and will need to move again at the end of the school year. Ideally, we would love a long-term house sitting situation, perhaps for someone on sabbatical. We are looking for a cat-friendly 2-bedroom home no more than 15-20 minutes from school. We appreciate any and all leads. Thank you, Deborah Rogers Second Grade Teacher, 949.510.0244


Short Term Summer Housing or Hosting Needed for Visiting Waldorf Teachers
. This summer the Emerson Waldorf School will be hosting several conferences and teacher training sessions during the month of July. Teachers will be traveling from all over North America to attend, and some would like to stay with a host family. Most will be here for five days or fewer. If you have a bed you can offer during the month of July please let me know. Most teachers just need a place to sleep and need no other special accommodations. They are willing to pay a nightly fee, but would also be grateful for free accommodations. Please let me know if you are able to host a teacher any time between July 9 - 28.
Jason Child jchild@emersonwaldorf.org


Let The Home Team help you "Find Home"
Now conveniently located in Timberlyne Shopping Center, our locally-owned real estate company has been helping clients, including several EWS families, "find home" since 1990. For more information or to speak to one of our experienced agents call 919.967.6363 or visit
www.Home-Team.com
. Also, please stop by to check out our exclusive, interactive window display!

Buying a home? Selling a home? Investing in real estate?
HEAD, HEART and 20+ years of HANDS-ON EXPERIENCE giving caring advice and guidance to hundreds of happy home buyers and sellers – let me help you with all of your Real Estate needs!
Judy Weinstock, REALTOR, EWS Alumni parent. Joyfully donating to EWS with every sale. Phone 919.951.1800.
www.seejudy.com
.

Waldorf families are unique and special.
You need a realtor who is unique and special too. Lynn Hayes has been helping Waldorf families for over 25 years, offering caring and sensitive service while supporting Waldorf education in our community. For MLS searches, community information and lots more visit
www.lynnhayes.com
or call Lynn at 919.968.9989.
Advertising in the Emersonian

---
We accept small classified-type advertisements. Each submission to the Classifieds should be no more than 6 lines of text, which is approximately 60 words. Each submission costs $5.00. Payment for Community Bulletin Board Submissions should be made by Friday of the publication week. No charge for advertisements of free events or non-profit organizations. Submit ads to: emersonian@emersonwaldorf.org.

General Policy for the Bulletin
No political or religious advertisements. No competitive program advertisements. No outside fundraisers. The editors will decide the placement of advertisements. Submissions may be edited for content and length. The Emerson Waldorf School retains the right to choose not to print an advertisement.

Public announcements and services offered in the Emersonian or other circulars produced by Emerson Waldorf School are paid advertisements and do not necessarily reflect the views and opinions of Emerson Waldorf School or its employees.


---
E-Newsletter Design and Graphics

Emersonian Publishing Team:
Jamie Lamkin - Design and Layout
Raelee Peirce - Coordinator
Claire Viadro - Creative Content
Forrest Jackson, Kathleen Jackson, and Barbara Holloway - Editing
Kelley Wiley - Correspondence and Advertising
---
This Week

---
Wednesday, 5/15
SHAVUOT
8th Grade Field Trip to Living Earth School, VA and Washington, DC
Eurythmy for Parents and Friends 8:30 - 10:00 am
H.S. Ultimate Frisbee vs. Carolina Friends School AWAY 4:00 pm
PO Meeting 7:00 - 9:00 pm
Thursday 5/16
8th Grade Field Trip to Living Earth School, VA and Washington, DC
Waldorf Works Campus Tour N-HS 8:30 - 10:30 am
4th grade- String Concert Eurythmy Room 2:15 pm
Friday 5/17
8th Grade Field Trip to Living Earth School, VA and Washington DC
Tea With Steve
8:30 - 9:30 am, The Cottage
Saturday 5/18
8th Grade Field Trip to Living Earth School, VA and Washington, DC
H.S. Ultimate Frisbee State Championship Tournament at NC State University
Board Meeting 8:30-11:30 am
Sunday 5/19
8th Grade Field Trip to Living Earth School, VA and Washington, DC
H.S. Ultimate Frisbee State Championship Tournament at NC State University
Monday 5/20
9th Grade Parent Evening 7:00 - 8:30 pm
Tuesday, 5/21
5th Grade String Concert Eurythmy Room 2:15 pm
---
School Staff

---
919.967.1858

Steve Bennett x 11
Director of Administration

Mary Deutsch x 12
Finance Director

Barbara Holloway
Marketing Director
919.480.1026

Ian Ostrowski x29
Facilities Manager

Raelee Peirce x14
Admissions Director

Therisa Pienaar x20
High School Coordinator

Kelley Wiley x13
Communications Director


---
School Hours

---
N/K 8:30 am - 12:30 pm
1st-5th 8:30 am - 3:15 pm
6th-8th 8:15 am - 3:15 pm
HS 8:10 am - 3:15 pm

Aftercare N/K until 3pm
Aftercare 1st + until 6pm

Office Hours 8 am - 4 pm


---