---
Farm Help

Are you like me and just assume that because we have such a beautiful bounty from our farm on market days, that Mrs. Mueller must have dozens of experienced volunteers helping her?
Well the truth is that she only has a couple of adult volunteers and the help of the Third and Seventh Grade classes once a week. Now is your chance to learn about Biodynamic farming and get some healthy outdoor exercise!
Wednesdays from drop-off to 11 am, Mary Beth Mueller would love to have your company. No green thumb? No worries! We need help with everything from weeding to building trellises!
If you have questions, please contact Mary Beth Mueller (mmueller@emersonwaldorf.org) or Renee Militante (rriggincmt@yahoo.com). Hope to see you in the garden!

---
Bittersweet Good-Bye to Early Childhood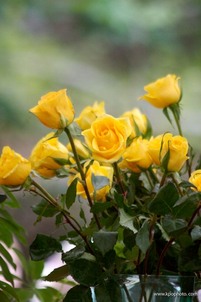 This is our family's 8th year at EWS. Since our arrival in the community, the Early Childhood program has been a continuous part of our lives. Each year we have had at least 1 child "up the hill". As a working mother of four children ranging in age from six to seventeen, I have longed for the day that all of the children would share the same daily schedule and I could release myself from the 12.30 pickup.
Over the last 17 years of parenting, there have been a few short months that I was not in school or piecing together my work. I feel fortunate to have been able to continue my career around my family's schedule, but it has not been an easy task. I have eagerly anticipated watching my youngest child take her steps over the golden bridge. As I told my kindergarten girl the other day, where there is growth there is loss as well. As I think about my last few days as a kindergarten mom, I too feel a sense of loss.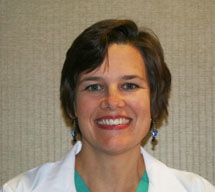 I treasure my time in Early Childhood at EWS. I will miss the beauty and sense of love and comfort in the indoor spaces. And then there are the incredible smells! One knows what day it is just by walking into the building—rice, soup, millet, porridge, bread – they each have their distinct aromas and are such an important part of the young child's day. I don't look forward to saying my final goodbye to Ms. Ameli in a couple of weeks. However, I am comforted in knowing that it isn't really goodbye. She and all of the loving EC teachers are still present in the lives of the children in this vital community. I was recently reminded of this when attending the Senior Project presentations. As these remarkable young adults confidently spoke of their inspiring work, their beloved EC teachers sat near the back row quietly cheering them on. Thank you, dear teachers – you are treasured and loved.

Rhonda Lanning
EWS Mom to Oliver, Leland, Violet, and Eve

---
League Winners!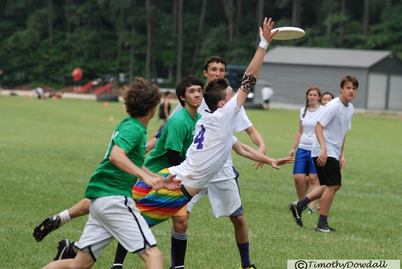 The High School Co-ed Ultimate Frisbee Team was recognized as the league winner and won first place in the post-season tournament held at EWS on May 4. The team defeated Woods Charter in the finals, going undefeated for the day and undefeated for the season. Forrest Jackson led the team with assists, finding a variety of players in the end zone for scores, and everyone on the team played strong defense as they defeated all five of the other contending schools.
This past weekend the team had the honor of being the first team from Emerson Waldorf School to play at the North Carolina High School State Championship Tournament (aka States). Seeded 14th out of 16 schools, the Gnomes played their way to an 11th place finish after playing 7 hours of Ultimate in 2 days.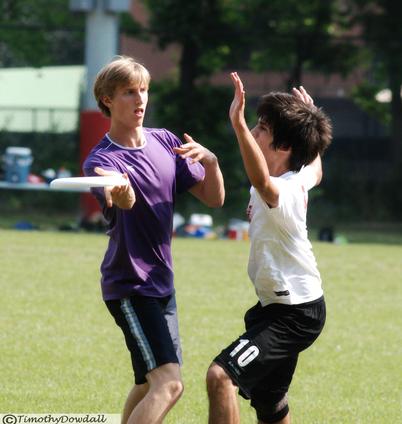 The Gnomes lost three games to higher-seeded teams in pool play on Saturday – St Thomas More (13-6), Green Hope HS (13-9), and NC School of Science and Math (12-9) – but finished with the best point differential of the four teams that went 0-3 on Saturday. Because of their favorable point differential, the Gnomes took the last spot in the championship bracket.
It was tough to get sore muscles moving again Sunday morning, and the Gnomes fell in the first round 13-6 to Carrboro HS to move to the 9th place bracket. In the semifinals of the 9th place bracket, the Gnomes met Apex HS. It was an incredibly close game that ended in a 10-9 loss for the Gnomes.
This was the first major tournament for the Gnome Brigade, and they showed great spirit as they played well together as a team, improving each game, and playing hard throughout even though they were not used to this much Ultimate in one weekend. Forrest Jackson again led the team with 17 assists. There were many excellent plays, catches, and throws and as one Carrboro HS parent said "Emerson is the most entertaining team out here." The parents who came out to watch appreciated the coaching of Alan Best and were very proud of the team.
The Gnome Brigade celebrate their fantastic season this Wednesday at 3:45 by playing against the faculty/parents/alumni, with a potluck cookout following for the players and their families. All are welcome to cheer on this successful team.
Special thanks to Tim Dowdall for photographing games. Check out more pictures on EWS Facebook.

---
The Bees Knees: Excellent, Highest Quality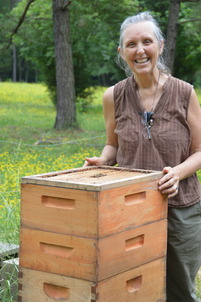 Hi, I'm Annallys Goodwin-Landher, and I want to introduce you to my beehives, which reside in a corner of the pasture at Emerson Waldorf Farm.
• Hive Jules was rescued from a dead hollow tree that fell on a friend's patio in July, 2012.
• Hive Jen was created in April when the queen and half of the bees from Jules were moved into a new hive.
The residents of each hive include a queen, up to 60,000 (depending on the time of year) sterile female workers, and several hundred male bees called drones. Queens live up to five years and can lay as many as 2,000 eggs a day. Workers live about six weeks in the spring and summer and up to six months during fall and winter. Workers and drones usually receive royal jelly through the first four days of life, while queens are fed royal jelly throughout their development. Queens take 16 days to mature and emerge, workers 21, and drones 24 days from egg to larva to pupa to mature bee. The workers that live six months were fed royal jelly longer, effectively extending the bee's lifespan so the hive can survive cold winter months.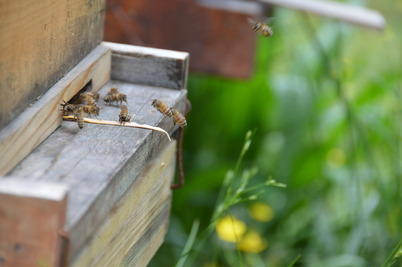 Bees gather pollen and put it in pollen sacks on their rear legs, bring it back to the hive where a worker bee takes it, mixes nectar, enzymes, and fungi into the pollen. The worker then packs it into a wax cell, creating bee bread which is the main protein source for the hive. Bees collect nectar with the proboscis, store it in the stomach, and bring it back to the hive, where it is made into honey, packed in cells, and allowed to age before being capped with wax. Check out
this website
for more information on how bees make honey. Resin-like substances and sap are collected from plants and trees to make propolis. Small cracks unwanted in the hive are sealed with this sticky stuff. It is antiseptic, antifungal, and antiviral, providing a safe environment for raising bees.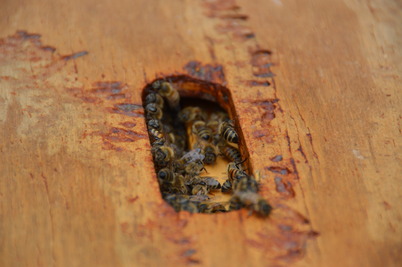 See
this site
for more information. Apis Mellifera, the European honeybee, was brought to this continent with early European settlers and
flourished. Currently the honeybee is responsible for pollinating about 1/3 of the plants that provide the food we eat. A list can be found
at this link
. In 1987 a pest arrived from Asia, the parasitic varroa mite that feeds off the bodily fluids of honeybees. The mite attaches itself to the bee like a tick and transmits viruses that cause deformities and weaken the bees. These mites, along with a small hive beetle from Africa, are a part of the decline of bees in America. Heavy use of toxic chemicals in agriculture, weed and pest control in yard and lawn maintenance, along with loss of food sources and environmental changes all negatively affect bee populations. Stewarding hives on chemical-free land helps the bees and the beekeepers.
It's the "bees knees" to keep hives at the Emerson Waldorf School Farm, as it's the highest quality home for my bees; the land is chemical free and treated with respect. What an an excellent place to return to at the end of a busy bee day!
Annallys Goodwin-Landher
Thanks to Ms Goodwin-Landher for introducing the fascinating members of this superorganism to Grades 3 & 7!

---
Box Top Reminder
Moment of Pause...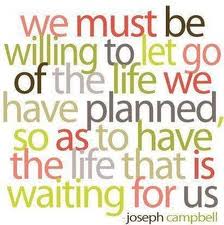 ---
Services
All but two weeks of Summer Horse Camp at Blue Skies of Mapleview are now FULL.
Only weeks 4 (July 8-12) and 5 (July 15-19) have a few openings left. I hope to fill the spots with Waldorf students (my favorites after being a Waldorf mom for 26 years). This holistic Horse Camp runs from 8:30 am to 3:00 pm Monday-Friday. It involves all aspects of horsemanship and riding every day including mounted games, bareback riding and trail ride. Beautiful art projects, horsey games and a dip in the pool round out the day. For boys and girls 7-17 years of age. www.blueskiesmapleview.us or call 919-933-1444 for a brochure from Deborah Pearson-Moyers... or run up and ask the Woodworking teacher, Mr. Moyers for a reference!


GLUTEN FREE?
Empty Nest Bakery, a 100% gluten free baker, sells both sweet and savory GF baked goods of the highest quality. NOT GLUTEN FREE? Tobi's Bakery sells cinnamon buns, and European inspired breads & desserts. Find us Saturday mornings 8 am to noon at the Hillsborough Farmers Market, just 5 miles north of EWS on HWY 86 in the Home Depot parking lot.


EWS' resident artist/ hairdresser
Nancy Ann Moore has moved her business to Flow at 587 Old Farrington Road Chapel Hill NC 27517
(http://mapq.st/10Lx6m3)
. Book your own appointment online at
www.vagaro.com/nancyannmoore
or call the salon at 919.918.7776 or Nancy's mobile phone (919) 260-2495. Go with the Flow, support Nancy, and let the good hair days begin!


Are you looking for a New or Slightly Used Car?
Great Deals for EWS Parents, Friends & Faculty. Call David Rabius, Proud EWS Parent, at 919.408.9633. Johnson Lexus @ SouthPoint – 2013 New Lexus Line Up... Certified Pre-Owned Lexus and a wide range of slightly used cars to meet your budget.
(David Rabius)

DIVINEROSE FACIALS
Offering illuminating and renewing Dr. Hauschka facial treatments. Cori Roth, NC Licensed/Holistic Esthetician and Dr. Hauschka retailer. Please visit
Divinerose.com
for more info.
New Medical Practice
We are pleased to announce our practice "Integrative Medical" (
www.imevpc.com
) at Haven Medical Clinic on 121 S Estes Dr, Suite 205 D, Chapel Hill 27514. For appointments, you may contact us directly:
Rula Freiji 919.525.5626 General Pediatrics & Pediatric Infectious Disease Consults
Dani Mouawad 919.525.5625 General Pediatrics & Integrative Medicine.
– Rula and Dani Freiji-Mouawad
Realtors/Housing

Dear EWS Community, my daughter and I are looking for housing.
We are grateful to have lived in a beautiful home this last year and will need to move again at the end of the school year. Ideally, we would love a long-term house sitting situation, perhaps for someone on sabbatical. We are looking for a cat-friendly 2-bedroom home no more than 15-20 minutes from school. We appreciate any and all leads. Thank you, Deborah Rogers, Second Grade Teacher, 949.510.0244


Let The Home Team help you "Find Home"
Now conveniently located in Timberlyne Shopping Center, our locally-owned real estate company has been helping clients, including several EWS families, "find home" since 1990. For more information or to speak to one of our experienced agents call 919.967.6363 or visit
www.Home-Team.com
. Also, please stop by to check out our exclusive, interactive window display!

Buying a home? Selling a home? Investing in real estate?
HEAD, HEART and 20+ years of HANDS-ON EXPERIENCE giving caring advice and guidance to hundreds of happy home buyers and sellers – let me help you with all of your Real Estate needs!
Judy Weinstock, REALTOR, EWS Alumni parent. Joyfully donating to EWS with every sale. Phone 919.951.1800.
www.seejudy.com
.

Waldorf families are unique and special.
You need a realtor who is unique and special too. Lynn Hayes has been helping Waldorf families for over 25 years, offering caring and sensitive service while supporting Waldorf education in our community. For MLS searches, community information and lots more visit
www.lynnhayes.com
or call Lynn at 919.968.9989.
---
Advertising in the Emersonian

We accept small classified-type advertisements. Each submission to the Classifieds should be no more than 6 lines of text, which is approximately 60 words. Each submission costs $5.00. Payment for Community Bulletin Board Submissions should be made by Friday of the publication week. No charge for advertisements of free events or non-profit organizations. Submit ads to: emersonian@emersonwaldorf.org.

General Policy for the Bulletin
No political or religious advertisements. No competitive program advertisements. No outside fundraisers. The editors will decide the placement of advertisements. Submissions may be edited for content and length. The Emerson Waldorf School retains the right to choose not to print an advertisement.

Public announcements and services offered in the Emersonian or other circulars produced by Emerson Waldorf School are paid advertisements and do not necessarily reflect the views and opinions of Emerson Waldorf School or its employees.


---
E-Newsletter Design and Graphics

Emersonian Publishing Team:
Jamie Lamkin - Design and Layout
Raelee Peirce - Coordinator
Claire Viadro - Creative Content
Forrest Jackson, Kathleen Jackson, and Barbara Holloway - Editing
Kelley Wiley - Correspondence and Advertising