---
Holiday Faire is Almost Here!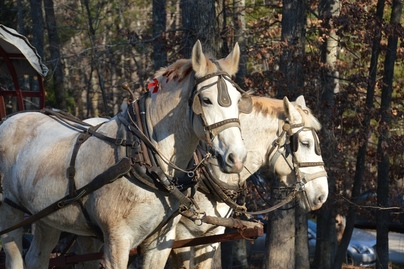 A heartfelt THANKS to so many wonderful people who have come together to help make this the best Faire ever! From making handcrafted treasures, to dipping candle wicks, to winding innumerable balls of jump rope yarn, to rounding up food for the Harvest Café, so much time, attention, and love has gone into making this event a success. Your efforts are what makes the Faire such a fun and memorable event during our school year. When we open the Faire at 10 am this coming Saturday, I am confident we'll have a great day to share with our children and visitors from around the Triangle. Bring your friends, and take care of a little holiday shopping besides!
See you there,
Janet Buehler
Holiday Faire Coordinator
janetsbuehler@gmail.com
New Park & Ride Shuttle for Holiday Faire at Eubanks Road Lot
Please remember that this year, we will NOT be parking on campus or on the sides of the road (Millhouse, New Jericho, etc.). This is for the safety and convenience of all. Please park at the Town of Chapel Hill Eubanks Road Park and Ride Lot, just 2 minutes away from EWS, and ½ mile from MLK Blvd. (Address: 1768 Eubanks Rd, Chapel Hill). At the Park and Ride Lot, you can catch an EWS school bus shuttle to the EWS campus. Buses will run approximately every 10 minutes so it'll be quick and easy. Remember, although a shuttle might sound like extra work for you, it's a fun ride for the kids!
Some points to remember:
Allow a little EXTRA TIME to get to school. Shuttle bus starts at 9 am so first-shift volunteers can get to EWS in time.
If you have special needs (handicapped access, equipment that must be delivered on site on Saturday morning, etc.) please contact me ASAP at janetsbuehler@gmail.com and we'll make arrangements, no problem.
For those who are working at the very END of the Faire to clean up, the shuttle bus will run til 4:30 pm so you will have plenty of time to clean up, get a shuttle ride back to the Eubanks lot, and get your car. If you're not done with cleanup when you get your car, you may return to campus to park if you need to. Try not to return to campus with your car before 3:45 pm if you can, because vendors will be moving out their gear. Please be mindful of pedestrians on campus.
Have other questions about the Faire? Want to invite your friends?
A list of activities, their locations, their prices, are all here.
Share this link with your friends, post it on your Facebook page, etc. And be sure to get your FREE purple EWS swag bag at the ticket tables!
Holiday Faire Still Needs YOU to Help!
Here's a link to ALL the volunteer signups available, for each grade, and for general help :
All Signups
We especially need help at:
Enchantment Shoppe
Harvest Café Food Server
Coffee Station
Putting up decorations: email
Janet Buehler
Putting up signs around town, email
Barbara Holloway
Sneak Preview of an AMAZING Enchantment Shoppe
The Woodland Cottage will be transformed into a Woodland Wonderland and will feature beautiful, one-of-a-kind treasures and toys, all handmade by EWS parents.
Check out these gems.
Candle Dipping Improvements
Our 2nd grade team has made some improvements to the candle dipping process in order to make this popular and sometimes crowded event a little more peaceful and reverent. Younger children will require their parents' supervision. Details will be posted at the classroom on Saturday.
Order Your Holiday Tree at the Faire!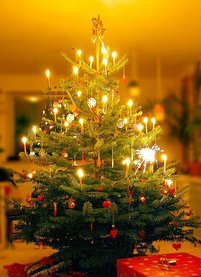 Order your Christmas tree or wreath while at the Faire!
Stop by the tree table (near the lower school ticket table and bus stop) and place your order for a beautiful 7-foot tall North Carolina Frasier Fir ($55), or 24" wreath with bow ($20). All proceeds go to EWS, thanks to the generosity of Jens Hoeg. The trees and wreaths will be ready for pick up on or after Friday, Dec. 6th at the Gazebo. If you'd like to reserve your tree, visit this link:
RESERVE MY TREE
EWS Bunraiser Deadline TODAY!!!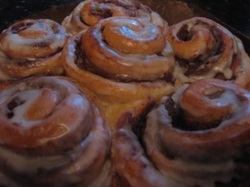 Looking for a scrumptious, easy breakfast for your family and holiday guests during this busy season?
Cinnamon rolls from Tobi's Bakery will be delivered to the school on Monday, November 25 to the families who place orders.
Order forms can be found in the Main Office, or order online
here
. Orders are due by 3:00 pm TODAY.
A round of 6 cinnamon rolls costs $12, precisely what local markets charge, and all proceeds go to programs that directly support our incredible school and our wonderful children.
Tobi is a former parent and Board member and sells her baked goods at local Farmer's Markets. The cinnamon rounds travel and freeze well, so stock up for the upcoming holidays!
Coat Drive a Success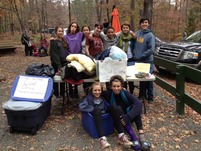 The 9th Grade's Martinmas Coat Drive, held over three days last week, was a rousing success! Thanks to all who contributed a grand total of 105 warm coats and vests. A crew of nine delivered the bags and bins of coats to the Urban Ministries of Durham facility in downtown Durham on Saturday. Students and parents worked together to sort and hang up the coats in the community closet, where 26 families each day come in to shop, free of charge, for needed clothing.
Many thanks to the 9th graders and parents who organized and volunteered for the Coat Drive. Special kudos to Susan Harmon (Logan's mom) for her masterful organization and communication.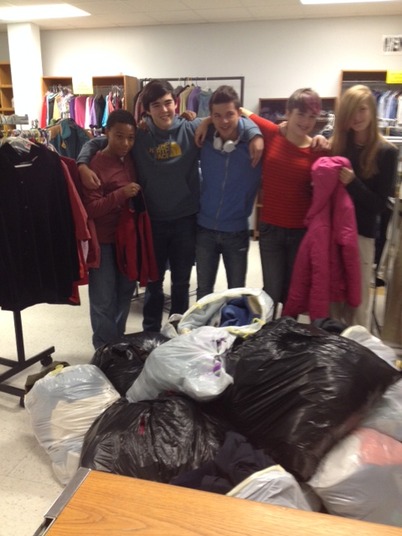 Support EWS by Shopping at TWIG!

Shop at Twig for inspired green gifts and toys November 15th - December 1st and 20% of your entire purchase* will be donated to a participating non-profit of your choice.
*when you mention this offer at checkout.
TWIG is an award winning eco-friendly gift shop offering contemporary fashions and accessories, fair trade and local jewelry, kids clothes, baby gear, toys, games, and goods for the home and for well-being.
TWIG - 99 S. Elliott Rd., Chapel Hill, 919-929-8944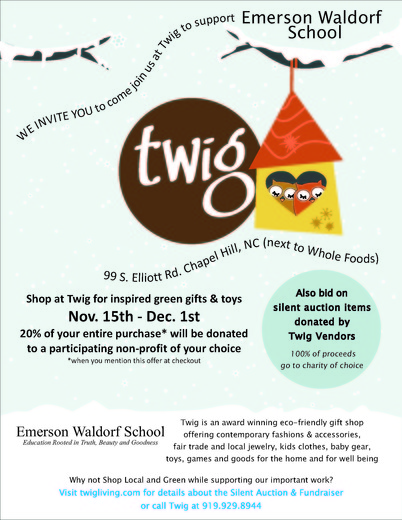 ---
Upcoming PO Events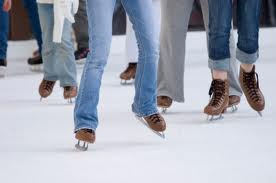 After the Thanksgiving Assembly on the 26th, grab some lunch and meet other families from EWS at the Triangle Sportsplex in Hillsborough for ice skating! Public skate is from 1:15-4:30 pm. This is just another way that the "Hearts of PO" is encouraging community activities outside of school time!
Triangle Sportsplex
The December PO meeting will actually be a PO Holiday Social at the home of parent and PO member, Miriam Schuman! Please join us on Wednesday December 11th, from 7 - 8:30 pm. Bring a holiday treat or drink and join the fun!
Mark your calendars for the next PO Health and Wellness Series talk
by health coach and parent, Leah Gibbons: "Strengthen your Body for the Winter Months with Whole Foods Nutrition and Natural Immune System Boosters." The talk is on Saturday, December 7th, 10:30 am - 12:30 pm in the Brown Wing of the High School and is sponsored by the Heads group of the PO, chaired by Tina Stevens.

**Take the PO Holiday Fair Challenge:
We ask that everyone introduce yourself to two people at the Holiday Fair that you don't already know! Email Merideth to let us know how it went - MeridethT711@gmail.com . We may include some of your comments on the next PO Page of the Emersonian!

Have a question about the PO? Ask any of our officers:
Merideth Tomlinson, President; Leigh Sparacino, Vice-President; Lisa Marie Smith, Treasurer; Shauna Hay and Katja Moos, Secretaries; Stacey Qandil and Brandon Yarborough, PO Reps to the EWS Board; Rhonda Child Lanning and Lisa Marie Smith, Chairs of Hearts; Keith Bartholomew, Chair of Hands; Tina Stevens, Chair of Heads.

---
Fun With Food

The 8th Grade recently finished a Poetry block in Main Lesson, and to tie into the theme while transitioning into a short unit on food in Spanish class, the students explored the Chilean poet Pablo Neruda's odes to various foods. They then wrote their own short odes to a food (some whimsical, some with hints of parody, some based on imagery found in Neruda's poetry), and explored why translating poetry can be tricky. Following are a few short excerpts of the English versions for your enjoyment, with images and phrases that could still be conveyed accurately in Spanish:
The honey glistens and sparkles. It moves slowly from the glass jar that held the sticky, golden treasure...and sweetens your day. La miel brilla y destella y endulza tu dia.

Coffee is essential for survival....A sip of coffee is like heaven on earth. El cafe es esencial para sobrevivir.

Garbanzo beans are magical and they make me happy. And being happy is nice. Garbanzos son magicos y me hacen feliz, y ser feliz es agradable.

The mushroom is the nipple of nature. El hongo es el pezon de la naturaleza.

O chicken, you are so amazing. You are one of the most splendid of poultry. Tu eres increible.
And to capture Pablo Neruda's style in full glory, Batian Pienaar's Ode to Water:
O water, thou who prospers and rises above all elements. Thy cool, transparent substance that brings hydration to mankind.
Thou dwells everywhere from the roaring oceans to trickling mountain streams.
Your majestical, clear, flowingness has quenched many a dry, raspy throat, and has replenished many a dying crop.
You are both everywhere and nowhere when needed. Without you, most things on earth couldn't exist.
So I have written an ode to your liquidy, silky self.

As you enjoy your next coffee break, meal or simple glass of water, may you feel inspired to lofty thoughts!

---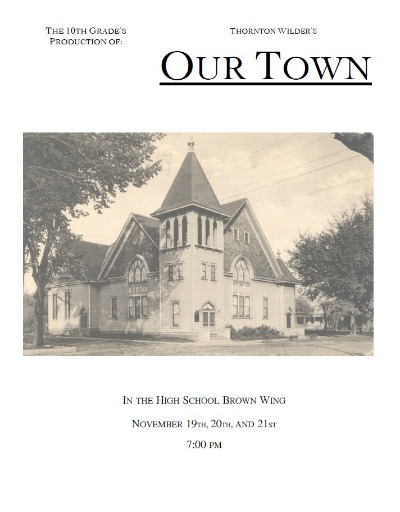 Plan on attending the 10th Grade Play! "Our Town"
Tues-Wed-Thurs, Nov 19-21, 2013
7:00 - 900 PM
High School, Brown Wing

College Admission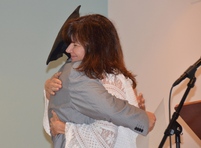 The college admission season is upon us, and the seniors have been busy working on applications. Two seniors submitted the first applications early in the fall and have been rewarded with acceptances to Lynchburg College (VA), University of Vermont, and Western Carolina University's Honors College.
Quite a few applications were submitted for the November 1 and November 15 deadlines; those decisions should be received before our Holiday Break. Be kind to seniors you encounter – they are still writing essays and preparing applications, both for admission and for scholarships. The biggest deadlines still loom in December and January.
Kathleen Jackson, College Counselor, High School
Ninth Grade Field Trip


On October 30 the 9th Grade made a trip to Pickards Mountain Eco-Institute, on 40 rolling acres west of Carrboro. The Institute is owned and managed by Megan and Tim Tobin, former EWS parents, and is dedicated to educating people about stewardship of the earth. The property holds conference space, garden plots, chicken yard, and pastures where a few horses and cattle graze. An old farmhouse and two "yomes" (combination yurt-geodesic dome) house interns who come to work on the farm for stretches of eight weeks to several months. The Institute is part of the WWOF global network of organic farms that welcome and house volunteer workers.
The 9th Grade, accompanied by Mr Moyers, Mr Campbell, and Ms Jackson, started out the day in discussion with PMEI staff and interns, sharing thoughts about the greatest challenges facing humanity today. They then divided into work crews and set off to their assigned tasks: preparing elderberries to be made into tonic, syrup, or jam; weeding the gardens; clearing a field of rocks and sticks to make way for planting and for the construction of a tea house.
The work crews had a break after a couple of hours and toured the PMEI grounds, then returned to work. A number of the students were drafted into the kitchen to join in preparing a farm lunch for 30. The students joined the interns in harvesting vegetables from the garden, then prepping and cooking a delicious lunch for staff, interns, family, and visitors. After a congenial meal together, the 9th Graders pitched in to wash the mountain of dishes and sweep the floors.
All agreed that it was a fun and worthwhile trip, and we would like to return to work and learn again at Pickards Mountain Eco-Institute. Many thanks to Leigh Sparacino, on staff at PMEI, who worked with Ms Jackson to plan the field trip. – 9th Grade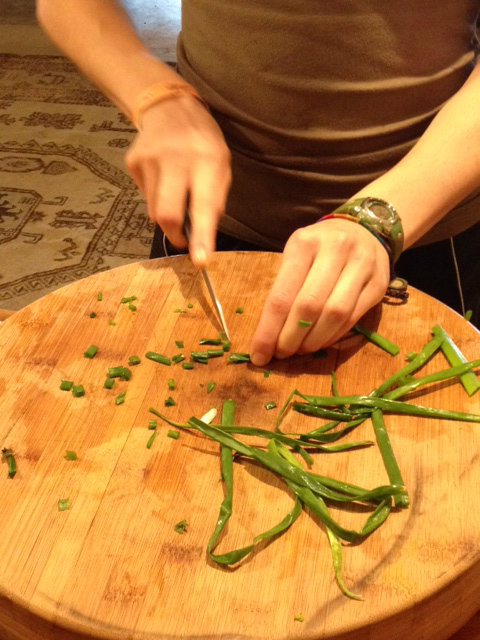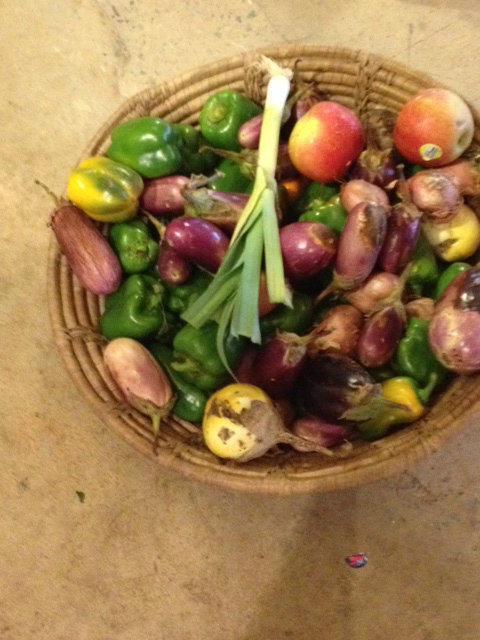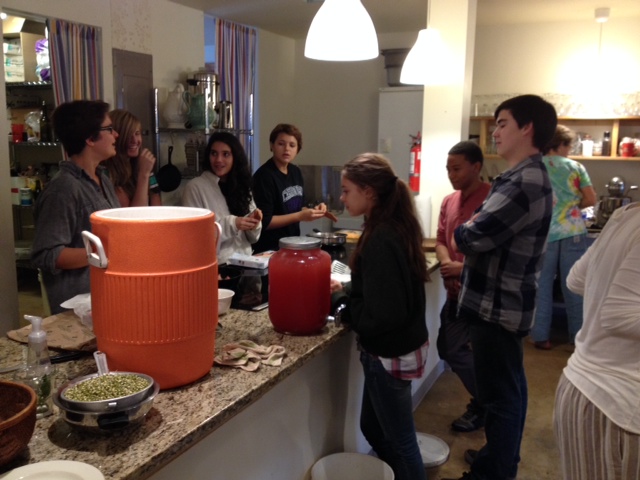 A Moment of Pause

---
A Quote by Plato


"According to greek mythology, humans were originally created with 4 arms, 4 legs and a head with two faces. Fearing their power, Zeus split them into two separate parts, condemning them to spend their lives in search of their other halves."

---
EVENTS AND CLASSES
Learn how to create a variety of herbal gifts and remedies,
including herbal body scrubs and Bath Salts-warming and immune-enhancing Chai tea blend and herbal, honey-healthy herbal candy and cookies! Ideas and resources for materials and packaging are included. Each participant will go home with one or more of our co-created herbal gifts.
December 7, 9 am-noon.
For more information and to register:
www.pickardsmountain.org
HOLIDAY WITH THE HORSES
; On Saturday, November 30, come ride on a decorated horse, sip on hot cider, eat home-baked holiday treats and join in the fun for the THIRD annual Blue Skies of Mapleview Scholarship fundraiser. Pre-book a one-hour riding session and all the above is included for the rider. We'll have our fabulous horses decorated for all the winter holidays! Each session is pre-booked at $40/rider and ALL the proceeds help disadvantaged children come to summer horse camp. We hold this fundraiser the Saturday after Thanksgiving so if relatives are in town book ALL your family for a fun morning or afternoon. We have had three generations of family ride together!! Help us help others have an enriching equine summer camp experience.
Blue Skies of Mapleview is the home of Deborah Pearson-Moyers and Peter Moyers, the Woodworking teacher. To book your spots e-mail
dpmblueskies@hotmail.com
or 919-933-1444.
Photos from previous years at
blueskiesmapleview.us
.
Cosmic Dance Classes
: The third Sunday of the month (Oct. 20, Nov. 17, and Dec 15) 1-3 pm in the Eurythmy Room. This movement path is one of self-healing through Re-union. We utilize the Eurythmy gestures and forms given by Rudolf Steiner as a way of manifesting both the strength and beauty of the Divine Feminine. All are welcome! Donations please : )
Kelly Calegar, The Sophia School of Movement
www.SophiaSchoolOfMovement.Org
SERVICES
For Sale - Never Used New Black Electric Range - AMANA
- 4.8 CU. FT. WITH VERSATILE COOKTOP ELEMENTS, dimension 30"/20"/20" with matching FREE new black Range Hood. Call: 215-350-1394
Thank you for the wonderful response to Dragonfly's presence on campus these past four Fridays!
It has been a pleasure to have so many friendly faces from the EWS community and HomeSchool community, as well as, loyal Dragonfly friends come check us out, talk and hang out for a little while. We would like to show our gratitude to EWS for allowing us to use the cottage space by donating a % of Dragonfly's total sales from these past weeks, as well as, all future campus set-ups. Thanks so much and please come support us and EWS at the Holiday Faire this Saturday, November 23rd from 10:00-3:00!! Warmly, Danielle & Charlotte
Miou Kids' Clothing Boutique
offers European-inspired designer kids' clothes and baby clothes for families who want their children to look and feel their best. Their luxurious knitwear for kids is made with the softest baby alpaca wool so their clothes are as comfortable as they are stylish and durable. Designed by Christine Dubin, Miou knitwear for kids is fair trade and environmentally friendly and all their designer knitwear for girls and boys is handmade by artisans in rural Peru.
They are offering a 10% discount online with this code: emerson2013
Also, they will be giving EWS 10% of the total purchased back to EWS!

Visit
www.mioukids.com
to view the collection. Call 001 778 462 3444 for more information.
Dragonfly Natural Toy and Craft Store:
A Waldorf-inspired toy, craft, and school supply store run by two moms at Emerson Waldorf School. We'll be set up at The Cottage on Fridays from 12-4 until Thanksgiving Break so come on by. Also check us out at the Holiday Faire on November 23rd. We carry beautiful items from many companies including Mercurius, Buntspecht, Ostheimer, Sarah Silks, Camden Rose and much more. For more information call Charlotte @ 919-265-9734.

Balance your Life with Ayurveda~ Health & Lifestyle Consultations and Restorative Bodywork.
The focus of this consultation gives you direction in creating optimal health by making simple alterations in daily eating & lifestyle habits which are specific to your unique constitution. Restorative Bodywork nourishes the nervous system as well as the body with Hot Stones, Warm Oil & Steam Therapy. A wonderful gift for loved ones, friends, colleagues, or yourself! Gift Certificates for special occasions or just giving thanks. Offered in my lovely home office just minutes from Emerson. For monthly specials & more details:
www.stoneandspa.com
or call Shoshanna at 919-309-9989.
Why not have an artist do your hair?
Nancy Moore has been an artist/hairdresser for over 20 years, and an EWS mom for 16. Now located at the beautiful FLOW Salon, 587 Old Farrington Road, Chapel Hill NC 27517 For appointment call or text (919)260-2495 ...or book yourself online at
www.nancyannmoore.com
. Let the good hair days begin!

Get a head start on a healthier you in January 2014!
Consider trying the Shaklee 180 Program (customizable two-meal kit delivers a complete program of smoothees, snacks, energizing tea and metabolic boost - along with access to exclusive tools and rewards) for 3 months and receive $100 back in Shaklee products. (I have been able to go from a size 14 to a size 10 with this program). Go to this
website
to learn more and call me (919-929-4534) or email me at
greencafeonline@gmail.com
for more information about this great incentive which ends 1/31/14. Want a sample? Drop by the Coffee Table on Tuesday mornings before 8:30 am ~ I have some available for you to try :) Joanne Estes
Dr. Hauschka Facials/Retailer:
CORI ROTH/Licensed, Certified, Holistic Esthetician. Revive your body, mind, and senses with a nourishing and soothing Divinerose Facial. Offered in an unhurried and retreat-like setting. 15% off first-time client. Visit
www.divinerose.com
for more info.

KatieBeth's Learning Garden!
We are a retail store and community class space located at 400 S. Elliott Road in the Galleria Shopping Center. Here, you can find the supplies you need for a Waldorf-friendly home, including imaginative natural toys from Camden Rose, Ralph Evans, and Sarah's Silk, fiber arts kits and supplies from Harrisville, beeswax candles, stones, and supplies from Mercurius. We sell new and consigned educational materials and games for your whole family.
www.katiebethsgarden.com

REALTORS/HOUSING
Buying a home? Selling a home? Investing in real estate? HEAD, HEART and 20+ years of HANDS-ON EXPERIENCE giving caring advice and guidance to hundreds of happy home buyers and sellers – let me help you with all of your Real Estate needs! Judy Weinstock, REALTOR, EWS Alumni parent. Joyfully donating to EWS with every sale. Phone 919.951.1800.
www.seejudy.com
.

Advertising Changes for the Emersonian
We accept small classified-type advertisements. Each submission to the Classifieds should be no more than 6 lines of text, which is approximately 60 words. The costs are as follows: $5.00/week; $10.00/month or $100.00/school year (10 months). Payment for Community Bulletin Board Submissions should be made by the Friday before the publication week (we publish every Wednesday school is in session.) No charge for advertisements of free events or non-profit organizations. Submit ads to:
emersonian@emersonwaldorf.org
.

General Policy for the Bulletin
No political or religious advertisements. No competitive program advertisements. No outside fundraisers. The editors will decide the placement of advertisements. Submissions may be edited for content and length. The Emerson Waldorf School retains the right to choose not to print an advertisement.
Public announcements and services offered in the Emersonian or other circulars produced by Emerson Waldorf School are paid advertisements and do not necessarily reflect the views and opinions of Emerson Waldorf School or its employees.
---
E-Newsletter Design and Graphics

Emersonian Publishing Team:
Kelley Wiley - Content, layout, correspondence, advertising
Raelee Peirce - Header design, layout
Barbara Holloway - Photo & creative content, editing
Kathleen Jackson - Editing