The Emersonian is a weekly e-Newsletter sent to the Emerson Waldorf School community every Wednesday during the school year.
919.967.1858 | emersonwaldorf.org


---
From the Administrator's Desk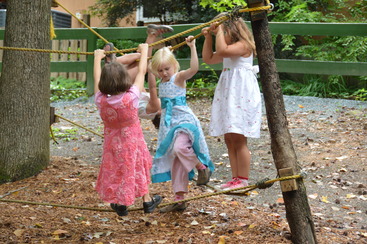 Dear Parents,
Welcome back. Regardless of the rain, I think we are ready to start another year!
After a very busy summer the classrooms are ready and the property is awaiting the sounds of laughing children's' voices.
Don't forget there is a chance to meet each day at our morning coffee table; I will continue to hold the
Tea with Steve
sessions at 8.30 am on Fridays in The Cottage (more on the Teacher's Meditative Life first off); and Parent Meetings are already advertised and locked into the Calendar.
Please feel free to call if there is anything you want to discuss or feedback to us. We look forward to meeting and greeting everyone as the year unfolds.
Best regards,
Steve Bennett and the Admin Team
From the Board President


On behalf of the Board of Directors, welcome back for what we intend will be the best year yet for Emerson Waldorf School. It is an exciting time at EWS, with so much for which we can be grateful – most notably the people who make our school what it is. The devotion of our outstanding faculty and administrative staff is second to none. The joyful and generous contributions of the many parents, grandparents, and friends of EWS – in time, talent, and treasure – help makes this a vibrant, thriving school. And, of course, our students, from Early Childhood through High School, who are at the center of all we do and for whom we come together as a community.
The Board supports the work of the Administration and the College of Teachers by discussing and making recommendations and decisions on budgets and finance, legal matters, fundraising and development, and long-range planning. We will make an effort to keep the community apprised of our work in this space and through the minutes of our meetings, which are kept on file in the Main Office.
Please feel free to contact me or any board member with your thoughts and concerns. We are here to serve and promote the long-term interests of our school. We can do that better with your support and involvement -- and for that, we thank you.
Wishing you and our school our best year yet,
Sincerely,
Bill Sanford
President, 2013-14
bsanford@emersonwaldorf.org
Welcome New Faculty & Staff
---
Christina Beck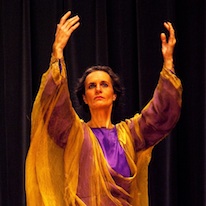 Eurythmy Teacher
cbeck@emersonwaldorf.org
Joining us this October, Christina Beck was born in Mississippi. She attended Emerson College, England and began Eurythmy training, which she completed in Stuttgart Germany. During that time she learned German, joined the Anthroposophical Society, and later made her first experiences as a teacher and a performer with the Stuttgart Stage Group. She returned to the States where after a few years of freelance work she joined the faculty at the Washington Waldorf School in Bethesda Maryland. There she found a home to work and grow for twenty one years. In 2005 she joined The School of Eurythmy in Spring Valley NY. She has a great love of teaching and of poetry, music, and the story. She works with the question of how to fit Eurythmy into the context of a festival, a play, and how to serve a soul need or pedagogical goal. She is married with two step children.
Lynda Hollar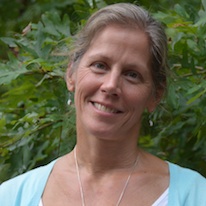 Administrative Support • ext. 10 •
lhollar@emersonwaldorf.org
Lynda Stinson Hollar grew up moving every few years, from Kalamazoo as a young child, to places east and west, before finally finding her "roots" on a farm in Silk Hope, NC. Lynda is married and has two adult children living outside the home, and 2 step-children making their transitions into adulthood. She is a graduate of UNC Chapel Hill and a certified yoga instructor. Although not formally trained in the "wisdom of Waldorf," she feels quite at home here from her 15 years of studying and eventually teaching Hatha yoga. Lynda has gained a deep reverence for all sentient life through the awareness and acute focus that one brings to yoga practice, and from time spent each day working on the farm. She believes that the universe has always conspired to lead her into a more authentic expression her innermost being, which is how she found her way to Emerson Waldorf School.
Derek Kratzer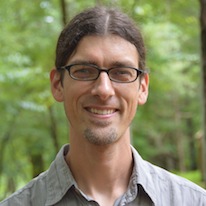 Strings Ensemble Teacher •
dkratzer@emersonwaldorf.org
Derek Kratzer earned his Master's in Music Education from the Indiana University Jacobs School of Music, where he studied string pedagogy under Dr. Brenda Brenner. While at IU, he taught extensively in the Fairview String Project and also assisted Mimi Zweig in the IU String Academy. As a double bass player, he performed in Indiana University orchestras and concert bands, and spent several years as a member of a bluegrass band and of various jazz combos. He has toured in the US and Ireland, and shared the stage with groups such as the Del McCoury Band, David Grisman Quintet, Rusted Root, and Hot Buttered Rum String Band. His love of teaching began with private bass and guitar lessons, and was deepened through an Americorps term in which he mentored middle school students and led an after-school guitar club. He loves spending time outdoors gardening, hiking, and running, and is excited to have the opportunity to be involved in Waldorf education.
Kevin Dry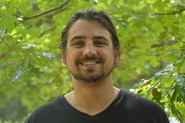 Kevin Dry
History Teacher •
kdry@emersonwaldorf.org
Kevin Dry is excited to be joining the staff at Emerson Waldorf School. He will be teaching US History in the High School. Kevin was born and raised in the Raleigh/Cary NC area where he developed his love for history, teaching, and sports. He graduated from East Carolina University with a BA in History. His passion is working with students to help them reach their full potential. He has experience working with students of various ages. His search for a position to provide students with an authentic education has lead him to EWS. Mr Dry has also coached basketball for 6 years.
Kristin McGee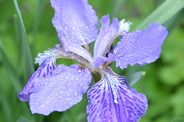 Biodynamic Farming Assistant •
kmcgee@emersonwaldorf.org
Kristin McGee has had her hands in the earth since 1999 when she headed out to Perry-winkle Farm in Chatham County to learn a little about growing vegetables. She took that knowledge to the Peace Corps where she was an agriculture volunteer in Kenya, training women's groups on sustainable farming practices and working with children who have lost their parents to HIV/AIDS. Upon returning to the U.S in 2003., Kristin kept farming at an organic family farm while also pursuing her Masters of Social Work at the University of Michigan in Ann Arbor. It was starting a family that brought her and her husband back to North Carolina. Kristin is thrilled to be a part of the Emerson farm. When she is not at the farm, Kristin can be found near the EWS Kindergarten with her daughter, in Morning Garden with her son, or at home working with her hands.
Larissa Parson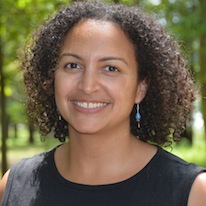 HS Humanities Teacher •
lparson@emersonwaldorf.org
Ms. Parson grew up in Washington, DC. Her deep love of books and learning led her to attend St. John's College as an undergraduate; she also earned an MA in Classics at Cornell University. Ms. Parson spent eight years living in the San Francisco Bay Area, and taught at The College Preparatory School and The Urban School of San Francisco. She is especially interested in helping students develop their authentic voice as writers and sharing her enthusiasm for literature and grammar with them. After the birth of her twins Nick and Dash in 2011, her family decided to move to the East coast to be closer to the boys' grandparents. The move happily coincided with an opening at Emerson in 2013.
Administrative Reminders
---
Our Gift, With Love, to You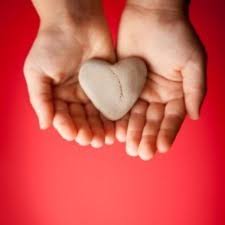 If you weren't able to join us on Monday, August 19, 2013 for our Welcome Reception, please be sure to visit the Main Office and ask Lynda, our new Administrative Support staff member at the front desk, for your FREE GIFT (one per household).
*Nursery and Kindergarten families who have not picked up their gift from the Lower School will receive them from their class teacher.
After School Reminders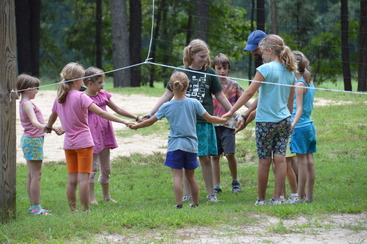 School Dismissal is at 3:15 from your child's classroom. Middle School children may wait supervised by the appointed teacher on duty at the bench area by the Lower School parking lot until 3:25. Children not picked up by 3:25 will be escorted to After School and families will be billed $15 per day through TADS.
The $15 per day charge stands once your child has been signed in, regardless of the length of your stay.
While phone calls to report delays are appreciated, they do not waive the fee. This is standard procedure at most After School programs and something we need to strengthen at EWS. Please be respectful of this agreement.
On days when parents are actively volunteering at school (i.e. Parent/Teacher conferences, setting up for a festival, conducting a Board meeting...etc...), there is no charge. But please do make sure to sign your child in with Ms. Plaza during those times, as unsupervised children are not allowed on the playground.
Also, the playground is reserved for After School from 3:25 until 6:00. This is for the safety of all the children. You are welcome to stay on campus and visit the Fairy Meadow, walk to our Biodynamic Farm, or hang out at the newly renovated gazebo (thanks PO and Keith Bartholomew!), but please vacate the playground area at 3:25 unless your child is signed into After School.
After School is a time for children to play together and to unwind after a LONG day. Following policies and procedures helps our program flow smoothly, which is important for the children. A wholesome snack is provided, but if your child has a food allergy/sensitivity, please alert Ms. Plaza and consider packing extra food for them so they can enjoy a special treat from home at snack time.
The afternoon is balanced between active free play and quieter indoor activities, including homework (as appropriate).
Please bring questions or concerns directly to Ms. Plaza.
Thank you, and have a great year!
Join an EWS Volunteer Effort...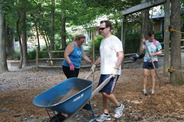 Looking to plug into something that interests you? Want to meet some other EWS parents?
We have a way for you to plug in - volunteer as little or as much as works for you.
The
Volunteer Commitment Form for 2013-2014
is ready to receive your interest.
Join a PO Committee, spend a morning at the coffee table, garden with Mary Beth Mueller at the EWS Farm, learn to give a tour of our campus or help with an Open House with the events committee, or maybe you would like to help Therisa Pienaar in the High School office during morning arrival .
These and more opportunities are listed on the Form link above.
---


First Parent Organization (PO) Gathering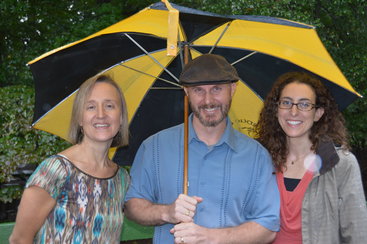 Join us at our first PO meeting on Wednesday, August 28th from 7-9 pm in the Eurythmy room! Topics to discuss include welcoming our new members, elections for our 2013-2014 officers, renewing Renewal, and envisioning the coming year.


See you there!
~ Tina Stevens, PO President 2012-2013

--You have a choice to have a voice--

Join the After School Jazz Band!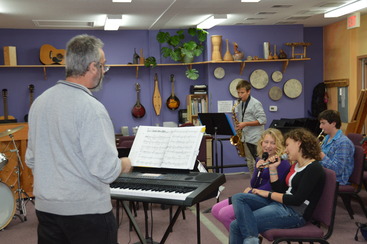 The EWS Jazz Band will be performing again this year. Rehearsals are at 3:30 on Thursdays in the music room. Anyone in 6th grade and up who wants to play jazz can join. Rehearsals begin August 20th. Come check it out to see if it's right for you. See you there.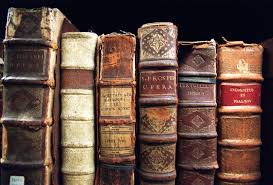 Library News
As the new school year begins, Nancy and I ask that you look around your homes for any books belonging to EWS. Please return books to the Library mailbox in the Lower School Main Office.
Thank you for helping us maintain our EWS Library.
Dee Anne Lamb and Nancy Trueblood
It's Back! Eurythmy for Parents & Friends
Eurythmy classes will start up again on Wednesday, September 12. We many new parents will join us! No prior experience is necessary. Classes are from 8:30 - 10:00 am Wednesdays.
Come and enjoy

"Movement in Tune with the Rhythms of Life"

Dates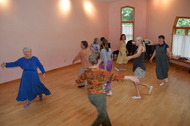 Sept 18, 25
Oct 2, 9, 23, 30
Nov 6, 13, 20
Dec 4, 11, 18
Cost: $110 can be paid in installments and benefits the Eurythmy program for Students at EWS. For more information call Eve Olive at 919-489-2564.

---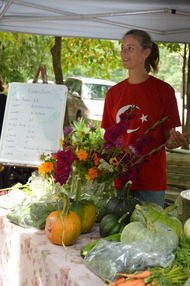 Our Morning Farmer's Market Returns on Thursdays
The Emerson Farmer's Market will return starting on Thursday, August 29th. Don't forget to bring check or cash and come see what we have to offer.
Thursdays –
7:45 to 8:45 am
2:45 to 3:45 pm
Location –
Next to the Lower School parking lot by the coffee table
New this year!
You can establish a line of credit at the market table by paying up front via a check for whatever amount you feel comfortable with. We will start a Market Card for you to keep track of how much money is in your account and will send you a reminder to refill your account when your balance reaches $10 or less.
On Thursday, August 29th we will have:
All Blue Potatoes
Garlic
Sorrel
Eggs
Honey
Flowers
Interested in what's happening at The Farm? Check out our blog at
emersonfarm.blogspot.com
.
Would you like to learn more about biodynamic farming through hands-on learning experiences? Sign up to be on our volunteer list, and you will receive a weekly update with volunteer opportunities. E-mail
mmueller@emersonwaldorf.org
to sign up.
Hope to see you at The Farm and at the market table!
Mary Beth Mueller
Biodynamic Farming Instructor
Emerson Waldorf School
919-929-9791

---
Why We Love EWS Summer Camp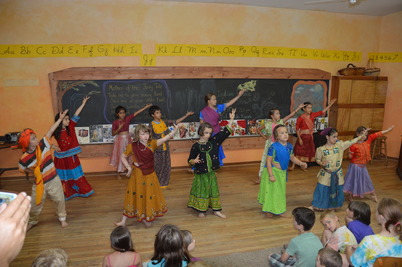 Article By Tiffany Schubert, Parent of EWS Kindergartner & 2nd Grader
Adventures to far off lands, learning to make a fire, making magical crafts, playing all day with friends – new and old. These are just a few reasons why we love camp. Finishing up our first year at EWS, we decided the continuity and the convenience of attending all 6 weeks of camp for both of our children would make everyone's lives much easier this summer. I had a very small worry that maybe it would be too much of the same for my kids, and maybe they would need a break from the campus. Boy, was I wrong.
Each week provided the continuity of being on the campus that we know and love paired with the excitement of a brand new adventure. My children got to re-connect with old friends who now go to different schools and meet new friends. They made "passports" and "traveled" to each country in Central America, had a week of fairyland adventures, explored the Ancient Cultures of India including learning a beautiful dance, traveled back in time to the ancient land of Adshusheer, and made the coolest crafts ever!
Summertime is always a challenge, balancing the hot dog days of summer with busy schedules. The EWS camp was the perfect fit. After the first day we knew the children would be happy, would be outside, playing, experiencing, and enjoying each day as summer is meant to be.
We wanted to say thank you to Candor Plaza for her amazing organization, to all the camp teachers, counselors, and counselors-
in-training, and to say that we are looking forward to next year!
---
Work Days Help Campus Shine!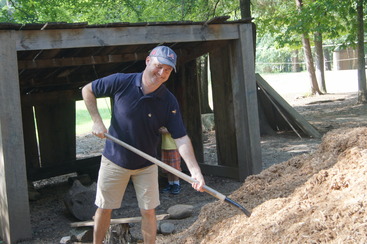 Article by Tina Stevens, 2012-2013 PO President & EWS HS Parent
Thank you to our volunteers who stepped up during the heat of summer to work together for the beauty of our campus! We had a great turn-out this year with lots of new and familiar faces.
Many hands make light work! Hoping you'll join us for the next Parent-Organization-sponsored Hands event.
The Parent Organization, affectionately called "the PO", looks forward to recruiting parents to help with social and service projects for the 2013-2014 school year.
The PO meetings are held every 2nd Wednesday at 7pm in the Eurythmy Room starting August 28th. We anticipate a great turn-out for these planning and social gatherings. Please mark your calendars – you have a choice to have a voice!
Every EWS parent is a member of the PO. Your $35 membership dues were paid as part of your tuition.
It is my hope that the PO of 2013-2014 will be a great year, balanced in both community-building and service to our school. May every EWS parent commit to 1 or more hours per month to help our school environment and culture become even more beautiful and warm. Just think what we could do together!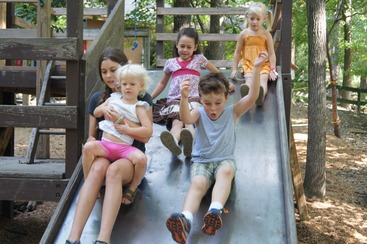 ---
1st Grade Rose Ceremony 2013

Not An Ordinary First Day of School

Rose Ceremony at Emerson Waldorf School marks first graders'
move from childhood play to academic focus

On Tuesday, August 20, 2013 the semi-annual Rose Ceremony was celebrated, marking the beginning of the first graders' journey of learning and discovery with the beautiful tradition of receiving a rose from a twelfth grader, who is completing their educational journey. The Waldorf educational tradition emphasizes rhythm and marks special events with ceremonies shared by the entire school community. The Rose Ceremony is a moving, profound experience that honors the transition from the kindergartener's dreamy childhood play to the more focused mentality of the first grader, who is ready to learn reading, writing, and arithmetic.
Kindergarteners who are entering first grade face a huge and possibly scary change. They are leaving the teacher they have had for one, two, or possibly three years, and meeting a new teacher they are likely to have for eight years, as is the Waldorf tradition before high school. They are also leaving behind some friends in kindergarten who are not transitioning this year. Most of all, they are leaving the world in which everything is play time or active, to a more focused academic world that involves some desk work.
Rather than let this change just happen, Waldorf education celebrates it with ceremony. The first graders hear a beautiful story about children in a garden who are moving out into the greater world, just as they themselves are doing. The whole school joins together in welcoming the first graders, as their Kindergarten teachers lead them across a large wooden bridge called the Rainbow Bridge. Once on the other side, they greet their new, first grade teacher with a handshake and receive a rose from a twelfth grader. These seniors are at the end of the journey the first graders are just beginning.
At the end of the academic year in June, the first and twelfth graders come together for another Rose Ceremony, to mark the transition of the seniors into world beyond high school. Thus the rhythm of the developing child continues.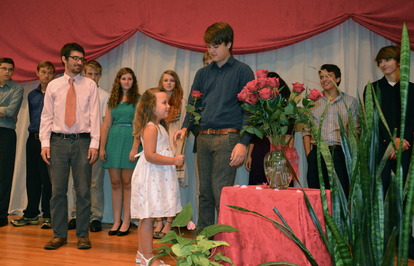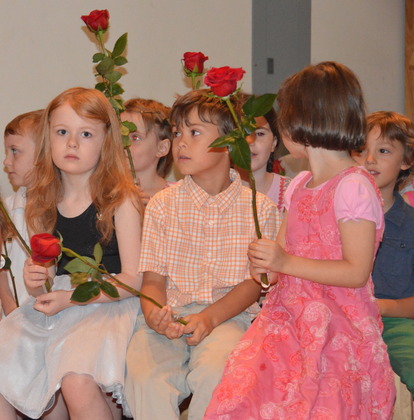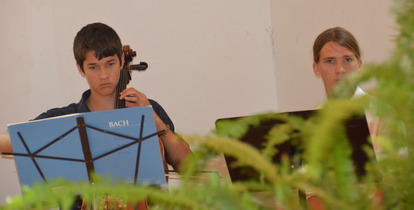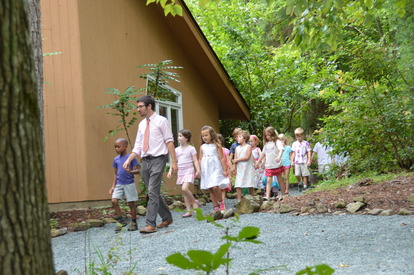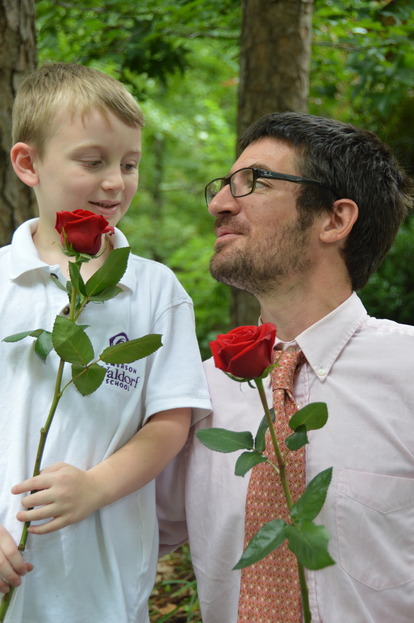 Like
EWS Facebook
and check out more photos!
A Moment of Pause

---
On Teaching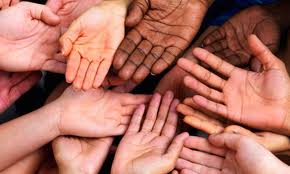 Then said a teacher, "Speak to us of Teaching."
And he said:
No man can reveal to you aught but that which already lies half asleep in the dawning of our knowledge.
The teacher who walks in the shadow of the temple, among his followers, gives not of his wisdom but rather of his faith and his lovingness.
If he is indeed wise he does not bid you enter the house of wisdom, but rather leads you to the threshold of your own mind.
The astronomer may speak to you of his understanding of space, but he cannot give you his understanding.
The musician may sing to you of the rhythm which is in all space, but he cannot give you the ear which arrests the rhythm nor the voice that echoes it.
And he who is versed in the science of numbers can tell of the regions of weight and measure, but he cannot conduct you thither.
For the vision of one man lends not its wings to another man.
And even as each one of you stands alone in God's knowledge, so must each one of you be alone in his knowledge of God and in his understanding of the earth.
From
The Prophet
by Kahlil Gibran

EVENTS OR CLASSES
Foundation Studies Program in Anthroposophy
and the Arts. Foundation Courses with local Group Leaders sponsored by Sophia Institute have been set up in several locations and can be set up with the help of the Sophia Institute in your location also. We have detailed and adaptive course materials and lesson plans available for local foundation courses. Groups of 6 or more students may enroll in the courses with a local group leader. The group leader works as an adjunct faculty of the Sophia Institute using the Sophia Institute course materials. Group leaders need to have completed a Waldorf Teacher Training and have successfully taught in a Waldorf school, Camphill Community or similar Anthroposophical institution and need to have experience in adult education, being able to provide feedback and mentoring in the areas of Waldorf education, Anthroposophy and the path of self development. Typically the local foundation courses comprise 2 semesters and meet weekly or bi-weekly during the school year. Individuals interested in working as (or training to become) group leaders, and students interested in taking these courses please contact the Sophia Institute at
www.sophiainstitute.us
or
info@sophiainstitute.us
SERVICES
Dr. Hauschka Facials/Retailer:
CORI ROTH/Licensed, Certified, Holistic Esthetician. Revive your body, mind and senses with a nourishing and soothing Divinerose Facial. Offered in an unhurried and retreat-like setting. 15% off first time client. Visit
www.divinerose.com
for more info.
PRANA KOMBUCHA:
Enjoy Fresh Kombucha! We are a Waldorf family brewing raw organic Kombucha delivered straight to you!
Kombucha is more than just an ancient healthy drink. It has a wide range of organic acids, vitamins enzymes and probiotics that give it its extraordinary value. It contains a range of B vitamins, particularly B1, B2, B6 and B12, that provide the body with energy, help to process fats and proteins, and which are vital for the normal functioning of the nervous system. There is also vitamin C which is a potent detoxifier, immune booster and enhancer of vitality. AND it's DELICIOUS!
We sell our KOMBUCHA in 34oz. re-useable glass bottles at $7/bottle. For a free tasting and to order your Kombucha contact Gaura Humek at
ghumek@gmail.com
KatieBeth's Learning Garden!
We are a retail store and community class space located at 400 S. Elliott Road in the Galleria Shopping Center. Here, you can find the supplies you need for a Waldorf-friendly home, including imaginative natural toys from Camden Rose, Ralph Evans and Sarah's Silk, fiber arts kits and supplies from Harrisville, beeswax candles, stones and supplies from Mercurius. We sell new and consigned educational materials and games for your whole family.
www.katiebethsgarden.com
REALTORS/HOUSING
We have a lovely home located one mile from EWS.
It has two bedrooms,two baths all appliances, fenced yard and sits on 2.5 acres with deer and blue birds visiting daily. Situated in a quiet neighborhood just off rte 86. Home will be available September 1. Rental fee is $1500.00 per month. To visit or ask questions you may call Chris Quinn (919) 949-1950
Advertising Changes for the Emersonian
We accept small classified-type advertisements. Each submission to the Classifieds should be no more than 6 lines of text, which is approximately 60 words. The costs are as follows: $5.00/week; $10.00/month or $100.00/school year (10 months). Payment for Community Bulletin Board Submissions should be made by the Friday before the publication week (we publish every Wednesday school is in session.) No charge for advertisements of free events or non-profit organizations. Submit ads to: emersonian@emersonwaldorf.org.

General Policy for the Bulletin
No political or religious advertisements. No competitive program advertisements. No outside fundraisers. The editors will decide the placement of advertisements. Submissions may be edited for content and length. The Emerson Waldorf School retains the right to choose not to print an advertisement.
Public announcements and services offered in the Emersonian or other circulars produced by Emerson Waldorf School are paid advertisements and do not necessarily reflect the views and opinions of Emerson Waldorf School or its employees.
---
E-Newsletter Design and Graphics

Emersonian Publishing Team:
Kelley Wiley - Content & Layout
Raelee Peirce - Header Design & Layout
Barbara Holloway - Photo & Creative Content
Kelley Wiley - Correspondence and Advertising
Kathleen Jackson & Barbara Holloway - Editing
---
This Week

---
Wed 8/21
All High School Retreat
Kindergarten Orientation 7:00 pm
Thurs 8/22
All High School Retreat

EWS Jazz Band Rehearsal 3:30 pm

Fri 8/23
All High School Retreat

Sat 8/24
6th Grade Parent Morning 9:30 am - 11:30 am

Nursery Potluck
9:30 am - 11:00 am

Kindergarten Potluck 11:00 am - 12:30 pm

Board Meeting
2:00 pm - 5:00 pm

Sun 8/25
New Parent Orientation and Reception in the Brown Wing (All 2012 & 2013 EWS Newbies & All 1st Grade Parents New to the Lower School)
4:00 pm - 6:00 pm

Tues 8/27
First Day of Kindergarten and Nursery

3rd Grade Parent Evening 6:45 pm - 8:30 pm


---
School Staff

---
919.967.1858

Steve Bennett x 11
Director of Administration

Mary Deutsch x 12
Finance Director

Lynda Hollar x 10
Administrative Support

Barbara Holloway
Marketing Director
919.480.1026

Ian Ostrowski x29
Facilities Manager

Raelee Peirce x14
Admissions Director

Therisa Pienaar x20
High School Coordinator

Kelley Wiley x13
Communications Director


---
School Hours

---
N/K 8:30 am - 12:30 pm
1st-5th 8:30 am - 3:15 pm
6th-8th 8:15 am - 3:15 pm
HS 8:10 am - 3:15 pm

Aftercare N/K until 3 pm
Aftercare 1st + until 6 pm

Office Hours 8 am - 4 pm


---