---
Carrboro Music Festival This Weekend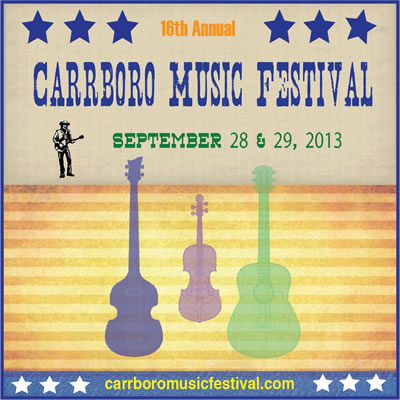 The Music Festival is Carrboro's day-long free festival featuring over 180 performing acts at 25 indoor and outdoor venues. Check out the event at:
http://www.carrboromusicfestival.com
.

"In the space of a few hours within downtown Carrboro, a listener can hear Bluegrass, Folk, Jazz, Country, Rock & Roll, Classical, and World Music.

This is Carrboro's effort to showcase Triangle area performers and the varied musical styles they represent. All of the performers donate their talents to foster a strong sense of community and to reveal their talents to a wider audience.

On Sunday, the Town Commons will again feature a number of different activities. Staff from the Kidzu Children's Museum will be hosting a booth between 1:00 and 4:00 P.M. that will allow kids to create from recyclables. Craft booths and specialty food vendors will be in the area around Town Hall- check them out! All of these activities are still right next to the Town Commons stage where six wonderful bands will provide the music, so you'll not miss a note."
Don't miss
the Emerson Waldorf Jazz Band playing Sunday at 1 pm at Fitch Lumber Company stage. From there, stroll over to the Town Commons to hear EWS parent Neil Alexis play with The Lids at 2 pm. At 4:45 pm, make sure to head back to the Fitch stage to catch The Bucket Brothers (our very own Casey & Logan Valleroy).
Enjoy the music! Wear your EWS t-shirts!!!
Our Own Bucket Brothers Featured!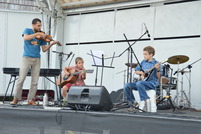 Be sure to check out the fantastic article featured in the October 2013
Our State: Down Home in North Carolina
magazine.
The Bucket Brothers
- Casey and Logan Valleroy - 4th and 7th graders at EWS - share the story of their love and gift for music!

Click Here to Read the Article
Campus Work Days – October 5 & 6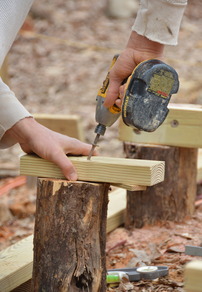 Mark your calendar now for our upcoming PO Campus Work Weekend, October 5-6 from 8 am - 5 pm both days.
Click Here for a work shift
Childcare available
– please contact Tina Stevens at
tinalstevens@gmail.com
if you need childcare.
Questions about tools to bring
and other work-related issues – please contact Keith Bartholomew at
kgbmon@gmail.com
.
See you there!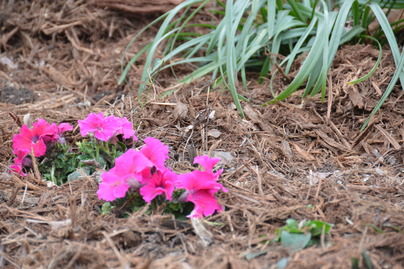 Holiday Faire Needs

Vendor Village at the Holiday Faire – If you make lots of handcrafted, Waldorf-y items and would like to sell them at Holiday Faire, consider becoming a vendor! All you need is a table and $40 to have a space in our vendor market. If you don't have quite enough items to furnish an entire table yourself, but would still like to sell some of your handcrafts, consider placing them on our EWS craft consignment table. You will receive 70% of the sale price. Please contact Robyne Borhanian if you are interested: robyneb@gmail.com
Thursday morning crafting continues - If you'd like to craft small items for the Enchantment Shoppe, join us Thursday mornings after drop-off in the Handwork Room. Very easy options are available, even some non-sewing ones! This event is held by the Early Childhood classes, but folks from any grade are welcome to participate.
Yarn, craft supplies still needed
* 100% acrylic yarn is needed for the jump rope activity – please place in pink donation bin behind 4th grade classroom.
* De-clutter your craft closet and donate "raw materials" for use by the Enchantment Shoppe crafters! Felt, wool roving, yarn, glue sticks, fabric, beads, etc. – anything you think might be useful, bring it on! Craft supply donation bins for these raw materials are Nursery, Kindergarten, and 2nd Grade. Contact Marta Matsumoto with questions, okieokasan@gmail.com.
Burrito Monday - Starts Next Week!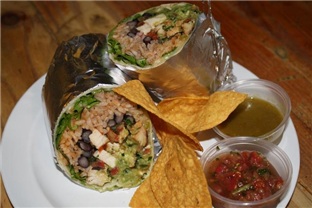 Large bean, rice, and cheese or chicken, rice, bean, and cheese burritos with chips and salsa, delivered to the students each Monday. Corn tortillas are available for those who would prefer. The corn option will be a soft taco. We can also accommodate dairy-free folks. Print out the attached order form
here
, or stop by the lower school office for one.
Starts September 30 - December 16 (11 weeks). Order forms are
due by this Friday, September 27th.
Burrito Monday is brought to you by the Class of 2014. Please support the Senior Class as we fundraise for our senior trip this spring!
Rhonda Lanning
Burrito Coordinator
jasonrhonda@bellsouth.net

---
Gnomes HS Soccer Team – Major Win 7-1!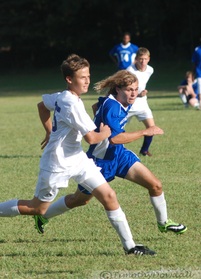 Last Wednesday the High School Soccer team defeated Fletcher Academy in Raleigh. At half-time the score was 2-1, but in the second half the Gnomes went wild with 5 more goals.
Batian Pienaar (right) put one in off of a corner shot, then Alex Merckel (below) placed a beautiful kick in the corner.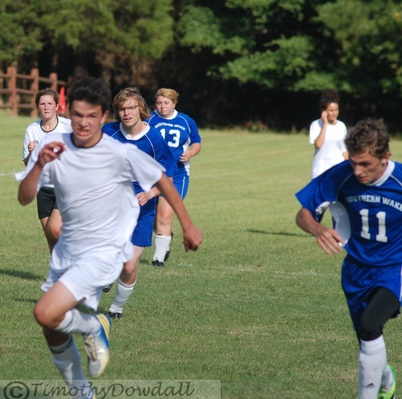 Alex Merckel (above) put in our first goal...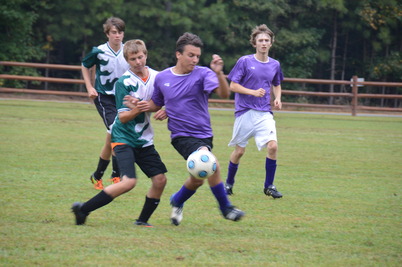 And then Anthony Day (above) set up Clare West (below) for a goal.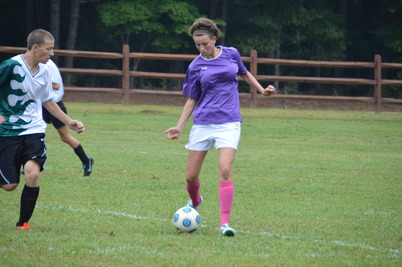 Laramie Graber strolled up nonchalantly and put in a penalty shot.

Tudor Comaniciu set up Alex for his third goal! The game ended with the "Comaniciu Brother Show" as Tudor set up brother David for a game-ending score. Betsy Graham played goalie for the first time and made many excellent stops.

MS XC Team Defeats Carolina Friends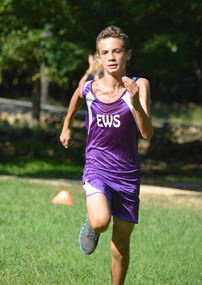 The Middle School Cross Country team came in third place behind Duke School and Trinity but defeated Carolina Friends. Sam Marchman was first for the boys followed by Cooper Lamb, Agostino Luisetti, Eli Hicks, and Eric Awai.
Stay tuned next week for full coverage of High School Cross Country!
Here is the Cross Country & Soccer schedule for the next two weeks.
(MS = Middle School; HS = High School; XC = Cross Country)
Wednesday Sept 25
MS XC Practice after school until 5:00 pm
HS XC @ Woods Charter 5:00 pm Start
HS Soccer @ Camelot Academy 4:00 pm
Friday Sept 27
MS/HS XC Practice after school until 5:00 pm
HS Soccer Practice after school until 5:00 pm
Monday Sept 30
MS/HS XC Practice after school until 5:00 pm
HS Soccer Practice after school until 5:00 pm
Tuesday Oct 1
MX XC @ Trinity 3:30 pm Walk 4:00 pm Start
HS XC Practice after school until 5:00 pm
HS Soccer @ HOME vs. Fletcher Academy 4:00 pm
Wednesday Oct 2
MS XC Practice after school until 5:00 pm
HS XC @ HOME 4:00 pm Walk 4:30 pm Start
HS Soccer Practice after school until 5:00 pm
Friday Oct 4
MS XC @ HOME 3:30 pm Walk 4:00 pm Start
HS XC Practice after school until 5:00 pm
HS Soccer Practice after school until 5:00 pm
Monday Oct 7
MS/HS XC Practice after school until 5:00 pm
HS Soccer Practice after school until 5:00 pm
Tuesday Oct 8
HS XC Practice after School until 5:00 pm
Wednesday Oct 9
MS XC @ HOME 3:30 pm Walk 4:00 pm Start
HS XC Practice after school until 5:00 pm
HS Soccer @ Springwood Park, Burlington vs. Clover Garden 4:30 pm
Important announcement:
Please remember to check the online calendar
www.calendarwiz.com/emersonwaldorf
and use the drop-down to EWS Extracurricular Activities. If you click on a game, you can get the address.
Go Gnomes!

---
Early Childhood Public Open House Saturday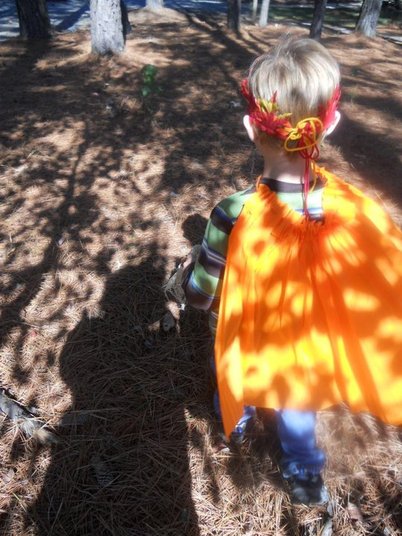 Know a family with children ages 0-6 years? Invite them to come to our Nursery and Kindergarten Open House this Saturday, September 28, 2013, 10:30 am - 12 pm.
The Nursery and Kindergarten classrooms and playgrounds will be open for inquiring parents and children to visit and play.
Our next Early Childhood Open House will be Saturday, November 9, 2013 – this event will begin with a magical Puppet Show in celebration of Martinmas.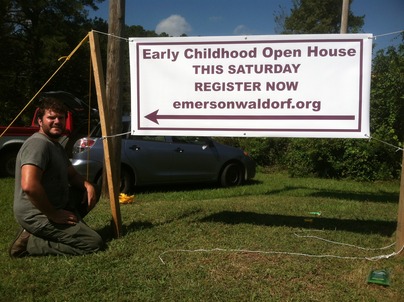 Thank you Mr. Ian for putting up our banner on the corner of Mill House and Hwy 86!!

---
Seventh Grade Perspective Drawing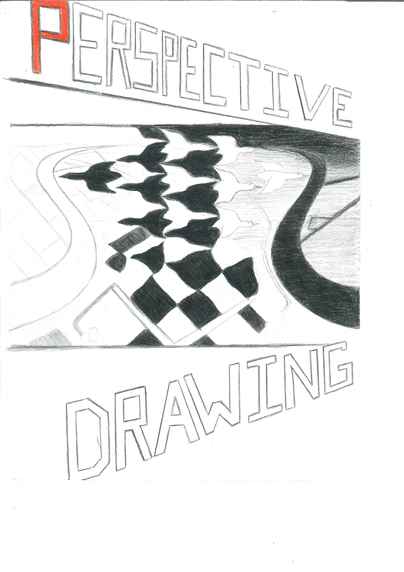 The historical period known as the Renaissance forms the leitmotif for the work in Seventh Grade, so it is appropriate that we began with the study of the basic laws of perspective drawing, which were first formulated in 1413, at the dawn of the Renaissance. As the students slowly learn the technicalities of vanishing points, converging lines, interpolation, and extrapolation, they gain the ability to create the illusion of three-dimensional space on a two-dimensional sheet of paper. A "Eureka!" moment occurred throughout the class as the 7th graders discovered the shift to that 3D perspective. Here you can see a few selections of perspective drawing created by this year's Seventh Grade (above Sam Marchman's). Final lesson: Sometimes a change of perspective is all that is necessary to better understand the world in which we live and especially the people who inhabit it. – Mr. Wiley, 7th Grade Teacher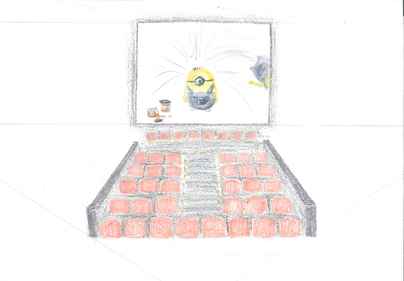 Kaya Anderson-Head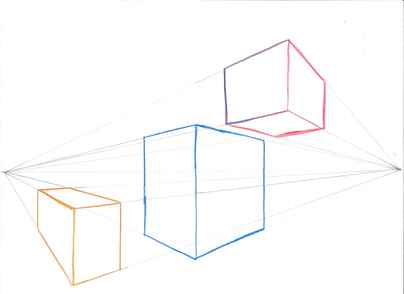 Cosette Bentley-Dyess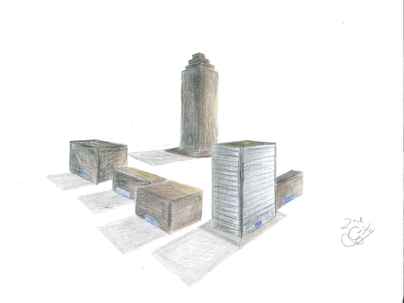 Savannah Berry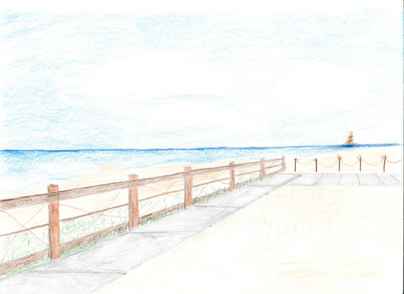 Annika Emerson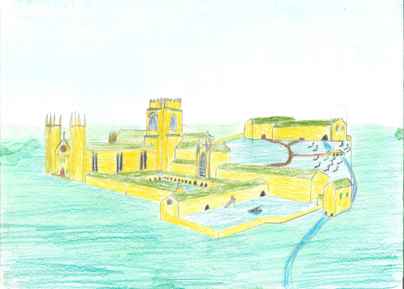 Alexander Harry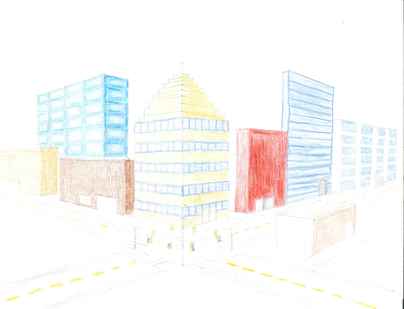 Luci Martinez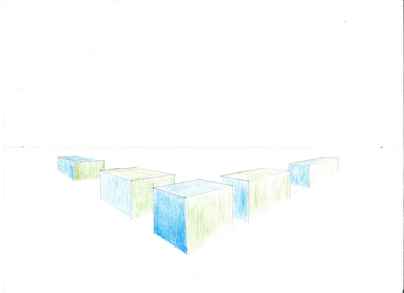 Aly McKinnis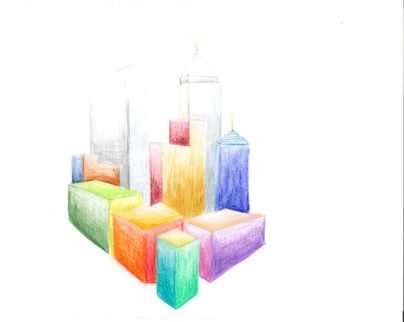 Bella Mead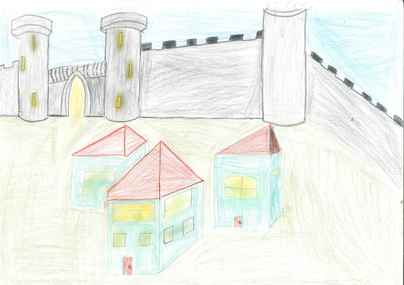 Riley Phillips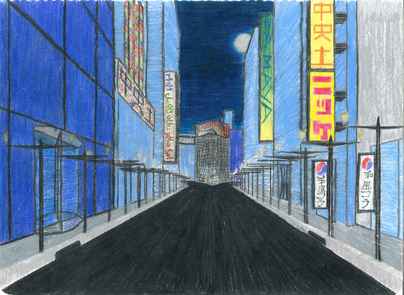 Matthew Qandil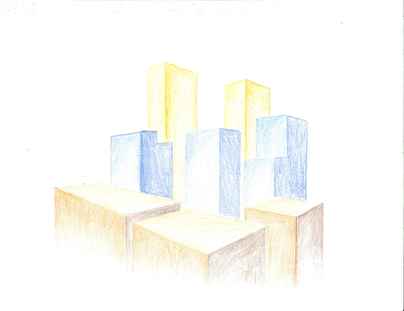 Alden Schertz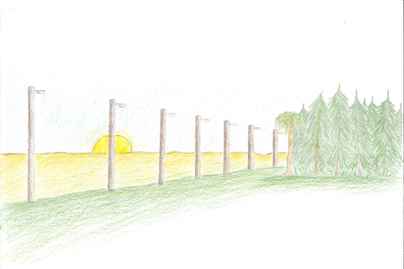 Alden Schertz

---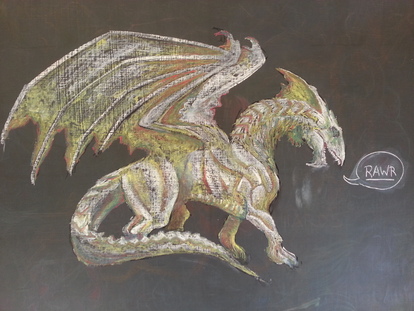 High School Chalkboard Drawing by Rowan Bedick, 9th Grade
Hermit Island Trip 2013

During the week of September 7-14 our Senior Class joined 12th Graders from five other Waldorf schools on Hermit Island, Maine for a week of Marine Invertebrate Zoology.
Our High School has been a part of this trip for four years now and it is considered one of the highlights of our students' senior year. Imagine a Main Lesson with 80 other students, sea chanties, and live lobsters!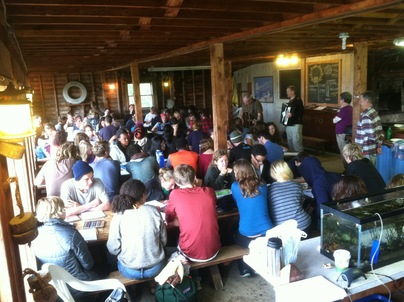 ---
Children and the Importance of Routine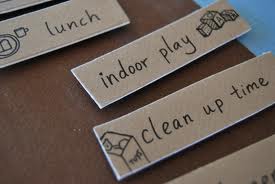 In Waldorf education, especially in a Waldorf Early Childhood classroom, each day is enriched by ritual and routine. While many parents appreciate that this helps children feel secure, structure is also essential for social and academic development. Why is it key to the development of children both behaviorally and neurologically?
Read the rest
here
.
A Moment of Pause

---
Michaelmas Verse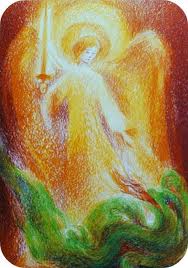 Golden light is turning grey,
Mists begin to rule the day.
Bare the trees, their branches lift;
Clouds of dead leaves earthward drift.
Through the field the farmer goes,
Seeds of ripened corn he sows;
Trusts the earth will hold it warm,
Shelter it from cold and harm.
For he knows, that warmth and light
Live there, hidden from our sight;
And beneath a sheltering wing,
Deep below, new life will spring!
Deep below, deep below, new life will spring!

---
EVENTS AND CLASSES
ASNC Michaelmas Festival
- The Rudolf Steiner Branch (NC) would like to invite you to our Michaelmas celebration on Saturday, Sept. 28 and Sunday Sept 29. On Saturday evening from 7-9 pm in the Brown Wing of EWS High School, community members will share song and verse related to Courage, Fear, Recklessness, and Love. If you have something you would like to share or need more information, please contact Peg Carmody, 919-537-8142 or
mcarmody@nc.rr.com
. On Sunday, Sept. 29, we will meet at Infinity Farm, 1600 McDade Store Rd., Cedar Grove for a three-part celebration. From 11 am - 12:30 pm, we will read and discuss an essay about Michael as "The Fiery Thought King of the Universe." This will be followed by a potluck lunch (12:30-2 pm) and then an afternoon of Biodynamics (2-4 pm). Jon Lyerly will tell us about a special biodynamic Michaelmas prep that he has made for the first time. Those who wish to help apply the prep at the end of the program will need to bring appropriate shoes and work clothes. You are free to attend any or every part of this day's activities, coming and going before, after, or during lunchtime from 12:30-2 pm.
Projective Geometry and Counter-space Talk
- Projective geometry is a non-Euclidean Geometry taught in Waldorf Schools. If you have wondered why or what relevance this has to thinking and practical life, please join us in the Eurythmy Room from 7:30-9:00 pm on Monday, October 7. Charles Gunn, a UNC-CH graduate who has worked for R&D Pixar Animation Studios and taught at Green Meadow Waldorf School, is visiting family here. He has offered to build up an alternative concept of space, known as "counter-space", through a demonstration of basic geometric exercises for those who are interested.
He will bring the concept of counter-space into connection with some riddles of nature and of the human being, leading to the suggestion that its unfamiliar aspects, properly interpreted, might open up new vistas for understanding the world around us and the role our concept of space plays in shaping this understanding. Donations will be accepted.

The Piedmont Youth Orchestra
meets every Sunday at the Emerson Waldorf School. They are so appreciative of our space that they offer a special discount for participants from our school. This makes for a win-win situation for you: a great ensemble opportunity for your child (at a convenient location) at what is practically a giveaway tuition for the semester, $50 as compared to the usual fee of $150-$200.
Sessions begin this Sunday. Please consider enrolling your student musician. PYO's website details the ensembles and schedules available. The registration form is attached and the forwarded email (below) also has some information. Go to this link for more information:
http://www.chmusic4children.com/PIEDMONT_YOUTH_ORCHESTRA.html
Grow Your World, After School
is an afterschool program for middle schoolers based in Chapel Hill
that focuses on community-building and youth development. The program's three main components aim to increase community connections across difference (age, culture, race, language, among others), capitalize on the abundant resources in the community, and increase our youths' ability to achieve their full potential.
Youth March for the Planet
- On Saturday, Sept. 28, young people around the world will lead marches, rallies, and demonstrations to call attention to climate change. North Carolina students are planning a march and rally in downtown Raleigh with inspiring calls to action from youth leaders and climate advocates. Marchers will meet at Halifax Mall at 3:30 pm for a welcome and activities. The march will begin at 4:00 pm, circling the Capitol and the General Assembly building before returning to Halifax Mall for speakers, music, and more. Will you join us? Sign up to march, post flyers, and help us spread the word. Details:
http://www.imatteryouthnc.org.
ITEMS FOR SALE
We've moved to a new home but we can't take it all with us!
Please come lighten our load! MOVING SALE: Saturday, September 28th, 9 am - 3 pm; 308 Winter Drive, Chapel Hill. Something for everyone: from girls' clothes to wooden stools to a Miele washer and more... Questions? Call Virginia Callaghan 919-619-6167

This End Up solid end pine bunk set; 3 beds
– upper/lower bunk beds with 3rd day bed; 4 pine under-the-bed storage units that are on heels. Very good condition, of course, after use by my boys! $550.00 or best offer - Jon Mandeville (919) 880-6973.
SERVICESWhy not have an artist do your hair?
Nancy Moore has been an artist/hairdresser for over 20 years, and an EWS mom for 16. Now located at the beautiful FLOW Salon, 587 Old Farrington Road, Chapel Hill NC 27517 For appointment call or text (919)260-2495 ...or book yourself online at
www.nancyannmoore.com
. Let the good hair days begin!
Getting older is not so much the problem...skin cell damage is.
Free radicals challenge the skin cells you have right now....and these same free radicals also cause damage to the skin cells you'll have in the future. Without intervention, damaged skin cells continue to emerge and make your skin look older before its time. Try the patented Enfuselle Nutrition Therapy Skin Care System (100 money-back guarantee) to block all those skin-damaging free radical reactions... Read more
here
. 10% back to all Waldorf customers. Joanne Estes 919-929-4534

PIANO LESSONS:
Spaces open for children, teens, & adults in the home piano studio of Beth Shirey, EWS choral and eurythmy accompanist. Please call 919-969-9545 or email
beth.shirey@yahoo.com
for more information.


Dr. Hauschka Facials/Retailer:
CORI ROTH/Licensed, Certified, Holistic Esthetician. Revive your body, mind, and senses with a nourishing and soothing Divinerose Facial. Offered in an unhurried and retreat-like setting. 15% off first-time client. Visit
www.divinerose.com
for more info.
PRANA KOMBUCHA:
Enjoy Fresh Kombucha! We are a Waldorf family brewing raw organic Kombucha delivered straight to you!
Kombucha is more than just an ancient healthy drink. It has a wide range of organic acids, vitamins enzymes, and probiotics that give it its extraordinary value. It contains a range of B vitamins, particularly B1, B2, B6, and B12, that provide the body with energy, help to process fats and proteins, and which are vital for the normal functioning of the nervous system. There is also vitamin C which is a potent detoxifier, immune booster, and enhancer of vitality. AND it's DELICIOUS!
We sell our KOMBUCHA in 34 oz. reusable glass bottles at $7/bottle. For a free tasting and to order your Kombucha contact Gaura Humek at
ghumek@gmail.com
KatieBeth's Learning Garden!
We are a retail store and community class space located at 400 S. Elliott Road in the Galleria Shopping Center. Here, you can find the supplies you need for a Waldorf-friendly home, including imaginative natural toys from Camden Rose, Ralph Evans, and Sarah's Silk, fiber arts kits and supplies from Harrisville, beeswax candles, stones, and supplies from Mercurius. We sell new and consigned educational materials and games for your whole family.
www.katiebethsgarden.com
REALTORS/HOUSINGCozy Rental Cottage
on wooded lot .5 mile from I-40 and 9 minutes from EWS (4 miles). 3-BR 1 bath, hardwood floors, new fridge, dishwasher, AC, natural gas stove, deck, storage shed, pets negotiable. 3 miles on country roads to Mapleview Ice Cream sunsets! 911 New Hope Church Rd. $1,000. 919-413-5767, 919-382-9846 evenings.


Buying a home?
Selling a home? Investing in real estate? HEAD, HEART and 20+ years of HANDS-ON EXPERIENCE giving caring advice and guidance to hundreds of happy home buyers and sellers – let me help you with all of your Real Estate needs! Judy Weinstock, REALTOR, EWS Alumni parent. Joyfully donating to EWS with every sale. Phone 919.951.1800.
www.seejudy.com
.
Advertising Changes for the Emersonian
We accept small classified-type advertisements. Each submission to the Classifieds should be no more than 6 lines of text, which is approximately 60 words. The costs are as follows: $5.00/week; $10.00/month or $100.00/school year (10 months). Payment for Community Bulletin Board Submissions should be made by the Friday before the publication week (we publish every Wednesday school is in session.) No charge for advertisements of free events or non-profit organizations. Submit ads to:
emersonian@emersonwaldorf.org
.

General Policy for the Bulletin
No political or religious advertisements. No competitive program advertisements. No outside fundraisers. The editors will decide the placement of advertisements. Submissions may be edited for content and length. The Emerson Waldorf School retains the right to choose not to print an advertisement.
Public announcements and services offered in the Emersonian or other circulars produced by Emerson Waldorf School are paid advertisements and do not necessarily reflect the views and opinions of Emerson Waldorf School or its employees.
---
E-Newsletter Design and Graphics

Emersonian Publishing Team:
Kelley Wiley - Content, layout, correspondence, advertising
Raelee Peirce - Header design, layout
Barbara Holloway - Photo & creative content, editing
Kathleen Jackson - Editing