The Emersonian is a weekly e-Newsletter sent to the
Emerson Waldorf School community every Wednesday during the school year.
919.967.1858 | emersonwaldorf.org


Spiral of Light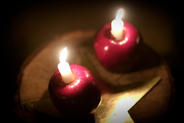 Nursery to 3rd Grade will be participating in the evening Spiral of Light event on
Friday, December 7, 2012
between 5-7pm. Classes 4th-8th grade will be doing the Spiral during the school day.

Click Here
for a past Emersonian with more information about the Spiral times and location.
---
Holiday Faire, Incredible!
---
Filled With Gratitude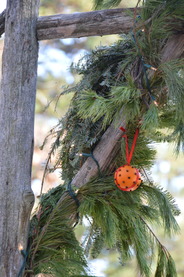 It is always difficult to thank everyone for the value of their efforts when the results of an event like this one are truly immeasurable.
The planning, (ohhh...the planning!!), ticket sales, crafts, food, baking, donations, volunteer shifts, decorating, set-up, and clean-up...all of it together made this an incredible event!
Thank You
dear parents, students, staff, and faculty for another beautiful Holiday Faire!
CHECK OUT OUR HOLIDAY FAIRE PHOTOS!
---
Fundraising & Admissions Success

---
This year's Holiday Faire numbers speak for themselves – incredible attendance, enchanting events, and plenty of time to just hang out with friends on this gorgeous day:

2012-13: $15,300 and still counting!
2011-12: $14,391.01
2010-11: $15,135.50
2009-10: $13,605.12

... what a pleasure to expose our greater community to the Emerson Waldorf School and Waldorf education, many for the first time.

Events like the Holiday Faire bring future enrollment, which expands our parent and student community and, perhaps most importantly, brings to the larger community all the gifts that our students will share with the world.

We've already received 10 inquiries from families who attended the Faire who want to come for a group or personal tour! This is not an event that is created by just a few. It requires all families, all faculty, and all staff, everyone joining together to create this beautiful, magical, warm experience for our friends, family, and those who wish to be a part of our community.

What a beautiful day with such a generous outpouring of volunteerism from our parent body!



---
Thank You is Never Enough, but it is a Start!

---
Thank You to These Special Contributors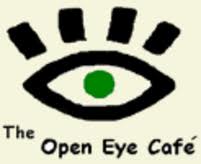 Rebecca Moore, EWS Kindergarten parent,
received a huge donation of free coffee from Open Eye Cafe owner, Scott Conary, for our Golden Goose Coffee Cafe and the Cool Beans Cafe in the High School Saturday. Amazing!!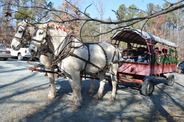 Leonard Bergey and Deborah Pearson-Moyers
brought the beautiful draft horses and decorated the carriage for Cinderella's Carriage Rides at an incredible rate. This event was a net profit of $634.00 for EWS!!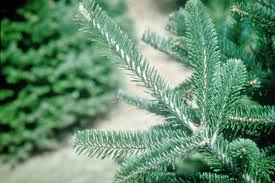 Jens and Erin Hoeg, EWS parents,
gave tremendous time and effort – from cutting trees in the mountains, unloading them solo in time for the Faire, to selling them at the Faire! Thank you so much for this incredible gift, Hoeg Family.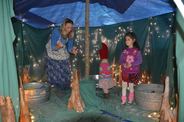 Triangle Home Nurseries created a beautiful Snow Queen's Winter Wonderland and Gnome Gem Mining Cave for our parents of toddlers and preschoolers. Included in this beautiful space was a cozy area for nursing mamas and a diaper-changing spot. This activity brought EWS $563.00! Thank you, Triangle Home Nurseries!
To the Holiday Faire Volunteers Who Went Way Beyond...

Our Clean-Up Sunday Angels
Rob Carter & Denis Armstrong-Carter, Nataliya & Anastasia Hulyayeva, and Rhonda Lanning...each of you came at a different moment when we thought we couldn't carry on. Bless You!!

Rebecca Foster
- Decorations, Set-Up, Clean-Up, Ticket Sales, flute playing, master hugger, and Signage. You are such a positive, warm, and loving person. What a joy to work with you! (
+Ann Stephenson
for her decoration support!!)
Robyne Borhanian
- Organization of All, Countless Emails, Set-Up, Clean-Up, putting out fires, and keeping your cool through it all. What would we do without your willingness to bring this together in the 11th hour?
Raelee Peirce
- (gotcha! adding this post-edit, raelee) Vision, Magic, Outreach, Organizing Volunteers, Countless Emails, Clean-Up, more than we will ever know, and the stack awaiting you on Monday. You rock, sister!

Shelley Riselvato
- Thanks for your beautiful vision and strategic planning! Without those first steps forward, where would we be?!

Carol Kubik
- Faculty consultant, wise sage of all Holiday Faires, setting the tone, and encouraging the spirit of magic! We love you!!
Annie Oberstar
- You are a queen, Annie. The most beautiful and delightful Enchantment Shoppe was created under your guidance, and we are humbled by your vision.
Peter Moyers
- Parking and All-Things-Wood as well as signs, joy, positive energy, and willingness to help even at the very end to pull a car from a ditch – you are awesome, Peter!
Anne Marie Masset
- Food Goddess! How did you manage to cook all 80 raw potatoes on short notice and make and serve all of that soup and chili without all of your tools? We will never know...but you did it and it was delicious. Thank you, dear Anne Marie. (
+Jim Mueller
you soup god, you – you stepped up in the 11th hour to help serve, and we won't forget it, good sir!)
Alyson Ramesh
- Vendor Coordinating and Set-Up and Follow-Up!! You squeezed them in and provided a delightful Vendor Village. Thank you, Alyson!

Claire Viadro
- Music Coordinator – we are so delighted with the music program you created. Your beautiful vision highlighted our school's talent, and our special bag piper guest sure created a festive atmosphere!
And to other parents, staff, students, board members, and faculty who put in many extra hours for all that was needed:Viorica Comaniciu
- Childcare on Friday night, Set-Up, Clean-Up
Tara Furze
- Shopping for food and cups and plastic ware AND unloading it! As well as your unwavering Cake Distribution & Finance Guruness.
Barbara Holloway
- Advertising, Publicity, Signage, Photography, Candle Dipping, and providing sanity in the final hours
Ian Ostrowski
- Griller of Sausages & Master of All Things Facilities!!!
Jason Child
- Offering the gift of your orchestra's music
Shannon O'Connor & Ben Trueblood
- You Rocked the Cafe!!!
Therisa Pienaar
- Cosco Shopping and helping with High School coordination and post-Faire moral support.
Strouse Campbell
- Manning Archery Solo from Noon til 5pm!
Shannon Wiley
- Rockin' Mad Hatter at the Cake Walk
Renee Schwartz
- Graphic Designer for program
Adriana Smith
- Thanks for Bringing Candle Dipping Back!
Brigitte Schubert
- Tables, tables, tables, and delivery!!
Shay Stifelman
- Molto Cool Cafe in High School!
Tim Dowdall
- Music Set-Up and Photography
Mark Hulbert, Charlie Viles, Merlin Walberg, Karen Durovich, Bill Sanford, Judy Grant, Shawn Sullivan, Parker Chesson, Joyce Felder
- Ticket Sales and Counting $$
And to the Class Parent Craft Reps...
Thank You for putting in countless hours. You brought your creativity and willingness to serve and the children's happy faces are a result!

Melissa Miller
1st Grade - Crafting Cheerleader for Enchantment Shoppe
Danielle Tanzer & Dana Nicholson

2nd Grade - Fish Pond
Adriana Smith
3rd Grade - Candle Dipping
Charlotte Schnetler
4th Grade - Bird Feeders
Susan Hart & Karla Boyce-Awai
5th Grade - Silk Dyeing & Campus Set-Up
Stacey Qandil
6th Grade - Candle Holders
Kelly Jones
7th Grade - Felt Balls
Anne Marie Masset
8th Grade - Jump Ropes
Cindy Day
High School Cafe
Thank You
:
This Song
is For You Dear Ones
Obviously, there are so many more parents of each class who gave of their time, resources, and love! Thanks to all!! We all did this together, and we will strive to streamline the organization of the Faire even more next year.
---
Ticket Totals

---
Sausages - 1515
Soup Kitchen - 1125
Enchantment Shoppe - 912
Candle Dipping - 844
Horse & Carriage - 834
Kids Cafe & Peppy Lemons - 834
Silk Dyeing - 737
Fish Pond - 623
Winter Wonderland & Gem Mining - 563
Cake Walk - 553
Jump Ropes - 527
Candle Holders - 430
3 Puppet Shows - 386
Felt Balls - 286
Bird Feeders - 279
Archery - 239
Pocket Lady - 117
Face Painting - 104
Chestnuts - 72

(Other totals were not available upon publishing)



---
Friday, December 7, 7-9pm

---
Anthroposophy in America











A Talk with Rick Spaulding
Rudolf Steiner called Emerson the forerunner of Anthroposophy in America. This talk will explore Transcendentalism and its implications for Waldorf education in the U.S. Please join us on Friday, December 7th from 7:00-9:00 p.m. in the Eurythmy room.
---
Monday, December 10, 7pm
---
Parents of Teens & Teens-to-Be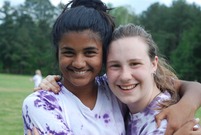 Join us for an informal learning and discussion group as we guide our children (and ourselves!) through these challenging and exciting years. Our next meeting will be Monday, December 10, at 7 pm in the Woodland Cottage.
Everyone is welcome to attend any meeting as we ask questions, learn from each other, and keep our sense of humor intact!
Consider the following before our next meeting:
What was something your parent(s) did during your own adolescence that you think was positive and effective, and what was something that you wish had been done differently?
We also took home (optional) reading on the teen brain. If you would like copies of the articles, please let Lauren know.
Questions? Lauren Nyland (lnyland@emersonwaldorf.org) or Leigh Sparacino (annefairleigh@gmail.com).
---
Wednesday, December 12th Holiday Bun Orders Are Due by 3pm!

---

Buns delivered on December 20th before the holiday break!

Last chance before the Winter Break to buy Tobi's Cinnamon Rolls for your holiday breakfasts with family and guests or to give as gifts.

You may order with forms available in the Main Office (see bread pan on black table) or online at http://ewsbunraiser.weebly.com/.

On Thursday, 20 December, pick up your bun orders near the Coffee Table, from 8:15-8:40 am or 3:00-3:25 pm (bring along your free coffee card!).
---
Mon-Wed, December 10-12, 3-3:30pm

---
Paws4Ever Supply Drive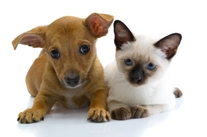 Paws4Ever is a guaranteed- adoption animal shelter and sanctuary that uses adoption, training, and education to improve the lives of cats and dogs. It is located in Mebane and is a non-profit organization.
This means it relies on donations to keep it a clean and happy place for the animals. In order to help this wonderful facility, a group of students from our High School is organizing a supply drive for Paws4Ever on
Monday, December 10th through Wednesday, December 12th
.
Collection times are between 3:00-3:30pm on each of those afternoons at the lower school circle and parking lots. Suggested donations:
Laundry soap, bleach, vinegar, floor cleaner, dishwasher soap, antibacterial hand soap, HP 950XL or HP 951 printer ink, large ceramic bowls, name brand kitten food, toilet paper, pine pellets, dry cat food
(preferably not commercial foods with lots of dyes), scoopable clay litter, removable string mop heads, spray nozzles for hoses, and 45 or 55 gallon trash bags.
Money is also a perfect donation and will gladly be accepted. Please, do your part to improve the lives of these animals this holiday season by donating. Watch for HS students collecting donations in the lower school parking lots next Monday, Tuesday, and Wednesday.
Emily Jolly
11th grade
---
Waldorf Holiday Shopping

---
Dragonfly on Campus Mondays 12-3pm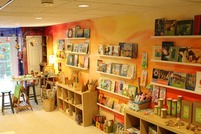 Holiday shopping is easier when the sweet items of our children's dreams can be purchased before afternoon pick-up in the Lower School.
Check Out Our Website
---
Reception for HS Alumni Dec 18

---
Home for the Holidays: Alumni Reception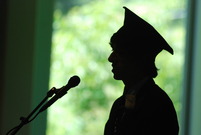 On Tuesday, December 18, from 2:00-5:00 pm the High School will be welcoming EWS HS alumni, families, teachers, and friends for a casual holiday reception. Community members are welcome to join us and reconnect with old friends, meet HS alumni, and celebrate as we welcome our former students home for the holidays. Brown Wing doors will open at 2:00 pm for light refreshments and social time. At 2:45 pm, alumni can join the High School for Closing Circle. The reception will continue till 5:00 pm in the Brown Wing and throughout the HS, as alumni visit their old haunts and see student art and video. All guests are welcome to attend all or part of the reception. Please share the word with alumni and former HS families you know!

Kathleen Jackson & Barbara Holloway


---
Alumni Story

---
Michaelmas in Ireland!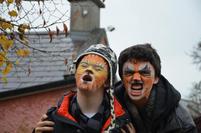 Alexander Wiley, EWS graduating class of 2011
, is volunteering for a full year at the Ballytobin Camphill in Callan, Co. Kilkenny, Ireland. Here is a beautiful picture of one of the students with whom he works who has down syndrome, as well as a couple of snippets of what life is like in Ireland from his perspective. Enjoy! – Kelley Wiley

"I celebrated Michaelmas here and it was fantastic! There was a dragon that roared to life, stole a princess away from the nobles, and a group of knights with hearts of fire came forth to go and slay the beast, ignoring a beggar on their way, got lost in the woods, came back and were told how they had failed. Then a group of iron-hearted knights came forth to take on the challenge, ignored the beggar who asked for help as well, and decided to lie to the noble lords and ladies by pretending to kill the dragon. However, when caught in the lie, those knights were also told they had failed. Then, the kitchen lads and lasses rose to the challenge and helped the beggar on their way. The beggar led them though the woods to the place were the horrible beast lay. An epic battle was fought after calling on the strength and sword of Saint Michael. The princess was saved, and we all participated in a feast of soup and breads and cakes. This was all done with song, by the way. I was a part of the knights of the iron heart, and I made the banners, attached to chains and we all sang, (with lyrics that fit the script of the musical), "We Will Rock You." Other groups also had to make up their own songs. It was loads of fun and everyone did very well.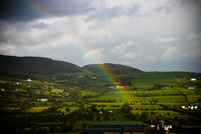 Oh, and a note about Ireland: This is a land of rainbows. Rainbows have a special place in my heart because no matter how many people you have staring at one, every single person is going to see their own rainbow. If you don't know the science, retake 4th, 5th, or 6th grade or listen to what I am about to explain: Rainbows are made by water in the air (such as rain, which Ireland is famous for) and sunlight being refracted through it. When the light gets split by the billions upon billions of water particles, the colors that make up light are shown. White light of the sun is made up by all the colors of the rainbow, and you get to see light in its parts for a change. However, you can only see your own rainbow, because you aren't going to be in the exact same place as someone else is. So that rainbow that is painted in the sky that you see is made just for you, and it is yours to see for as long as the sun shines there and the water stays. A moment made for you."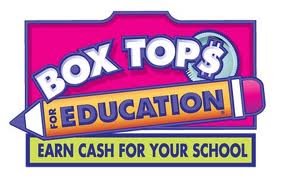 Box Tops for Education
Save your "Box Tops for Education" and raise funds for EWS!
Deposit your box tops in the green box with the gold bow in the Main Office. Many products have these magenta coupons on their labels.
---
Free to Good Home

---
Free to anyone who'll come and get it: Sturdy wooden play structure with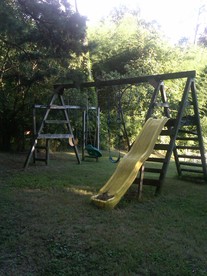 slide, swing set, overhand bars. It's been awhile since our kids were this size--time for their awesome backyard play structure to move on to a new home. If you'll come pick it up, it's all yours.
Contact Kathleen Jackson at kathleenjax@gmail.com
---
Services
---
Gnomes, Fairies, Chickens and Bees, Oh My!
by ehkarp - This Waldorf parent, from Atlanta, has painted some lovely portraits of Gnomes, Fairies, and other creatures. They make the perfect stocking stuffer or ornament.
All are available at
etsy.com/shop/Aisforpainting
. Follow me on FB at
facebook.com/AIsForPainting
for the latest postings. Free shipping for the Waldorf community coupon code WALDORFEMER.
Get the best beef and pork delivered to you at EWS, by the cut! Grassfed beef and pastured pork raised humanely with no antibiotics, added hormones, pesticides or herbicides. Call or email for pricelists: farmer@MinkaFarm.com or 919-304-4999. Delivering to EWS every Tuesday that school is in session.


Support a Waldorf family and enjoy beautiful hair at the same time!
Put your hair in the hands of artist-hairdresser Nancy Moore. She is good with hair of every kind, yes even curly. Call for appointment; you may have to leave a message, 919 260-2495. Or make your appointment online, www.mandrewdesign.com 4905 Pine Cone Drive Durham, NC 27707


Looking for a new or used Waldorf related item... toy, musical instrument, book? Visit The Waldorf Exchange at
www.thewaldorfexchange.com
.
Are you living with questions about your life, your relationships, your parenting, your future?
Lynn Jericho offers compassionate listening and creative guidance - a Waldorf wisdom for adult needs and challenges. Call Lynn (919-240-4094) or learn more
www.imagineself.com/about-Lynn/
If only our organic whole foods provided all of the daily nutrients we need.
90% of Americans are lacking nutrients in their diets. Now, moms can meet their bone and breast health needs and boost immune support and energy for the price of a daily latte. Shaklee's Vitalizer will establish your optimal nutritional foundation. You know that not all vitamins are created equal -
Click Here
to learn about the Shaklee Difference. (Joanne Estes is a grandmother of 4 EWS children, living prescription-free at almost age 70 and feeling great).
Are you looking for a New or Slightly Used Car?
Great Deals for EWS Parents, Friends & Faculty. Call David Rabius, Proud EWS Parent at 919-408-9633 Johnson Lexus @ SouthPoint- 2013 New Lexus Line Up..Certified Pre-Owned Lexus and a wide range of slightly used cars to meet your budget.
(David Rabius)
Create a space that aligns with your dreams!
EWS First Grade teacher, Shannon Dawn O'Connor happily uses her "super-power" to organize, lazure, simplify or re-create your home or office so that your environment supports what really matters to you. Shannon received a BFA from Parsons School of Design and studied the Environment and Its Effects on Psychology through Lesley College and has been happily beautifying the world ever since. For free estimates, work samples, or references contact Shannon Dawn @ 919.259.5252 and watch your world transform as it grows brighter and clearer around you!
"She's got the midas-touch" - Tyler G.
"Everything she lays her hands on turns golden"- Charlotte S.
"Shannon purely sparkles, and your home will too" - Megan W.

DIVINEROSE FACIALS

Offering illuminating and renewing Dr. Hauschka facial treatments. Cori Roth, NC Licensed/Holistic Esthetician and Dr. Hauschka retailer. Please visit
Divinerose.com
for more info.
New Medical Practice
We are pleased to announce our practice "Integrative Medical" at Haven Medical Clinic on 121 S Estes Dr, Suite 205 D, Chapel Hill 27514. For appointments, you may contact us directly:
Rula Freiji 919-525-5626 General Pediatrics & Pediatric Infectious Disease Consults
Dani Mouawad 919-525-5625 General Pediatrics & Integrative Medicine.
– Rula and Dani Freiji-Mouawad
---
Realtors/Housing

---
Our house is for sale and we want to spread the word around as much as possible so that people will come take a look.
We live in an older established neighborhood (started in the 70s) just minutes from three of the Eno River parks and just over the line from Orange County. It has a great fenced back yard and over 13 different kinds of hardwood trees It sits on a corner lot, and best of all has not only a double garage that connects to the house but also a finished wired separate garage that is great for storage, a workshop and other wonderful possibilities.
Click Here for the Link
Buying a home? Selling a home? Investing in real estate?
HEAD, HEART and 20+ years of HANDS-ON EXPERIENCE giving caring advice and guidance to hundreds of happy home buyers and sellers – let me help you with all of your Real Estate needs!
Judy Weinstock, REALTOR, EWS Alumni parent. Joyfully donating to EWS with every sale. Phone 919-951-1800.
www.seejudy.com
.
Waldorf families are unique and special.
You need a realtor who is unique and special too. Lynn Hayes has been helping Waldorf families for over 25 years, offering caring and sensitive service while supporting Waldorf education in our community. For MLS searches, community information and lots more visit
www.lynnhayes.com
or call Lynn at 919-968-9989.
---
Advertising Changes for the Emersonian
We accept small classified-type advertisements. Each submission to the Classifieds should be no more than 6 lines of text, which is approximately 60 words. Each submission costs $5.00. Payment for Community Bulletin Board Submissions should be made by Friday of the publication week. No charge for advertisements of free events or nonprofit organizations. Submit ads to: emersonian@emersonwaldorf.org.

General Policy for the Bulletin
No political or religious advertisements. No competitive program advertisements. No fundraisers. The editors will decide the placement of advertisements. Submissions may be edited for content and length. The Emerson Waldorf School retains the right to choose not to print an advertisement.

Public announcements and services offered in the Emersonian or other circulars produced by Emerson Waldorf School are paid advertisements and do not necessarily reflect the views and opinions of Emerson Waldorf School or its employees.
---
---
This Week

---
Wed, Dec 5
8th Grade High School Visits

Eurythmy for Parents and Friends 8:30 am - 10:00 am

Campus Tour - Pre-K to 1st Grade 1:30 pm - 2:30 pm

Thurs, Dec 6
8th Grade High School Visits

St. Nicholas

8th Grade Field Trip to Nasher Museum of the Arts
11:00 am - 3:00 pm

4th grade- String Performance in the Eurythmy Room 1:25 pm

Middle School Jazz Band (Gr. 6-8) 3:30 pm - 4:25 pm

High School Jazz Band (Gr. 9-12) 4:30 pm - 5:30 pm

11th Grade Parent Evening 7:00 pm - 8:30 pm

Fri, Dec 7
8th Grade HS Visits

HS Basketball @ HOME vs. Pace BOYS at 4:00 Girls at 5:15

Spiral of Light

Tea With Steve 8:30 am - 9:30 am

Girls MS Basketball @ Gorman 4:00 pm

Boys MS Basketball @ Gorman 5:00 pm

Anthroposophy in America, Rick Spaulding, Eurythmy Room 7:00 pm - 9:00 pm

Sun, Dec 9
1st Day CHANUKAH

Piedmont Youth Orchestra in the Brown Wing 3:00 pm - 6:00 pm

Mon, Dec 10 CHANUKAH

PAWS 4EVER
SUPPLY DRIVE 3-3:30pm

8th Grade High School Visits

Girls MS Basketball @ HOME vs. Durham Academy 3:45 pm

Boys MS Basketball @ HOME vs. Durham Academy 4:45 pm

Boys HS Basketball @ Kestrel 5:30 pm

Teen Discussion Group in the Woodland Cottage 7:00 pm - 8:30 pm

Tues, Dec 11 CHANUKAH

PAWS 4EVER
SUPPLY DRIVE 3-3:30pm

High School Faculty Meeting 3:30 pm - 5:00 pm

Ultimate Frisbee at Triangle Day 4:00 pm

2nd Grade Parent Evening 7:00 pm - 8:30 pm

Wed, Dec 12 CHANUKAH

PAWS 4EVER
SUPPLY DRIVE 3-3:30pm

Campus Tour - Visit Grades 2, 4, 6, & HS 8:30 am - 10:30 am

Eurythmy for Parents and Friends 8:30 am - 10:00 am

Committee Meetings 3:30 - 4:30 pm

HS Basketball @ So. Wake 4:00 pm

PO Meeting 7:00 - 9:00 pm








---
School Staff

---
919.967.1858

Steve Bennett x 11
Director of Administration

Tara Furze x 12
Finance Director

Barbara Holloway
Marketing Director

Ian Ostrowski x29
Facilities Manager

Raelee Peirce x14
Admissions Director

Therisa Pienaar x20
High School Coordinator

Kelley Wiley x13
Communications Director


---
School Hours

---
N/K 8:30am-12:30pm
1st-5th 8:30am-3:15pm
6th-8th 8:15am-3:15pm
HS 8:10am-3:15pm

Aftercare N/K until 3pm
Aftercare 1st + until 6pm

Office Hours 8am-4pm


---
Don't Forget!

---
Tuesday Markets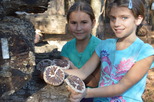 Tuesday Markets run from 8:00 - 8:45 am for a few more weeks - until the veggies get too cold
---