---
Holiday Faire Sign-Up, Please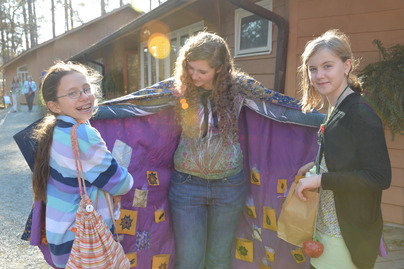 Holiday Faire Still Needs YOU to Help!
We've had some decent numbers of signups already for the Faire on 11/23, especially in the lower grades, so kudos to you. C'mon, Middle School and High School families! You have a great deal of ability, so please do your part to help raise money for EWS, and to make the Faire a welcoming, fun place for all our visitors.
Here's a link to ALL the volunteer signups available, for each grade, and for general help like serving food in the Harvest Café, or serving coffee or peppy lemons, etc. :
Holiday_Faire_Volunteer Signups
Orange could be YOUR power color this fall: wear a safety vest and be a parking greeter!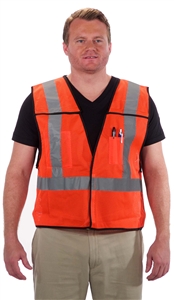 We still need help in many areas of the Faire that are not held by one grade, most especially parking greeter. This is an important and pretty easy job – you stand near the intersection of Millhouse and Eubanks Rd, in your aforementioned Orange Safety Vest ™, and hand out maps to guide visitors to the Eubanks Park and Ride Lot nearby. This keeps folks from getting confused as to where to go. Bonus: you will likely not be shot during hunting season. Sign up now at:
Holiday Faire Parking Signups
Won't be at the Faire? Or will be there, but can't work a shift?
If you cannot attend the Faire on 11/23, or are single-parenting-it that day and just can't work a shift, that's ok. You can help by:
Baking a cake for the cake walk. Did you know that each cake can get $15-$30 for EWS? Make it ahead, freeze in layers, then frost it while slightly frozen on the day of cake-turn-in, Friday, Nov. 22:
Cake Signups

Setting up on Friday, 11/22. Each class has a signup time to help:
Set-up Signups

Or just email your Holiday Faire class parent and ask how to help, or email me at janetsbuehler@gmail.com and we will find a small way for you to do your part!
New Park & Ride Shuttle for Holiday Faire
Please remember that this year, we will NOT be parking on campus or on the sides of the road. This is for the safety and convenience of all. This also means that you will need to allow a little EXTRA TIME to get to school in time to work your Holiday Faire shift, see that particular puppet show, or whatever. If you have special needs (handicapped access for grandparents, equipment that must be delivered on site on Saturday morning of the Faire, etc.) please contact me ASAP at
janetsbuehler@gmail.com
and we'll make arrangements, no problem. Many thanks to Chris Lamb and Bonnie Cady who will be bus drivers!
EWS Bunraiser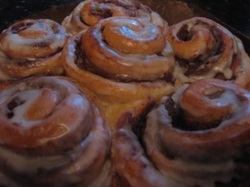 Looking for a scrumptious, easy breakfast for your family and holiday guests during this busy season?
Cinnamon rolls from Tobi's Bakery will be delivered to the school on Monday, November 25 to the families who place orders.
Order forms can be found in the Main Office, or order online
here
. Orders are due by 3:00 pm on Wednesday, November 20.
A round of 6 cinnamon rolls costs $12, precisely what local markets charge, and all proceeds go to programs that directly support our incredible school and our wonderful children.
Tobi is a former parent and Board member and sells her baked goods at local Farmer's Markets. The cinnamon rounds travel and freeze well, so stock up for the upcoming holidays!
Did You Know?

The little gnomes are giving us a clue…What are they are referring to?
What is a Book?
by Lora Duneta

A book is pages, pictures and words
A book is animals, people and birds
A book is stories of queens and kings
Poems and songs- so many things!
Curled in a corner where I can hide
With a book I can journey far and wide
Though it's only paper from end to end
A book is a very special friend.

Dragonfly On Campus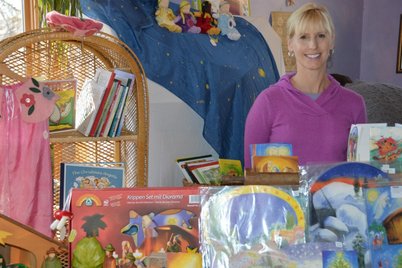 Dragonfly will be offering their beautiful toys and crafts at The Cottage on Fridays from 12-4. Make sure to stop by and stock up on your Waldorf arts and craft supplies, birthday and holiday gifts, books, and more!
The PO Page...

---
Saturday, November 9, from 9 am-3 pm. Plant bulbs, spread mulch, and help ready our school for Holiday Faire and the winter's rest. The Gazebo will be our headquarters; lunch will be provided. These tasks are wonderful to share with children, so come on out for a day of work and fellowship.

Wednesday, November 13, 8:30-9:30 am. Morning PO Meeting in the Music Room. Snag a cup of coffee or tea from the coffee table, and head on up to the Music Room for the November meeting.



Waldorf 101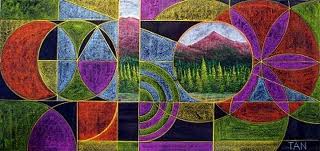 Waldorf 101 continues this Wednesday from 6:30 to 8:00 pm in the 6th grade classroom.


If you missed the first class don't despair! Feel free to join us this week and learn with veteran teacher Ingeborg Boesch.
Last week we had a brief overview of how children develop and change on many levels through the years. Ingeborg also gave us a quick glimpse into how the curriculum meets the children's needs at each age.
This week will be a chance to explore the curriculum in more depth and to ask any questions you might have. We'd love to have you come be part of the discussion.
Please contact Renee Militante at
rriggincmt@yahoo.com
with any questions or to register.

---
Halloween Magic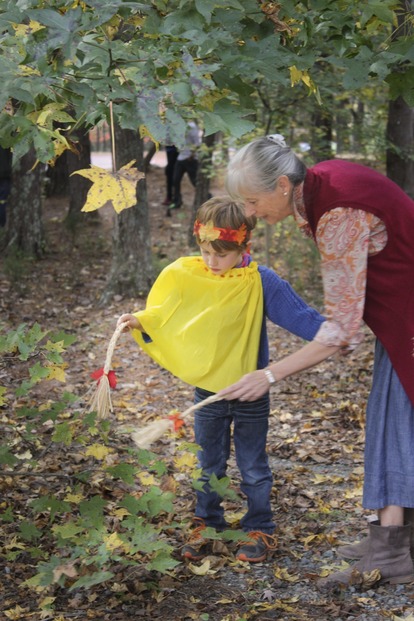 Fall in the Kindergarten is a celebration of the beautiful changes occurring outside our windows. We sing Jack -o-Lantern songs and enjoy the season. The children also love helping to carve the class pumpkin and toasting the seeds. On Halloween they dress in capes of red, gold and orange - the colors of Autumn. On their heads are crowns adorned with leaves and they carry a special wand. The children take a walk dressed as leaf fairies and touch the trees to help change the color to Fall beauty. So if you get a chance take a walk by the Kindergarten and fairy meadow and you will see how beautiful the foliage has become. It is all the work of the leaf fairies and their special helpers.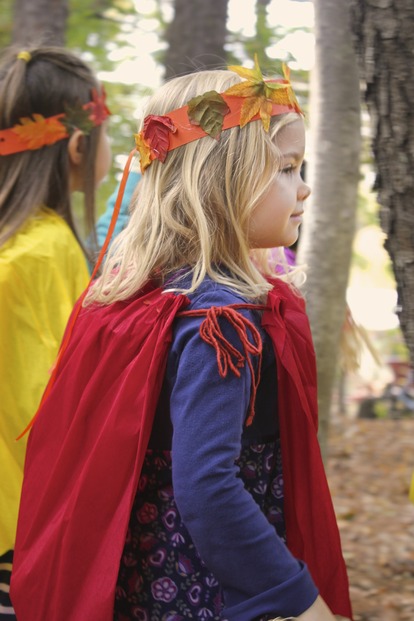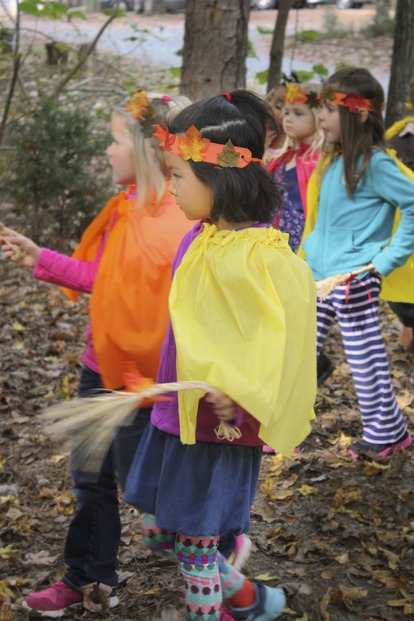 For More EC "Leaf Changing" Magic Visit
Our Facebook Pages

---
Diwali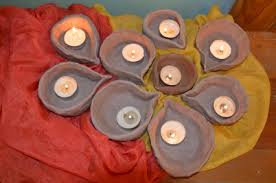 As days grow colder and darker and the outside light grows dimmer, we feel the urge to celebrate the light inside each one of us. On Friday, November 15th, the 5th grade students will celebrate Diwali, the Hindu Festival of Lights, reflecting their history curriculum of ancient civilizations. They will share with their families the story of Rama and a few Hindu chants. They will decorate the Brown Wing with drawings imitating the Rangoli designs, which are geometric decorations drawn with colored rice flour and floral petals on the grounds at home entrances.

Please, join them, if you like.
Schedule:
5:15 pm - Story Telling/Acting in the Brown Wing
6:00 pm - Potluck – Bring an Indian meal to share and your own plates and utensils
Diwali is one of the most important festivals celebrated in India. It is celebrated on the darkest night of the year. All over India, homes are decorated with lights and earthenware lamps filled with oil. The name "Diwali" is from the Sanskrit "deepavali" which means "row of lamps." Oil lamps are lit in every house to banish the dark and welcome in good luck and good fortune. Diwali is dedicated to Saraswati, the goddess of knowledge, music and creative arts – knowledge and creativity as the ultimate wealth, for it cannot be stolen from you. It is also the ultimate strength, for it often defeats evil forces.
Diwali is also a celebration of the victory of good over evil, which is expressed through different stories in different parts of India, and marks an important date in the Indian calendar, as the North Indian kingdom of Ayodhya celebrates this as the last day of Lord Rama's long exile of fourteen years. As the citizens of Ayodhya eagerly awaited their beloved prince's return, they lit thousands of lamps to guide his flying chariot to their city. The darkest night of the year gave way to a glorious morning as Rama returned with his wife and brothers to his ancestral kingdom of Ayodhya. - Viorica Comaniciu
Seventh Grade Cup Song

El Dia de los Muertos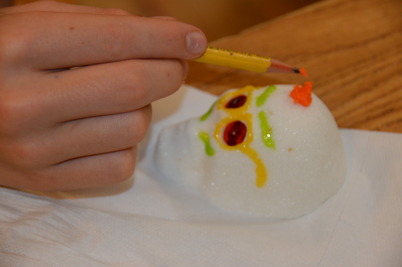 The Mexican holiday of El Dia de los Muertos (the Day of the Dead) has a colorful history that dates back to Aztec rituals. Blending Aztec and Catholic beliefs and traditions after the Spanish Conquest of Mexico, it is now celebrated on All Saints and All Souls' Days, on November 1 and 2. Depending on the village, there are a variety of ways to celebrate, ranging from private family vigils in the cemeteries, to parades of marigold-covered boats along canals. In 5th grade, the students learned several songs and stories relating to the holiday and created an altar in honor of deceased family members.
After pumpkin-carving, some 8th graders baked Calabaza en Tacha, a traditional candied pumpkin recipe, while others created Papel Picado (tissue paper designs). On Friday, the 5th graders arrived to see the Papel Picado banner decorating their altar, and sampled the candied pumpkin that the 8th grade had prepared for them!
In the meantime, 7th graders decorated sugar skulls during their Spanish lesson, (generously donated by former EWS mom Alyson Ramesh!) and the 5th graders paraded through later to marvel at the creative, intricate, and often humorous designs.
- Kim D'Angelo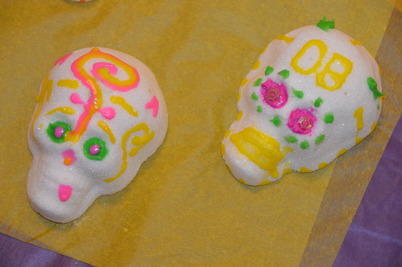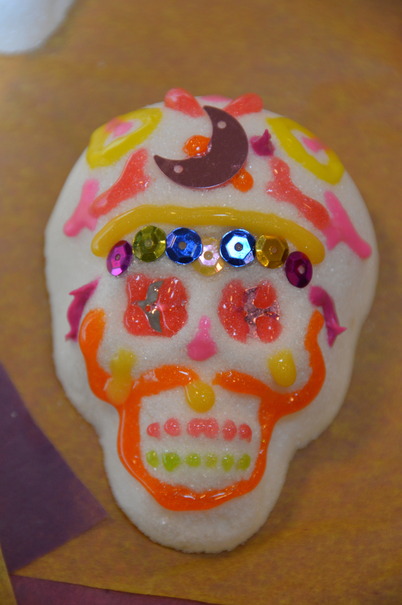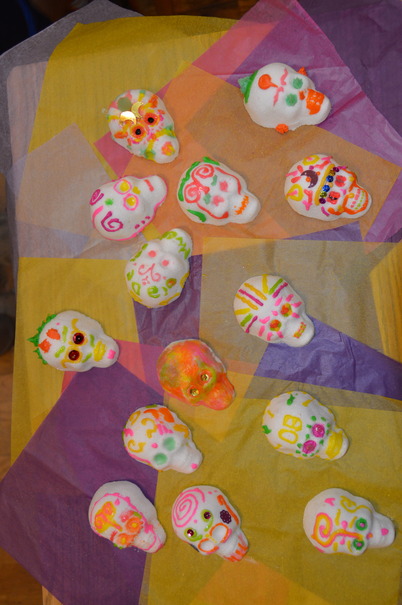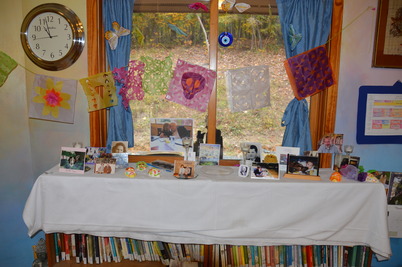 Jack-O-Lantern's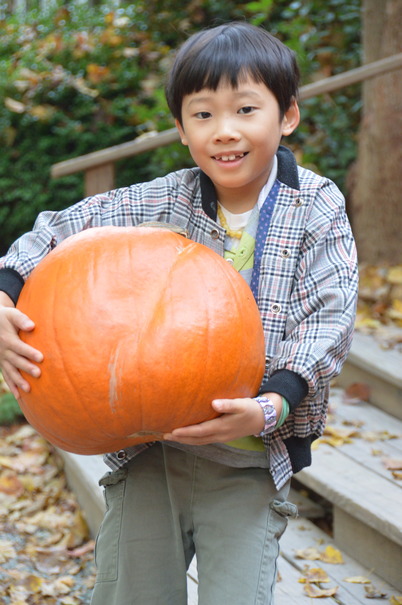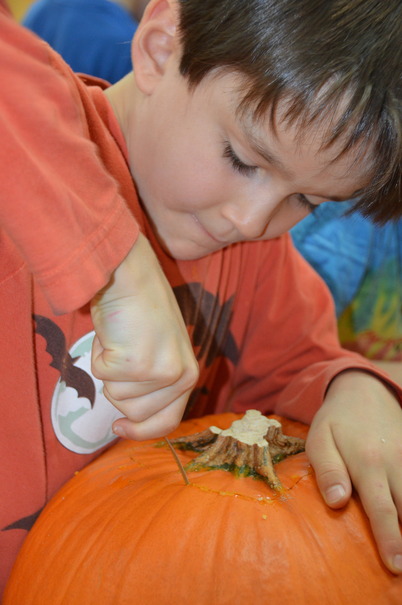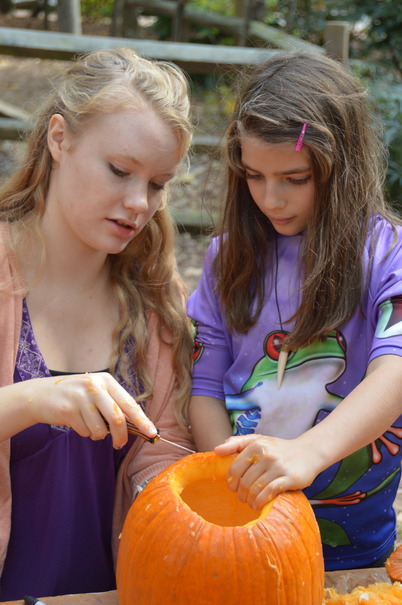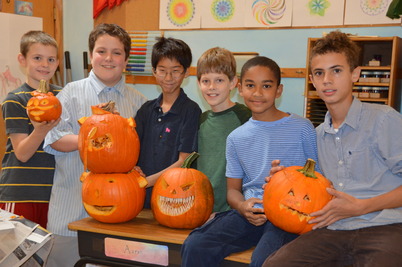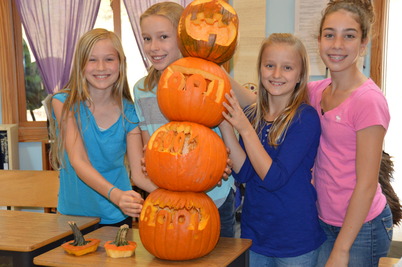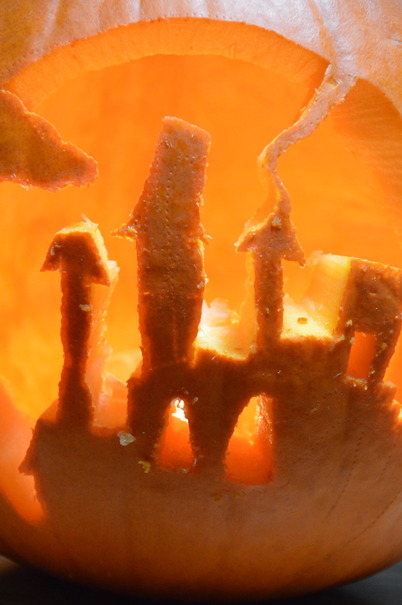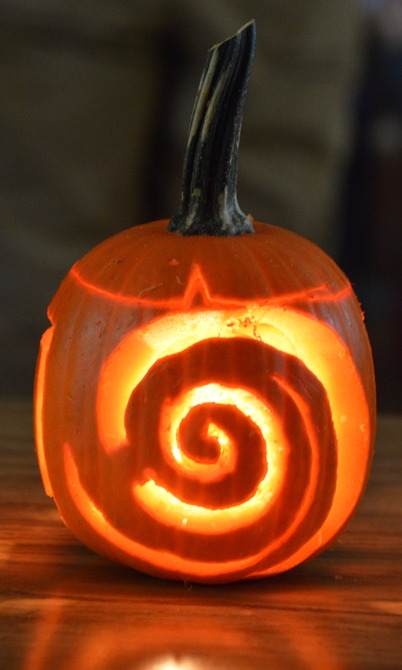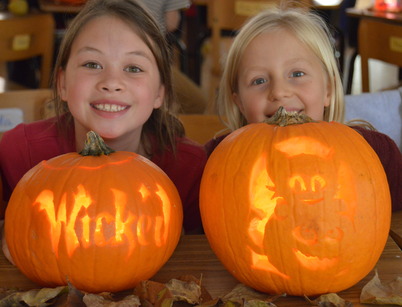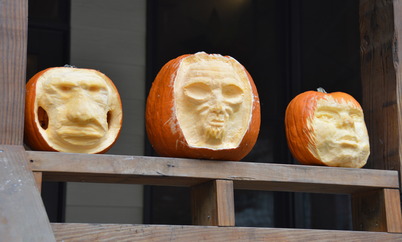 On Halloween, grades 1-12 gathered together to carve pumpkins. Beautiful community, creativity, and fun for all! Check out more photos on
EWS Facebook
. LIKE US to automatically see new event photos!

---
9th Grade Martinmas Coat Drive


For Martinmas, the 9th Grade is organizing a Coat Drive to benefit the Urban Ministries of Durham. All coats will be donated to this organization to help the less fortunate for this winter and for many more to come. The collection is going to happen during the week of Martinmas, Wed-Fri November 13th-15th, at drop-off and pick-up. We ask you to look through your closets and attics for any coats you might be willing to spare to help the homeless.
Gabriella LaLumia, for the 9th Grade

---
Simplicity Parenting and Waldorf Education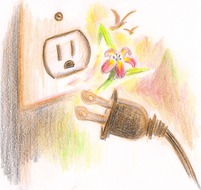 An interview with KIM JOHN PAYNE
How can we support students, teachers, and parents with the social forms that we have in schools?
Schools need to set up structures in the school to deal with social health and inclusion. We need to be conscious when we set up these structures. It's a new thing for teachers to train in how to create a healthy social environment in the adult community.
Our teacher training institutions find it difficult to attract students in a life space to undertake two or three years full time training as it was in the past. The time in training has reduced. Instead they rely partly on skills of the mentors of these young teachers once they are in the field. This seems like a pretty sound strategy, as we do have many very skillful teachers well-versed in guiding a new teacher through the curriculum.
What we are yet fully to wake up to is that there are far fewer mentors who have made a specific focus of the social, emotional and behavioral aspects of our daily life with the children or how to work with the increasing interest of parents in the their child's life at school. It stands to reason that while our students are training they need a significantly great focus on the social life of the child so they can work with confidence in this area once in the classroom. As one teacher trainee said to me recently, "We get so much wonderful curriculum preparation on our training. It was all curriculum, curriculum, curriculum but after our first practicum we realized to survive as a teacher it was going to be all social, social, social and not just with the children, but with colleagues and in particular with the parents"
You could say that for us as modern human beings, the only thing that we have in common is that we have nothing in common. The social forms that supported us in the past have died away and we are left with this "existential after-image", which can leave us feeling lonely and disoriented. By creating new and commonly agreed upon social forms we can move ahead. The conversation to get there helps us move up to the transcendent or ethical individual. How we handle individualism is a key question for all of us. The challenge for a teacher now is how to be a creative human being and how to stay true to oneself, while welcoming the process that leads us towards commonly agreed social forms...
Read the rest of "Simplicity Parenting and Waldorf Education" here.

A Moment of Pause

---
Tea Wisdom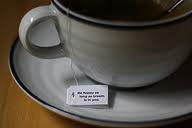 When ego is lost,
Limit is lost.
You become
Infinite,
Kind,
Beautiful.
- Yogi Tea

---
EVENTS AND CLASSES
HOLIDAY WITH THE HORSES
; On Saturday, November 30, come ride on a decorated horse, sip on hot cider, eat home-baked holiday treats and join in the fun for the THIRD annual Blue Skies of Mapleview Scholarship fundraiser. Pre-book a one hour riding session and all the above treats are included for the rider. We'll have our fabulous horses decorated for all the winter holidays! Each session is pre-booked at $40/rider and ALL the proceeds help disadvantaged children come to summer horse camp. We hold this fundraiser the Saturday after Thanksgiving so if relatives are in town book ALL your family for a fun morning or afternoon. We have had three generations of family ride together!! Help us help others have a enriching equine summer camp experience.
Blue Skies of Mapleview is the home of Deborah Pearson-Moyers and Peter Moyers, the woodworking teacher. To book your spots e-mail
dpmblueskies@hotmail.com
or 919-933-1444.
Photos from previous years at
blueskiesmapleview.us
.
Circle of the Seasons:
A series of four creative workshops for adults
We will enter into the breathing process of the soul of the earth as expressed in the circle of the seasons, beginning in autumn, with pastels, nature observation, singing, creative writing and watercolor painting (wet-on-wet).
Saturday, November 9th
(Followed by workshops in January, March & May)
1:30-4:30 p.m.
At the Emerson Waldorf High School – Richards Room
Cost: $25 plus $5 for supplies, per session.

Martha Kelder, a former Waldorf kindergarten teacher, is an artist and arts facilitator who studied at Emerson College and Tobias School of Art.
Registration: Peg Carmody 919-537-8142 or
mcarmody@nc.rr.com
only 12 slots available so pre-registration is needed.
Cosmic Dance Classes
: The Third Sunday of the Month (Oct. 20, Nov. 17, and Dec 15) 1-3 pm in the Eurythmy Room. This movement path is one of self-healing through Re-union. We utilize the Eurythmy gestures and forms given by Rudolf Steiner as a way of manifesting both the strength and beauty of the Divine Feminine. All are welcome! Donations please : )
Kelly Calegar, The Sophia School of Movement
www.SophiaSchoolOfMovement.Org
SERVICES
Dragonfly Natural Toy and Craft Store:
A Waldorf-inspired toy, craft, and school supply store run by two moms at Emerson Waldorf School. We'll be set up at the cottage on Fridays from 12-4 until Thanksgiving Break so come on by. Also check us out at the Holiday Faire on November 23rd. We carry beautiful items from many companies including Mercurius, Buntspecht, Ostheimer, Sarah Silks, Camden Rose and much more. For more information call Charlotte @ 919-265-9734.

Balance your Life with Ayurveda~ Health & Lifestyle Consultations and Restorative Bodywork.
The focus of this consultation gives you direction in creating optimal health by making simple alterations in daily eating & lifestyle habits which are specific to your unique constitution. Restorative Bodywork nourishes the nervous system as well as the body with Hot Stones, Warm Oil & Steam Therapy. A wonderful gift for loved ones, friends, colleagues, or yourself! Gift Certificates for special occasions or just giving thanks. Offered in my lovely home office just minutes from Emerson. For monthly specials & more details:
www.stoneandspa.com
or call Shoshanna at 919-309-9989.
Nanny
: I am a mother of a 10-month-old daughter and I am looking for work as a nanny. I am inspired by Waldorf education. When caring for children I value, among other activities, daily rhythm, exploring nature, singing songs, reading stories, making up stories and quiet time. I can provide references from EWS parents. Please email me at
jacobs.lizzie@gmail.com
Why not have an artist do your hair?
Nancy Moore has been an artist/hairdresser for over 20 years, and an EWS mom for 16. Now located at the beautiful FLOW Salon, 587 Old Farrington Road, Chapel Hill NC 27517 For appointment call or text (919)260-2495 ...or book yourself online at
www.nancyannmoore.com
. Let the good hair days begin!
Shaklee Enfuselle Nutrition Therapy Skin Care
is formulated with our exclusive Vital Repair+® to block ALL those skin-damaging free radical reactions and encourages you to have healthy cells so you see smooth, luminous skin. 100% money-back guarantee. Check it out
here
or call Joanne Estes 919-929-4534 ~ All Waldorf customers receive 10% off from me. Have questions about Shaklee? Visit me any Tuesday morning at the Lower School coffee table during my volunteer shift until 8:30 am!
Dr. Hauschka Facials/Retailer:
CORI ROTH/Licensed, Certified, Holistic Esthetician. Revive your body, mind, and senses with a nourishing and soothing Divinerose Facial. Offered in an unhurried and retreat-like setting. 15% off first-time client. Visit
www.divinerose.com
for more info.

KatieBeth's Learning Garden!
We are a retail store and community class space located at 400 S. Elliott Road in the Galleria Shopping Center. Here, you can find the supplies you need for a Waldorf-friendly home, including imaginative natural toys from Camden Rose, Ralph Evans, and Sarah's Silk, fiber arts kits and supplies from Harrisville, beeswax candles, stones, and supplies from Mercurius. We sell new and consigned educational materials and games for your whole family.
www.katiebethsgarden.com

REALTORS/HOUSING
Buying a home? Selling a home? Investing in real estate? HEAD, HEART and 20+ years of HANDS-ON EXPERIENCE giving caring advice and guidance to hundreds of happy home buyers and sellers – let me help you with all of your Real Estate needs! Judy Weinstock, REALTOR, EWS Alumni parent. Joyfully donating to EWS with every sale. Phone 919.951.1800.
www.seejudy.com
.

Advertising Changes for the Emersonian
We accept small classified-type advertisements. Each submission to the Classifieds should be no more than 6 lines of text, which is approximately 60 words. The costs are as follows: $5.00/week; $10.00/month or $100.00/school year (10 months). Payment for Community Bulletin Board Submissions should be made by the Friday before the publication week (we publish every Wednesday school is in session.) No charge for advertisements of free events or non-profit organizations. Submit ads to:
emersonian@emersonwaldorf.org
.

General Policy for the Bulletin
No political or religious advertisements. No competitive program advertisements. No outside fundraisers. The editors will decide the placement of advertisements. Submissions may be edited for content and length. The Emerson Waldorf School retains the right to choose not to print an advertisement.
Public announcements and services offered in the Emersonian or other circulars produced by Emerson Waldorf School are paid advertisements and do not necessarily reflect the views and opinions of Emerson Waldorf School or its employees.
---
E-Newsletter Design and Graphics

Emersonian Publishing Team:
Kelley Wiley - Content, layout, correspondence, advertising
Raelee Peirce - Header design, layout
Barbara Holloway - Photo & creative content, editing
Kathleen Jackson - Editing