---
Celebrating Michaelmas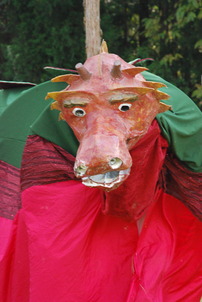 Observing seasonal turning points is one way our school establishes a yearly rhythm for the children. This also serves to remind us of the universal connection to the natural world we all share, even with our diverse cultural and spiritual traditions. All over the world, the festivals of the year are celebrated as conscious nourishment for the soul. At the Emerson Waldorf School we strive to celebrate the festivals with beauty and reverence, evoking the mood of each event through art, music, stories, poems, and songs. Each year the rich Waldorf curriculum offers opportunities for children to celebrate different festivals from around the world. Michaelmas, the feast of Saint Michael, is a festival that we celebrate yearly as a school community.
Through the ages, Saint Michael has been a companion to humankind. He is known biblically as "the Countenance of God" and the guardian of the Hebrew nation; it is said that he appeared to Mohammed during his life. In Eastern Europe and England, Saint George is known as the representation of Saint Michael here on Earth.
As warm summer fades into the chill of autumn, the earth exchanges the blazing rays of the sun for leaves aglow. Darkness and coldness draw nigh, and we retreat to our hearths, to our vibrant inner life. We wear protective clothing to guard against the cold, as though nature itself has become hostile. If we experience the seasons in nature so clearly, might we imagine also the seasons of the soul, or inner life, of each living human being? Within ourselves we also experience light and warmth, darkness and cold with all of the accompanying ranges of color and degrees of temperature. These qualities might be considered "moods of the soul." We can think of the light/warmth quality as open, expansive, and sympathetic and the cold/darkness as hardening, contractive, and antipathetic, much like the difference between courage and fear. One could imagine this season as an inner re-enactment of the battle of Saint Michael and the dragon, or "facing the darkness." Most of us have a sense of "the dragon" in our times. Symbolically, for each of us, it tends to represent our worst possible fear, real or imagined. It lives within each of us.
During this season, we are called to look at this image of the dragon – alone. Saint George, with the help of the Archangel Michael, tames the dragon and leads it towards the service of humankind. The living experience of the ancient legend can be summarized as pure, simple, honest belief in the triumph of The Good.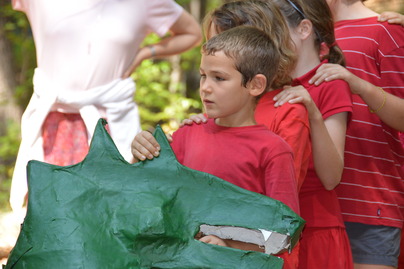 ---
Cross Country & Soccer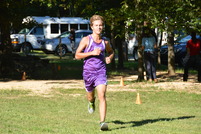 Upcoming cross country & soccer schedules for the next two weeks:
(MS – Middle School; HS – High School; XC – Cross Country)
Wednesday Sept 4
MS/HS XC practice after school until 5pm – meet at Lower School basketball court
HS Soccer practice after school until 5pm – meet on the field
Thursday Sept 5
No practices or games
Friday Sept 6
MS/HS XC practice after school until 5pm – meet at Lower School basketball court
HS Soccer game @ HOME vs Camelot 4pm
Monday Sept 9
MS/HS XC practice after school until 5pm – meet at Lower School basketball court
HS Soccer practice after school until 5pm – meet on the field
Tuesday Sept 10
MS XC @ HOME vs Trinity & Friends 3:30pm walk, 4pm start
HS XC practice after school until 5pm – meet at Lower School basketball court
HS Soccer practice after school until 5pm – meet on the field
Wednesday Sept 11
MS/HS XC practice after school until 5pm – meet Lower School basketball court
HS Soccer practice after school until 5pm – meet on the field
Thursday Sept 12
HS XC @ Friends School
Monday Sept 16
MS XC practice after school until 5pm – meet Lower School basketball court
HS XC @ Harris Lake vs Southern Wake 4pm walk, 4:30pm start
HS Soccer @ Southern Wake vs Southern Wake 4:30pm
Tuesday Sept 17
HS XC practice after school until 5pm – meet lower school basketball court
HS Soccer practice after school until 5pm – meet on the field
Wednesday Sept 18
MS XC @ Duke 3:30pm walk, 4pm start
HS XC practice after school until 5pm – meet at Lower School basketball court
HS Soccer @ Fletcher Academy vs Fletcher 4:30pm
Important announcement:
Please remember to check the online calendar
www.calendarwiz.com/emersonwaldorf
and use the drop-down menu for EWS Extracurricular Activities. If you click on a game you can get the address.
Go Gnomes!
New Officers for Parent Organization!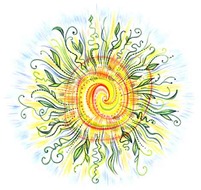 The Parent Organization of EWS had a lively and productive first meeting of the year! Thank you to all who came and participated in sharing your interests and ideas for the PO. We're off to a great start.
Elections were held and the new PO officers for the 2013-14 school year are as follows:
Merideth Tomlinson – President
Leigh Sparacino – Vice President
Katja Moos & Shauna Hay – Co-Secretaries
Lisa Marie Smith – Treasurer
In addition, we are pleased to announce the new chairs for our core committees:
Heads Chair - Tina Stevens
Hearts Chair - Leigh Sparacino
Hands Chair - Keith Bartholomew
A slate of names also has been submitted to the Board for consideration for parent representatives to the Board and will be announced at a later date.
Don't miss out! Join in the fun and contribute where you feel drawn by coming to our next PO meeting: WEDNESDAY, SEPT 11th, immediately after drop off, 8:30-9:30am in the Gazebo. See you there!
-- Merideth Tomlinson

---
Bringing Rhythm to Your Baby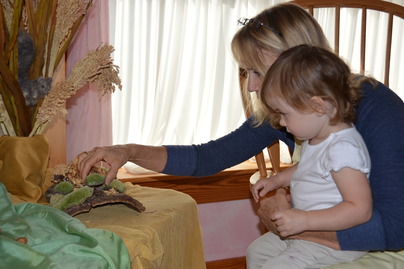 Excerpt by Kristen Burgess with permission from christopherushomeschool.org
A rhythmic, ordered life is nourishing to the young child. This includes the littlest children as well! Bringing rhythm into your baby's days and life will benefit you and your baby, as well as the rest of your family.
Remember that a life of rhythm and routine is not about harshly scheduling your baby. Rhythm is more natural, organic, and can flow. It is always there to hold the family, and to carry the family - but it does not bind the family.
Once your baby is between 2 to 4 weeks old you can begin working with rhythm. Begin based on your own feelings about it – just don't try to tax yourself too soon after giving birth.
Start by deciding a guiding rhythm for your own day. If you have older children this may be easy since you probably already have set waking, eating, and bedtimes (if not, this is a good time to work on it!). If this baby is your first, you will need to have more discipline with yourself. It was far easier for me to give my second and third child a rhythmic babyhood than it was with my first.
But begin by setting a time to wake (or to wake baby if you prefer to rise earlier) in the morning, a time to eat your meals (and you should really be getting snacks too!), and a time to put baby to bed. You do not have to be rigid about these times. A general "around 8 o'clock, around noon, etc." is good. I do recommend you research bedtime and choose an early bedtime for your baby. My own children go to bed at 7 o'clock!
Now that you have those cornerstones, begin to live life with your new baby – or older baby! Wake in the morning, dress, or freshen up. Get baby ready for the day. Eat breakfast and nurse baby. Then you may want to do some housework with baby in the sling, take a walk outside with baby, or nurse baby some more.
When you sit down to have your snack, nurse baby. Your baby will come to associate this snack-time with nursing. Gradually you can work towards the morning nap being just after this snack-time. It's a matter of gradually adjusting your baby into this rhythm and routine. My second baby fell into this quite by accident because I simply always had the morning snack and nursed him. I encouraged it with my third baby!
The same is true for lunch. Nurse your baby right after lunch, or during lunch. I set out a meal for my first and then nursed my second on my Boppy at the table while we ate lunch. Then I put my second into the bouncy seat next to me to sleep and had my lap free to rock my first for her nap. I did the same with my third.
Have your baby in a sling as you work around the home in the afternoon and have her nearby during supper – or at supper if she's an older baby! Your young baby will probably want to nurse upon waking from the afternoon nap and during the evening time, but do try to encourage him to stay awake in the couple of hours before bedtime.
Begin a soothing bedtime routine early. A small baby can wake at four in the afternoon and still be ready for bed by seven. You'll find a routine that you like and works for your baby. The picking up of toys together, closing the curtains, washing hands and face, a fresh diaper and pajamas, and lullabies and rocking will help your baby to know bedtime is coming.
Rock and nurse your baby, then lie him down to sleep. If you have a family bed you may want to lie down with your baby and nurse until he is asleep, then get back up. I always preferred nursing my young babies down and then putting them into a bassinet near me, out front, while I read or worked for a bit.
If your baby wakes again, simply nurse her to sleep again and put her back to bed. This early bedtime will give you time for you. To bathe, shower, spend time with your partner, read, chat with friends on the phone or computer, or just have some silence.
This gentle start will develop as your baby grows. Keep the cornerstones of your day, and other rhythms will develop with it. Of course there will be days when you are dancing the entire day through with a fussy baby, or nights where your baby will not sleep – these are part of having an infant! But a rhythmic day will be wonderful for you and your baby.
It will also encourage you to be home with your baby! Schedule your errands for one or two weekday mornings and honor baby's routine. Honor the afternoon nap and especially bedtime. This is sacrifice on your part but it's best for your baby, and it will be best for your child for many, many, many years. Happiness for your baby is being with you, riding in the sling as you do housework, and taking walks in the neighborhood and in nature.
This simplicity of life and peacefulness of rhythm is a gift that comes with having babies and young children. I also encourage you to cover your television with a pretty cloth. Your baby and your young child doesn't need it. Show your baby your home and neighborhood instead. Include baby in your life – not at the center, and not occupied by a television at the edges of it – and your baby will be happy.
Sing to your baby as you move throughout the day. Your baby loves it and doesn't care how good your voice is! You may also like to learn some simple nursery rhymes and children's verses to associate with your rhythm. For instance – Three Men in a Tub at bath time, Polly Put the Kettle On at snack time, and so on.
Know your cornerstones and gently guide your baby into your daily routine. Honor baby's rhythm. Sing some songs and learn some verses. Let baby see your home life and nature from the sling. Remember there will be some days that are hard. And trust that this life will nourish and uphold your baby, and you, too!
For more support around rhythm for you and your baby, join us for our weekly, 12-session parent-infant Morning Garden class. Fall registration is open. We have one spot remaining in our fall session!! Register early for our spring session to ensure a spot in our baby or toddler class online from the Morning Garden link on the EWS home page, top navigation bar.

---
Girls Who Play in Dirt Grow Up Healthier According to Research

A Moment of Pause

---
A Walk

My eyes already touch the sunny hill,
going far ahead of the road I have begun.
So we are grasped by what we cannot grasp;
it has inner light, even from a distance –
and charges us, even if we do not reach it,
into something else, which, hardly sensing it,
we already are; a gesture waves us on
answering our own wave ...
but what we feel is the wind in our faces.
Translated by Robert Bly
Rainer Maria Rilke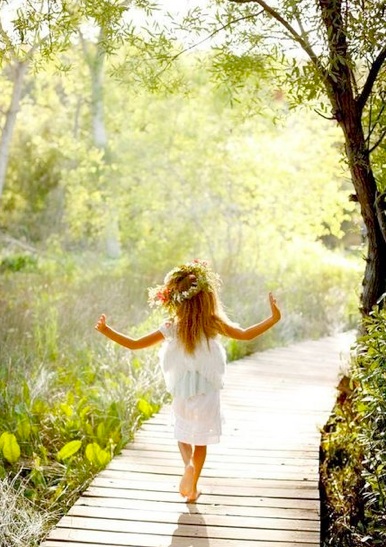 ---
EVENTS OR CLASSES
Grow Your World, After School
is an afterschool program for middle schoolers based in Chapel Hill that focuses on community-building and youth development. The program's three main components aim to increase community connections across difference (age, culture, race, language, among others), capitalize on the abundant resources in the community, and increase our youths' ability to achieve their full potential.
ITEMS FOR SALE
This End Up solid end pine bunk set ; 3 beds – upper/lower bunk beds with 3rd day bed, 4 pine under-the-bed storage units that are on heels. Very good condition, of course, after use by my boys! $550.00 or best offer - Jon Mandeville (919) 880-6973.
SERVICESInterested in a simple skin care system with essential antioxidants and nutrients your skin craves?
Our Shaklee's clinically-proven Nutrition Therapy Skin Care System is guaranteed to see your skin age 10 years in reverse with just 3 minutes morning and night. It contains a synergistic blend of seven targeted antioxidant nutrients. Go to this
link
to learn more. 10% off for Waldorf families. (I will reimburse you with a check when the order comes through.) 100% money-back guarantee Joanne Estes (919) 929-4534
greencafeonline@gmail.com


PIANO LESSONS:
Spaces open for children, teens, & adults in the home piano studio of Beth Shirey, EWS choral and eurythmy accompanist. Please call 919-969-9545 or email
beth.shirey@yahoo.com
for more information.


Dr. Hauschka Facials/Retailer:
CORI ROTH/Licensed, Certified, Holistic Esthetician. Revive your body, mind, and senses with a nourishing and soothing Divinerose Facial. Offered in an unhurried and retreat-like setting. 15% off first time client. Visit
www.divinerose.com
for more info.
PRANA KOMBUCHA:
Enjoy Fresh Kombucha! We are a Waldorf family brewing raw organic Kombucha delivered straight to you!
Kombucha is more than just an ancient healthy drink. It has a wide range of organic acids, vitamins enzymes and probiotics that give it its extraordinary value. It contains a range of B vitamins, particularly B1, B2, B6 and B12, that provide the body with energy, help to process fats and proteins, and which are vital for the normal functioning of the nervous system. There is also vitamin C which is a potent detoxifier, immune booster, and enhancer of vitality. AND it's DELICIOUS!
We sell our KOMBUCHA in 34oz. re-useable glass bottles at $7/bottle. For a free tasting and to order your Kombucha contact Gaura Humek at
ghumek@gmail.com
KatieBeth's Learning Garden!
We are a retail store and community class space located at 400 S. Elliott Road in the Galleria Shopping Center. Here, you can find the supplies you need for a Waldorf-friendly home, including imaginative natural toys from Camden Rose, Ralph Evans and Sarah's Silk, fiber arts kits and supplies from Harrisville, beeswax candles, stones, and supplies from Mercurius. We sell new and consigned educational materials and games for your whole family.
www.katiebethsgarden.com
REALTORS/HOUSINGBuying a home?
Selling a home? Investing in real estate? HEAD, HEART and 20+ years of HANDS-ON EXPERIENCE giving caring advice and guidance to hundreds of happy home buyers and sellers – let me help you with all of your Real Estate needs! Judy Weinstock, REALTOR, EWS Alumni parent. Joyfully donating to EWS with every sale. Phone 919.951.1800.
www.seejudy.com
.
Advertising Changes for the Emersonian
We accept small classified-type advertisements. Each submission to the Classifieds should be no more than 6 lines of text, which is approximately 60 words. The costs are as follows: $5.00/week; $10.00/month or $100.00/school year (10 months). Payment for Community Bulletin Board Submissions should be made by the Friday before the publication week (we publish every Wednesday school is in session.) No charge for advertisements of free events or non-profit organizations. Submit ads to:
emersonian@emersonwaldorf.org
.

General Policy for the Bulletin
No political or religious advertisements. No competitive program advertisements. No outside fundraisers. The editors will decide the placement of advertisements. Submissions may be edited for content and length. The Emerson Waldorf School retains the right to choose not to print an advertisement.
Public announcements and services offered in the Emersonian or other circulars produced by Emerson Waldorf School are paid advertisements and do not necessarily reflect the views and opinions of Emerson Waldorf School or its employees.
---
E-Newsletter Design and Graphics

Emersonian Publishing Team:
Kelley Wiley - Content, layout, correspondence, advertising
Raelee Peirce - Header design, layout
Barbara Holloway - Photo & creative content, editing
Kathleen Jackson - Editing