---
5th Grade Play: Prometheus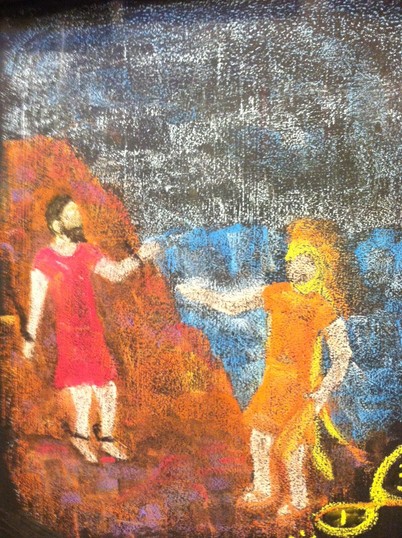 Prometheus t
he Fire-Bringer and Heracles the Hero
Hinoki Theater
Monday, May 6, 11:05 am
Tuesday, May 7, 9:45 am


The ancient Greeks were the original playwrights and performed plays monthly, offering a full day of drama with three tragedies and ending with a comedy so all could go home happy. We are very pleased to share with you our play about a Titan, Prometheus, who helped to create man and woman. He and his brother Epimetheus were charged to form man and beast. Yet Epimetheus gave all the gifts Zeus bestowed to the animals. Prometheus mourned this deed and sought something higher for mankind. He wanted to bring to man the spark of divine fire. Zeus refused such a sacred gift. Prometheus defied the father of the gods and took the divine gift from the sacred hearth and brought it to earth. As a result, Zeus punished the Titan, who was taken and bound to a cliff.

Yet there was one born, a child of Zeus, who was given the gift of strength. When Heracles was older, he misused that gift. To make amends, he had 12 tasks to accomplish. In accomplishing these difficult labors, he recognized his courage as did the Greeks of ancient times, who found inspiration from such bravery. During one of these tasks, Heracles encountered Prometheus. Will this man of strength be able to help Prometheus? We'll look forward to you finding out when you visit us in the Hinoki Theater on Monday, May 6 at 11:05 or Tuesday, May 7 at 9:45.
Activities for Screen-Free Week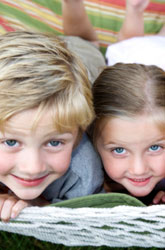 Screen-Free Week is upon us. After you've read your
Emersonian
, take a deep breath and indulge in some fun activities with your family.
Here are some fun activity ideas and printables to help inspire your family during Screen-Free Week:
Fun with Reading:
•
Tell a Story in a Jar!
•
Play Picture Book Charades
•
Story Starters
Active Fun:
•
Jump Rope the Days of the Week!
•
Play Flag Tag
•
Play Marble Tag
•
Over and Out! Two Great Obstacle Courses
Outdoor Fun:
•
Plan a Treasure Hunt
•
Create a Nature Mobile
•
Write a Backyard Field Guide
•
Make an Outdoor Fairy Dwelling
Arts and Crafts:
•
Jewelry from Self-Hardening Clay
•
Write Nutsy News Stories
•
Make Marbled Paper Greeting Cards
In the Kitchen:
•
Bake Banana Muffins
•
Cook Alphabet Pancakes
•
Make Guacamole
•
Bake Sweet Potato Fries
•
Creamy Tuna Pasta Bake
Family Time:
•
Set Up a Smelling Station
•
Play the Peanut Game!
•
Make a Family Yearbook
•
Make Giant Building Blocks

---
11th Grade Botany Block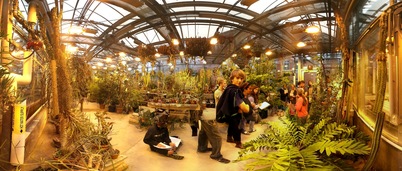 This spring has provided a magnificent setting for the 11th Grade Botany Main Lesson Block, including a spectacular visit to the vastly biodiverse Duke University Greenhouses. Next week we will be heading to Natural Tunnel State Park in Virginia for our curriculum trip, so look forward to more exciting photos.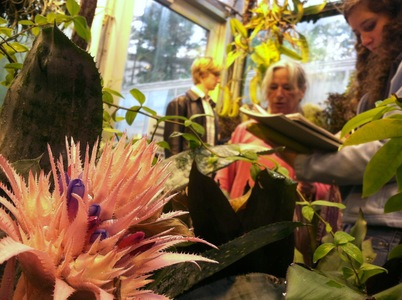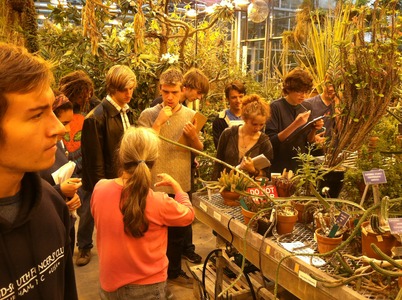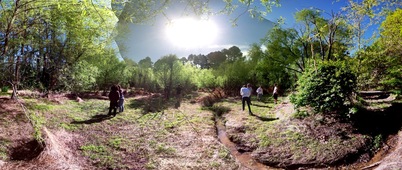 ---
Become an EWS HS Boarding Host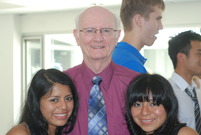 We are looking for some Emerson families who might be interested in hosting Waldorf High School students in a long-term boarding situation. Host families would receive $8,000 per student, per year. If you are interested, please contact Kelley in the office for the list of requisites for hosting. We are looking forward to some new Waldorf faces in the High School next year.
Poetry Contest 6th-12th Graders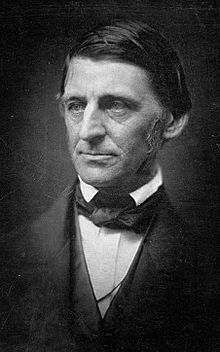 The 2013
Emerson Poetry Prize!
1st Place:
$50 & Trophy
2nd Place:
$20 & Certificate
3rd Place:
$10 & Certificate
Poetry of any style accepted
Up to three poems may be submitted. Judging is by panel with finalists to be judged by Michael Chitwood.
Submission deadline May 3.
Submission guidelines:
Contest open to Emerson Waldorf students in 6th-12th grades. Only one first, second and third place prize to be given for all entrants. Submissions must be typed, in 12 point font, and be the original work of the author. Entire submission must be three pages or less. Up to three poems maybe submitted. Do not include author's name on poem; instead include a cover page with name, grade and titles of poems submitted. All submissions should be hand delivered to Angelo Sphere in the high school. No late submissions will be accepted.
Check out
2012 News & Observer article: School honors its students for poetry and prose
to see who last year's winners were!
Library Books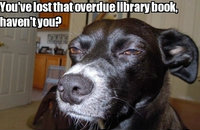 Dear Parents - Please take a few minutes to look at home and in your cars for any books that belong to EWS. As you know, each classroom is a library from which children and parents can borrow books. All the books should have a label with the school's name and address on the back as well as a stamped address in the front. These books are valuable assets to the school. Families that have not returned books before the end of the school year will be charged on TADS the cost of replacing the books. Books may be returned in the classroom on in the Library box in the Lower School Office.
Warm regards, Dee Anne Lamb and Nancy Trueblood

---
Ultimate Frisbee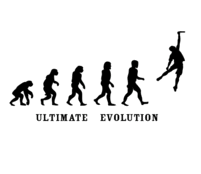 The High School team defeated Clover Garden twice last week by a score of 15-6 each time. Forrest Jackson led the offense both games with 3 assists and 4 goals the first game and 5 assists and 2 goals the second. The defensive player of Game 1 was Anthony Day with 3 blocks. Jon Deutsch and Tudor Comaniciu led the defense in Game 2 with 4 blocks and 3 blocks respectively. The scoring was a full team effort with 11 different players scoring goals on Friday. On Saturday the Gnome Brigade will play the Central Carolina Conference Tournament on our home field from 2:00-8:00 pm. It will be a round robin format with our final game at 7:15.
The Middle School lost by 1 point on Wednesday but came back and defeated Duke School on Friday by 2 points. The Gnomes were behind by 6 points and came back to win in the closing minutes. Their next and final game against Duke School will be this Tuesday at home at 4:00 pm. Parents and faculty will be showing their spirit by playing next Monday, May 6, against this wonderful Middle School team at 3:30 pm.

---
Help Wanted

Morning Coffee Volunteers!
Volunteers needed for Morning Coffee Table. 1 hour per week.
All proceeds fund professional development for EWS teachers. Contact Pat McKenzie (4th grade parent) at 919.316.9567 to sign up.


Services
Three weeks of summer horse camp at Blue Skies of Mapleview
now FULL. Only weeks 4 (July 8-12) and 5 (July 15-19) have a few openings left. I hope to fill the spots with Waldorf students (my favorites after being a Waldorf mom for 26 years). This holistic horse camp runs from 8:30-3:00 Monday-Friday and involves all aspects of horsemanship and riding every day including mounted games, bareback riding and trail ride. Beautiful art projects, horsey games and a dip in the pool round out the day. For boys and girls 7-17 years of age. www.blueskiesmapleview.us or call 919-933-1444 for a brochure from Deborah Pearson-Moyers.... or run up and ask the Woodworking teacher, Mr. Moyers for a reference!


GLUTEN FREE?
Empty Nest Bakery, a 100% gluten free baker, sells both sweet and savory GF baked goods of the highest quality. NOT GLUTEN FREE? Tobi's Bakery sells cinnamon buns, and European inspired breads & desserts. Find us Saturday mornings 8 am -noon at the Hillsborough Farmers Market, just 5 miles north of EWS on HWY 86 in the Home Depot parking lot.


Do you or your organization need a skilled editor?
I enjoy helping people organize their words and ideas. I have 25 years of writing and editing experience as well as master's and doctoral degrees in public health. If you know of editing opportunities (either freelance or steady part-time), contact Claire Viadro at viadro@mindspring.com or (919) 967-8215.


Spring has Sprung!
And so now will your grass. But worry not, for Anthony Day and his lawn care expertise will keep your grass in check. With over four years of lawn mowing experience under his belt, Anthony will find a way to tame your lawn's needs, be they big or small. Average small lawns for the low-low price of $20. Call Anthony at 919.537.8206 to arrange a free estimate.


EWS' resident artist/ hairdresser
Nancy Ann Moore, has moved her business to Flow, 587 Old Farrington Road Chapel Hill NC 27517
http://mapq.st/10Lx6m3
Book your own appointment online at
www.vagaro.com/nancyannmoore
or call the salon at 919.918.7776 or Nancy's mobile phone (919) 260-2495. Go with the Flow, support Nancy and let the good hair days begin!


Are you living with questions about your life,
your relationships, your parenting, your future? Lynn Jericho offers compassionate listening and creative guidance - a Waldorf wisdom for adult needs and challenges. Call Lynn (919.240.4094) or learn more
www.imagineself.com/about-Lynn/
Be sure and check out my Shaklee 180 Auction items for the Emerson Waldorf Gala Event!
I am offering a 30 day supply of Shaklee 180 Energizing Smoothee Mix (vanilla and chocolate), 24 gr. protein, 6 grams fiber, lactose fee, non-GMO soy protein, no artificial favors or sweeteners, 35% of the DV of 21 vitamins and minerals and powered by Leucine, an amino acid that signals you body to retain muscle, so you lose the right kind of weight, as well as an assortment back (10 bars) of Shaklee 180 snack bars, 10 grams of protein, 3 grams of fiber, low glycemic index, no trans fat, gluten free, no artificial flavors, colors or sweetners, non-GMO soy protein ~a great snack on the go with just 120 calories! $120 retail value for a minimum starting bid of just $50.00! For more information about these products go to my Shaklee 180 website ~
http://www.joanneestes.myshaklee180.com

Are you looking for a New or Slightly Used Car?
Great Deals for EWS Parents, Friends & Faculty. Call David Rabius, Proud EWS Parent at 919.408.9633 Johnson Lexus @ SouthPoint- 2013 New Lexus Line Up..Certified Pre-Owned Lexus and a wide range of slightly used cars to meet your budget.
(David Rabius)

DIVINEROSE FACIALS
Offering illuminating and renewing Dr. Hauschka facial treatments. Cori Roth, NC Licensed/Holistic Esthetician and Dr. Hauschka retailer. Please visit
Divinerose.com
for more info.
New Medical Practice
We are pleased to announce our practice "Integrative Medical" (
www.imevpc.com
) at Haven Medical Clinic on 121 S Estes Dr, Suite 205 D, Chapel Hill 27514. For appointments, you may contact us directly:
Rula Freiji 919.525.5626 General Pediatrics & Pediatric Infectious Disease Consults
Dani Mouawad 919.525.5625 General Pediatrics & Integrative Medicine.
– Rula and Dani Freiji-Mouawad
Realtors/Housing

Let The Home Team help you "Find Home"
Now conveniently located in Timberlyne Shopping Center, our locally-owned real estate company has been helping clients, including several EWS families, "find home" since 1990. For more information or to speak to one of our experienced agents call 919.967.6363 or visit
www.Home-Team.com
. Also, please stop by to check out our exclusive, interactive window display!

Buying a home? Selling a home? Investing in real estate?
HEAD, HEART and 20+ years of HANDS-ON EXPERIENCE giving caring advice and guidance to hundreds of happy home buyers and sellers – let me help you with all of your Real Estate needs!
Judy Weinstock, REALTOR, EWS Alumni parent. Joyfully donating to EWS with every sale. Phone 919.951.1800.
www.seejudy.com
.

Waldorf families are unique and special.
You need a realtor who is unique and special too. Lynn Hayes has been helping Waldorf families for over 25 years, offering caring and sensitive service while supporting Waldorf education in our community. For MLS searches, community information and lots more visit
www.lynnhayes.com
or call Lynn at 919.968.9989.
Advertising in the Emersonian

---
We accept small classified-type advertisements. Each submission to the Classifieds should be no more than 6 lines of text, which is approximately 60 words. Each submission costs $5.00. Payment for Community Bulletin Board Submissions should be made by Friday of the publication week. No charge for advertisements of free events or non-profit organizations. Submit ads to: emersonian@emersonwaldorf.org.

General Policy for the Bulletin
No political or religious advertisements. No competitive program advertisements. No outside fundraisers. The editors will decide the placement of advertisements. Submissions may be edited for content and length. The Emerson Waldorf School retains the right to choose not to print an advertisement.

Public announcements and services offered in the Emersonian or other circulars produced by Emerson Waldorf School are paid advertisements and do not necessarily reflect the views and opinions of Emerson Waldorf School or its employees.


---
E-Newsletter Design and Graphics

Emersonian Publishing Team:
Jamie Lamkin - Design and Layout
Raelee Peirce - Coordinator
Claire Viadro - Creative Content
Forrest Jackson, Kathleen Jackson, and Barbara Holloway - Editing
Kelley Wiley - Correspondence and Advertising