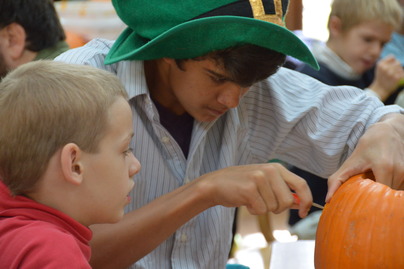 Halloween will be celebrated on Thursday, October 31 in Early Childhood with autumn crowns, capes, and magical leaf-changing wands made by your teacher (shhh...don't tell your little one). This is a student-only event: parents will behold their little leaf-changers upon pick-up that day. Additional information about Halloween will be provided to you by your class teacher.

Halloween will be celebrated on Thursday, October 31 for Grades 1-12 from 11:05 am -12:40 pm in the Grades classrooms. When the 11:05 am bell rings, Grades 8-12 will meet in the classrooms of the younger grades with whom they have been paired to carve pumpkins. The grade pairings are as follows:

Grade 1- Grade 12
Grade 2- Grade 10
Grade 3- Grade 9
Grade 4- Grade 8
Grade 5- Grade 11
Grade 6-carve independently
Grade 7-carve independently
From 12:00 – 12:20 pm, students will clean up the classrooms and put the pumpkins on display. At 12:20 pm the outside bell by the playground will be rung, signaling the start of the viewing of the pumpkins. Students will visit the classrooms starting with the grade above them until they get to 7th Grade and then from 1st Grade to their own classroom for lunch.
At 12:40 pm the school day will resume its normal schedule for the remainder of the afternoon. At the end of the school day, students will take their pumpkins home to light and enjoy on Halloween night!
Note to Grades parents:
Parents, please help your child select the right size pumpkin to carve, one that he or she can handle and carry independently.
Pumpkins need to be brought to school by Wednesday, October 30
.
On Thursday, please send to school carving tools and utensils designated for pumpkin carving (tiny knives like saws).
NO REAL KNIVES, PLEASE!
Many children enjoy leaving their candy out for the Halloween Witch or the Sugar Sprite Fairy on Halloween evening. When they wake up in the morning the Halloween Witch or Sugar Sprite Fairy has switched the candy for a special treasure! Be sure to make arrangements with the Halloween Witch or Sugar Sprite Fairy ahead of time…..
EVENTS AND CLASSES

Science and Spirit ComeTOGETHER to shinea new light onEVOLUTION!
It's not about either/or. Michael Judge will share his 35 years of research on the topic and demonstrate how science and spirit can plausibly complete one another.
Location:
Eno River Unitarian Universalist Fellowship, 4907 Garrett Road, Durham NC 27707
For more information and Early Bird Registration go to
http://newlightonevolution.eventbrite.com
or contact Peg Carmody at
mcarmody@nc.rr.com
or phone 919-537-8142


Cosmic Dance Classes
: The Third Sunday of the Month (Oct. 20, Nov. 17, and Dec 15) 1-3 pm in the Eurythmy Room. This movement path is a one of self-healing through Re-union. We utilize the Eurythmy gestures and forms given by Rudolf Steiner as a way of manifesting both the strength and beauty of the Divine Feminine. All are welcome! Donations please : )
Kelly Calegar, The Sophia School of Movement
www.SophiaSchoolOfMovement.Org
ITEMS
FOR SALE 1998 VOLVO s70, automatic
, 200K+ miles, has a few scratches and dents, never in an accident, runs very well, perfect car for a new driver - $1600. I am the second owner, used it for 1 year and have maintenance records since it came out of the dealer. 919-259.6754


SERVICESBalance your Life with Ayurveda~ Health & Lifestyle Consultations and Restorative Bodywork
tailored to your unique constitution. Hot Stone Therapy & Ayurvedic Bodywork- A very special gift idea for loved ones, friends, colleagues, or yourself! Wonderful for special occasions such as birthdays, anniversaries, holidays, graduations, and giving thanks.
For monthly specials & more details visit:
www.stoneandspa.com
or call Shoshanna at 919-309-9989. Offered in my lovely home office just minutes from Emerson.
I am a mother of a 10-month-old daughter and I am looking for work as a nanny.
I am inspired by Waldorf education. When caring for children I value, among other activities, daily rhythm, exploring nature, singing songs, reading stories, making up stories and quiet time. I can provide references from EWS parents. Please email me at
jacobs.lizzie@gmail.com
Why not have an artist do your hair?
Nancy Moore has been an artist/hairdresser for over 20 years, and an EWS mom for 16. Now located at the beautiful FLOW Salon, 587 Old Farrington Road, Chapel Hill NC 27517 For appointment call or text (919)260-2495 ...or book yourself online at
www.nancyannmoore.com
. Let the good hair days begin!
Research shows that your skin can absorb as much as 60% of whatever is applied to it.
That is why it is so important to use a skin care system that has the right nutrients, in the right amounts, and in the right form your skin can use. 55 years of nutrition science by Shaklee has created Enfuselle with the exclusive Vital Repair+ complex. Check it out
here
or call Joanne Estes 919-929-4534 ~ All Waldorf customers receive 10% off from me. Have questions about Shaklee? Visit me any Tuesday morning at the Lower School coffee table during my volunteer shift until 8:30 am!

Dr. Hauschka Facials/Retailer:
CORI ROTH/Licensed, Certified, Holistic Esthetician. Revive your body, mind, and senses with a nourishing and soothing Divinerose Facial. Offered in an unhurried and retreat-like setting. 15% off first-time client. Visit
www.divinerose.com
for more info.
KatieBeth's Learning Garden!
We are a retail store and community class space located at 400 S. Elliott Road in the Galleria Shopping Center. Here, you can find the supplies you need for a Waldorf-friendly home, including imaginative natural toys from Camden Rose, Ralph Evans, and Sarah's Silk, fiber arts kits and supplies from Harrisville, beeswax candles, stones, and supplies from Mercurius. We sell new and consigned educational materials and games for your whole family.
www.katiebethsgarden.com
REALTORS/HOUSINGCozy Rental Cottage
on wooded lot .5 mile from I-40 and 9 minutes from EWS (4 miles). 3-BR 1 bath, hardwood floors, new fridge, dishwasher, AC, natural gas stove, deck, storage shed, pets negotiable. 3 miles on country roads to Mapleview Ice Cream sunsets! 911 New Hope Church Rd. $1,000. 919-413-5767, 919-382-9846 evenings.


Buying a home?
Selling a home? Investing in real estate? HEAD, HEART and 20+ years of HANDS-ON EXPERIENCE giving caring advice and guidance to hundreds of happy home buyers and sellers – let me help you with all of your Real Estate needs! Judy Weinstock, REALTOR, EWS Alumni parent. Joyfully donating to EWS with every sale. Phone 919.951.1800.
www.seejudy.com
.
Advertising Changes for the Emersonian
We accept small classified-type advertisements. Each submission to the Classifieds should be no more than 6 lines of text, which is approximately 60 words. The costs are as follows: $5.00/week; $10.00/month or $100.00/school year (10 months). Payment for Community Bulletin Board Submissions should be made by the Friday before the publication week (we publish every Wednesday school is in session.) No charge for advertisements of free events or non-profit organizations. Submit ads to:
emersonian@emersonwaldorf.org
.

General Policy for the Bulletin
No political or religious advertisements. No competitive program advertisements. No outside fundraisers. The editors will decide the placement of advertisements. Submissions may be edited for content and length. The Emerson Waldorf School retains the right to choose not to print an advertisement.
Public announcements and services offered in the Emersonian or other circulars produced by Emerson Waldorf School are paid advertisements and do not necessarily reflect the views and opinions of Emerson Waldorf School or its employees.