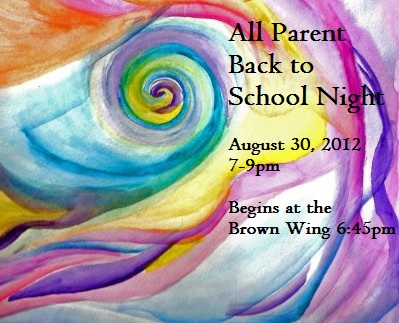 We are expecting an incredible turnout for this week's Back-to-School Parent Evening. This is an evening to connect with staff, faculty, and other parents – both new and returning – an evening created for our parents by the School Governance as our gift to thank you for your ongoing support of our school.


Thursday, August 30, 2012 7-9pm

For Whom? All EWS Parents – from Nursery to High School – are highly encouraged to attend this Welcome Back Event!

Evening Highlights...
6:45-7:00 Lemonade Social in the HS courtyard
(Schmooze with staff, faculty, and parents...psst...pick up your child's new field trip t-shirt too!)
7:00-7:45 Staff and Faculty Welcome Program
(From the Brown Wing steps)
7:45-8:10 Refreshments and Interest Tables in the Brown Wing
8:10-9:00 Classroom Open House
(Visit all of your children's classrooms and don't forget to pick up your free gift bag in your youngest child's classroom – you won't want to miss this!!)
Parking Suggestion:
It might be easiest to park in the parking lot closest to your youngest child's class and visit that classroom last.