---
EWS Family Needs Help

Due to new developments, EWS family Adriana & Travis Smith [parents to Sawyer (4), Solana (8), and Isabel (10)] are seeking a licensed driver mother's helper after school until 6:00pm Monday-Friday until the end of the school year. The position requires that the individual pick up the children at EWS and one other local school, take the children home, prepare snack, and assist with homework.
If you or someone you know could fulfill this much needed position
, please contact Adriana at 919-241-4458 or
adriana.isa.sol@gmail.com
to discuss financial compensation and position details.
---
MUST SEE Waldorf Film: Preparing for Life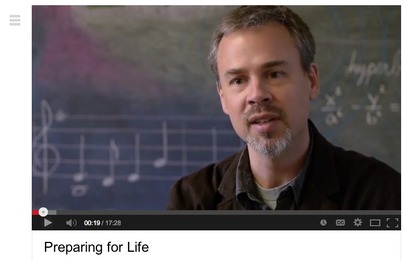 The New York Times sparked national media coverage with its front page story on
why Silicon Valley parents are
turning to Waldorf education
. This film picks up where that story left off. "Preparing for Life" takes viewers inside a Waldorf school where the focus is on developing the capacities for creativity, resilience, innovative thinking, and social and emotional intelligence over rote learning. Entrepreneurs, Stanford researchers, investment bankers, and parents who run some of the largest hi-tech companies in the world, weigh in on what children need to navigate the challenges of the 21st century in order to find success, purpose, and joy in their lives.
This dynamic and joyous film summarizes Waldorf education beautifully. Please share it with everyone you know – family, friends, neighbors, colleagues. Let's spread the word about the fastest growing education movement in the world. There are 1,025 Waldorf schools in over 60 countries. One is here in Chapel Hill. And while you're at it, please invite everyone you know to Waldorf Education Day at EWS on Saturday, January 18, 9:00 am - 1:00 pm. Childcare available.
Pre-register online
.
---
Burrito Mondays are Back!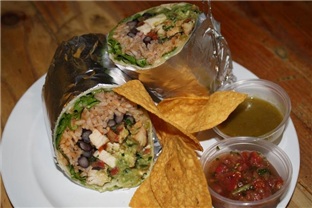 Large bean, rice, and cheese or chicken, rice, bean, and cheese burritos with chips and salsa are delivered to the students each Monday. Chicken burritos are $6.50 each week and vegetarian burritos are $4.00 each week. Corn tortillas are available for those who would prefer. We can also accommodate dairy free folks.
Made fresh from scratch for EWS by Cosmic Cantina and delivered to the school piping hot.
Choose between:
A tortilla with black beans, cheese, and rice.
A tortilla with chicken, beans, rice, and cheese.
Chips and fresh salsa will be served on the side.
15 weeks of burritos (from January 27-June 2) is $60 for a veggie burrito or $97.50 for a chicken burrito each Monday that school is in session.
Burrito Monday is brought to you by the class of 2014. Please support the Senior Class as we fundraise for our senior trip this spring!
Rhonda Lanning (
jasonrhonda@bellsouth.net
)
---
Flow Forms for Sale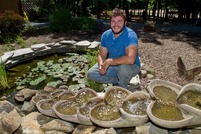 There are currently 3 sets of flow forms for sale at Emerson Farm. The forms were made by adult volunteers and some of the EWS children during Jennifer Greene's visit several years ago. If you know of anyone who might be interested in purchasing them, please share this information with them. Funds will go to Wrightwood Press.
They are $2000 per set, not including transportation and installation. They are similar to the
Malmo Flow Form
(click on the link to see example) except that the entry form at the top is larger and more rounded. The entry flow form that we have is called the Boulder and is an original design by Jennifer Greene.
Wrightwood is willing to take payment in installations if that helps! Please contact Maurice York at
maurice.york@gmail.com
or 919-768-3532 if you are interested in purchasing a set.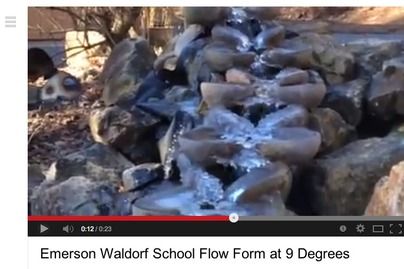 ---
January PO Meeting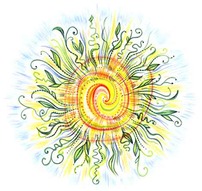 Please join us for the first PO Meeting of 2014! We will review the fall's activities and achievements, set goals for the spring, and reconnect after our break.

TONIGHT, 7-8:30 pm.Location:
Leigh's home – 400 Fairoaks Circle, Chapel Hill, NC 27516. Please park in any spot labeled "visitor" or along the street. Bring your ideas, your feedback, and your good cheer. If you'd like directions emailed or texted to you, please contact Leigh at
annefairleigh@gmail.com
or by text : 919-259-9177. Thank you!
---
PO Health and Wellness Series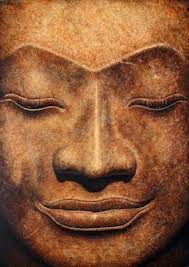 Join us for an experiential session
lead by
Dennis DeJianne
High School Brown Wing
Saturday, January 11th,
10:30 am-12:30 pm
Childcare provided upon request. Please contact
TinalStevens@gmail.com



"Inner Smile: Internal Alchemy of Self Acknowledgement, Self Acceptance, Self Love"


---
Grades 1-8 Pizza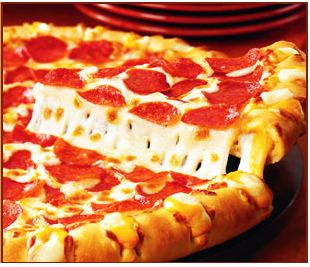 Welcome back from Holiday break! The 8th grade appreciates your support for their pizza fundraiser last semester and looks forward to serving pizza again this winter/spring. Believe it or not, it's already time to put in your pizza order for the spring semester.
If you get your order in by this Wednesday, January 8 at 4:00 pm, you won't have to think about what to pack for lunch this Friday! If you don't get your order in on time, no worries, just turn it in by the following Wednesday, January 15 at 4:00 pm and delivery will start or resume on the 17th.
Attached
is the order form if you would like to fill it out now while you are thinking about it. Your child should also have a hard copy available to bring home on Monday afternoon.
Mary Beth Mueller (
mmueller@emersonwaldorf.org
)

---
Senior Class Fundraiser

"Love on a Horse"
Saturday, February 1, 9:30 am - 4:30 pm

Pre-book a fun one-hour riding session on a Valentine's Day decorated horse and receive hot cider and home baked goodies for only $40!
We've had three generations ride together! ALL the proceeds go to the EWS Class of 2014 for their senior trip and graduation.
Bring your family, neighbors, and friends out for a fun afternoon on the farm. Absolute beginners are our specialty!!
Blue Skies of Mapleview LLC, 3609 Pasture Road, Hillsborough, NC.
www.blueskiesmapleview.us
200 lb limit, no age limits.
Contact Deborah Pearson-Moyers 919-933-1444 with questions.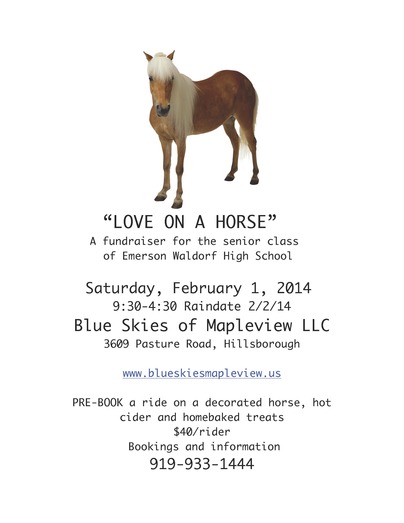 ---
Iranian Native Lectures in EWS High School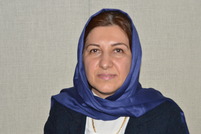 by Kaylen Alexis, Grade Eleven
In December, our High School welcomed Iranian native Nikoo Zahra Roodi (Kadivar). Ms. Roodi came to speak about her life in the capital city, Tehran, and her ensuing departure for America in 2008.
Ms. Roodi began and ended her presentation with profound quotes from 13th Century poet Rumi. This was especially memorable because she shared the quotes in Persian, their original language, before offering the translation. Sandwiched in between the poems was a detailed, traumatic, and spirited narrative of a woman's four-and-a-half decades long experience in an unstable and war-torn country.
As an audience, we learned about Black Friday: a tragic event in the Fall of 1978 in which soldiers opened fire on a peaceful protest in Tehran. Ms. Roodi's family, while not involved with the protest itself, gave refuge to victims fleeing the soldiers' deadly gunfire. Black Friday did not spare Ms. Roodi any grief however, as one of her close high school friends was killed in the blood bath.
We learned about the 1979 revolution: how Ms. Roodi was moved to join the successful Iranian Revolution that year after reading inspiring works by intellectual revolutionaries.
Ms. Roodi told us about the Iraq-Iran eight years War, and the way she and her husband felt about it. She met her husband "Mohsen", while pursuing a higher education at the University of Shiraz in southwest Iran. By this time, Iraq had invaded Iran and the war was taking a toll on the country and its civilians. Together the two of them wrote numerous critical essays and books, gave speeches and interviews, and taught students about the political and religious unrest in Iran. Her husband was arrested in 1999 because of his critical views toward the government, and was forced to complete his PhD dissertation on Religious Studies behind bars.
Mohsen was released a year-and-a-half later a changed man, in the sense that he could sign his name with an academic title tacked on the end, but he remained steadfast and unchanged in his strong opinions. Following more strife with the Iranian government, Ms. Roodi, her daughter, and her husband moved to Virginia where Mohsen taught at UVA for one year.
Ms. Roodi explained about the friction that still exists between her and Iran: she has visited her home country three times since her somewhat bitter exit, and during her most recent trip the tension mounted. Ms. Roodi's passport was confiscated upon arrival, followed by an "outrageous" and "unjust" interrogation conducted by the authorities. It was during this interrogation that Ms. Roodi invoked the words of Rumi.
She said: حاصل عمرم سه سخن بیش نیست / خام بدم، پخته شدم، سوختم, or "The result of my life is not more than three words: first I was raw, then I was cooked, and right now I am in the fire".
The value of Ms. Roodi's presentation transcends the content itself. By exposing our community to different worlds, cultures, stories, and personalities, we are given the opportunity to broaden our horizons and develop more mature opinions. I consider Ms. Roodi's presentation an educational and enriching gift for all who attended, and I hope that the school will continue to seek out visitors of a similar nature.
Nikoo Zahra Roodi has lived with her husband and daughter in Chapel Hill since 2009.
She is currently teaching an Islamic World block to the 11th grade.

---
Tablets a Hit with Kids, but Experts Worry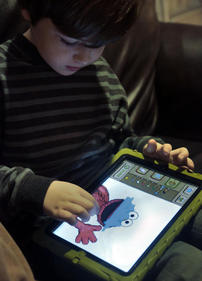 By AP/Bree Fowler
Tablet computers are so easy to use that even a 3-year-old can master them -- and that has some pediatricians and other health experts worried.
Since navigating a tablet generally doesn't require the ability to type or read, children as young as toddlers can quickly learn how to stream movies, scroll through family photos or play simple games.
Read the full article
A Moment of Pause

---
Soap Bubbles at 16 Degrees Fahrenheit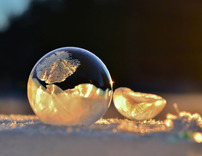 When the weather forecast predicted the unexpected cold, Washington-based photographer Angela Kelly decided to take advantage of it in one truly creative way. Together with her 7-year-old son, Kelly combined dish soap, Karo syrup, and water and went out to blow bubbles and take pictures as they freeze and melt.

Read more here
Let's celebrate 2014 by taking time to connect with loved ones, to be fully present, to observe, to create, and to fully appreciate the beauty and the power of nature.

Happy New Year dear Emerson families and friends! How lucky we are.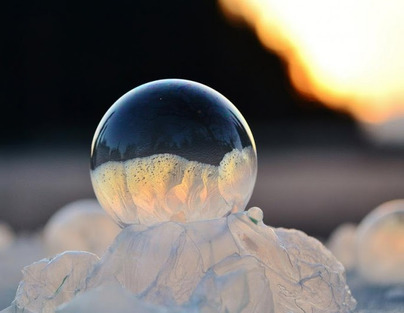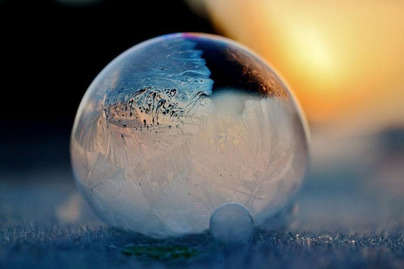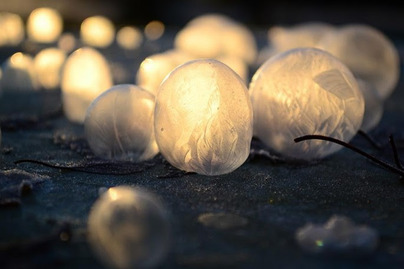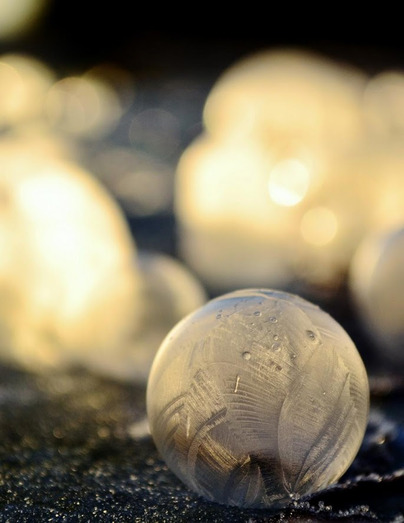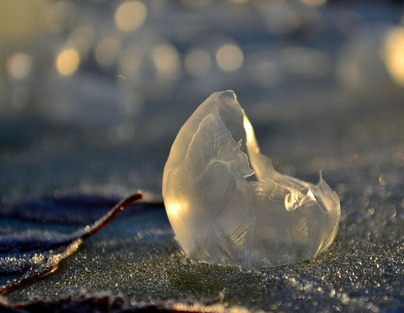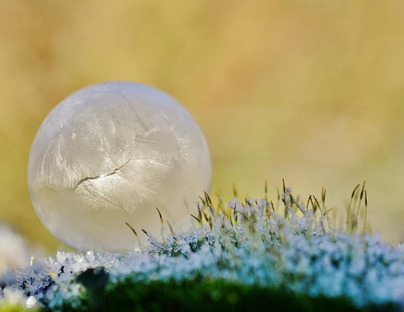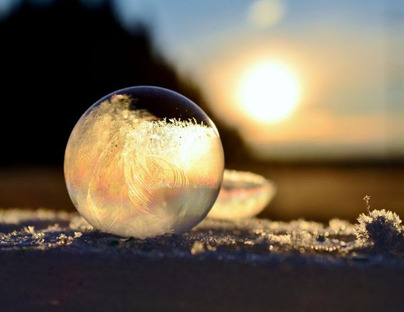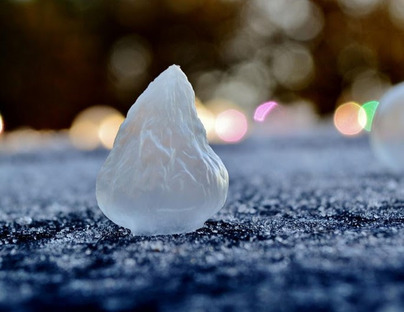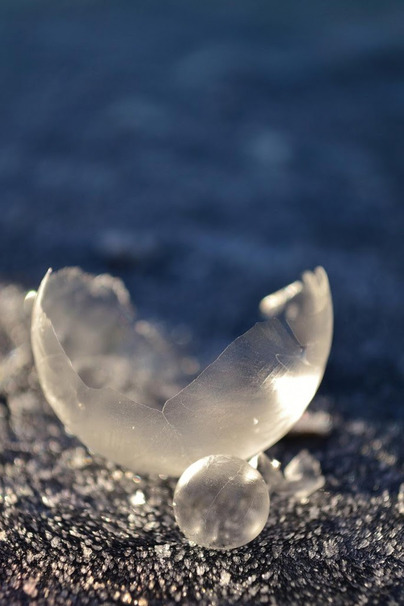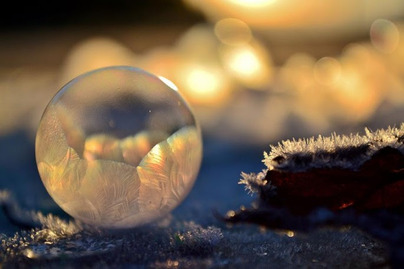 ---
SERVICES AND ITEMS
New iPhone 5 for sale
– call Eve Olive at 919-489-2564 if interested.
For Sale - New, Never Used Black Electric Range - AMANA
- 4.8 CU. FT. WITH VERSATILE COOKTOP ELEMENTS, dimension 30"/20"/20" with matching FREE new black Range Hood. Call: 215-350-1394
Balance your Life with Ayurveda~ Health & Lifestyle Consultations and Restorative Bodywork.
The focus of this consultation gives you direction in creating optimal health by making simple alterations in daily eating & lifestyle habits which are specific to your unique constitution. Restorative Bodywork nourishes the nervous system as well as the body with Hot Stones, Warm Oil & Steam Therapy. A wonderful gift for loved ones, friends, colleagues, or yourself! Gift Certificates for special occasions or just giving thanks. Offered in my lovely home office just minutes from Emerson. For monthly specials & more details:
www.stoneandspa.com
or call Shoshanna at 919-309-9989.
Why not have an artist do your hair?
Nancy Moore has been an artist/hairdresser for over 20 years, and an EWS mom for 16. Now located at the beautiful FLOW Salon, 587 Old Farrington Road, Chapel Hill NC 27517 For appointment call or text (919)260-2495 ...or book yourself online at
www.nancyannmoore.com
. Let the good hair days begin!

Creating greener families in 2014 ~
Living in alignment with your Waldorf values ~ sustain your health & create a greener home. To learn more, join me Jan. 11, 2014 10 am ~ noon for an informal social and informational workshop called "The Shaklee Effect". Contact EWS grandparent Joanne Estes ~
joanne@greencafeonline.com
or 919-929-4534, for location information
.
Dr. Hauschka Facials/Retailer:
CORI ROTH/Licensed, Certified, Holistic Esthetician. Revive your body, mind, and senses with a nourishing and soothing Divinerose Facial. Offered in an unhurried and retreat-like setting. 15% off first-time client. Visit
www.divinerose.com
for more info.

KatieBeth's Learning Garden!
We are a retail store and community class space located at 400 S. Elliott Road in the Galleria Shopping Center. Here, you can find the supplies you need for a Waldorf-friendly home, including imaginative natural toys from Camden Rose, Ralph Evans, and Sarah's Silk, fiber arts kits and supplies from Harrisville, beeswax candles, stones, and supplies from Mercurius. We sell new and consigned educational materials and games for your whole family.
www.katiebethsgarden.com

REALTORS/HOUSING
Buying a home? Selling a home? Investing in real estate? HEAD, HEART and 20+ years of HANDS-ON EXPERIENCE giving caring advice and guidance to hundreds of happy home buyers and sellers – let me help you with all of your Real Estate needs! Judy Weinstock, REALTOR, EWS Alumni parent. Joyfully donating to EWS with every sale. Phone 919.951.1800.
www.seejudy.com
.

Advertising Changes for the Emersonian
We accept small classified-type advertisements. Each submission to the Classifieds should be no more than 6 lines of text, which is approximately 60 words. The costs are as follows: $5.00/week; $10.00/month or $100.00/school year (10 months). Payment for Community Bulletin Board Submissions should be made by the Friday before the publication week (we publish every Wednesday school is in session.) No charge for advertisements of free events or non-profit organizations. Submit ads to:
emersonian@emersonwaldorf.org
.

General Policy for the Bulletin
No political or religious advertisements. No competitive program advertisements. No outside fundraisers. The editors will decide the placement of advertisements. Submissions may be edited for content and length. The Emerson Waldorf School retains the right to choose not to print an advertisement.
Public announcements and services offered in the Emersonian or other circulars produced by Emerson Waldorf School are paid advertisements and do not necessarily reflect the views and opinions of Emerson Waldorf School or its employees.
---
E-Newsletter Design and Graphics

Emersonian Publishing Team:
Kelley Wiley - Content, layout, correspondence, advertising
Raelee Peirce - Header design, layout
Barbara Holloway - Photo & creative content, editing
Kathleen Jackson - Editing
For'rest Jackson - Guest Sports Editor