---
Woodworking Masterpieces
---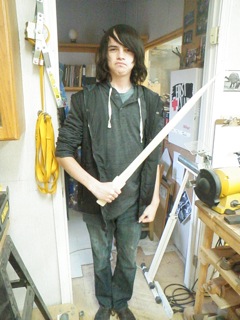 Rob's Sword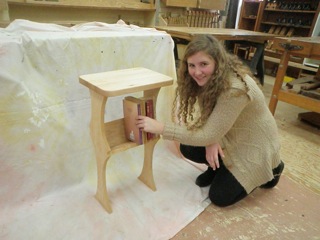 Emily's Bedside Table
---
Burrito Mondays are Back!

---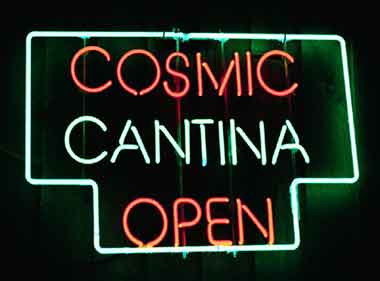 Large bean, rice, and cheese or chicken, rice, bean, and cheese burritos with a side of chips and fresh
salsa will be delivered to the students each Monday.
Burritos are made fresh from scratch for EWS by Cosmic Cantina and are delivered to the school piping hot!
Choose between:
• A soft flour or a soft gluten-free corn tortilla with black beans, cheese, and rice ($72 for remaining 18 weeks).
• A soft flour or a soft gluten-free corn tortilla with chicken, beans, rice, and cheese ($108 for remaining 18 weeks).
Burrito Monday is brought to you by the Class of 2014. Please support us as we fundraise for our Senior Trip! Forms were e-mailed to parents and are also available in the Main Office.
Please return completed forms to the Main Office of the Lower School or to the High School Office.
---
Wish List

---
Do You Have These Items to Donate?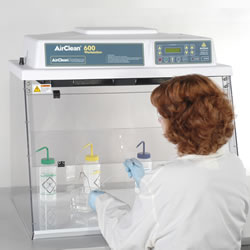 Chemistry Class Seeking Fume/Range Hood
Dan Moise, High School Chemistry teacher, is looking for a second-hand bench-top chemical fume hood that can be hooked into the air fan in our chemistry lab. Do you work in a lab that is planning to replace equipment anytime soon? Might you be planning a kitchen renovation? It doesn't need to be fancy – even a range hood would do the trick. Please e-mail Dan Moise (dmoise@emersonwaldorf.org) if you have any leads.
After School Program Seeks Kitchen Utensils, Towels, Bowls...
Candor Plaza, After School Director, is needing to stock the school kitchen with supplies. If you have extra silverware, knives, bowls, plates, towels, or oven mitts that are in good condition, please bring them by!
---
Bring Back the Java!

---
Morning Coffee Volunteers Needed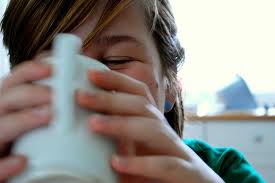 We're seeking volunteers for the Morning Coffee Table for Mondays, Wednesdays, and Fridays. A new, sustainable volunteer plan is in the works. Meanwhile, we would love to have some early birds who could make coffee and set up the table from 7:50am-8:10am. Training available! You don't have to make coffee all 3 days - just let us know what you're willing to do to help! Contact the Main Office if you're interested.
Thank you to Pat McKenzie, Karen Durovich, Candor Plaza, Rebecca Moore, and Anne-Marie La Lumia for all of your volunteer time in bringing us morning coffee.
---
Grade 5 Celebrates Diwali

---
by Gaurangi-priya Gopal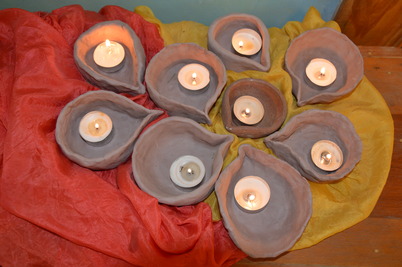 During this time of the year when days grow shorter and nights grow longer, we find in traditions around the world, the use of candles. Whether in celebration, decoration, reflection, or prayer, we are undeniably attracted to the glow of candles.

Diwali, the Hindu celebration of the New Year, is a tradition that uses candles in the grandest of ways. The story behind Diwali has many variations, but the most popular is that of the return of Rama, his wife Sita, and his brother Lakshman to Ayodhya, their home kingdom. After slaying the most vicious demon of the time, Ravana, the trio returns home, finishing a 14-year exile that was imposed upon them unfairly. Their family and friends, along with all of the citizens of the kingdom, are overjoyed by their return. Small clay lamps are fashioned with a ghee wick, and the entire city is illuminated for their nighttime return. To this day, homes in India, as well as around the world, decorate their homes and altars with lamps. The symbol of lit candles is that of hospitality, joy, and warm welcome.
I recently had the privilege of spending some afternoons with the 5th grade, as they studied the traditions of India. We made clay lamps in honor of Diwali and talked about the different stories that surround this holiday. I explained to them that the flame is a beautiful mirror of our spirit, and that when we light candles as offerings of prayer, they become a physical reminder of offering our souls. In the culture of my home, we have a special song we sing in the evening for the whole month of Diwali. This month, which is called Kartika, is a special month honoring Radha, the Goddess of our tradition. While singing the song, we each offer a candle on our altar. Some of the students of 5th grade visited our temple earlier in the month and took part in this song and candle offering. Because this tradition lasts a full month for us, the effect of lighting and offering a flame becomes a very deep internal and meditative time.
May the light of whatever tradition you hold close to your heart fill your spirit with solemn joy and peace during this time of year! And in the words of every Hindu tradition, Namaste ~ May that spark of light that lives within me, honor that spark of light that lives within you. I bow to you. ~
---
Grade 6 Trip to Bell & Howell

---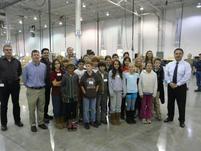 The 6th grade class took a field trip to Bell & Howell on Friday, which linked up to our Economics block. The students had an incredible time! Not only was this a nice glimpse into how a working company operates a business – we were also able to get a fun and informative jump on mechanics for next year. Take the time to ask your child about the trip – there was quite a bit to see and learn! Ask about the 4000 frame-per-second camera, the sorting machine, or any of the myriad of engineers who shared their world with us. You can even ask about meeting the CEO, who surprised everyone by dropping by to meet the students and quiz them on Bell & Howell. His visit was not originally part of the tour, but there he was, and a photo was snapped!
Not surprisingly, he was most impressed with the students.
Thank you, Michelle Demers!
Shannon Wiley
6th Grade Teacher
---
Check Out the Bucket Brothers, Live!

---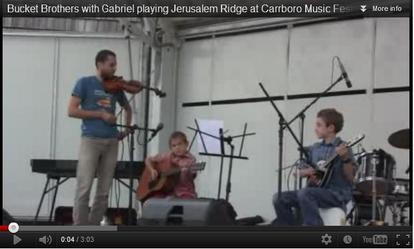 ---
Bun Orders Are Due by 3pm Today!

---

Buns ordered by today will be delivered on December 20th!

Last chance before the Winter Break to buy Tobi's Cinnamon Rolls for your holiday breakfasts with family and guests or to give as gifts.

You may order with forms available in the Main Office (see bread pan on black table) or online at http://ewsbunraiser.weebly.com/.

On Thursday, 20 December, pick up your bun orders near the Coffee Table, from 8:15-8:40 am or 3:00-3:25 pm (bring along your free coffee card!).
---
Last Day, 3-3:30pm...

---
Paws4Ever Supply Drive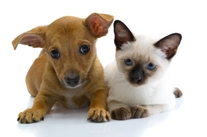 A group of students from the High School are organizing a supply drive for Paws4Ever on
Monday, December 10th through Wednesday, December 12th
.
Collection times are between 3:00-3:30pm on each of those afternoons at the Lower School circle and parking lots. Suggested donations:
Laundry soap, bleach, vinegar, floor cleaner, dishwasher soap, antibacterial hand soap, HP 950XL or HP 951 printer ink, large ceramic bowls, name brand kitten food, toilet paper, pine pellets, dry cat food
(preferably not commercial foods with lots of dyes), scoopable clay litter, removable string mop heads, spray nozzles for hoses, and 45 or 55 gallon trash bags.
Money is also a perfect donation and will gladly be accepted. Please, do your part to improve the lives of these animals this holiday season by donating. Watch for HS students collecting donations in the lower school parking lots next Monday, Tuesday, and Wednesday.
Emily Jolly
11th grade
---
Waldorf Holiday Shopping

---
1 More Campus Monday 12-4pm to Shop Dragonfly!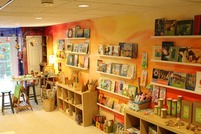 We have a great selection of gifts for your teacher, stocking stuffers, candles, cards, calendars and seasonal picture books.
Find us at the green trailer near the kindergarten building!
For more information, please contact Charlotte at (919) 265-9734.
Check Out Our Website
---
All For One, One For All

---
Samsara's Hand Spiral
---

---
---
Childcare Needed
---
In search of a gentle & loving part-time nanny for infant son. Caregiver position to begin in January 2013. Please contact Jewell Whitmer: jewell225@yahoo.com or (919) 672.8519.

---
For Sale

---
Beautiful Choroi diatonic/pentatonic children's lyre in wooden case with tuning fork and song book. $300

American Girl Doll, Kirsten Larson, now a collector's item, in excellent condition. Comes with 7 outfits, nightstand set, washbasin set, hair kit and trading cards.$425; Please call EWS Alum Melody Miller at 919-357-4849 or email melodya.grace@gmail.com.
---
Services
---
Gnomes, Fairies, Chickens and Bees, Oh My!
by ehkarp - This Waldorf parent, from Atlanta, has painted some lovely portraits of Gnomes, Fairies, and other creatures. They make the perfect stocking stuffer or ornament.
All are available at
etsy.com/shop/Aisforpainting
. Follow me on FB at
facebook.com/AIsForPainting
for the latest postings. Free shipping for the Waldorf community coupon code WALDORFEMER.
Get the best beef and pork delivered to you at EWS, by the cut! Grass fed beef and pastured pork raised humanely with no antibiotics, added hormones, pesticides or herbicides. Call or email for price lists: farmer@MinkaFarm.com or 919-304-4999. Delivering to EWS every Tuesday that school is in session.


Support a Waldorf family and enjoy beautiful hair at the same time!
Put your hair in the hands of artist-hairdresser Nancy Moore. She is good with hair of every kind, yes even curly. Call for appointment; you may have to leave a message, 919 260-2495. Or make your appointment online, www.mandrewdesign.com 4905 Pine Cone Drive Durham, NC 27707


Looking for a new or used Waldorf related item... toy, musical instrument, book? Visit The Waldorf Exchange at
www.thewaldorfexchange.com
.
Are you living with questions about your life, your relationships, your parenting, your future?
Lynn Jericho offers compassionate listening and creative guidance - a Waldorf wisdom for adult needs and challenges. Call Lynn (919-240-4094) or learn more
www.imagineself.com/about-Lynn/
If only our organic whole foods provided all of the daily nutrients we need.
90% of Americans are lacking nutrients in their diets. Now, moms can meet their bone and breast health needs and boost immune support and energy for the price of a daily latte. Shaklee's Vitalizer will establish your optimal nutritional foundation. You know that not all vitamins are created equal -
Click Here
to learn about the Shaklee Difference. (Joanne Estes is a grandmother of 4 EWS children, living prescription-free at almost age 70 and feeling great).
Are you looking for a New or Slightly Used Car?
Great Deals for EWS Parents, Friends & Faculty. Call David Rabius, Proud EWS Parent at 919-408-9633 Johnson Lexus @ SouthPoint- 2013 New Lexus Line Up..Certified Pre-Owned Lexus and a wide range of slightly used cars to meet your budget.
(David Rabius)
Create a space that aligns with your dreams!
EWS First Grade teacher, Shannon Dawn O'Connor happily uses her "super-power" to organize, lazure, simplify or re-create your home or office so that your environment supports what really matters to you. Shannon received a BFA from Parsons School of Design and studied the Environment and Its Effects on Psychology through Lesley College and has been happily beautifying the world ever since. For free estimates, work samples, or references contact Shannon Dawn @ 919.259.5252 and watch your world transform as it grows brighter and clearer around you!
"She's got the midas-touch" - Tyler G.
"Everything she lays her hands on turns golden"- Charlotte S.
"Shannon purely sparkles, and your home will too" - Megan W.

DIVINEROSE FACIALS

Offering illuminating and renewing Dr. Hauschka facial treatments. Cori Roth, NC Licensed/Holistic Esthetician and Dr. Hauschka retailer. Please visit
Divinerose.com
for more info.
New Medical Practice
We are pleased to announce our practice "Integrative Medical" at Haven Medical Clinic on 121 S Estes Dr, Suite 205 D, Chapel Hill 27514. For appointments, you may contact us directly:
Rula Freiji 919-525-5626 General Pediatrics & Pediatric Infectious Disease Consults
Dani Mouawad 919-525-5625 General Pediatrics & Integrative Medicine.
– Rula and Dani Freiji-Mouawad
---
Realtors/Housing

---
Our house is for sale and we want to spread the word around as much as possible so that people will come take a look.
We live in an older established neighborhood (started in the 70s) just minutes from three of the Eno River parks and just over the line from Orange County. It has a great fenced back yard and over 13 different kinds of hardwood trees It sits on a corner lot, and best of all has not only a double garage that connects to the house but also a finished wired separate garage that is great for storage, a workshop and other wonderful possibilities.
Click Here for the Link
Buying a home? Selling a home? Investing in real estate?
HEAD, HEART and 20+ years of HANDS-ON EXPERIENCE giving caring advice and guidance to hundreds of happy home buyers and sellers – let me help you with all of your Real Estate needs!
Judy Weinstock, REALTOR, EWS Alumni parent. Joyfully donating to EWS with every sale. Phone 919-951-1800.
www.seejudy.com
.
Waldorf families are unique and special.
You need a realtor who is unique and special too. Lynn Hayes has been helping Waldorf families for over 25 years, offering caring and sensitive service while supporting Waldorf education in our community. For MLS searches, community information and lots more visit
www.lynnhayes.com
or call Lynn at 919-968-9989.
---
Advertising Changes for the Emersonian
We accept small classified-type advertisements. Each submission to the Classifieds should be no more than 6 lines of text, which is approximately 60 words. Each submission costs $5.00. Payment for Community Bulletin Board Submissions should be made by Friday of the publication week. No charge for advertisements of free events or non-profit organizations. Submit ads to: emersonian@emersonwaldorf.org.

General Policy for the Bulletin
No political or religious advertisements. No competitive program advertisements. No fundraisers. The editors will decide the placement of advertisements. Submissions may be edited for content and length. The Emerson Waldorf School retains the right to choose not to print an advertisement.

Public announcements and services offered in the Emersonian or other circulars produced by Emerson Waldorf School are paid advertisements and do not necessarily reflect the views and opinions of Emerson Waldorf School or its employees.
---