The Emersonian is a weekly e-Newsletter sent to the
Emerson Waldorf School community every Wednesday during the school year.
919.967.1858 | emersonwaldorf.org


From Administration & Faculty...

---
Parent Organization Meeting Next Week

---
Gala - This Saturday!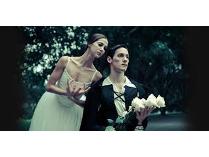 Featuring 2 tickets to Carolina Ballet's Giselle, the touchstone of ballet for the Romantic era – perfect Mother's Day gift!This Sunday is Mother's Day
– and we have gorgeous pampering Mother's Day Baskets awaiting you at Saturday's Gala! The special women in your life will love relaxing, rejuvenating, and achieving perfect harmony between inner and outer beauty with these indulgent offerings!
Just two days left to invite friends and family to bid online!
Forward
biddingforgood.com/ews
now so they, too, may take advantage of the incredible deals – vacations, spa treatments, gym memberships, shopping sprees, dinners out – many still available for a song!
What are you waiting for?
Get tickets now with just one click!
Only four days until our fun-raising begins – music by Cyril Lance, food by Vimala, open bar, lively bidding, raucous dancing, FUN FOR ALL!
Education Towards Freedom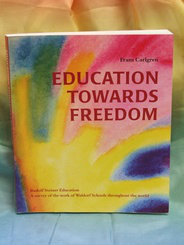 Tea with Steve at the Cottage
Friday, May 10, 2013
8:30 - 9:30 am

Approaching my first year at Emerson, I would love to discuss with interested parents "Education towards Freedom" at our regular tea time this Friday. If you have an hour it would be great to meet.

---
Happy Birthday This Week!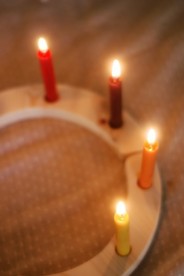 Sunday, May 12 -
Kathleen Jackson,
High School College Counselor
---
A Home Away From Home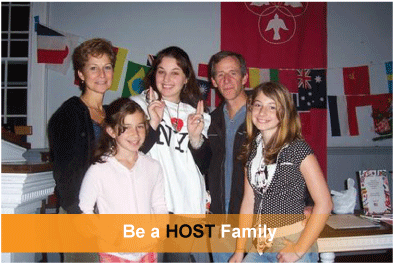 Host Requisites:

EWS is looking for host families who will embrace a boarding High School student and become a home (and family) away from home for them. Hosting families must be willing to include their visitor in family life, meals, and weekend activities and to be surrogate parents for the away-from-home student. Reciprocal requirements will be placed on the boarder.

The host family will also need to provide a private space for the boarder,
to allow for the preparation of school work and associated activities. This would include a desk and a quiet space for the student to be responsible for and access to the internet.
Host families must honor all dietary requirements of the boarding student.
They must be willing to receive regular visits from a Faculty member to ensure all is well and to provide a strong link between home and school. EWS will need assurance that supervision is adequate and appropriate for the boarding student, including use of the internet. We will expect the host family, along with the boarding student, to become familiar with all EWS guidelines for families regarding media.
Covered by the $8000 annual fee
would be room and board, basic provisions for hygiene, transportation to and from school and activities, and regular phone contact with the student's family. It would not include clothing, footwear or transportation beyond day-to-day needs. We will expect the boarding student to have an allowance from his own family.
If you would like to apply to be an EWS High School Boarding Student Host Family,
please contact Kelley Wiley at kwiley@emersonwaldorf.org or 919.967.1848 x 13 to receive the application.
May Day 2013 Recap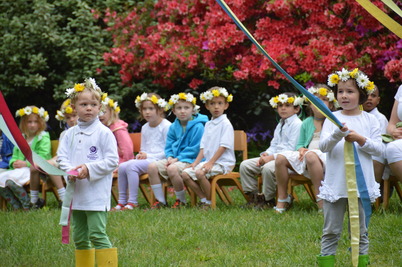 What a beautiful celebration! Our first misty May Day in memory didn't stop our Early Childhood families from enjoying a wonderful celebration and picnic. Grades 1-12 enjoyed sunny skies two days later for a lively celebration from simple dancing to the more complicated spider weave. Children and adults alike danced around the Maypole, which had to be repaired mid-event. The Sixth Grade entertained us with their impressive juggling as the May Crown was quickly put back into place. Check out all of the pictures on
EWS Facebook
!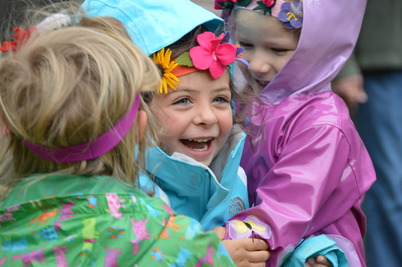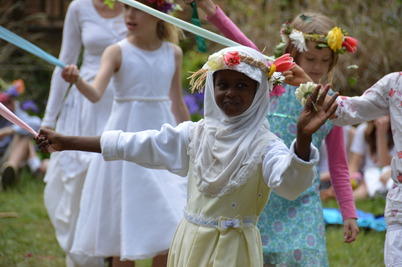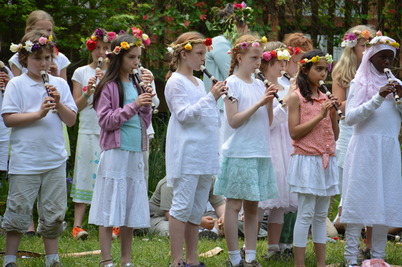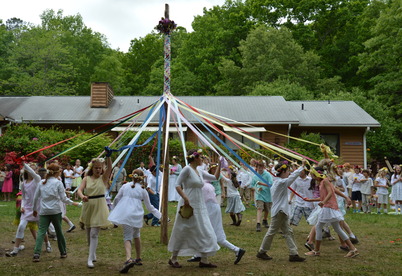 Visit our
Facebook Page
for the full May Day 2013 Picture Album


---
2nd Grade Play: Jumping Mouse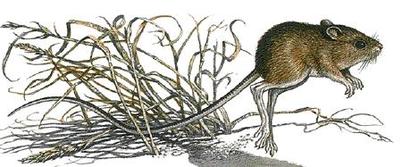 Friday, May 10, 2013 - 9:30 am, Eurythmy Room
Monday, May 13, 2013 - 2:15 pm, Eurythmy Room

In the beginning, a young mouse dreams of going to the far-off land because of all the stories the old ones have told. They warn young mouse not to go, but he leaves the next morning when the sun comes up.
On his journey the first animal the young mouse meets is magic frog. Young mouse can't cross the river, so magic frog gives him legs like a kangaroo so he can jump across. The magic frog gives him his special name of "Jumping Mouse."
Join Ms Rogers' 2nd Grade on their journey of
Jumping Mouse
and his great adventure to discover other creatures in the "far-off land" that he longs to see.
Always check the online
EWS Calendar
for updates to the date, time, and location of the showing.
3rd Grade Shelter Projects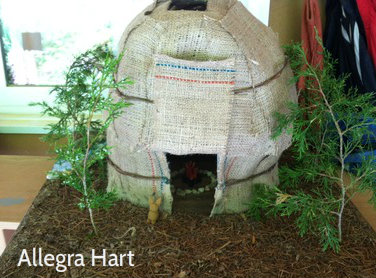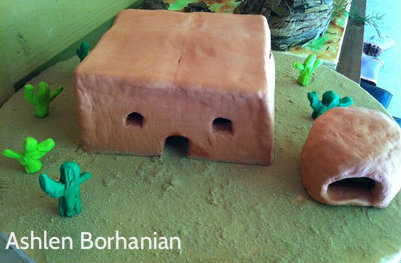 In Third Grade, the students are assigned their first major school project: the shelter project.

The variety, the creativity, and the intricacy of the projects of Ms. Stoychev's class were amazing this year! The shelter styles represent many places in the world. The students learn so much, not only from building their own projects but from all of their classmates.

The children, with help from their teacher and their parents, research a place in the world and how the people of that location live. They design and build a model of a shelter or dwelling of that land to present to the class.

This experience in Third Grade is one part of a larger curriculum which is very effective at developing the creative capacities of the children. When the children from this class are a little older, they will be able to work independently to carry out extensive creative projects of the future!



Grade 4 Animal Habitat Projects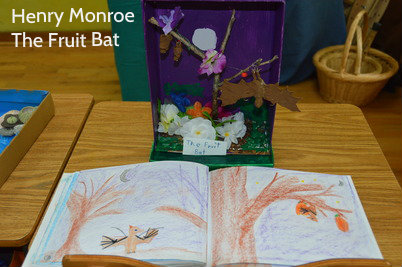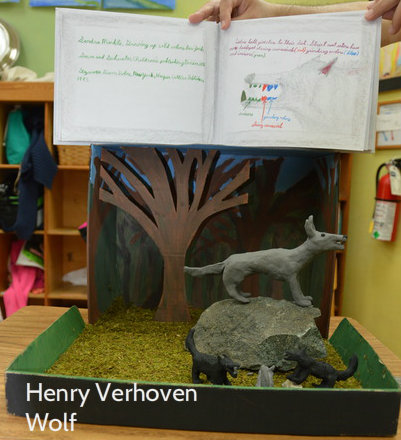 The Animal Project was the culmination of the "Human Being and Animal World" blocks. Each child in Fourth Grade chose an animal that makes its home somewhere in the world. The children got books and magazines from the library, and learned how to write a research paper, taking notes, organizing ideas and facts, then writing an essay based on the material they had collected. This was a huge step in their academic learning, and they seemed to relish it. At the same time, they were modeling their animals in clay and beeswax and— for the first time in school—making numerous, very accurate drawings from photographs.
After the reports were written and the children had an understanding of the world of their animal, they each wrote a story, told from their animal's point of view.
The final step for the children was the construction of dioramas, showing their animal in its habitat, going about some aspect of its day. These were beautifully done, with careful attention to detail and novel solutions to showing the landscape unique to their animal's habitat. They were presented to the whole school, with the children standing by their dioramas and answering questions about their animals.
The children made great strides in their ability to do academic work independently, and also formed a deeper conscious connection to the natural world and its inhabitants. Great job, Ms. Comaniciu's Fourth Grade Class!

---
Caring Corner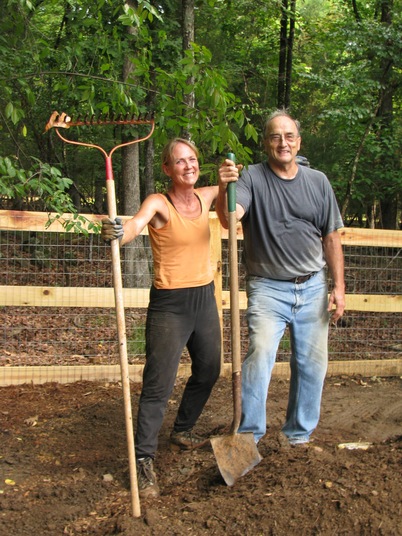 Donald Lee Michael passed away in his home on April 13, 2013 with his family by his side. Donald was married for 26 years to Kathleen Stone-Michael (beloved EWS Nursery teacher); he is also survived by his son Nathaniel, daughters Robin and Kim, six grandchildren, and many other members of his extended family.
Donald had been battling non-Hodgkin lymphoma for over a year but maintained a positive outlook and a wonderful sense of humor throughout. His family will miss "a wonderful and brilliant man who brought laughter, love, and care to everyone he met and everything he did."
---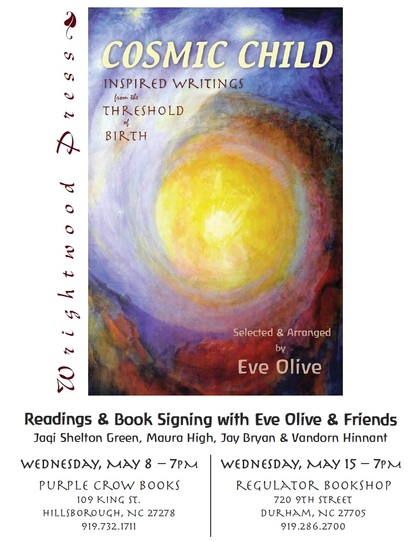 Eve Olive and four local poets will read from Olive's newly published anthology "Cosmic Child: Inspired Writings from the Threshold of Birth" on the two Wednesdays on either side of Mothers' Day - tonight at Purple Crow Books in Hillsborough and next Wednesday, May 15th at the Regulator Bookshop in Durham. Both readings are at 7:00 pm.

Bring your mother, your daughter, your son, your friends.

Inspired by poems which Olive wrote when contemplating the coming of her first grandchild 33 years ago, the collection now contains poems and stories from around the world and across the ages. Mary Oliver, Langston Hughes, Rumi, Wordsworth and many others offer views which delight, inspire and amuse. All have a sense of pre-birth awareness.

Book signing will follow the readings. All royalties will be donated to support the Eurythmy program at the Emerson Waldorf School.

This volume makes a perfect gift for a mother-to-be, a new grandparent, or anyone, as we have all been through the great experience of birth whether we remember it or not.




---
Cursive Benefits Go Beyond Writing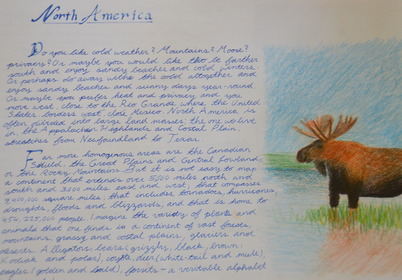 NY Times Article by Suzanne Baruch Asherson

Putting pen to paper stimulates the brain like nothing else, even in this age of e-mails, texts and tweets. In fact, learning to write in cursive is shown to improve brain development in the areas of thinking, language and working memory. Cursive handwriting stimulates brain synapses and synchronicity between the left and right hemispheres, something absent from printing and typing.

As a result, the physical act of writing in cursive leads to increased comprehension and participation. Interestingly, a few years ago, the College Board found that students who wrote in cursive for the essay portion of the SAT scored slightly higher than those who printed, which experts believe is because the speed and efficiency of writing in cursive allowed the students to focus on the content of their essays.
Continue to Read...
Moment of Pause...

---
The UNKNOWABLE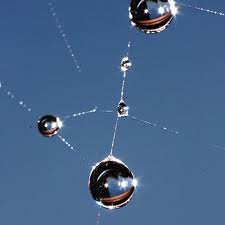 I no longer try to change outer things. They are simply a reflection. I change my inner perception and the outer reveals the beauty so long obscured by my own attitude. I concentrate on my inner vision and find my outer view transformed. I find myself attuned to the grandeur of life in unison with the perfect order of the universe.
– Transcription from an ancient Rune

---
Events & Classes

The Lyre and the Human Voice: 2013 Summer Conference
- Saturday, July 20 - Wednesday, July 24 at Emerson Waldorf School. Please read more about this conference at the following link:
Lyre Conference PDF
If you can offer your home for lodging accommodations please contact Suzanne Mays at suzannemays@gmail.com or call 919-929-1073. The nightly rate is between $25-45. Anyone who has an extra bedroom and would like to host one or more lyre players should contact Suzanne directly.
Services
AWSNA May Day Book Sale -
save up to 40% on select titles. Go to the following:
http://www.awsnabooks.org/store/


Three weeks of summer horse camp at Blue Skies of Mapleview
now FULL. Only weeks 4 (July 8-12) and 5 (July 15-19) have a few openings left. I hope to fill the spots with Waldorf students (my favorites after being a Waldorf mom for 26 years). This holistic horse camp runs from 8:30-3:00 Monday-Friday and involves all aspects of horsemanship and riding every day including mounted games, bareback riding and trail ride. Beautiful art projects, horsey games and a dip in the pool round out the day. For boys and girls 7-17 years of age. www.blueskiesmapleview.us or call 919-933-1444 for a brochure from Deborah Pearson-Moyers.... or run up and ask the Woodworking teacher, Mr. Moyers for a reference!


GLUTEN FREE?
Empty Nest Bakery, a 100% gluten free baker, sells both sweet and savory GF baked goods of the highest quality. NOT GLUTEN FREE? Tobi's Bakery sells cinnamon buns, and European inspired breads & desserts. Find us Saturday mornings 8 am -noon at the Hillsborough Farmers Market, just 5 miles north of EWS on HWY 86 in the Home Depot parking lot.


Do you or your organization need a skilled editor?
I enjoy helping people organize their words and ideas. I have 25 years of writing and editing experience as well as master's and doctoral degrees in public health. If you know of editing opportunities (either freelance or steady part-time), contact Claire Viadro at viadro@mindspring.com or (919) 967-8215.


Spring has Sprung!
And so now will your grass. But worry not, for Anthony Day and his lawn care expertise will keep your grass in check. With over four years of lawn mowing experience under his belt, Anthony will find a way to tame your lawn's needs, be they big or small. Average small lawns for the low-low price of $20. Call Anthony at 919.537.8206 to arrange a free estimate.


EWS' resident artist/ hairdresser
Nancy Ann Moore, has moved her business to Flow, 587 Old Farrington Road Chapel Hill NC 27517
http://mapq.st/10Lx6m3
Book your own appointment online at
www.vagaro.com/nancyannmoore
or call the salon at 919.918.7776 or Nancy's mobile phone (919) 260-2495. Go with the Flow, support Nancy and let the good hair days begin!


Are you living with questions about your life,
your relationships, your parenting, your future? Lynn Jericho offers compassionate listening and creative guidance - a Waldorf wisdom for adult needs and challenges. Call Lynn (919.240.4094) or learn more
www.imagineself.com/about-Lynn/
Be sure and check out my Shaklee 180 Auction items for the Emerson Waldorf Gala Event!
I am offering a 30 day supply of Shaklee 180 Energizing Smoothee Mix (vanilla and chocolate), 24 gr. protein, 6 grams fiber, lactose fee, non-GMO soy protein, no artificial favors or sweeteners, 35% of the DV of 21 vitamins and minerals and powered by Leucine, an amino acid that signals you body to retain muscle, so you lose the right kind of weight, as well as an assortment back (10 bars) of Shaklee 180 snack bars, 10 grams of protein, 3 grams of fiber, low glycemic index, no trans fat, gluten free, no artificial flavors, colors or sweetners, non-GMO soy protein ~a great snack on the go with just 120 calories! $120 retail value for a minimum starting bid of just $50.00! For more information about these products go to my Shaklee 180 website ~
http://www.joanneestes.myshaklee180.com

Are you looking for a New or Slightly Used Car?
Great Deals for EWS Parents, Friends & Faculty. Call David Rabius, Proud EWS Parent at 919.408.9633 Johnson Lexus @ SouthPoint- 2013 New Lexus Line Up..Certified Pre-Owned Lexus and a wide range of slightly used cars to meet your budget.
(David Rabius)

DIVINEROSE FACIALS
Offering illuminating and renewing Dr. Hauschka facial treatments. Cori Roth, NC Licensed/Holistic Esthetician and Dr. Hauschka retailer. Please visit
Divinerose.com
for more info.
New Medical Practice
We are pleased to announce our practice "Integrative Medical" (
www.imevpc.com
) at Haven Medical Clinic on 121 S Estes Dr, Suite 205 D, Chapel Hill 27514. For appointments, you may contact us directly:
Rula Freiji 919.525.5626 General Pediatrics & Pediatric Infectious Disease Consults
Dani Mouawad 919.525.5625 General Pediatrics & Integrative Medicine.
– Rula and Dani Freiji-Mouawad
Realtors/Housing

Dear EWS Community, My daughter and I are looking for housing.
We are grateful to have lived in a beautiful home this last year and will need to move again at the end of the school year. Ideally, we would love a long-term house sitting situation, perhaps for someone on sabbatical. We are looking for a cat-friendly 2-bedroom home no more than 15-20 minutes from school. We appreciate any and all leads. Thank you, Deborah Rogers Second Grade Teacher, 949.510.0244


Short Term Summer Housing or Hosting Needed for Visiting Waldorf Teachers
. This summer the Emerson Waldorf School will be hosting several conferences and teacher training sessions during the month of July. Teachers will be traveling from all over North America to attend, and some would like to stay with a host family. Most will be here for five days or fewer. If you have a bed you can offer during the month of July please let me know. Most teachers just need a place to sleep and need no other special accommodations. They are willing to pay a nightly fee, but would also be grateful for free accommodations. Please let me know if you are able to host a teacher any time between July 9 - 28.
Jason Child jchild@emersonwaldorf.org


Let The Home Team help you "Find Home"
Now conveniently located in Timberlyne Shopping Center, our locally-owned real estate company has been helping clients, including several EWS families, "find home" since 1990. For more information or to speak to one of our experienced agents call 919.967.6363 or visit
www.Home-Team.com
. Also, please stop by to check out our exclusive, interactive window display!

Buying a home? Selling a home? Investing in real estate?
HEAD, HEART and 20+ years of HANDS-ON EXPERIENCE giving caring advice and guidance to hundreds of happy home buyers and sellers – let me help you with all of your Real Estate needs!
Judy Weinstock, REALTOR, EWS Alumni parent. Joyfully donating to EWS with every sale. Phone 919.951.1800.
www.seejudy.com
.

Waldorf families are unique and special.
You need a realtor who is unique and special too. Lynn Hayes has been helping Waldorf families for over 25 years, offering caring and sensitive service while supporting Waldorf education in our community. For MLS searches, community information and lots more visit
www.lynnhayes.com
or call Lynn at 919.968.9989.
Advertising in the Emersonian

---
We accept small classified-type advertisements. Each submission to the Classifieds should be no more than 6 lines of text, which is approximately 60 words. Each submission costs $5.00. Payment for Community Bulletin Board Submissions should be made by Friday of the publication week. No charge for advertisements of free events or non-profit organizations. Submit ads to: emersonian@emersonwaldorf.org.

General Policy for the Bulletin
No political or religious advertisements. No competitive program advertisements. No outside fundraisers. The editors will decide the placement of advertisements. Submissions may be edited for content and length. The Emerson Waldorf School retains the right to choose not to print an advertisement.

Public announcements and services offered in the Emersonian or other circulars produced by Emerson Waldorf School are paid advertisements and do not necessarily reflect the views and opinions of Emerson Waldorf School or its employees.


---
E-Newsletter Design and Graphics

Emersonian Publishing Team:
Jamie Lamkin - Design and Layout
Raelee Peirce - Coordinator
Claire Viadro - Creative Content
Forrest Jackson, Kathleen Jackson, and Barbara Holloway - Editing
Kelley Wiley - Correspondence and Advertising
---
This Week

---
Wednesday, 5/8
Eurythmy for Parents and Friends 8:30 - 10:00 am
12th Grade Trip

9th, 10th & 11th Grade Curriculum Trips

7th Grade Field Trip to Eagle's Landing
5th Grade Olympics at Makemie Woods, Barhamsville, VA.
ON-LINE AUCTION BIDDING ENDS 10:00 pm
Thursday 5/9
Waldorf Works
Campus Tour
8:30 -10:30 am

12th Grade Trip

5th Grade Olympics at Makemie Woods, Barhamsville, VA

7th Grade Field Trip to Eagle's Landing

9th, 10th & 11th Grade Curriculum Trips

Rising 1st Grade Family Playdate 3:30 - 4:30 pm

Friday 5/10
Tea With Steve at the Cottage: discussion of Education Towards Freedom
8:30 - 9:30 am

12th Grade Trip

7th Grade Field Trip to Eagle's Landing

9th, 10th & 11th Grade Curriculum Trips

2nd Grade Class Play "Jumping Mouse" in the Eurythmy Room 9:30 am

Saturday 5/11
EWS Gala Auction "Fields of Fun" at Murphey School, Durham, NC 6:00 - 11:00 pm

Sunday 5/12
Mother's Day


Monday 5/13
8th Grade Field Trip to Living Earth School, VA and Washington, DC

2nd Grade Class Play "Jumping Mouse" in the Eurythmy Room 2:15 pm

H.S. Ultimate Frisbee vs. Carborro HOME 5:00 pm

12th Grade Parent Evening 7:00 - 8:30 pm

Teen Discussion Group in the Woodland Cottage
7:00 - 8:30 pm
Tuesday, 5/14
EREV SHAVUOT
8th Grade Field Trip to Living Earth School, VA and Washington, DC
2nd Grade Parent Evening 7:00 - 8:30 pm
---
School Staff

---
919.967.1858

Steve Bennett x 11
Director of Administration

Mary Deutsch x 12
Finance Director

Barbara Holloway
Marketing Director
919.480.1026

Ian Ostrowski x29
Facilities Manager

Raelee Peirce x14
Admissions Director

Therisa Pienaar x20
High School Coordinator

Kelley Wiley x13
Communications Director


---
School Hours

---
N/K 8:30 am - 12:30 pm
1st-5th 8:30 am - 3:15 pm
6th-8th 8:15 am - 3:15 pm
HS 8:10 am - 3:15 pm

Aftercare N/K until 3pm
Aftercare 1st + until 6pm

Office Hours 8 am - 4 pm


---