---
Shepherds' Play This Friday!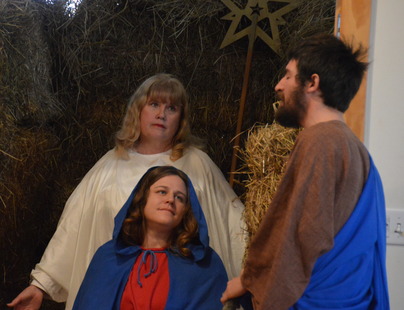 One Performance:
Friday, December 20th, 11:00 am
Eno River Unitarian Universalist Fellowship
4907 Garrett Rd, Durham
Just as the peasant farmers did in the 1600's in Oberufer, the teachers have been meeting in private to practice the Shepherds' Play. We are preparing it as a gift to the families of EWS for the holidays. This year we will have one performance on Friday, December 20, at 11:00 am at ERUUF.
Students need to be picked up from school by 10:10 am and delivered to ERUUF by 10:50 am for the play. After the play, which will end around noon, your students will go home with you. Please let your class teacher know if you do not have a ride for your child to or from ERUUF. Also please let other parents know if you will have an extra seat in your car and can give someone a lift.
Please plan to come and see the play. It is a wonderful way to set the mood for the holiday season.
The story of Christ's birth is depicted, so if you have a child in the grade school and would prefer that they not see the play, please plan to pick them up early that day.
Dragonfly Open This Saturday, 10am - 3pm!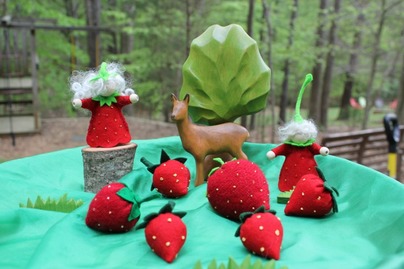 Come on out to the lovely EWS Cottage for your last-minute holiday shopping. Dragonfly offers Waldorf-inspired wooden toys, dolls, and silks for creative play, quality products for painting and crafting, as well as books, gifts, and beautiful yarns and tools for felting, knitting ... and much more.
Bunraiser Was Placed!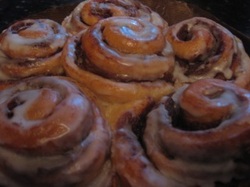 Thank you for increasing the bunraiser count high enough that we could place another order! Be on the lookout for your cinnamon buns or deluxe cinnamon buns this coming Thursday morning at the coffee table!

---
Ice Skating Fun!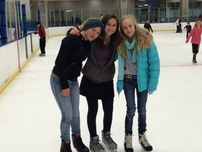 Please join us on the afternoon of December 20th at the Hillsborough Sportsplex for ice skating fun. The rink opens at 12:30 on the 20th, so get some lunch after the Shepherds' Play and head over to Hillsborough!
January PO Meeting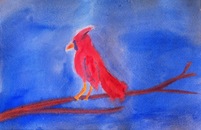 The January PO meeting is on January 8 at 7 pm, at 400 Fairoaks Circle, Chapel Hill 27516. Hope to see you there! Remember, every parent is welcome to attend any meeting, whether or not you've been before. Please join us.
PO Health & Wellness Recap

On Dec. 7, Leah Gibbons gave an informative and lively talk about how to strengthen your immune system and speed healing naturally. She covered food and lifestyle choices to build a strong body and immune system; foods to eat to speed healing when one becomes ill; common herbs (along with recipes) to use for various common ailments, such as colds and flu; and essential oils for the same. She is offering the following recipe to help heal ourselves and our loved ones when we become ill.
Healing Soup
This soup if full of vitamins, minerals, antioxidants, and phytonutrients. It is antibacterial, antiviral, anti-inflammatory, and antifungal. It is especially soothing when tired, stressed, or sick with a cold or flu. If your child will not eat it with the vegetables whole, try blending it until it is smooth and creamy.
2-3 cloves garlic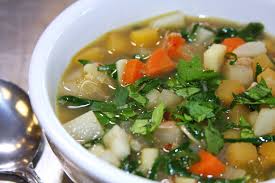 1 large onion
2-3 quarts water/vegetable broth
1 cucumber
2 Tbs. fresh cilantro
2 tsp. fresh grated ginger
salt to taste
Optional vegetables: carrots, cabbage, celery, and any other vegetable desired
Chop onion and simmer in broth until transparent. Slice cucumber and optional vegetables and add to broth. Simmer 10-15 minutes. Crush garlic and let it sit for 10 minutes. Add fresh garlic, ginger, cilantro, and salt to taste after the soup has cooled a bit.
Variation: Bring broth to a boil, take it off the burner, and drop assorted finely chopped vegetables into the water.
Health and Wellness Series - January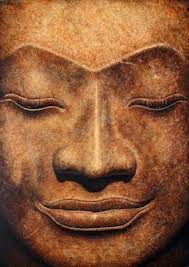 Join us for our third talk of the series sponsored by the PO.
High School Brown Wing
Saturday, January 11th
10:30 am-12:30 pm
Childcare provided upon request. Please contact TinalStevens@gmail.com

"Inner Smile: Internal Alchemy of Self-Acknowledgement, Self-Acceptance, Self-Love"
Stress is an intrinsic and unavoidable feature of modern life, and high stress demands, expectations, environments, and responsibilities are a theme of our fast-paced modern existence.
If only we could be offered a simple practice we could utilize to turn the effects of stress (of living) into vitality; a simple practice allowing us to acknowledge the effects of stress on our soul-spirit-mind-bodies and to transmute those effects into a blissful, rejuvenated, alert, focused, and energized self; a practice we could personalize and utilize anywhere we happen to be.
The Inner Smile is such a practice. With the profound simplicity of the Inner Smile the physical body is brought to stillness, the mind is focused within, the spirit is rejuvenated, and our sense of personal and immortal soul life is fortified.
In our time together we will first engage our bodies, our physical senses, and coordination by experiencing the simple elegance of the Inner Smile practice. During the practice we will engage our souls, our inner senses, and imaginations by experiencing the soul natures of the organs and by bringing various light hues to the organs.
After experiencing the practice, we will engage our minds, minds now rooted in stillness and free of outside perceptions, as wisdom Ancient and Modern is shared.
With any remaining time, I will respond to questions posed by participants.
For forty-plus years I have been constantly engaged in apprenticing, studying, teaching, and practicing Classical Chinese Medicine and Tao Self-Cultivations. I am degreed, Licensed, and National Board Certified in Acupuncture and practice near Hillsborough. I look forward to welcoming and being of service to you, your loved ones, and your friends.
Dennis DeJianne
dennis@alumni.duke.edu
919-724-2922

---
St. Lucia Celebration Beautiful!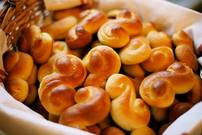 by Marta Matsumoto
I was lucky enough to be able to attend the preparation and beginning of Friday's St. Lucia celebration at the school. It truly was magical. The 2nd Grade children all looked amazing in their costumes and sang beautifully as they walked from class to class, delivering saffron buns and coffee. Many thanks to the parents and grandparents who baked the beautiful saffron buns! I heard many compliments on them from students and teachers alike.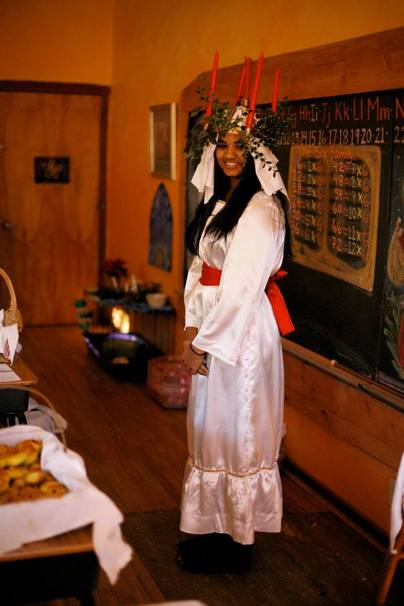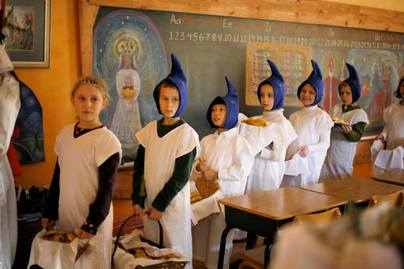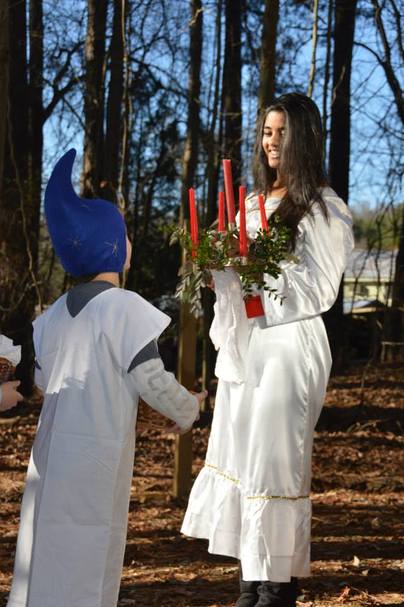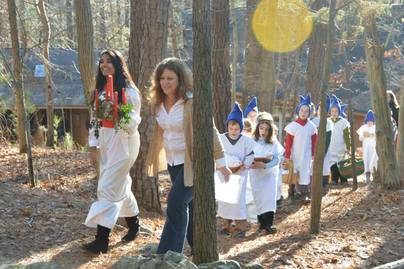 Check out
EWS Facebook
for more pictures!
(Click on the the blue letters above, which will take you to Facebook pics)

---
College Acceptances Rolling In!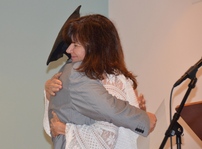 The pre-holiday admission decisions are coming in from colleges and universities, and our 12th Graders' list of acceptances and scholarship offers is growing. Here's the list as of this morning:
--Brevard College (NC) + scholarships
--Clark University (MA) + scholarship
--Eckerd College (FL)
--Guilford College (NC) + scholarship
--Lynchburg College (VA)
--University of North Carolina at Asheville
--Ursinus College (PA)
--University of Vermont + scholarship
--Western Carolina University (NC) + Honors College
Congratulations, and good luck to those seniors who still await decisions or are still working on applications.


– Kathleen Jackson, College Counselor



---
Basketball Season Update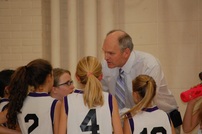 We are halfway through the basketball season and all of our teams are on the right track. Middle School Girls were very excited after defeating Carolina Friends School for the first time ever, December 4th at home. The boys followed suit, defeating Carolina Friends as well. Both teams played at Gorman Academy on December 10th. The girls lost, but played a great game, losing by just a few points, which was a much closer game than their first meeting with Gorman this season. The boys kept their winning streak going by handily defeating the home team. Both teams have their next game Tuesday, January 14 at Durham Academy.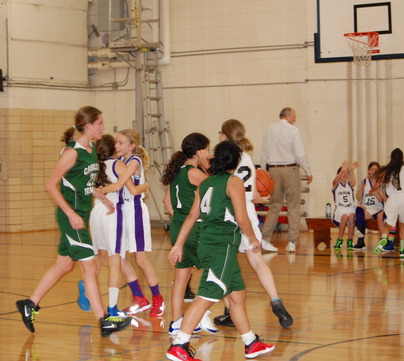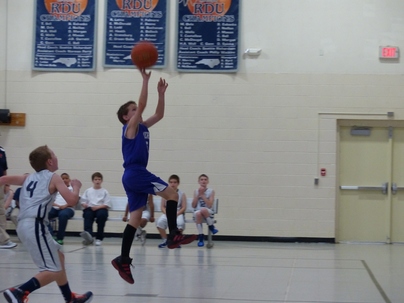 The High School Boys had a thrilling finish to their game against Chatham Charter School on December 3rd. The game was close for all 4 quarters, and with Chatham ahead by 2 points with about 6 seconds left to go, Kaylen Alexis tied the score. Then Chatham Charter quickly dribbled down the court and scored with 2 seconds left, however the basket was called back as their coach had already called a timeout. The game went into overtime and with 2 seconds left to go and Chatham Charter ahead by 2, Hudson Schertz shot a 3 pointer to win the game for the boys.
The boys lost another very close game against Pace Academy on December 6th, but they played much better than they did in their first game against Pace this season.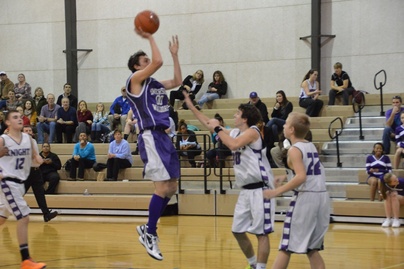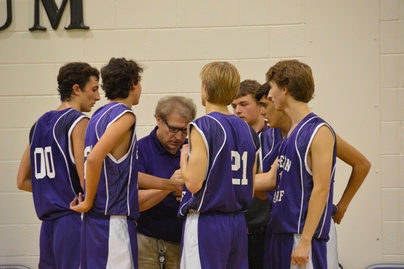 The girls lost a tough game to Chatham Charter, but learned much from the game. They went on play St. Thomas More Academy on December 11th, and used what they had learned to give St. Thomas More a run for their money. It was a significantly closer game than the first time they played, a week before.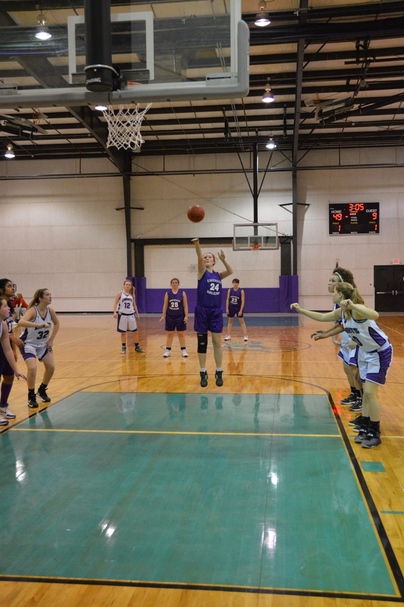 The High School Girls' next game is against Carolina Friends, Monday, January 13 at Central Rec in Hillsborough. The boys' next game is January 16, in Raleigh, against Fletcher Academy at 4:30 pm. All of the games are on the Emerson Waldorf School calendar and we hope you can come out and cheer on these hard working Gnomes!
– Mary Kirchoff, Athletic Director

---
Age of Distraction: Why It's Crucial for Students to Learn to Focus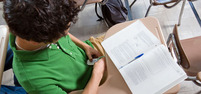 by Katrina Schwartz
Digital classroom tools like computers, tablets, and smartphones offer exciting opportunities to deepen learning through creativity, collaboration, and connection, but those very devices can also be distracting to students. Similarly, parents complain that when students are required to complete homework assignments online, it's a challenge for students to remain on task. The ubiquity of digital technology in all realms of life isn't going away, but if students don't learn how to concentrate and shut out distractions, research shows they'll have a much harder time succeeding in almost every area.
"The real message is because attention is under siege more than it has ever been in human history, we have more distractions than ever before, we have to be more focused on cultivating the skills of attention," said Daniel Goleman, a psychologist and author of Focus: The Hidden Driver of Excellence and other books about social and emotional learning on KQED's Forum program.

(Read more here)
A Moment of Pause

---
UBUNTU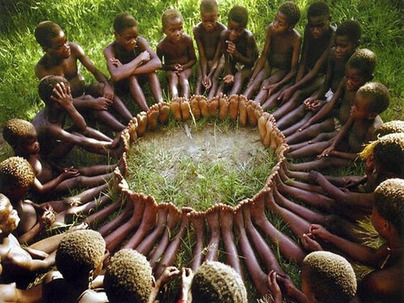 "An anthropologist proposed a game to children in an African tribe. He put a basket full of fruit near a tree and told the children that whoever got there first won the sweet fruits. When he told them to run, they all took each others hands and ran together, then sat together enjoying their treats.
When he asked them why they had run like that when one could have had all the fruits for himself, they said, 'UBUNTU, how can one of us be happy if all the other ones are sad?' ('UBUNTU' in the Xhosa culture means: 'I am because we are.)"

---
SERVICES AND ITEMS
New iPhone 5 for sale
– call Eve Olive at 919-489-2564 if interested.
For Sale - New, Never Used Black Electric Range - AMANA
- 4.8 CU. FT. WITH VERSATILE COOKTOP ELEMENTS, dimension 30"/20"/20" with matching FREE new black Range Hood. Call: 215-350-1394
Miou Kids' Clothing Boutique
offers European-inspired designer kids' clothes and baby clothes for families who want their children to look and feel their best. Their luxurious knitwear for kids is made with the softest baby alpaca wool so their clothes are as comfortable as they are stylish and durable. Designed by Christine Dubin, Miou knitwear for kids is fair trade and environmentally friendly and all their designer knitwear for girls and boys is handmade by artisans in rural Peru.
They are offering a 10% discount online with this code: emerson2013
Also, they will be giving EWS 10% of the total purchased back to EWS!

Visit
www.mioukids.com
to view the collection. Call 001 778 462 3444 for more information.
Balance your Life with Ayurveda~ Health & Lifestyle Consultations and Restorative Bodywork.
The focus of this consultation gives you direction in creating optimal health by making simple alterations in daily eating & lifestyle habits which are specific to your unique constitution. Restorative Bodywork nourishes the nervous system as well as the body with Hot Stones, Warm Oil & Steam Therapy. A wonderful gift for loved ones, friends, colleagues, or yourself! Gift Certificates for special occasions or just giving thanks. Offered in my lovely home office just minutes from Emerson. For monthly specials & more details:
www.stoneandspa.com
or call Shoshanna at 919-309-9989.
Why not have an artist do your hair?
Nancy Moore has been an artist/hairdresser for over 20 years, and an EWS mom for 16. Now located at the beautiful FLOW Salon, 587 Old Farrington Road, Chapel Hill NC 27517 For appointment call or text (919)260-2495 ...or book yourself online at
www.nancyannmoore.com
. Let the good hair days begin!

Get a head start on a healthier you in January 2014!
Consider trying the Shaklee 180 Program (customizable two-meal kit delivers a complete program of smoothees, snacks, energizing tea and metabolic boost - along with access to exclusive tools and rewards) for 3 months and receive $100 back in Shaklee products. (I have been able to go from a size 14 to a size 10 with this program). Go to this
website
to learn more and call me (919-929-4534) or email me at
greencafeonline@gmail.com
for more information about this great incentive which ends 1/31/14. Want a sample? Drop by the Coffee Table on Tuesday mornings before 8:30 am ~ I have some available for you to try :) Joanne Estes
Dr. Hauschka Facials/Retailer:
CORI ROTH/Licensed, Certified, Holistic Esthetician. Revive your body, mind, and senses with a nourishing and soothing Divinerose Facial. Offered in an unhurried and retreat-like setting. 15% off first-time client. Visit
www.divinerose.com
for more info.

KatieBeth's Learning Garden!
We are a retail store and community class space located at 400 S. Elliott Road in the Galleria Shopping Center. Here, you can find the supplies you need for a Waldorf-friendly home, including imaginative natural toys from Camden Rose, Ralph Evans, and Sarah's Silk, fiber arts kits and supplies from Harrisville, beeswax candles, stones, and supplies from Mercurius. We sell new and consigned educational materials and games for your whole family.
www.katiebethsgarden.com

REALTORS/HOUSING
Buying a home? Selling a home? Investing in real estate? HEAD, HEART and 20+ years of HANDS-ON EXPERIENCE giving caring advice and guidance to hundreds of happy home buyers and sellers – let me help you with all of your Real Estate needs! Judy Weinstock, REALTOR, EWS Alumni parent. Joyfully donating to EWS with every sale. Phone 919.951.1800.
www.seejudy.com
.

Advertising Changes for the Emersonian
We accept small classified-type advertisements. Each submission to the Classifieds should be no more than 6 lines of text, which is approximately 60 words. The costs are as follows: $5.00/week; $10.00/month or $100.00/school year (10 months). Payment for Community Bulletin Board Submissions should be made by the Friday before the publication week (we publish every Wednesday school is in session.) No charge for advertisements of free events or non-profit organizations. Submit ads to:
emersonian@emersonwaldorf.org
.

General Policy for the Bulletin
No political or religious advertisements. No competitive program advertisements. No outside fundraisers. The editors will decide the placement of advertisements. Submissions may be edited for content and length. The Emerson Waldorf School retains the right to choose not to print an advertisement.
Public announcements and services offered in the Emersonian or other circulars produced by Emerson Waldorf School are paid advertisements and do not necessarily reflect the views and opinions of Emerson Waldorf School or its employees.
---
E-Newsletter Design and Graphics

Emersonian Publishing Team:
Kelley Wiley - Content, layout, correspondence, advertising
Raelee Peirce - Header design, layout
Barbara Holloway - Photo & creative content, editing
Kathleen Jackson - Editing
For'rest Jackson - Guest Sports Editor