---
Grade 8 Anatomy & Social Dynamics
---
In the student's own words...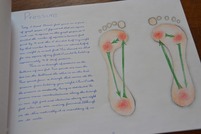 As part of the recent Anatomy Block in 8th Grade, Mr Trueblood asked the students, "What does our class need socially to remain upright, maintain balance and carry weight?" Here are a few responses, along with a sampling of artwork from Main Lesson books.
"Our class is held together because we work things out. We don't let things fester – if something is wrong we talk things through. This quality of our class is like the ligaments and muscles, holding each bone, or each one of us, together. We are also like the vertebral column with the rib cage protecting us. The rib cage is all of us standing up for each other and urging us on to be better people."
– Emma Hulbert (drawing above)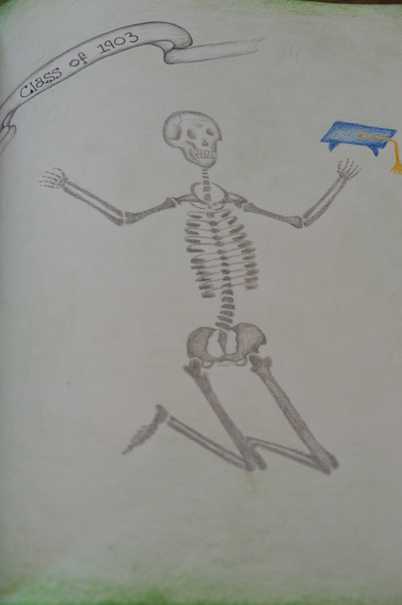 Mlana Lore


"Our class is like a person's body because we need each other to function well. Without each other we would be less effective as a whole. We are supportive of each other and help each other. We know each other well and when one of us breaks, we all work to help them. We are all individuals but function as a whole. We work together to learn and work; without all of us there wouldn't be a full class."
– Zachary Gunn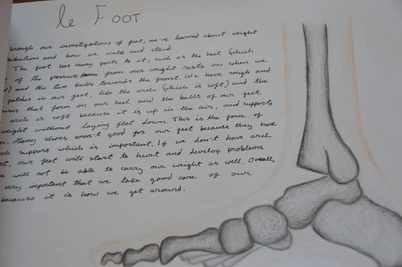 Lizzie Holloway


"Our class is able to remain upright because of our attitudes. When our attitudes are positive and hopeful we can hold ourselves together as one. But, if we give up or just plainly don't care about anything, we will fall apart like a torn ligament or crack like a broken bone. This is why we have learned to work together as one, balancing struggle with success. We always seem to pull out of the most difficult and unbalanced situations and turn them into happy endings. As our body grows, so does our class; we hold the weight of our own homework and the changing personalities of 15 different people. In this way, we are one body springing in and out of struggle like the spine; holding up the weight like hips and feet."
– Dorian Alexis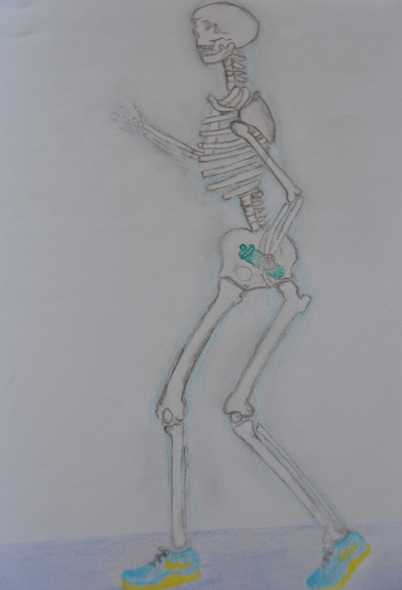 Chloe Nash


"I believe that what helps us stay together is that everyone plays a part in keeping us strong: The people that make us laugh, the people that keep us on task and the people that distract us from our task. They all act as different parts of the body, helping us to keep our balance throughout the day. When someone is gone, it feels like something is wrong, like a piece of our whole has disappeared or as if something is missing from our body."
– Estelle Mandeville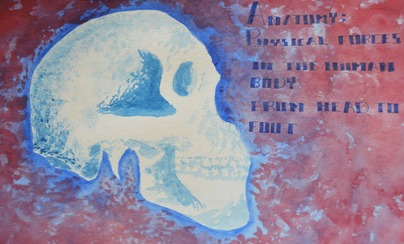 Rowan Bedick


"Every day we go to school. We are a class. We study, do homework and have fun. But how does our class relate to a body? Our school has certain rules that we have to follow: dress like this, act like that and be nice. But our body has rules like that as well. Our body resists certain movements to protect ourselves and stay safe. Certain bones, muscles and ligaments restrict those movements. Although our class is different from other classes, we must still follow the rules. It is the same with the body."
– Zak LaPrade
---
Budding Spanish Authors at EWS

---
Original Works in Spanish by 9th Grade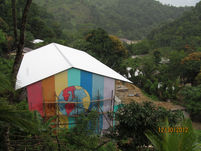 During advent, Sra. Fitzgerald's ninth grade Spanish students worked hard on producing their own, original Spanish children's books. Students wrote, rewrote, revised, illustrated, and binded these beautiful books.
Topics ranged from tales of heroes saving kingdoms to a monkey who traveled the world. Students wrote about animals, adventures, worlds without keys, imaginary places, and even teddy bears!
Their hard work culminated with sharing their stories with Sra. D'Angelo's and Mrs. Rogers' second graders. The ninth graders read their unique stories aloud as the 2nd grade students enjoyed their company.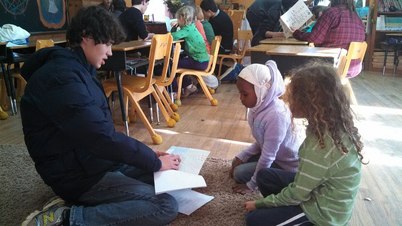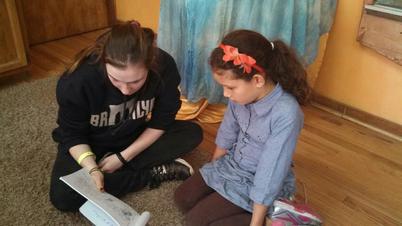 Sra. Fitzgerald made color copies of the books to keep at school, but all of the original books came with her to Honduras over the break, where she donated them to a rural school in the remote community of El Pital.
El Pital is a small community of about 500 people, situated along the Cangrejal River valley in northern Honduras. Though schools in Honduras were on vacation during her visit, the organization "Un Mundo," based at El Pital awaited the books' arrival.
Two student volunteers from the community's library program greeted Sra. Fitzgerald with excitement and open arms. They showed her their plans for building a new community library (they currently use a spare room in the local school), and they devoured the books on the spot.
The community Un Mundo volunteers who showed Sra. Fitzgerald and her family around El Pital were eternally grateful for our contribution, and they look forward to more! Sra. Fitzgerald plans to make this activity a tradition with her students given that she goes home to Honduras every year ... Let's help El Pital build the library of their dreams and fill it with student-made books!
---
Adult Eurythmy Begins

---
Join us Wednesdays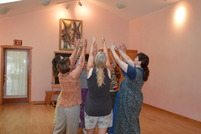 Eurythmy classes will start up again Wednesday, January 23.
We hope we will be joined by many new parents. No prior experience is necessary.
Classes are from 8:30 - 10:00 am Wednesdays. Come and enjoy!
"Movement in Tune with the
Rhythms of Life"
Cost: $110 (can be paid in installments and benefits the Eurythmy program for students at EWS).
For more information call Eve Olive at 919-489-2564.
---
Basketball
---
Tough Games for the Gnomes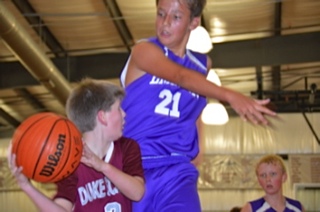 The HS boys and both MS teams had tough challenges last week which were met with great courage and grace.
The HS boys team traveled to Zebulon and defeated East Wake Academy in a very close 47-43 game. They are now 5-2 on the season.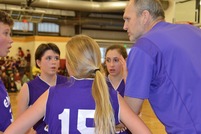 The MS girls and boys had to face the huge Dragon at Duke School and play in an atmosphere that, as one mother put it, " was like being in a Roman Coliseum." Although both EWS teams lost, all of our players showed sportsmanship and hustled until the final buzzer. After the game, the girls'
coach, Marty King, stated "My team was amazing, pointing out only their own faults and playing with class the whole game."
And one parent wrote "I'm really proud that my son is part of a team which is part of a community that values and encourages kindness and good sportsmanship."
---
Our School Volunteers

---
Appreciating One Other

Nominate EWS faculty, staff, or parents to be acknowledged for efforts toward our community and school!

Send your nominations to emersonian@emersonwaldorf.org



---
Article: Another Perspective

---
Evidence of our Culture of Punishment

by
Bonnie Harris, M.S.Ed.

While most readers of the viral blog, "I am Adam Lanza's Mother" were overcome with empathy for this mother of a reportedly mentally ill son and christened her a national heroine, I had a different take. I could not help but see it all from her son's perspective.
Read More
_________________________________________________________
Members of the Emerson Waldorf School community, as well as greater community parents, have been pro-actively exploring a paradigm shift from the punishing parenting paradigm to one of connection and relationship as Dr. Gordon Neufeld, child development psychologist and author of Hold Onto Your Kids. The group began meeting last January 2012 and has continued to meet in 2013. The group is open to the public. If you want more information about the free parent support group, contact noblemama@gmail.com.


---

---
Events & Classes

---
Drop-in Playgroup: Families who are exploring the tenets of Waldorf education and parenting are encouraged to bring their babies and toddlers any Wednesday, 9:30am-11am starting January 9, 2013. Playgroup facilitator Lisa Stauffer lives in Carrboro and has over 10 years of experience guiding young children through rhythm, baking, nature, and seasonal crafting. She looks forward to sharing these nurturing ways with children and their parents. $10 per family, per playgroup gathering. Refreshments served. Contact Lisa for more information and directions at lisavstauffer@aol.com or 919 929 9827.


---
Services
---
SHAKLEE 180
~ Clinically tested products and a program to help you lose the weight and learn how to keep it off. Being healthy begins with a healthy weight. If you are overweight, the most critical action you can take to reduce your risk of developing future health problems is to lose weight. Start with our Shaklee 180 Weight-Loss Program ~ validated by thousands of satisfied customers. For more information click here http://www.joanneestes.myshaklee180.com or email Joanne Estes at
greencafeonline@gmail.com
Joanne is the proud grandmother of 4 Waldorf children and is enjoying her new turnaround with this program
.
Are you looking for a New or Slightly Used Car?
Great Deals for EWS Parents, Friends & Faculty. Call David Rabius, Proud EWS Parent at 919-408-9633 Johnson Lexus @ SouthPoint- 2013 New Lexus Line Up..Certified Pre-Owned Lexus and a wide range of slightly used cars to meet your budget.
(David Rabius)


Create a space that aligns with your dreams!
EWS First Grade teacher, Shannon Dawn O'Connor happily uses her "super-power" to organize, lazure, simplify or re-create your home or office so that your environment supports what really matters to you. Shannon received a BFA from Parsons School of Design and studied the Environment and Its Effects on Psychology through Lesley College and has been happily beautifying the world ever since. For free estimates, work samples, or references contact Shannon Dawn @ 919.259.5252 and watch your world transform as it grows brighter and clearer around you!
"She's got the midas-touch" - Tyler G.
"Everything she lays her hands on turns golden"- Charlotte S.
"Shannon purely sparkles, and your home will too" - Megan W.


DIVINEROSE FACIALS

Offering illuminating and renewing Dr. Hauschka facial treatments. Cori Roth, NC Licensed/Holistic Esthetician and Dr. Hauschka retailer. Please visit
Divinerose.com
for more info.
New Medical Practice
We are pleased to announce our practice "Integrative Medical" at Haven Medical Clinic on 121 S Estes Dr, Suite 205 D, Chapel Hill 27514. For appointments, you may contact us directly:
Rula Freiji 919-525-5626 General Pediatrics & Pediatric Infectious Disease Consults
Dani Mouawad 919-525-5625 General Pediatrics & Integrative Medicine.
– Rula and Dani Freiji-Mouawad


---
Realtors/Housing

---
Our house is for sale and we want to spread the word around as much as possible so that people will come take a look.
We live in an older established neighborhood (started in the 70s) just minutes from three of the Eno River parks and just over the line from Orange County. It has a great fenced back yard and over 13 different kinds of hardwood trees It sits on a corner lot, and best of all has not only a double garage that connects to the house but also a finished wired separate garage that is great for storage, a workshop and other wonderful possibilities.
Click Here for the Link
Buying a home? Selling a home? Investing in real estate?
HEAD, HEART and 20+ years of HANDS-ON EXPERIENCE giving caring advice and guidance to hundreds of happy home buyers and sellers – let me help you with all of your Real Estate needs!
Judy Weinstock, REALTOR, EWS Alumni parent. Joyfully donating to EWS with every sale. Phone 919-951-1800.
www.seejudy.com
.
Waldorf families are unique and special.
You need a realtor who is unique and special too. Lynn Hayes has been helping Waldorf families for over 25 years, offering caring and sensitive service while supporting Waldorf education in our community. For MLS searches, community information and lots more visit
www.lynnhayes.com
or call Lynn at 919-968-9989.
---
Advertising Changes for the Emersonian
We accept small classified-type advertisements. Each submission to the Classifieds should be no more than 6 lines of text, which is approximately 60 words. Each submission costs $5.00. Payment for Community Bulletin Board Submissions should be made by Friday of the publication week. No charge for advertisements of free events or non-profit organizations. Submit ads to: emersonian@emersonwaldorf.org.

General Policy for the Bulletin
No political or religious advertisements. No competitive program advertisements. No fundraisers. The editors will decide the placement of advertisements. Submissions may be edited for content and length. The Emerson Waldorf School retains the right to choose not to print an advertisement.

Public announcements and services offered in the Emersonian or other circulars produced by Emerson Waldorf School are paid advertisements and do not necessarily reflect the views and opinions of Emerson Waldorf School or its employees.


---