---
EWS Summer Camp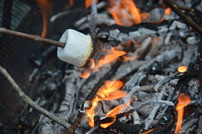 EWS Summer Camp registration is now OPEN and folks are already signing up! Please take a moment on this chilly day to visit the
EWS Website
and think about which camps your children would enjoy the most. We have a number of new offerings, as well as many well-loved programs that children count on each summer.

---
Valentine's Evening Childcare with EWS Seniors and Teachers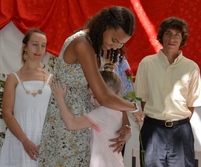 Calling all Valentines! Make a date with your favorite sweetheart for February 14. The 12th Grade will be hosting a kids' night out in the Brown Wing at EWS. Games, stories, arts and crafts, healthy snacks, and lots of fun will all take place from 5:00 - 8:00 pm. Parents and teachers, including Ms. Rogers and Ms. Comaniciu, will be supervising the fun. The fee is $20 per child for the evening, with all proceeds going to the Senior Class trip to NYC. Please sign up soon.
There are only 10 spots left!
Please sign up for a night of fun (for parents and kids). Follow
THIS LINK
to sign up, or email Rhonda Lanning at
jasonrhonda@bellsouth.net
for sign up and details. Thank you for your support.
PO Valentine Surprise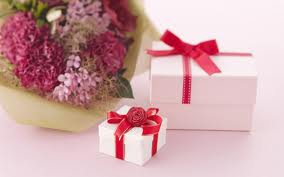 SHHH! The PO Hearts Committee has a sweet Valentine surprise in store for the staff and faculty at EWS. We invite you and your children to create an expression of love (perhaps a simple valentine or a treat) to share with the grownups who take loving care of our children at school. Your creation will be shared among all the grownups rather than for a specific teacher or staff member. Please bring all Valentine offerings in by pick-up time on Thursday, February 13th. They can be quietly dropped off at the Lower School office. Questions? email Rhonda at
jasonrhonda@bellsouth.net
. Thank you!
PO Health and Wellness Series

BALANCE YOUR DAILY LIFE WITH AYURVEDA

Presented by Shoshanna DiBetta
High School Brown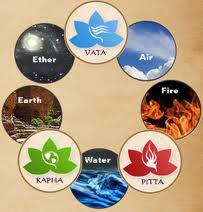 WingSaturday, March 1st10:30 am - 12:30 pm
Ayurveda is an ancient science and healing system which emphasizes the vitality and well-being of each individual which can be achieved through balanced lifestyle choices. This holistic system addresses the root of disease rather than just alleviating symptoms. This is accomplished by incorporating the use of herbs, oils, diet, meditation, yoga, and bodywork.
Ayurveda's 5,000+ year-old principles offer deep-reaching solutions to present-day health concerns and is becoming highly sought after in the West. The teachings of Ayurveda explain simple yet profound ways of regaining and maintaining excellent health, based on our own individual and unique constitution.
Each of us is born with a predominance of one of The Three Doshas - Vata, Pitta, Kapha. These doshas are created from the combination of the Five Elements (Ether, Air, Fire, Water, Earth), which make up everything in our world. The specific combination of these elements gives us our spiritual, physical, mental, emotional, and psychological nature. Our true constitution is called Prakruti and for good health we must strive to keep ourselves balanced in ways that are appropriate for each of us.
Join us on Saturday, March 1, 2014 in the Brown Wing at Emerson Waldorf School from 10:30 am - 12:30 pm. Discover how to recognize the qualities of the Elements and the Doshas that make up your own constitution and what is most beneficial for each Dosha. You will also learn several beneficial self-care habits which can be easily incorporated into your daily life.
Shoshanna DiBetta is a Certified Massage Therapist, Ayurvedic Practitioner & Bodywork Educator. Her initial training began in 1989 with a comprehensive holistic program at The New Mexico School of Natural Therapeutics in Albuquerque, New Mexico. For many years now she has pursued the study of Ayurveda & Ayurvedic Bodywork with several fine Ayurvedic practitioners and physicians.
Presently she teaches Introduction to Ayurveda, Ayurvedic Bodywork, and Hot Stone Therapy continuing education workshops at several massage schools on the East coast each year. Her private practice has an emphasis on doing bodywork that is deeply influenced by the ancient holistic principles of Ayurveda. For more information visit her website:
www.stoneandspa.com
.

8th Grade Project Presentations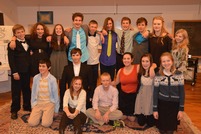 What a night! Last Tuesday, EWS Grade 8 presented their projects in a packed Brown Wing. How exciting it was to see such an enthusiastic crowd witness the culmination of the efforts of these fine students. Each student planned, executed, and publicly presented an in-depth study of a topic of their choosing. With some guidance from faculty and community members, they embarked on a journey of self-education and individual expression, which will undoubtedly serve them well as they begin the transition into their high school years. This year we had quite a range of projects – everything from building a go-cart to designing a restaurant to making a film, which has already resulted in an impressive summer internship! Check out this sampling of the students and their chosen works. (Students' last names will no longer be included in the Emersonian, particularly when photos are included, due to privacy issues.)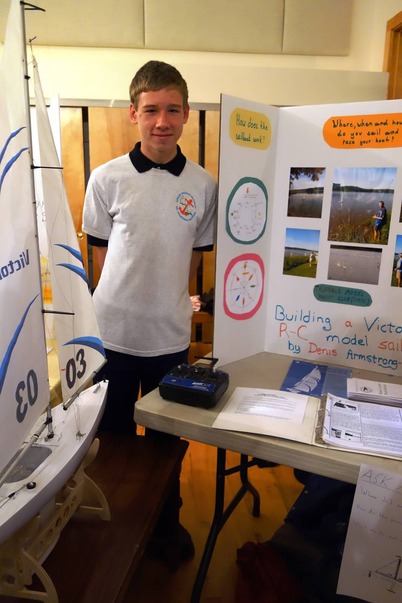 Denis ….. Building an R.C. Sailboat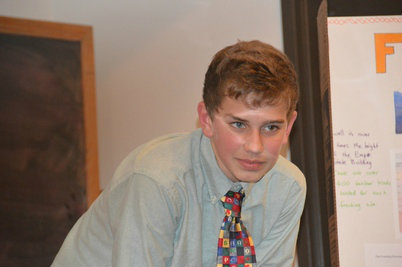 Daniel ….. A Documentary on Fracking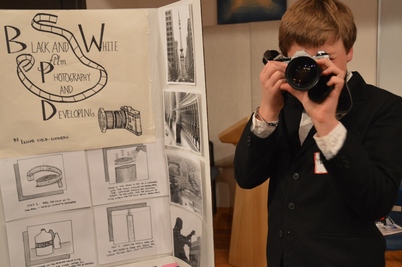 Leland ….. Black and White Film Photography & Developing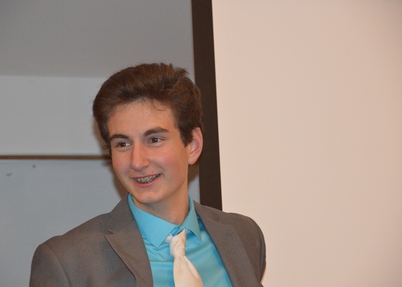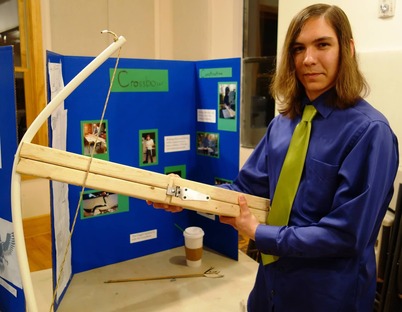 Carter ….. Crossbow Design & Construction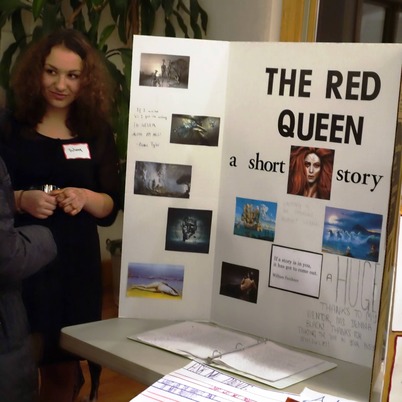 Winter ….. Writing a Novella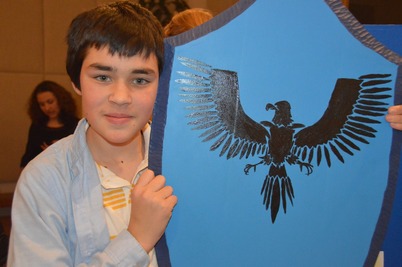 Nathaniel….. Making an Ornamental Shield




Alex ….. Designing a Restaurant Business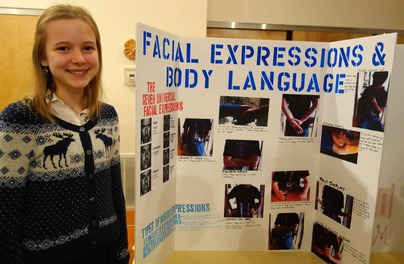 Camilla ….. Facial Expressions and Body Language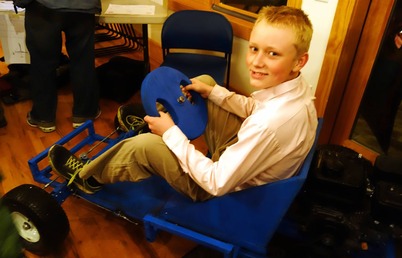 Noah ….. Building a Go-Kart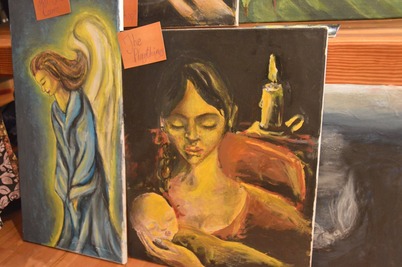 Sarah-Sophia ….. Paint Poems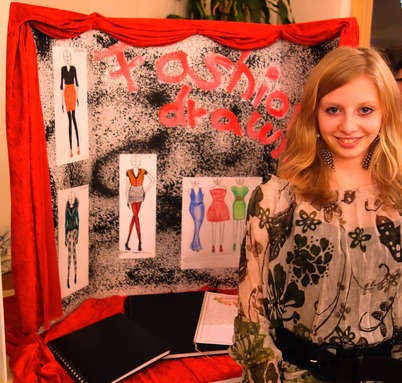 Daniela ….. Fashion Design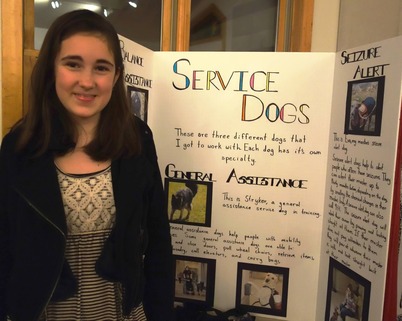 Sarah ….. Service Dog Training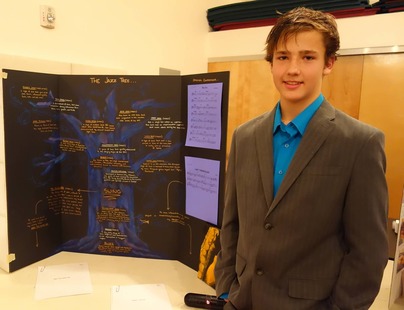 Batian ….. Composing Jazz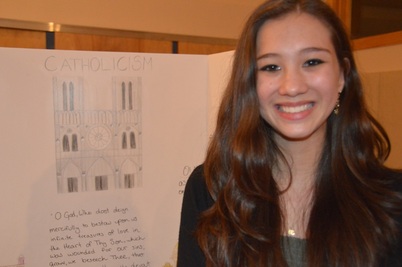 Maite ….. Comparative Religion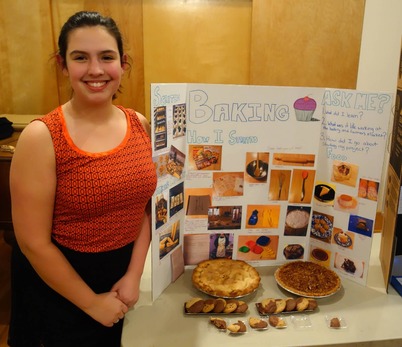 Mia ….. Baking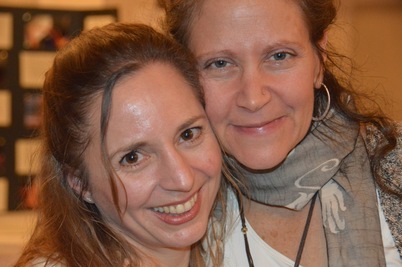 Congratulations, dear Ms Miller (left)
Thanks for help with photography, Shoshanna (right)


---
High School Open House Update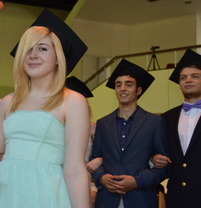 Currently scheduled for Thursday, February 13, 2014 6:45 pm - 9:15 pm at the High School for current Middle and High School students, friends, and parents
Inclement Weather Plan:
Should this event be canceled again due to inclement weather, the EWS and greater community will receive an invitation to attend a Morning Visit in the High School with or without their student from 8:00 -10:00 am in March. Step into the classroom with our faculty and students for an interactive experience, refreshments, and Q & A with administration.
Love on a Horse Fundraiser a Success!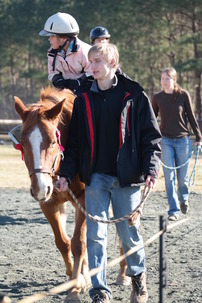 Thanks to all the parents and children who came out to Blue Skies of Mapleview and rode the horses and enjoyed the Valentine's Day baked goods and hot cider. A good time was had by all AND thank you so very much for helping the Senior Class raise $1500 for their Senior Class trip fund. Watch the Emersonian for upcoming fundraisers by our 12th Grade.
– Deborah Pearson-Moyers,
Blueskies of Mapleview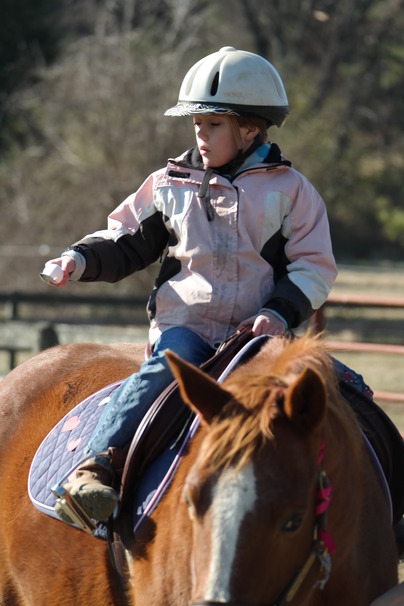 Thanks to

Bob Whitaker

for photographs!

---
Middle School Teams Victorious in Gorman Tournament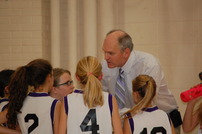 The girls defeated Trinity School on Friday night earning their third place finish at the Gorman Tournament. The boys defeated the Montessori Miners in the finals, giving them their second tournament victory of the season!
What an exciting evening with both the boys and girls playing such wonderful basketball. Both teams gave their best with their tenacious defense and hard-working offense. It was also great to see so many fans come to cheer the teams on.
On Tuesday of last week, the boys had a very exciting game against Duke School. The boys were behind in the fourth quarter by 7 points. Alden made two three-point shots, then Pascal got a free throw in to tie it up, and the defense held on to send the game into overtime. In overtime the defense was strong at both ends, but Noah was able to get one shot in that put the Emerson Gnomes into the winning column for an exciting victory.
Congratulations to both coaches, Marty King and Strouse Campbell, for doing such a fantastic job all season with the teams. Their efforts are very evident in the students' improvement and play.
There will be one more Middle School Basketball game: both teams play parents and faculty, Friday February 28 at Central Rec in Hillsborough. The girls will play at 4:00 pm and boys at 4:30 pm.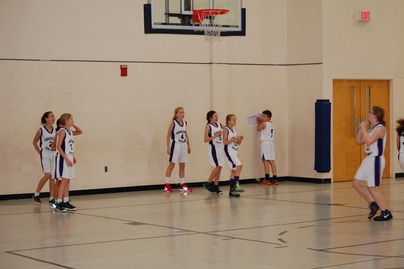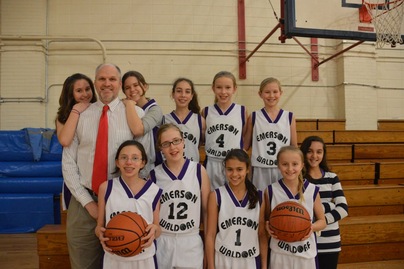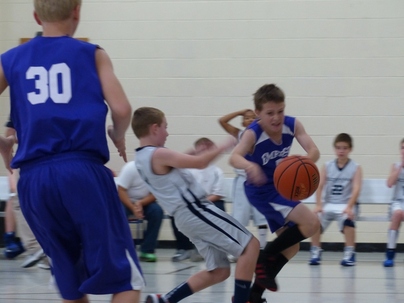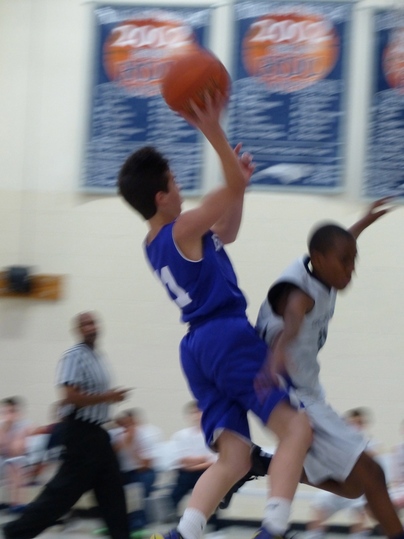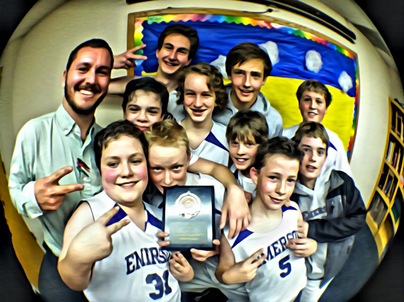 Thanks to coach Strouse Campbell for this wacky team photo!



High School Teams Play Last Game against St. Thomas More in Raleigh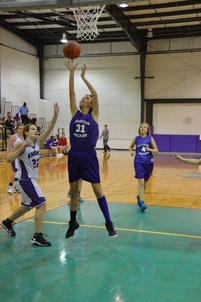 Both the girls' and the boys' teams were defeated in the CCAL Tournament in Raleigh last Monday evening. The girls made excellent plays and hit some great shots, but not enough to defeat the tough St. Thomas More team. The boys played neck and neck with St. Thomas More with only a 2-point differential at the half. However St. Thomas More caught fire after their lengthy half-time program and took a strong lead in the second half, thus earning their spot in the tournament semifinals.
Both Gnome teams demonstrated excellent sportsmanship throughout the season. They will certainly be in the running for the coveted Sportsmanship Award. Coaches Hillary Burdette, Tim Dowdall, and Jonah Davidson deserve much credit for the excellent job they did coaching and encouraging these individuals to be competitive basketball players, as well as excellent team players.
The seniors, Emily Jolly, Liam Pearson-Moyers, and Jake Marchman played in their last basketball game of their high school career and will be sorely missed next year.
The teams have one more competition when they play the High School faculty and parents on Friday, February 28 at Central Rec in Hillsborough. The girls will play at 5:00 pm and the boys at 5:30 pm. Come out and watch the fun as we celebrate the season!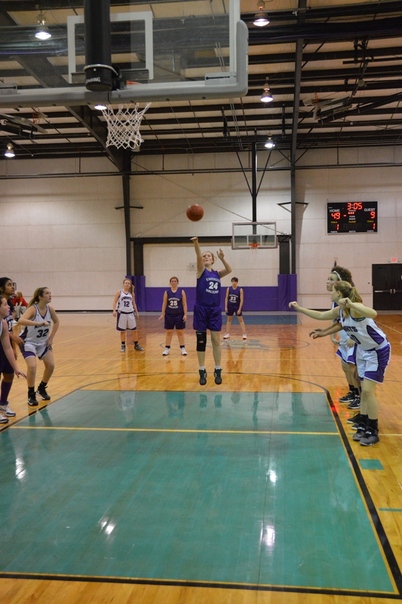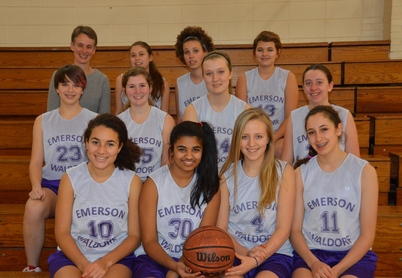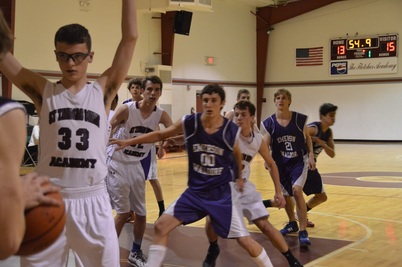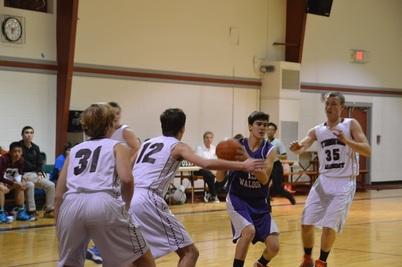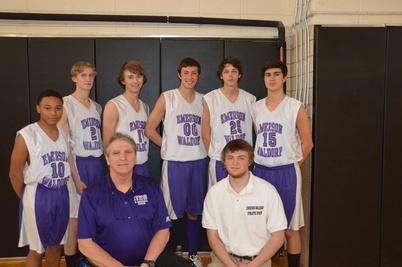 ---
A Moment of Pause

---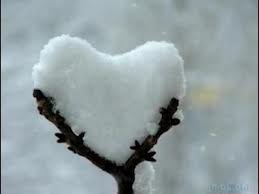 "The heart is the hub of all sacred places. Go there and roam."

– Bhagwan Nityananda of Ganeshpuri, Siddha Yoga

Happy Valentine's Y'all


---
SERVICES AND ITEMS
Balance your Life with Ayurveda~ Health & Lifestyle Consultations and Restorative Bodywork.
The focus of this consultation gives you direction in creating optimal health by making simple alterations in daily eating and lifestyle habits which are specific to your unique constitution. Restorative Bodywork nourishes the nervous system as well as the body with Hot Stones, Warm Oil & Steam Therapy. A wonderful gift for loved ones, friends, colleagues, or yourself! Gift Certificates for special occasions or just giving thanks. Offered in my lovely home office just minutes from Emerson. For monthly specials & more details:
www.stoneandspa.com
or call Shoshanna at 919-309-9989.
Why not have an artist do your hair?
Nancy Moore has been an artist/hairdresser for over 20 years, and an EWS mom for 16. Now located at the beautiful FLOW Salon, 587 Old Farrington Road, Chapel Hill NC 27517 For appointment call or text (919)260-2495 ...or book yourself online at
www.nancyannmoore.com
. Let the good hair days begin!
With most of us on the go each morning sometimes there is no time for a sit-down breakfast
. For a fast food option that is actually healthy, try low-fat, low-glycemic Shaklee Meal Shakes - Great tasting, easy-to-mix drinks that provide 19 essential vitamins and minerals + a rich source of calcium and protein - the fundamental nutrients that growing kids and teens need to stay strong and healthy. A nonsoy protein choice. Questions? Call Joanne Estes (919)929-4534 or email me at
joanneestes@nc.rr.com
French Vanilla Shake
and
Bavarian Cocoa
.
Dr. Hauschka Facials/Retailer:
CORI ROTH/Licensed, Certified, Holistic Esthetician. Revive your body, mind, and senses with a nourishing and soothing Divinerose Facial. Offered in an unhurried and retreat-like setting. 15% off first-time client. Visit
www.divinerose.com
for more info.

REALTORS/HOUSING
Waldorf families are unique and special. You need a Realtor who is unique and special too. Lynn Hayes has been helping Waldorf families for over 25 years, offering caring and sensitive service while supporting Waldorf education in our community. For MLS searches, community information and lots more visit
www.lynnhayes.com
or call Lynn at 919-265-8600.
Buying a home? Selling a home? Investing in real estate? HEAD, HEART and 20+ years of HANDS-ON EXPERIENCE giving caring advice and guidance to hundreds of happy home buyers and sellers – let me help you with all of your Real Estate needs! Judy Weinstock, REALTOR, EWS Alumni parent. Joyfully donating to EWS with every sale. Phone 919.951.1800.
www.seejudy.com
.

Advertising Changes for the Emersonian
We accept small classified-type advertisements. Each submission to the Classifieds should be no more than 6 lines of text, which is approximately 60 words. The costs are as follows: $5.00/week; $10.00/month or $100.00/school year (10 months). Payment for Community Bulletin Board Submissions should be made by the Friday before the publication week (we publish every Wednesday school is in session.) No charge for advertisements of free events or non-profit organizations. Submit ads to:
emersonian@emersonwaldorf.org
.

General Policy for the Bulletin
No political or religious advertisements. No competitive program advertisements. No outside fundraisers. The editors will decide the placement of advertisements. Submissions may be edited for content and length. The Emerson Waldorf School retains the right to choose not to print an advertisement.
Public announcements and services offered in the Emersonian or other circulars produced by Emerson Waldorf School are paid advertisements and do not necessarily reflect the views and opinions of Emerson Waldorf School or its employees.
---
E-Newsletter Design and Graphics

Emersonian Publishing Team:
Kelley Wiley - Content, layout, correspondence, advertising
Raelee Peirce - Header design, layout
Barbara Holloway - Photo & creative content, editing
Kathleen Jackson - Editing