---
Thank You, Rogers Family!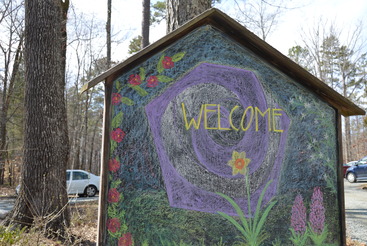 Many thanks to Deborah Rogers, Grade 2 teacher, and Shanti Rogers, Grade 11, for the beautiful chalkboard drawing that welcomes our dear Emerson families each morning and afternoon. Simply beautiful!
Summer Magic Camps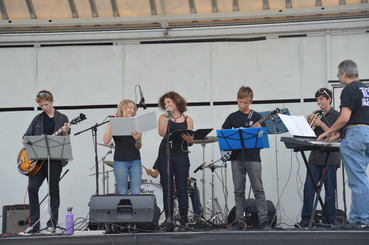 HAVE YOU REGISTERED FOR SUMMER CAMP?

CAMPS ARE FILLING UP FAST, AND MANY ARE ALREADY FULL!

For camp descriptions and online registration here:
CLICK HERE

FEATURED CAMP OF THE WEEK:
JAZZ CAMP Ages 13-18 (Two-Week Camp)
WEEK 2 JUNE 24-28 & WEEK 3 JULY 1-5
Swing band, combo work, and jazz musicianship with professional musician and EWS instructor Erich Lieth. Prior musical experience is required and admission is by audition (no prior jazz experience necessary).
For more information, see
www.summerjazz.org
.
Waldorf Alumni Program

Dear fellow Waldorfians, Steinerites, and other beautiful people,
My name is Alexandria Forsyth. I am writing on behalf of the International
Youth Initiative Program (YIP), and on the behalf of youth worldwide. I am a
lifelong Waldorf child, pre-school to graduation. After studying for a year
in University, I decided I needed something more from my education, and I applied to YIP.
In the most basic sense, YIP is 40 participants aged 19 to 25, from all over the world, living and studying together for one year, exploring how to
change the world through developing themselves.
YIP is primarily concerned with strengthening the capacity of young people to take an active role in fostering positive cultural, social,
environmental, and economic change that will benefit all sectors of
society.
Acknowledging the dynamic challenges presented by current issues of the time and world in which we live, the culture of YIP is one of questioning complexity rather than seeking simple 'quick-fix' answers. YIP provides a space that allows its participants to stay with their questions, however uncertain and uncomfortable it may be. Instead of mandating obscure or irrelevant educational requirements, YIP challenges its participants to explore deeply those questions that connect the human being to the greater whole.
As a YIP alumna, I believe that this is one of the most relevant and
important educational programs of our time. Because of this, I am writing to you now, asking you to join me in supporting this amazing initiative.
YIP is striving to be one of the world's first crowd-funded educational
programs. Our goal is to raise $155,210. In order to raise
this money, we want to build a community of 1000 "YIP Friends" who donate $155 every year. We all know that times are tough, and one-time donations of any amount help us out as well! This global network of YIP Friends will make YIP financially resilient and community-supported. Your money will cover the educational costs of the program, which under Swedish law cannot be charged to students.
As we step boldly into an unknown future full of a convergence of crises, it
is clear we need to find new forms to address these challenges in
innovative, dynamic, and holistic ways. YIP is an education that provides
young people with the opportunity to truly find the capacities necessary
within themselves, and equips them with the tools to create the sustainable change necessary, as well as the ability to continually develop new tools as circumstances demand. By becoming a YIP Friend, you are affirming a new form of education, where youth are given the freedom to explore these capacities and tools.
Applications are also open for YIP 2013-2014! An opportunity not to be
missed.
Thank you from all of us in the YIP network,
Alexandria
Please go here to donate, apply, or read more about YIP:
www.yip.se

---
Celebrate Easter Naturally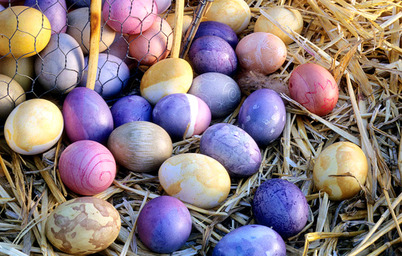 With nothing more than beets, spinach, onion skins, turmeric, coffee and other vegetables, spices and things from the kitchen, all of these eggs were dyed in beautiful colors to celebrate Easter naturally."
Click Here for More Information

---
Grade 3 Girls Build Power Pyramid!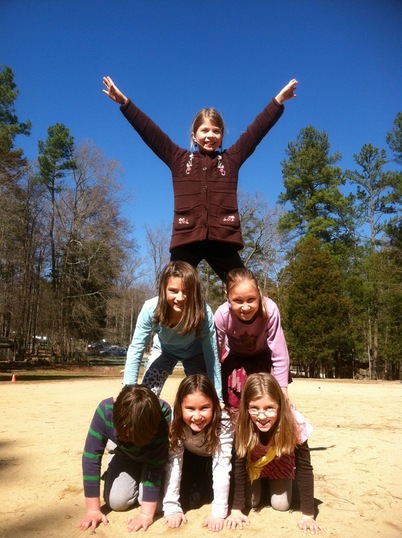 Julia, Zari, Isabel, Lola, Stella, and Allegra – Girls Rock!
Choral Concert – Beautiful!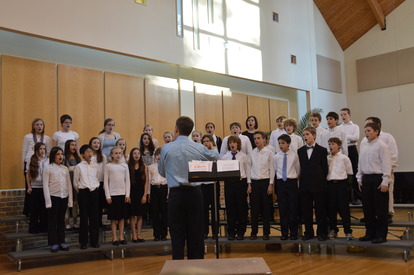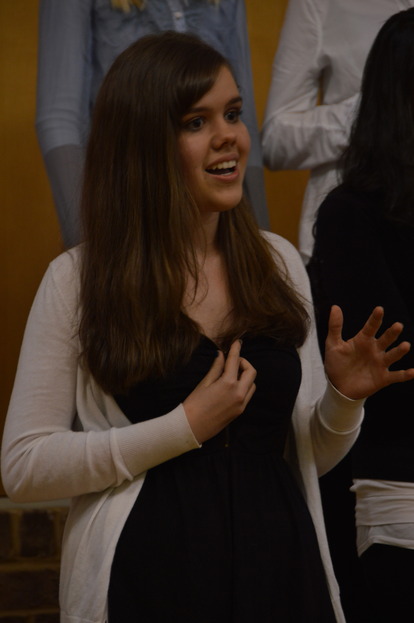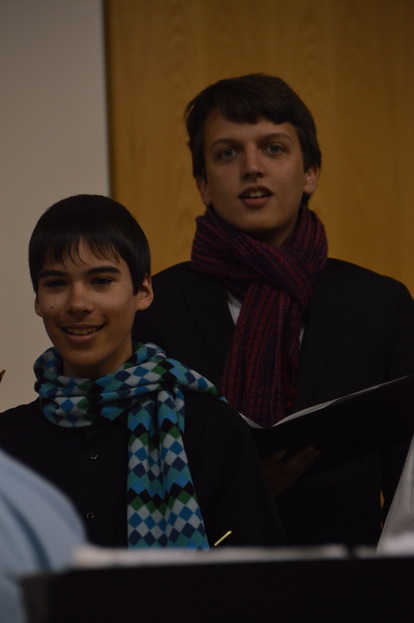 What an amazing performance! Thank you, Jason Child, EWS Director of Music, and the 5th-6th, 7th-8th, and High School Choral groups for an enlightening evening.

The 5th-6th Grades performed Gloria by David Giardiniere in Traditional Latin text; Sakura, a Japanese folk song arranged by Linda Spevacek; Pavane by Gabriel Faure, arranged by Doreen Rao; Oseh Shalom, by Joan Beckow, a Hebrew Prayer; and Chile Caliente by David Giardiniere, with themes from Rossini's Barber of Seville.

The 7th and 8th Grade Chorus graced us with Et in Terra Pax by Victor C. Johnson in Traditional Latin; Chiri Biri Bim, an Israeli folk song arranged by Sally K. Albrecht; O Desayo, a traditional Angolan folk song arranged by Mark Brymer; The Tide Rises by H.W. Longfellow, music by Kirby Shaw; Good News, a traditional Spiritual arranged by Patsy Simms; Choral Highlights from Phantom of the Opera: "The Phantom of the Opera," "The Music of the Night," "Think of Me," "All I Ask of You," music by Andrew Lloyd Webber, arranged by Audrey Snyder

And, finally, the High School Chorus took us on a journey through Christian liturgical music from the 18th and 19th centuries: Locus Iste by Anton Bruckner; Missa Brevis St. Joannis de Deo by F.J. Haydn (Selections from the complete work: "Kyrie," "Gloria," "Sanctus," "Agnus Dei."); Ave Verum Corpus by W.A. Mozart.

Best way to spend a Friday evening. Make sure to attend future concerts!

High School Chorus Will Perform in Washington, DC!
How lucky we were to preview a portion of the program our High School ensemble is preparing for the upcoming Waldorf High School Choral Festival at the Washington Waldorf School.

Just in its first year, this festival will bring together High School chamber choirs from EWS, the Washington Waldorf School, and the Rudolf Steiner School of New York City. Students will participate in singing rehearsals and workshops, and will present a program of pieces from each school separately as well as pieces that will be performed by the combined groups in a large chorus.

Our goal with this festival is to offer our students the chance to travel and perform with other High School musicians, but without the competition, ranking, and prize-orientation that is the usual practice in High School music festivals.

A Big Thank You to Our Generous Donors!
A big thank you to Georg and Janet Buehler for the gift of black folders for our high school chorus.

Janet is a singer herself, and was impressed by the quality of our High School chorus. She felt that our students, capable of such remarkable choral accomplishments, should have high quality folders to support their work. These folders will be treasured for many years to come.

To hear another remarkable choral ensemble, join Janet and the Women's Voices Chorus for their upcoming concert, "The Foibles of Fauna," on Sunday, May 5. This Spring concert will delight listeners of all ages as they present music from around the globe about animals. (Details are at http://womensvoiceschorus.org.)




---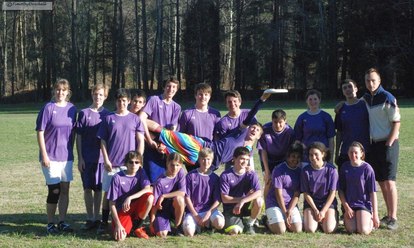 EWS High School Ultimate Frisbee Team Spring 2013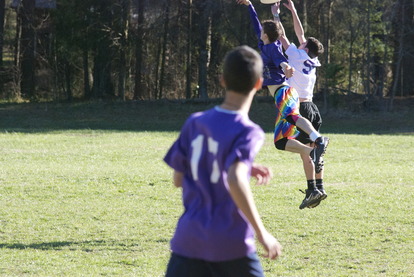 EWS High School Ultimate Vs. Riverside
A Moment of Pause

---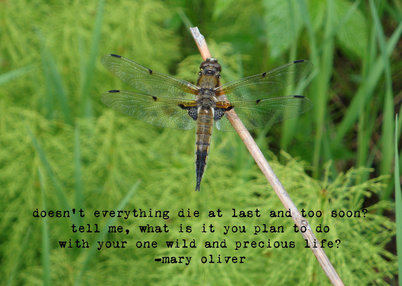 Who made the world?

Who made the swan, and the black bear?

Who made the grasshopper?

This grasshopper, I mean-

the one who has flung herself out of the grass,

the one who is eating sugar out of my hand,

who is moving her jaws back and forth instead of up and down-

who is gazing around with her enormous and complicated eyes.

Now she lifts her pale forearms and thoroughly washes her face.

Now she snaps her wings open, and floats away.

I don't know exactly what a prayer is.

I do know how to pay attention, how to fall down

into the grass, how to kneel down in the grass,

how to be idle and blessed, how to stroll through the fields,

which is what I have been doing all day.

Tell me, what else should I have done?

Doesn't everything die at last, and too soon?

Tell me, what is it you plan to do 

with your one wild and precious life?
Mary Oliver

---
Help Wanted

Morning Coffee Volunteers!
Volunteers needed for Morning Coffee Table. 1 hour per week.
All proceeds fund professional development for EWS teachers. Contact Pat McKenzie (4th grade parent) at (919) 316-9567 to sign up.


Services
Auto Body Work - Support your local craftsmen! Tim Ward, whose shop is nearby on Murphey School Road, does excellent auto body work at a fraction of the cost of big body shops. Our family has had three repairs done by Tim (yes, three) and we have been very pleased with his work. Feel free to call us for more information or call Tim directly at 919-886-8550. Merlin Walberg and Brendan Sanders 919.929.0064

DON'T MISS OUT ON KROKA EXPEDITION'S 2013 SUMMER OFFERINGS!
Our summer programs for ages 9-18 span one to three weeks and offer experiences in wilderness living, traditional native skills, rock climbing, caving, and whitewater paddling. Centered around the principles of Waldorf education, our daily adventures are punctuated by singing, swimming, building with natural materials, learning practical handcraft skills, and exploring with new friends. All of this is done within the holistic lifestyle of a nurturing community: celebrating food, sharing living spaces, and working and playing hard in nature. For more information visit our website at www.kroka.org or call us at 603-835-9087.

SUMMER HORSE CAMP @ Blue Skies of Mapleview LLC. Deborah Pearson-Moyers will be offering five weeks of summer horse camp. What is different about our camp? 1. Deborah and her daughters Sara and Sonja are three Waldorf-inspired adult riding instructors. 2. We offer a gentle approach to horsemanship which focuses on being the leader your horse wants to follow. 3. We offer instruction in drawing and painting of the horse from a Waldorf-trained painter, followed by a jump into a cool pool. www.blueskiesmapleview.us 919-933-1444 Deborah Pearson-Moyers "Where horse sense is stable thinking" since 1996!

Would you like a counselor for yourself, your child, and/or your family who understands the uniqueness of Waldorf philosophy? HarDarshan Khalsa, MA, LPC, raised two children who attended the Emerson Waldorf School and are now grown. HarDarshan is now a psychotherapist trained in transpersonal counseling, with offices in Chapel Hill and Durham. Most insurance plans are accepted. Some of HarDarshan's specialities are sandtray therapy (for adults as well as children), stress reduction, grief, and the highly sensitive person. To learn more, visit her website: www.sacredlistener.com, or call (919) 257-7814. Email: hardarshan@sacredlistener.com

Are you living with questions about your life, your relationships, your parenting, your future? Lynn Jericho offers compassionate listening and creative guidance - a Waldorf wisdom for adult needs and challenges. Call Lynn (919-240-4094) or learn more www.imagineself.com/about-Lynn/

Introducing Shaklee 180 ~ a complete program with clinically tested weight loss products, designed to help you lose the right kind of weight ~ fat, not muscle. I have been on this program and have now reached a weight I have not been at for the last 20 years! With these great results I am sharing with others at my Shaklee "Turnaround" Parties - check out the next date (or call me (919) 929-4534) at this website` http://www.joanneestes.myshaklee180.com Drop by for some free samples. Joanne has just turned 70, feeling more energy than she did at 50, and is the proud grandmother to 4 Waldorf children.

Are you looking for a New or Slightly Used Car?
Great Deals for EWS Parents, Friends & Faculty. Call David Rabius, Proud EWS Parent at 919-408-9633 Johnson Lexus @ SouthPoint- 2013 New Lexus Line Up..Certified Pre-Owned Lexus and a wide range of slightly used cars to meet your budget.
(David Rabius)

DIVINEROSE FACIALS
Offering illuminating and renewing Dr. Hauschka facial treatments. Cori Roth, NC Licensed/Holistic Esthetician and Dr. Hauschka retailer. Please visit Divinerose.com for more info.

New Medical Practice
We are pleased to announce our practice "Integrative Medical" (www.imevpc.com) at Haven Medical Clinic on 121 S Estes Dr, Suite 205 D, Chapel Hill 27514. For appointments, you may contact us directly:
Rula Freiji 919-525-5626 General Pediatrics & Pediatric Infectious Disease Consults
Dani Mouawad 919-525-5625 General Pediatrics & Integrative Medicine.
– Rula and Dani Freiji-Mouawad



Realtors/Housing

Let The Home Team help you "Find Home" Now conveniently located in Timberlyne Shopping Center, our locally-owned real estate company has been helping clients, including several EWS families, "find home" since 1990. For more information or to speak to one of our experienced agents call 919.967.6363 or visit www.Home-Team.com. Also, please stop by to check out our exclusive, interactive window display!

Buying a home? Selling a home? Investing in real estate? HEAD, HEART and 20+ years of HANDS-ON EXPERIENCE giving caring advice and guidance to hundreds of happy home buyers and sellers – let me help you with all of your Real Estate needs!
Judy Weinstock, REALTOR, EWS Alumni parent. Joyfully donating to EWS with every sale. Phone 919-951-1800. www.seejudy.com.

Waldorf families are unique and special.
You need a realtor who is unique and special too. Lynn Hayes has been helping Waldorf families for over 25 years, offering caring and sensitive service while supporting Waldorf education in our community. For MLS searches, community information and lots more visit www.lynnhayes.com or call Lynn at 919-968-9989.


Advertising in the Emersonian

---
We accept small classified-type advertisements. Each submission to the Classifieds should be no more than 6 lines of text, which is approximately 60 words. Each submission costs $5.00. Payment for Community Bulletin Board Submissions should be made by Friday of the publication week. No charge for advertisements of free events or non-profit organizations. Submit ads to: emersonian@emersonwaldorf.org.

General Policy for the Bulletin
No political or religious advertisements. No competitive program advertisements. No outside fundraisers. The editors will decide the placement of advertisements. Submissions may be edited for content and length. The Emerson Waldorf School retains the right to choose not to print an advertisement.

Public announcements and services offered in the Emersonian or other circulars produced by Emerson Waldorf School are paid advertisements and do not necessarily reflect the views and opinions of Emerson Waldorf School or its employees.


---
E-Newsletter Design and Graphics

Emersonian Publishing Team:
Jamie Lamkin - Design and Layout
Raelee Peirce - Coordinator
Claire Viadro - Creative Content
Forrest Jackson, Kathleen Jackson, and Barbara Holloway - Editing
Kelley Wiley - Correspondence and Advertising