---
Martinmas Friday Evening

---
Friday, November 9, 2012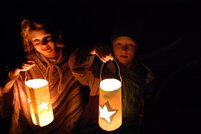 On Friday evening, November 9, 2012, from 6:00 to 7:30 pm the first three grades and their families will have a Lantern Walk to celebrate Martinmas, a festival of inner light in the outer darkness of the approaching winter. All members of the community are welcome to attend.
The families will gather on the sandy field where the second graders will present a short play about Saint Martin. The legend tells us that, while serving in the army, Martin met a poor beggar at the city gate who shivered in the cold. Drawing his sword, he cut his warm cloak in two and gave one half to the beggar. That night, Martin had a powerful dream that led him to devote the rest of his life to serving others.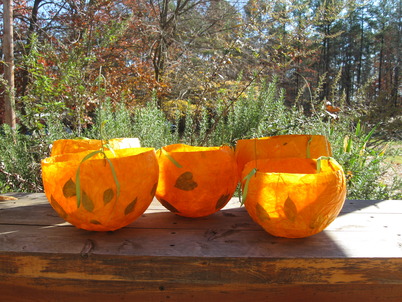 Celebrating Martinmas at EWS serves as a reminder that each of us has a divine spark that we must ferry out into the world and share with others. After hearing the story of Saint Martin and singing songs, the children embark on the Lantern Walk as darkness falls. Carrying their lanterns in a mood of quiet reverence, they follow a path lit with glowing luminaria.
This symbolic act brings home the deeper truth, in the words of Siddhartha Gautama, the founder of Buddhism (563-483 B.C.), "There isn't enough darkness in the entire world to snuff out the light of one little candle."
---
Directory Corrections

---
Please update your new directory with the following:

Matsumoto, Marta & Masaomi
Naomi, Grade 1
Address: 743 Tinkerbell Rd, Chapel Hill NC 27517
Home Phone: 919-448-6876

Miller, Vickie & Paul
Sky, Grade 5
Vickie's Mobile: 919-638-8777

Stauffer, Lisa & Craig
Hagen, Grade 9
lisavstauffer@aol.com

Nelson, Jill & Jim
Michelle, Grade 6
jnelsonx2@gmail.com


---
Holiday Faire Buzz...

---
Spread the joy and the excitement!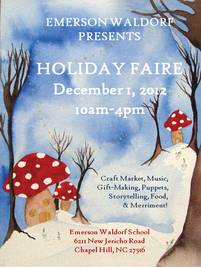 The EWS Holiday Faire is only weeks away. Get ready for an amazing day of gift-making, incredible food - including desserts at the Russian Tea House, a community cake walk (get out those incredible recipes, folks), music, a puppet show, and the horse and carriage are back for rides!
Do not miss this event! Of course,
it can't be pulled off without each class coming together to transform their classroom into a craft space and provide the materials
(look for the volunteer shift sign-up list for your class today or Thursday) for all of the families and children within our community and the general public. So, if you can give 1-2 hours of your time to make your classroom shine and for this event to go smoothly, that will add to our overall success.
Meet members of the Steering Committee for questions every Friday morning at the coffee table! Either Robyne or Rebecca will be available after drop-off if you want to know how to help or if you have questions!
Please invite your friends for this wonderful event!
Holiday Faire
December 1, 2012 10am-4pm
---
Bunraiser Time!

---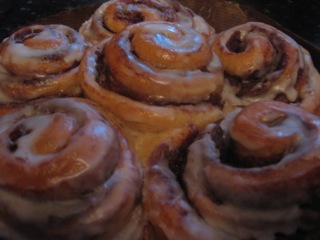 Looking for a scrumptious, easy breakfast for your family and holiday guests during this busy season?
Cinnamon rolls from Tobi's Bakery will be delivered to the school on Tuesday, November 20 and Thursday, December 20 to the families who place orders.
Order forms can be found in the Main Office in the bread pan on
the black table. Orders are due by 3pm on Monday, November 12.
A round of 6 cinnamon rolls costs $12, precisely what local markets charge, and all proceeds go to programs that directly support our incredible school, our incredible children.
Tobi is a former parent and Board member and sells her baked
goods at local Farmer's Markets. The cinnamon rounds travel
and freeze well, so stock up for the upcoming holidays! I know I will!
A testimony from our Board president:
These are the best cinnamon rolls in the world, IMHO!!! Tobi is an amazing baker.
- Joyce Felder
---
Run For Water

---
Chloe Nash is Hosting a Run/Walk at EWS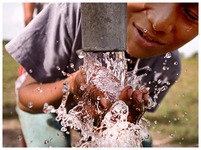 Saturday, November 10th at EWS
Event begins at 12:00
3/4 mile run at 12:10
3K run at 12:30
Cost: $5
Please RSVP to TinaLStevens@gmail.com or ChloeRose.Nash@gmail.com
---
Time to Build a Shed With Friends!

---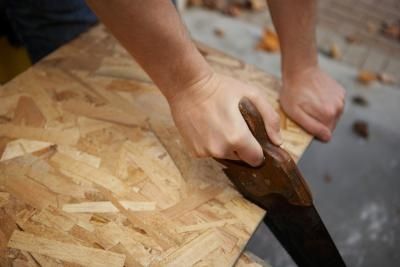 Please come and join us on
Saturday, Nov. 17 and/or Sunday, Nov. 18
between 9:00am and 4:00pm as we rebuild the much-needed shed at Emerson Farm. The shed-raising will be directed by Keith Bartholomew.
We need people
who have building skills,

who are willing to help provide a hearty meal and snacks during the day,

who can step in when many hands are needed, or work on garden projects when fewer hands are needed on the shed.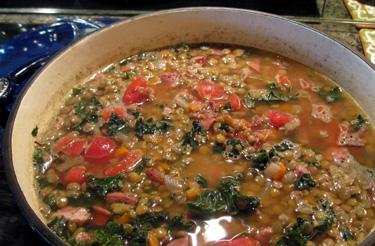 Please email Mary Beth Mueller at mmueller@emersonwaldorf.org to let her know that you plan to come or donate food so that we can make sure we have enough food for our workers and enough workers for our food.
- Mary Beth Mueller

---
High School Open House TONIGHT

---
November 7, 2012, 7-9pm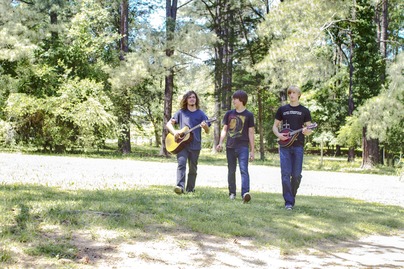 Have you wondered what makes Waldorf High School unique?

It is how our curriculum and style of teaching meet the essential questions of the adolescent.
You and your 6th-10th grader can find out more about our curriculum
TONIGHT,
from 7-9pm, when our High School welcomes prospective students and parents for our annual High School Open House.
During the Open House, teachers will be available to talk about the curriculum, students will provide a private Q & A for prospective students, student work will be on display, and current High School parents will be on-hand to answer questions.
At EWS, teenagers discover their strengths, recognize their responsibility to others, and envision the full possibility of their lives. We would like to share with you just how this happens. Please join us!
---
Sculpture Class Does Pumpkins!

---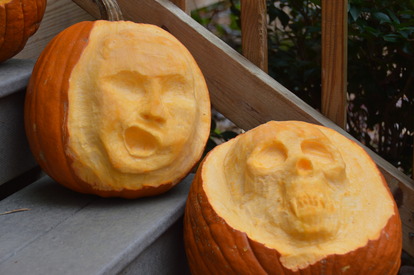 ---
Awesome Pumpkin Designs 1st-8th

---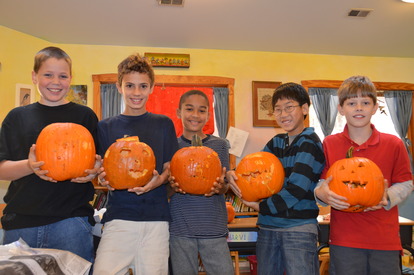 Ms. Ritz's 5th Graders, Mighty Proud!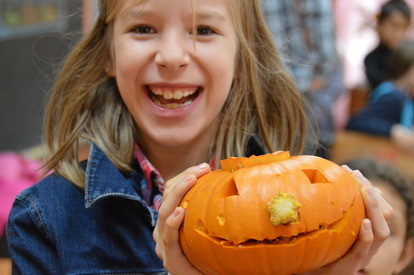 Enthusiastic 2nd Grader in Ms Roger's Class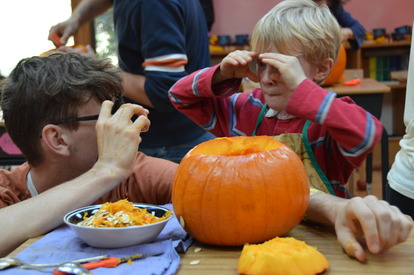 12th Grader, Forrest Jackson, helps with 1st Grader, Phoenix Sphere
Big plans for pumpkin design!



---
Help 6th Grader With this Amazing Project of Compassion

---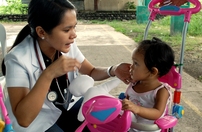 I'm making medical play dolls for kids with cancer. The kids with cancer get nervous when having an IV, so the doctors show how they do it on the dolls. Duke Children's Hospital has asked urgently for dolls and I really want volunteers or donations.
For more information please contact Cooper Lamb or Chris Lamb at clamb@ipass.net. Thank You! - Cooper Lamb, 6th Grade Student
Read More About the Project

---
Enchantment Shop Crafting

---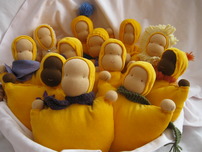 Come Lend a Helping Hand at our Enchantment Shop Handwork Crafting Sessions!
The Enchantment Shop, a magical spot for children to select from small handmade gifts for relatives and friends, is one of the busiest and most successful activities at the Holiday Faire, and we count on our parents from First Grade, Kindergarten, and Nursery to help make the beautiful handmade gifts for the shop.
We have had an enthusiastic turnout at the first two handwork sessions with Carol Kubik and are hoping to keep the momentum going. Please join us in making this year's Enchantment Shop a success!!


Dragonfly Toy Store:When:
Every Wednesday
Time
: 9:00am-12pm
Where:
Dragonfly Natural Toy and Craft Store, 1607 Skye Drive, Chapel Hill, NC 27516 (just a few minutes from EWS!)
EWS Handwork Room:When:
Thursdays
Time
: 8:30am-10am
Where:
EWS Handwork Classroom, located in the brown trailer next to the Music trailer, on the right as you're leaving the Early Childhood parking lot
No experience necessary;
many supplies will be provided. Please stop by, even if you can only stay for a few minutes for inspiration and ideas!
Thank you all for your support. Looking forward to working together!
Feel free to direct any questions to Enchantment Shop Coordinator, Annie Oberstar aoberstar@gmail.com

---
Fall Sport Round-Up!

---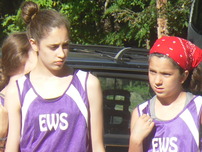 Middle School Cross Country completed their schedule with both the boys and girls winning their meet versus Duke School on our home course. First place for the girls was Dorian Alexis, followed by Ali McKinnis in third, Clare West fourth, Emma Hulbert fifth, and Maite Ramos seventh.
Noah Lie-Nielsen was the top scorer for the boys, coming in second place, followed by Cooper Lamb third, Sam Marchman fourth, Alden Schertz fifth, and Denis Armstrong-Carter sixth.
Dorian Alexis also won first place in her age division in the Pumpkin 4K race. Congrats to Dorian!
High School Cross Country completed their schedule with the Gnome Invitational held at our school last Wednesday. Seven schools participated, and EWS came in 5th with Hagen Stauffer sixteenth, Keegan Durovich seventeenth, and Andrew Nyland twenty-sixth out of forty-five runners. We were very sorry to miss Jake Marchman and Tristan Mead; they were on the Junior Internships and were unable to attend the meet.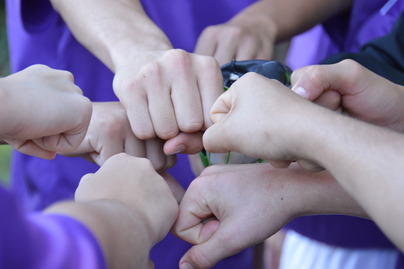 Our High School Soccer team ended up second in their league during the regular season and made it to the semi-finals of the league end-of season tournament. They lost to Southern Wake but not without a good fight. Jon Deutsch, although under the weather, scored 3 goals, and Forrest Jackson made many great saves, but the team came up just short as they lost 4-3. Along with Jon and Forrest, the team will miss seniors Menolly Bentley-Dyess and David D'Angelo as they all four played in their last soccer game as EWS students.
Congrats to all for an excellent Fall Sports Season!
Mary Kirchoff
---
This Week's Verse

---

---
Community Announcement

---
MIA- Navy blue plastic lid for 11 x 7 inch Pyrex pan
On 11 October I brought Swedish Apple Cake to the Coffee Table in an11 x 7 inch Pyrex glass pan with a navy blue plastic lid. This lid is missing. I have looked for it at the school kitchen and faculty room and all of their cupboards, and also at home.
Please advise Karen Durovich, kjbd@me.com, if you have any idea where it could be. The pan and lid system worked very well for leaving baked goods for Coffee Table.
---
Events and Classes

---
HOLIDAY WITH THE HORSES
Saturday, November 24, 10am-4:30pm. Whatever holiday you celebrate in December, come out and join our celebration at Blue Skies of Mapleview, the home of Mr. Moyers and Deborah Pearson-Moyers.

The horses will be decorated for all the holidays and your $40 pre-paid reservation includes a 50-minute ride on a horse, hot cider, home baked sweet (including gluten- and dairy-free options) and a small gift. We've had folks of all ages enjoy their ride on these beautiful animals. Grandmas, dads, and children have all booked together for mounted games and fun on the Saturday after Thanksgiving.

If you are looking to book a fun family activity on the Thanksgiving weekend, contact Deborah at 919-933-1444 or dpmblueskies@hotmail.com to make your reservation. Riders and new riders are all welcome. No age limit!


Parents of teens and teens-to-be!
Please join us for an informal learning and discussion group
as we guide our children (and ourselves!) through these challenging
and exciting years. We will meet monthly to discuss relevant topics and
ideas gleaned from a variety of sources, and will share our questions,
stories, and experiences.
Our first meeting will be Monday, November 12, at 7pm in the Woodland Cottage. We hope to see you there! Questions? Contact
Lauren Nyland: (919) 928-2386 or lnyland@emersonwaldorf.org
Leigh Sparacino: (919) 259-9177 or annefairleigh@gmail.com
Briar Chapel Craft Fai
r - Reserve a table for your creative pieces! The fair is November 17, 2012 at Briar Chapel. 1/2 Tents are $25, Full Tents are $50.
Read the details in the flyer.
---
Free to a Good Home

---
We are looking for a home for our lovely tortoise shell cat, Callie.
We adopted her when someone found her wandering around an empty parking lot. She does not tend to be a lap cat but she does like to be petted. She likes to spend the majority of her time outside (especially at nights). Usually she just comes inside to eat and sometimes to take a "cat nap." She has been unhappy with the latest two dogs that we have brought into the house, so we feel obligated to find her a better place. We are hoping there may be someone who lives in the country (or at the very least in a neighborhood that does not have a lot of traffic) and would be willing to adopt our dear cat. Please contact Pat McKenzie at pamckenz1951@gmail.com or call 919.308.0721.


---
Services
---
Looking for a new or used Waldorf related item... toy, musical instrument, book? Visit The Waldorf Exchange at
www.thewaldorfexchange.com
.
WERBECK SINGING INSTRUCTION AVAILABLE: AVAILABLE: Free half hour lesson in the Werbeck method of singing developed by Valborg Swardstrom Werbeck, a contemporary and colleague of Rudolf Steiner who brought about a truly healing and strengthening way to sing based on her Anthroposophical research into the nature of the human voice. Joanna Carey has 20 years of experience and training working in this method and can help others to find a renewed relationship to their own voice and body. Joanna has worked with voice problems as well as psychological and physical issues through teaching user friendly exercises to bring positive results in a multitude of situations. Sliding scale fee of $40-60 per lesson. Call 919-885-7569 or email her at joannapcarey@gmail.com

Are you living with questions about your life, your relationships, your parenting, your future?
Lynn Jericho offers compassionate listening and creative guidance - a Waldorf wisdom for adult needs and challenges. Call Lynn (919-240-4094) or learn more
www.imagineself.com/about-Lynn/
Dr. Oz says: "If I could pick one vitamin to push to EVERYBODY, it's Vitamin D ~ Are you at risk?
Check out my
blog post
relating to this to learn more about this amazing vitamin. To see how much vitamin D you need go to
this website
and take the quiz.
(Joanne Estes, a grandmother of 4 EWS students and at 69 she is living healthy, strong, and prescription-free).
Are you looking for a New or Slightly Used Car?
Great Deals for EWS Parents, Friends & Faculty. Call David Rabius, Proud EWS Parent at 919-408-9633 Johnson Lexus @ SouthPoint- 2013 New Lexus Line Up..Certified Pre-Owned Lexus and a wide range of slightly used cars to meet your budget.
(David Rabius)
Composted Cow Manure For Sale
4 Cuyds, $125, delivery beyond 10 miles of Calvander extra. 968-1123
Create a space that aligns with your dreams!
EWS First Grade teacher, Shannon Dawn O'Connor happily uses her "super-power" to organize, lazure, simplify or re-create your home or office so that your environment supports what really matters to you. Shannon received a BFA from Parsons School of Design and studied the Environment and Its Effects on Psychology through Lesley College and has been happily beautifying the world ever since. For free estimates, work samples, or references contact Shannon Dawn @ 919.259.5252 and watch your world transform as it grows brighter and clearer around you!
"She's got the midas-touch" - Tyler G.
"Everything she lays her hands on turns golden"- Charlotte S.
"Shannon purely sparkles, and your home will too" - Megan W.

DIVINEROSE FACIALS

Offering illuminating and renewing Dr. Hauschka facial treatments. Cori Roth, NC Licensed/Holistic Esthetician and Dr. Hauschka retailer. Please visit
Divinerose.com
for more info.
Dragonfly Natural Toy and Craft Store
Therapeutic Painting with Malina Stoychev. November 10, 2:00-3:30pm. Like us on
Facebook
or
visit our website
for more information. Call Charlotte or Danielle with questions at 919.265.9734.
(EWS parents Charlotte Schnetler and Danielle Tanzer).
New Medical Practice
We are pleased to announce our practice "Integrative Medical" at Haven Medical Clinic on 121 S Estes Dr, Suite 205 D, Chapel Hill 27514. For appointments, you may contact us directly:
Rula Freiji 919-525-5626 General Pediatrics & Pediatric Infectious Disease Consults
Dani Mouawad 919-525-5625 General Pediatrics & Integrative Medicine.
– Rula and Dani Freiji-Mouawad)
TUTORING AVAILABLE:
My name is Susan Shmania and I am an EWS alumna, UNC graduate, NC Licensed Teacher, and Master of Education graduate student offering tutoring services for students with and without disabilities. Services include Reading, Homework Help, Study Skills and Organizational Skills, Handwriting, Writing, Math, and Spanish. Please see
www.RealizedVisions.com
for more information or contact me at RealizedVisions@gmail.com or (919) 283-6777.
---
Realtors/Housing

---
Our house is for sale and we want to spread the word around as much as possible so that people will come take a look.
We live in an older established neighborhood (started in the 70s) just minutes from three of the Eno River parks and just over the line from Orange County. It has a great fenced back yard and over 13 different kinds of hardwood trees It sits on a corner lot, and best of all has not only a double garage that connects to the house but also a finished wired separate garage that is great for storage, a workshop and other wonderful possibilities.
Click Here for the Link
Buying a home? Selling a home? Investing in real estate?
HEAD, HEART and 20+ years of HANDS-ON EXPERIENCE giving caring advice and guidance to hundreds of happy home buyers and sellers – let me help you with all of your Real Estate needs!
Judy Weinstock, REALTOR, EWS Alumni parent. Joyfully donating to EWS with every sale. Phone 919-951-1800.
www.seejudy.com
.
Waldorf families are unique and special.
You need a Realtor who is unique and special too. Lynn Hayes has been helping Waldorf families for over 25 years, offering caring and sensitive service while supporting Waldorf education in our community. For MLS searches, community information and lots more visit
www.lynnhayes.com
or call Lynn at 919-968-9989.
---
Advertising Changes for the Emersonian
We accept small classified-type advertisements. Each submission to the Classifieds should be no more than 6 lines of text, which is approximately 60 words. Each submission costs $5.00. Payment for Community Bulletin Board Submissions should be made by Friday of the publication week. No charge for advertisements of free events or nonprofit organizations. Submit ads to: emersonian@emersonwaldorf.org.

General Policy for the Bulletin
No political or religious advertisements. No competitive program advertisements. No fundraisers. The editors will decide the placement of advertisements. Submissions may be edited for content and length. The Emerson Waldorf School retains the right to choose not to print an advertisement.

Public announcements and services offered in the Emersonian or other circulars produced by Emerson Waldorf School are paid advertisements and do not necessarily reflect the views and opinions of Emerson Waldorf School or its employees.
---