---
Directory Update

Kathy Keyser and Pat McKenzie
Tessa McKenzie-Keyser, Grade 4
New Address: 4619 Paces Ferry Drive, Durham 27712
---
Substance Abuse Workshop Tonight!

Information, warning signs, and tools to support effective parenting around this issue.
Linda Hammock, a Licensed Professional Counselor and Clinical Addictions Specialist, has worked with this topic for 25 years and is now in private practice locally with HRC Behavioral Health and Psychiatry, PA. She has particular expertise in supporting adolescents and their parents.
Date: TONIGHT! February 27 from 7-8:30pm in the Brown Wing
While this topic may be most applicable to parents of teens and pre-teens, all school families are welcome to attend.
This talk is sponsored by the PO.
---
~Save the Date~

Campus Beautify
 
Saturday, March 23
8:30 am – 12:30 pm
Join the 'Hands' at our first 2013 Work Day
Details to come
---
Calling All Summer Campers!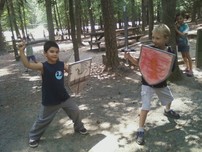 Have you looked at the summer camp schedule yet?
Don't delay, camps are filling up quickly!
Click here for details
---

Winter Sports Banquet

High School Sports Banquet

Dear Soccer Players, Cross Country Runners, and Basketball Players,

Monday, March 4
we will have our first combined Fall and Winter Sports Banquet. Please come and celebrate the achievements of our soccer, cross country, and basketball teams. Each coach will have a chance to speak about the season and recognize each player for individual contributions to the team.
BRING: POT LUCK DISH
TIME: 5:30-7:00 or so
WHERE: EWS High School. Please RSVP so we know whether to set up in the Richards Room or the larger Brown Wing.
RSVP to Mary Kirchoff at mkirchoff@emersonwaldorf.org by Friday, March 1st.
Congratulations GNOMES!
---
Tennis Option
After School Spring Tennis

RDUTennis presents EWS After School Tennis at Five Oaks Club in Durham.
Clinics will be held on Thursdays at 5109 Pine Cone Drive, Durham.
Sessions: 8 Thursdays
Begins: March 7th (No Class on 4/4 Spring Break)
Time Frame 4:00-6:00pm
Price Point: $150 per child for the 8-week Session
Grades 6-12 welcome. Beginner to Intermediate. There will be multiple coaches if needed. Other children and guests are welcome to ensure we will have enough kids to operate.
Any questions, please contact Brian Rosenthal
(919) 395-7329, or email
brian@rdutennis.net
---

Help Wanted

Morning Coffee Volunteers!
Volunteers needed for Morning Coffee Table. (Only 1 hour per week of your time). All proceeds fund professional development for EWS teachers. Contact Pat McKenzie (4th grade parent) at (919) 316-9567 to sign up.


Volunteer Admissions Assistant Needed.
Seeking a volunteer Admissions Assistant to help with administrative tasks. Gain experience in providing professional support to applying families with follow-up
calls
, thank you notes, event planning, and data entry. Volunteer can assist any time between 8am-4pm in the office. Must have computer experience and a professional manner. (4 hours weekly)
Contact
admissions@emersonwaldorf.org
if interested.
Events & Classes

HORSES, HORSES, and more HORSES. Late February afterschool horsemanship lessons and Women's Intuitive Riding groups for moms are now forming for daytimes and Saturdays. Renew your love for these "Dolphins of the Land" or begin a new relationship formed on partnership and trust. Blue Skies of Mapleview LLC is "Where horse sense is stable thinking" since 1996. Also currently accepting applications for summer 2013 Horse Camp. Please go to www.blueskiesmapleview.us or call Deborah Pearson-Moyers 919-933-1444 for more information


Services
Maple Spring Gardens is accepting CSA registrations
for our 2013 season. Members will receive weekly boxes of fresh produce delivered to convenient locations in Durham, Hillsborough, Chapel Hill and Carrboro. Boxes contain a wide variety of seasonal fruits and vegetables ranging from Arugula to Zucchini, with strawberries, blueberries and lots of tomatoes. We have been providing fresh produce to the local community for over 30 years. As EWS grandparents, we are committed to growing food that is delicious, nutritious and safe for kids. Info at www.maplespringgardens.com On Facebook at http://www.facebook.com/pages/Maple-Spring-Gardens-LLC/512258068819416
Nick's Plumbing and More:
Nick Schneider continues to solve problems with plumbing, water filtration, heating, general maintenance, carpentry, winterizing equipment, pools, and general mechanical issues. Nick has been a Waldorf dad of two for 14 years and a plumber for twice that. He is the favorite "go-to problem solver" for the Pearson-Moyers family. Call Nick's Plumbing and More at 336-684-7407. Reasonable rates.

Looking for a new or used Waldorf related item
... toy, musical instrument, book? Visit The Waldorf Exchange at www.thewaldorfexchange.com.
Are you living with questions about your life, your relationships, your parenting, your future?
Lynn Jericho offers compassionate listening and creative guidance – Waldorf wisdom for adult needs and challenges. Call Lynn (919-240-4094) or learn more www.imagineself.com/about-Lynn/
Introducing Shaklee 180 ~
a complete program with clinically tested weight loss products, designed to help you lose the right kind of weight ~ fat, not muscle. I have been on this program and have now reached a weight I have not been at for the last 20 years! With these great results I am sharing with others at my Shaklee "Turnaround" Parties - check out the next date (or call me (919) 929-4534) at this website
http://joanne-estes.myshaklee.com/us/en/shaklee180.s.html
.Drop by for some free samples. Joanne has just turned 70, feeling more energy than she did at 50, and is the proud grandmother to 4 EWS children.

Are you looking for a New or Slightly Used Car?
Great Deals for EWS Parents, Friends & Faculty. Call David Rabius, Proud EWS Parent at 919-408-9633 Johnson Lexus @ SouthPoint- 2013 New Lexus Line Up..Certified Pre-Owned Lexus and a wide range of slightly used cars to meet your budget.
(David Rabius)

Create a space that aligns with your dreams!
EWS First Grade teacher, Shannon Dawn O'Connor happily uses her "super-power" to organize, lazure, simplify or re-create your home or office so that your environment supports what really matters to you. Shannon received a BFA from Parsons School of Design and studied the Environment and Its Effects on Psychology through Lesley College and has been happily beautifying the world ever since. For free estimates, work samples, or references contact Shannon Dawn @ 919.259.5252 and watch your world transform as it grows brighter and clearer around you!
"She's got the Midas touch" - Tyler G.
"Everything she lays her hands on turns golden"- Charlotte S.
"Shannon purely sparkles, and your home will too" - Megan W.

DIVINEROSE FACIALS
Offering illuminating and renewing Dr. Hauschka facial treatments. Cori Roth, NC Licensed/Holistic Esthetician and Dr. Hauschka retailer. Please visit Divinerose.com for more info.

New Medical Practice
We are pleased to announce our practice "Integrative Medical" at Haven Medical Clinic on 121 S Estes Dr, Suite 205 D, Chapel Hill 27514. For appointments, you may contact us directly:
Rula Freiji 919-525-5626 General Pediatrics & Pediatric Infectious Disease Consults
Dani Mouawad 919-525-5625 General Pediatrics & Integrative Medicine.
– Rula and Dani Freiji-Mouawad
Realtors/Housing

Unique Log Home on Dairyland Road – This one-of-a-kind well-appointed home only ½ mile from Maple View Ice Cream store and 10 minutes from EWS features 7.5 acres of beautiful woods and overlooks a private pond. The house is updated and efficient, has dual wood/electric heat, 2,450 sq. ft., 3 / 4 Bedrooms 3 bath, 390 sq. ft. finished room over 2-car garage, out buildings, privacy, convenience, and loads of character. $590,000. Adjoining 5.75 acre land with home site also available. Call Brad at 260-6647 or email blessler@bellsouth.net.

DAIRYLAND ROAD LAND – Build your dream home on 5.75 acres of beautiful woods within walking distance of the Maple View Ice Cream store. Neighbors are friendly and the mature hardwoods are majestic. There is an approved four-bedroom septic field and a garden area ready to clear. Seller will build your energy efficient home or consult on doing it yourself. Travel to EWS in 10 minutes, Carrboro in 5, UNC in 12. Address and school system is Chapel Hill. For more information email blessler@bellsouth.net or phone 919-260-6647.

Former Waldorf music teacher looking for one or two good people to share my lovely house with. Centrally located in Chapel Hill. Walking and biking trails, quiet friendly family neighborhood. 2 rooms available with a bathroom for both. $450 per room. Deposit and background check required. For information please contact: joannapcarey@gmail.com

Let The Home Team help you "Find Home" Now conveniently located in Timberlyne Shopping Center, our locally-owned real estate company has been helping clients, including several EWS families, "find home" since 1990. For more information or to speak to one of our experienced agents call 919.967.6363 or visit www.Home-Team.com. Also, please stop by to check out our exclusive, interactive window display!

Buying a home? Selling a home? Investing in real estate?
HEAD, HEART and 20+ years of HANDS-ON EXPERIENCE giving caring advice and guidance to hundreds of happy home buyers and sellers – let me help you with all of your Real Estate needs!
Judy Weinstock, REALTOR, EWS Alumni parent. Joyfully donating to EWS with every sale. Phone 919-951-1800. www.seejudy.com.

Waldorf families are unique and special.
You need a realtor who is unique and special too. Lynn Hayes has been helping Waldorf families for over 25 years, offering caring and sensitive service while supporting Waldorf education in our community. For MLS searches, community information and lots more visit www.lynnhayes.com or call Lynn at 919-968-9989.


---
Advertising in the Emersonian

We accept small classified-type advertisements. Each submission to the Classifieds should be no more than 6 lines of text, which is approximately 60 words. Each submission costs $5.00. Payment for Community Bulletin Board Submissions should be made by Friday of the publication week. No charge for advertisements of free events or non-profit organizations. Submit ads to: emersonian@emersonwaldorf.org.

General Policy for the Bulletin
No political or religious advertisements. No competitive program advertisements. No outside fundraisers. The editors will decide the placement of advertisements. Submissions may be edited for content and length. The Emerson Waldorf School retains the right to choose not to print an advertisement.

Public announcements and services offered in the Emersonian or other circulars produced by Emerson Waldorf School are paid advertisements and do not necessarily reflect the views and opinions of Emerson Waldorf School or its employees.


---
E-Newsletter Design and Graphics

Emersonian Publishing Team:
Barbara Holloway - Editing
Kathleen and Forrest Jackson - Editing
Jamie Lamkin - Design and Lay-out
Raelee Peirce - Coordinator
Claire Viadro - Creative Content
Kelley Wiley - Correspondence and Advertising