---
Our "Cave Cow"
---
Lascaux/Las-cow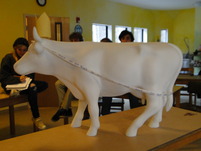 Holy Cow! Or at least sacred cow... and bull, and horse and stag...
When given an opportunity to paint a fiberglass "mini moo" as a fundraiser for the NC Children's Hospital, EWS High School students Shay Stifelman, Cerri O'Connor, Tudor Comaniciu, Shanti Rogers, David D'Angelo, Jonah Davidson and Jon Deutsch looked to images of the first bovines in art for inspiration. The animal forms left on the rock walls in the depths of Lascaux Cave in France 17,000 years ago are some of the best known early artistic works.
Students studied images from the cave and carefully worked to reproduce not only the images themselves but the cave's limestone wall on the surface of their "mini moo." The "Cave Cow" is currently a part of the NC Children's Hospital "Cow Parade" fundraiser and Facebook competition. Winners of this contest for best cow will be part of a show and auction to benefit the hospital on February 2nd at Memorial Auditorium in Raleigh.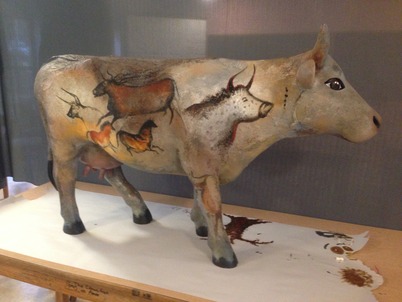 ---
8th Grade Projects

---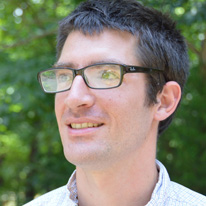 For many years, the 8th graders at EWS have challenged themselves to complete an independent project for their final year in the grades school.
This project is meant to be an opportunity for the students to explore new interests, hone nascent skills and share their gifts with the community. Mr. Trueblood, 8th Grade Teacher
The class of 2017 would like to offer a glimpse into their work on Tuesday, February 5th, from 7-9pm.
Presentations will begin promptly at 7pm and live performances will begin at 8pm. Refreshments will be provided.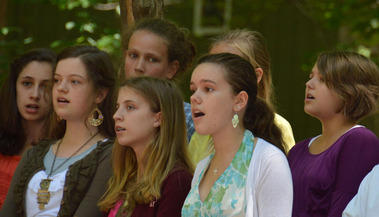 Current EWS 8th Grade Students
8th Grade Project Evening Program...

7:00 pm Individual presentations
(2-3 minutes each in Eighth Grade room)

7:40 pm Performances by Stelle Mandeville, Gabriella LaLumia and Eden Hopkin

8:00 pm Demonstration by Soren Emerson in Brown Wing

8:15-9:30pm Browsing project booths in grades 7 and 8

Soren Emerson-Building a Tesla Coil

Lizzie Holloway-Animal Communication

Eli Pfister-Metalworking with Gary Caldwell

Stelle Mandeville-Dance from Ballet to Hip Hop

Mlana Lore-Agility Training for Dogs

Clare West-Travel and Service in Ecuador

Rowan Bedick-Oil Painting

Chloe Nash-Fundraising for Charity: Water

Emma Hulbert- Farm to Fork Cuisine

Dorian Alexis-Handmade Jewelry

Zak LaPrade-Anatomy Drawing and Athletic Injuries

Zachary Gunn-Creating a Universe for Text-Based Game Design

Gabriella LaLumia-Learning Acoustic Guitar

Eden Hopkin-Writing a Novella

Cate Matthews-Creating a School Yearbook



---
Donations for Syria

---
6th Grader's Service Project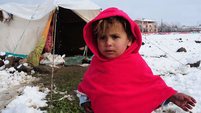 As you might know, people in Syria have been suffering of displacement due to war. Many do not have enough clothing or shelter items. There are 100
families in camps near my grandmother's home town Zahle, Bekaa Valley, Lebanon. We decided that if some of you have warm clothes no longer needed,
(especially for kids), and the items in lost & found boxes on campus stay
unclaimed by the last day of each month, we can send the donated items to the Red Cross office in Zahle which will deliver them to the refugees.
If you would like to directly donate warm clothing items please bring them
to the lower school office. First deadline date is January 31st. Please
make sure you put your name on the bag and an estimation of number of
items and dollar value if you would like to use the donation for tax
purposes.
Dalia Mouawad
6th Grade Student
---
Lecture

---
Nurturing a Sense of Wonder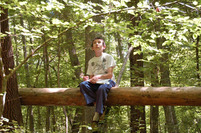 The Center for Education, is offering
Nurturing a Sense of Wonder
, a program about the imagination and the Natural World for early childhood educators and parents.
The program will be Saturday, February 23, 2013,10am-4pm.
The program will be held at the Timberlake Earth Sanctuary, about 40 minutes from Chapel Hill. The mossy trails, lovely lakes, babbling brooks, magical garden, orchard and meadows are worth the drive. Silence is also a gift that the land offers. Our dear friend Sandy Bisdee will be guiding the program.
Carpooling possible. Contact amnordgren.childrensgarden@gmail.com for more information about this option.
Click Here
to register and learn more
---
Family Literacy Day 15% Off Sale!

---
Children's Books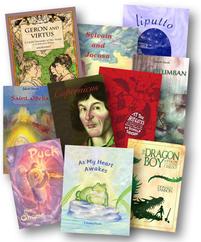 In honor of Canada's Family Literacy Day AWSNA is offering 15% off selected children's books!
We all know that the benefits of reading to children are endless, so to celebrate Family Literacy Day, AWSNA Publications is offering 15% off selected children's books that are perfect for reading aloud or alone! Capture a child's imagination and inspire a love of books, reading, and learning.
Find best-selling titles by Donald Samson, Jakob Streit, Arther Pittis, and many more of your favorite authors!
Sale ends February 15, 2013.
Click Here
for more information.
---

---
Events & Classes

---
HORSES, HORSES, and more HORSES. Late February afterschool horsemanship lessons and Women's Intuitive Riding groups for moms are now forming for weekdays and Saturdays. Renew your love for these "Dolphins of the Land" or begin a new relationship formed on partnership and trust. Blue Skies of Mapleview LLC is "Where horse sense is stable thinking" since 1996. Also currently accepting applications for summer 2013 Horse Camp. Please go to www.blueskiesmapleview.us or call Deborah Pearson-Moyers 919-933-1444 for more information


---
Services
---
Looking for a new or used Waldorf related item
... toy, musical instrument, book? Visit The Waldorf Exchange at
www.thewaldorfexchange.com
.
Nick's Plumbing and More: Nick Schneider continues to solve problems with plumbing, machines, water filtration, heating, general maintenance, carpentry, winterizing equipment and pools. Nick has been a Waldorf dad of two for fourteen years and a plumber for twice that. He is the favorite "go-to problem solver" for the Pearson-Moyers family. Call Nick's Plumbing and More at 336-684-7407. Reasonable rates.


Weightloss Turnaround Party Whether you are looking to lose 5# or 50, having buddies on your weight-loss journey keeps you motivated to succeed. Consider the Shaklee 180 community your personal cheerleaders and your fast track to wellness. The first step? Attend a Turnaround Party Thursday evenings 7:30 to 8:30 pm. It's not just a social event, it's an invitation to change your life for the better. Go to http://www.joanneestes.myshaklee180 for RSVP and location. Joanne Estes is on her own Turnaround and is the proud grandmother of 4 EWS students.

Are you looking for a New or Slightly Used Car?
Great Deals for EWS Parents, Friends & Faculty. Call David Rabius, Proud EWS Parent at 919-408-9633 Johnson Lexus @ SouthPoint- 2013 New Lexus Line Up..Certified Pre-Owned Lexus and a wide range of slightly used cars to meet your budget.
(David Rabius)


Create a space that aligns with your dreams!
EWS First Grade teacher, Shannon Dawn O'Connor happily uses her "super-power" to organize, lazure, simplify or re-create your home or office so that your environment supports what really matters to you. Shannon received a BFA from Parsons School of Design and studied the Environment and Its Effects on Psychology through Lesley College and has been happily beautifying the world ever since. For free estimates, work samples, or references contact Shannon Dawn @ 919.259.5252 and watch your world transform as it grows brighter and clearer around you!
"She's got the midas-touch" - Tyler G.
"Everything she lays her hands on turns golden"- Charlotte S.
"Shannon purely sparkles, and your home will too" - Megan W.


DIVINEROSE FACIALS

Offering illuminating and renewing Dr. Hauschka facial treatments. Cori Roth, NC Licensed/Holistic Esthetician and Dr. Hauschka retailer. Please visit
Divinerose.com
for more info.
New Medical Practice
We are pleased to announce our practice "Integrative Medical" at Haven Medical Clinic on 121 S Estes Dr, Suite 205 D, Chapel Hill 27514. For appointments, you may contact us directly:
Rula Freiji 919-525-5626 General Pediatrics & Pediatric Infectious Disease Consults
Dani Mouawad 919-525-5625 General Pediatrics & Integrative Medicine.
– Rula and Dani Freiji-Mouawad


---
Realtors/Housing

---
Let The Home Team help you "Find Home"
Now conveniently located in Timberlyne Shopping Center, our locally-owned real estate company has been helping clients, including several EWS families, "find home" since 1990. For more information or to speak to one of our experienced agents call 919.967.6363 or visit
www.Home-Team.com
. Also, please stop by to check out our exclusive, interactive window display!
Buying a home? Selling a home? Investing in real estate?
HEAD, HEART and 20+ years of HANDS-ON EXPERIENCE giving caring advice and guidance to hundreds of happy home buyers and sellers – let me help you with all of your Real Estate needs!
Judy Weinstock, REALTOR, EWS Alumni parent. Joyfully donating to EWS with every sale. Phone 919-951-1800.
www.seejudy.com
.
Waldorf families are unique and special.
You need a realtor who is unique and special too. Lynn Hayes has been helping Waldorf families for over 25 years, offering caring and sensitive service while supporting Waldorf education in our community. For MLS searches, community information and lots more visit
www.lynnhayes.com
or call Lynn at 919-968-9989.
---
Advertising Changes for the Emersonian
We accept small classified-type advertisements. Each submission to the Classifieds should be no more than 6 lines of text, which is approximately 60 words. Each submission costs $5.00. Payment for Community Bulletin Board Submissions should be made by Friday of the publication week. No charge for advertisements of free events or non-profit organizations. Submit ads to: emersonian@emersonwaldorf.org.

General Policy for the Bulletin
No political or religious advertisements. No competitive program advertisements. No fundraisers. The editors will decide the placement of advertisements. Submissions may be edited for content and length. The Emerson Waldorf School retains the right to choose not to print an advertisement.

Public announcements and services offered in the Emersonian or other circulars produced by Emerson Waldorf School are paid advertisements and do not necessarily reflect the views and opinions of Emerson Waldorf School or its employees.


---