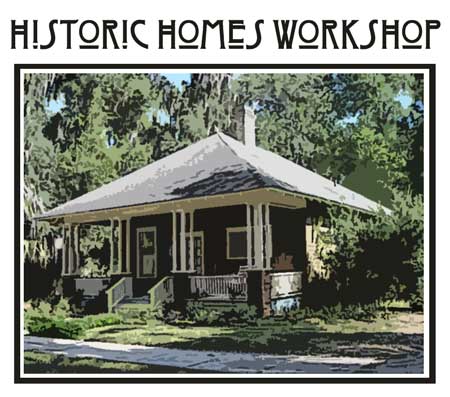 10:00-10:50 am (3 sessions)
Deferred Maintenance Nightmares
We've all seen old homes that need serious work. Crooked foundations, leaking roofs, rotting wood and broken glass are just a few of the things we'd recognize. Presenter Scott Sidler of Austin Home Restorations will argue that dealing with deferred maintenance doesn't have to be a nightmare. Having a long term plan will enable just about anybody with any budget to bring a classic historic home back to life.
The Beginning and the End - Foundations and Roofs
Any maintenance you do to your home may be futile if your roof has been compromised. Starting with the roof gives you the time to work on your home's other elements. Robert Holsopple, a local building contractor specializing in historic buildings points out typical problems, consequences and offers some solutions that could save you lots of headaches down the road.
Around the Old House - The Details
Your house may be your private sanctuary, but it has an outside presence as well. Presenter Jo-Anne Peck of Historic Shed will talk about getting the exterior details right from the fence to the pavers, the shed to the flowers, and even the screen door to improve curb appeal and livability.
11:00-11:50 am (3 sessions)
Beautiful Bathrooms
Where do you start when your bath isn't up to snuff? Leaky faucets, rust stains and tile that reminds you of an Easter egg can be tolerated for so long before it's time to consider a bathroom remodel. Architect Leigh Wilson Versaggi will give you tips on how to remodel a period bath so it is in keeping with the rest of your lovely home.
Outside the Old House - Rafters, Eaves, Soffits & Siding
Your roof is good, but your siding lets lizards in through the gaps and your rafter tails are rotting. Peter Carlin from Carlin Construction explains the whys, what fors, and what to do with exterior details that are coming unwound.
Wood Floor Restoration
Wood floors, while they can be one of the most attractive and usefull elements in an historic home, are often the most overlooked. Dennis Prieur of Through the Woods Fine Wood Floors explains the proper ways to pay attention to and care for your wood floors.
1:00-1:50 am (3 sessions)
Managing Preservation/ Planning Your Project
You've deferred your maintenance long enough. The paint is starting to peel, the roof is looking rough and your screen door has fallen off the hinge. Building contractor, former City of Tampa building inspector and current home inspector Benjamin Buckley has seen it all and knows where to start, and how to plan. Take notes as he shares with you the logic and beauty of creating a long term plan, as well as how it will save you thousands.
Purposeful Painting
Why paint your home? Is it only for cosmetic reasons? Join Jett Tanner of Tanner Paint as she explains that while picking correct colors is important, what you do with those colors and how you apply them can be even more important.
Windows and Doors
Historic windows and doors add so much character to an old home. You want to save them but don't know where to start. Seems like everyone thinks you should replace them, but something inside you won't let you do it. What are my options? Can I do it myself? Should I hire someone? Join master window builder and restorer, Steve Quillian from Wood Window Makeover as he lays out his long term vision for protecting your windows and doors and learn how to plan for success and a hundred more years of preserving history.
2:00-2:50 am (3 sessions)
Choosing the Right Contractor
If you haven't hired the wrong person for the job, you probably know someone who has. While most contractors might take on the project you have in mind, many aren't qualified. What can you do to weed out the riff raff from the very beginning? Join Jeffrey Danner as he explains what to look for and what to avoid to find the right contractor for your home and you.
Why Do We Persevere (strike that) Preserve
Even for people who love old houses, preservation can be a long and challenging adventure. Why do we preserve buildings when we could just knock them down and start over? Historic preservation consultant Lucy Jones examines the legal, economic, and philosophical decisions that form the basis for historic preservation.
Salvage Chic
Admit it. You love architectural salvage. You love the cool stuff you see people make from old house parts and post in Pinterest. Join designer and owner of Schiller's Architectural Salvage, Charlie Schiller as she shows you some simple techniques to save and show off the wonderful things that have been saved from the wrecking ball. Pretty soon you'll be posting some of your own stuff on Pinterest.