Letter from the Director

I smile and sigh with joy! It has taken very little time for the students at GCCS to feel at home in their new building and fall right into a wonderful routine of learning. From summer renovations and wondering how it was going to come together, I now walk from classroom to classroom watching the students involved in exciting lessons from their inspiring teachers. The children are working hard and being challenged with tough academics, knowing their teachers believe in them. The students get to play on a playground put in just for them; we have Latin classes, art classes, chapel every morning, special guest presentations, workshops, a garden, dance and music workshops, and much more.

I am extremely grateful to God and praise Him. His provision for Gardere Community Christian School through all of you - our generous supporters, dedicated volunteers, determined parents and hardworking students - keeps me tremendously thankful. I am indebted to all of you as you have given each step of the way and lived out the verse "Therefore encourage one another and build each other up, just as in fact you are doing." 1 Thessalonians 5:11.

Thank you,
Nancy Zito

BUILDING BLESSING AND RIBBON CUTTING:
Getting to celebrate a new school year in our new building was a truly blessed event for us. Our Building Blessing and Ribbon Cutting was just the occasion to show how grateful we are to God and our supporters for meeting the need of a school building to call our own.

We are especially appreciative to the following for their part in helping us fund and accomplish all the necessary renovations: New Life Church, First Presbyterian Church, The Boo Grigsby Foundation, Baton Rouge Chapter of EWI, Mr. and Mrs. Mike Wampold, Lowe's, Sherwin Williams Paint Store, Ed B. Jones/Bell Fence Supply Co., Rob Treppendahl/Treppendahl Tree & Landscape, Randy Whittington and the employees at GCAL, Contractor Randy Thibodeaux, Jon Oldenwald and his landscaping crew, Dykes Electronics, The Dunham School, Rebel Stamp & Sign Co., Inc
………And All Our Hard Working Volunteers

---
WHY THESE STONES?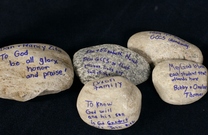 Pastor Gerrit Dawson spoke on Joshua chapter 4 at the Building Blessing. The passage tells of when Joshua had twelve men, one from each tribe of Israel, go before the ark of the Lord in the middle of the Jordan River and take a stone from the dry ground. God provided a way for the Israelites to cross over this dry ground into the Promised Land. From the stones in the river bed they were to build a memorial for the people to remember what God had done. In the same way, we have chosen stones to celebrate and remind us of what God has done and is continuing to do in His provision for our school. It has been God's unfailing love and provision that has carried us through the changes we have experienced over the last few years. Amid the growth and moving, God's heart and calling for the children and families of Gardere have been a constant.
We welcome everyone to stop by and visit the school. While you are here, please feel free to add your name and blessing on a stone in our chapel area acknowledging your support and thankfulness.
---
CONGRATULATIONS TO OUR FIFTH GRADE GIRLS: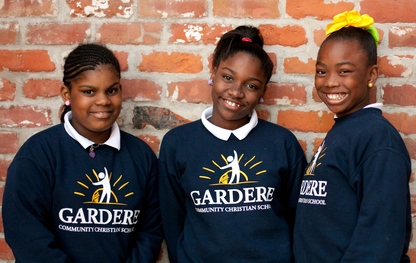 After submitting their applications, Vanicsa Dixon, Fredricka Anderson, and Gakevianna Seaberry were all asked to be a part of LASM's "Youth Alive!" program. Youth Alive offers girls educational enrichment through hands-on science and art opportunities outside of school time. Besides great activities at LASM, the girls will get to attend special cultural events, participate in community service projects, attend a one-week summer camp and more. We are very proud of our three girls who took their applications seriously and are rising to the challenge of such a great program!
Be a One to One Mentor:
Are you available to commit an hour a week? We would like to have a mentor for each of our fourth and fifth grade students.
Teacher Wish List: Many items go beyond the must have needs of curriculum and classroom furniture.

Mailing Address:
5261 Highland Road #327
Baton Rouge, LA 70808
Physical Address:
8538 GSRI Avenue
Baton Rouge, LA 70810
P: 225-387-5082
F: 225-387-5083