School Is in Session for New Legislators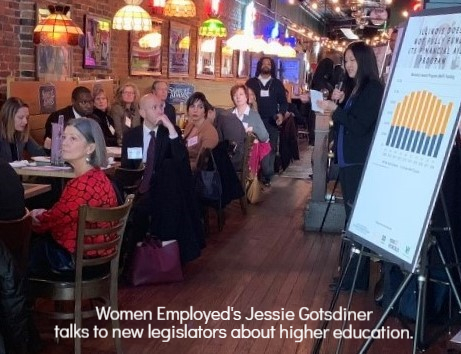 Women Employed is equipping Illinois leaders with the information they need to make education a priority. Late last month, WE co-hosted a lunch-time gathering in Springfield of newly-elected Illinois legislators with our partners from Advance Illinois, the Partnership for College Completion, and Young Invincibles, as well as seven incumbent legislators. More than a dozen new lawmakers attended the event.

What was on the agenda? The racial gap in higher education in Illinois, the rising cost of tuition, the importance of financial aid to lower-income and non-traditional students, how investing in higher education creates a healthy economy, how career pathways set students up for success, and more!

Now that we've opened a dialogue with these lawmakers, we plan to continue collaborating with them to ensure students can access the education and training they need to get the family-sustaining jobs they want. Read our full legislative agenda for 2019 »

P.S. The Illinois Student Loan Bill of Rights, a bill that Women Employed advocated for and helped to pass, will become law on December 31! The law sets basic protections for borrowers in Illinois, like requiring loan servicers to be licensed and to inform students of all their repayment options. Learn more about the law »
The Gift That Gives Back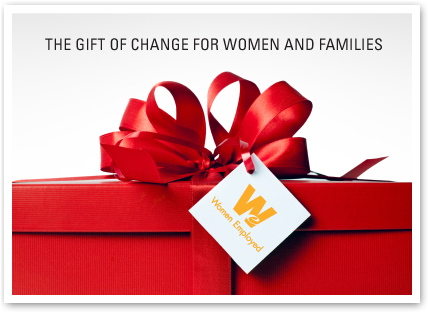 For many, December is a season of giving. As you make your lists and check them twice, consider making a gift with impact for women and families. Your donation to Women Employed allows us to advocate for change in the workplace that will elevate us all. From paid sick time and paid leave, to fair scheduling, equal pay, and access to and success in education—we are addressing the challenges that real working women face every single day.
We can't do it without YOU. Your support will get us to the finish line.
Make your year-end gift today.

Reworking the Workplace
"We shouldn't be basing salaries on past wages. Your salary should be based on your skills, your experience, and the requirements of the job. Period."

-Melissa Josephs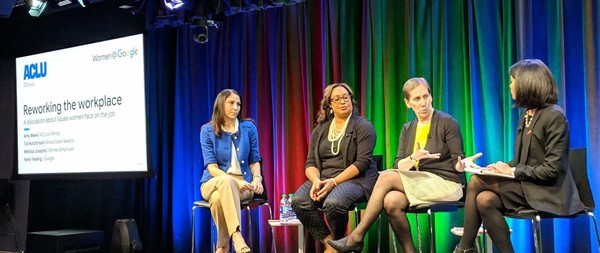 On December 17th, Women Employed's Melissa Josephs joined an ACLU panel of powerhouse women, including ACLU's Amy Meek and Illinois State Senator Toi Hutchinson. The "Reworking the Workplace" event, hosted by Women@ Google and moderated by Google's Kelly Twohig, focused on a range of issues impacting women in the workplace, including the wage gap, pregnancy discrimination, sexual harassment, paid leave, equity and inclusion, and so much more.
Do YOU want to make an impact on these and other important issues? Find out how »
She Says: This Internship Changed My Life
Throughout our 45th anniversary year, WE are highlighting the generations of women who've been impacted by our advocacy for gender equity.
Every summer, students like Valencia, Elizabeth, Beckett, and Katherine are given the opportunity to explore the ins and outs of nonprofit work through The Pattis Family Foundation Summer Leadership Program, a paid internship at Women Employed. Between partner site visits, skill building, and project work, these young leaders learn what it means to be an advocate for themselves and others.
Watch how this internship has equipped them to be future leaders »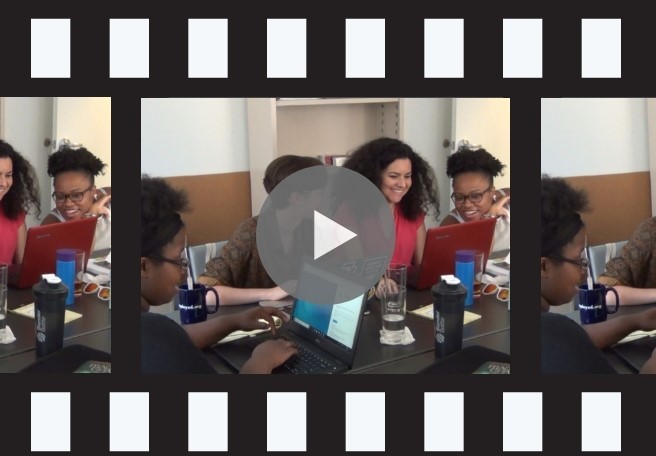 Help Women Employed create more opportunities for young advocates like these.
Make a gift today!
Interested in applying to become a Summer Leader or know someone else who might be? Applications are now open!
Learn more »



Policy Watch

Advocates and workers in Philadelphia won a major victory earlier this month when their city council passed a "Fair Workweek" ordinance. The law, which the mayor is expected to sign, will go into effect in January, and will apply to chain restaurants, hotels, and retailers with at least 250 employees. It requires employers to post schedules 14 days in advance, pay workers for shifts that are canceled or changed with little notice, and offer more hours to current part-time employees before hiring new employees.

Women Employed is advocating for a similar ordinance in Chicago. The measure we've proposed has broader coverage than Philadelphia's—it would apply to employers with 50 or more employees in all industries.

Without stable and predictable work schedules, it is hard to budget, plan child care, take a second job, and make ends meet. But fair scheduling can be a win-win for both workers and their employers. Watch the recent webinar we co-hosted with Reimagine Retail Chicagoland to see how!

Share This

Ch-check it out: WE's Advocacy Council invites you to SAVE THE DATE for a night of Lagunitas and live music on February 4 featuring Chicago's all-female Beastie Boys tribute band: She's Crafty. Ticket sales start in January, so STAY TUNED. Learn about this and other upcoming events, and share to spread the word!
What We're Reading
Next City


Governing

Slate Magazine


Huffington Post

Huffington Post