Thanks for Doubling Down with Us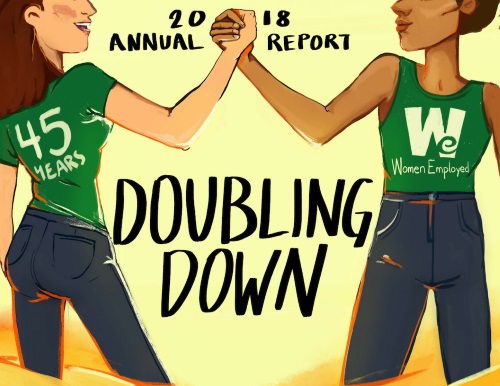 Our work is not easy. And we can't do it alone. By forging relationships with community and business leaders, policymakers, organizations, working people, unions, advocates, donors, and funders, we are bringing people to the table to build a movement that—even in these tumultuous times—is improving the lives of working women and their families every single day.
Ratification of the Equal Rights Amendment (ERA) in Illinois. The Student Loan Bill of Rights becoming Illinois law. Creation of the Illinois Council on Women and Girls. Building career pathways for students in Illinois. Training future social justice leaders. Those are just a few of the victories we've won in the last year, standing side-by-side with our partners, our donors, and our supporters—
with YOU
.
Check out our 2018 Annual Report
to learn more about these and other victories, and to hear from the people uniting around our cause.
Then make a gift to help us win more victories.
Rise Up With Us on #GivingTuesday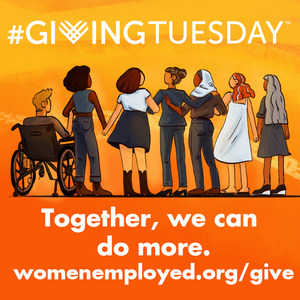 It's the time of year where we give thanks. And we want to thank our most committed supporters—you! We could not have achieved everything listed in our
2018 Annual Report
without your voice, time, and financial contribution. As a Women Employed supporter, you know better than anyone that the time is always right to rise up and support equity for all working women, so thank you!
Next
Tuesday, November 27th
we're asking you to double down on your support by joining us for
#GivingTuesday
—a global day of personal philanthropy—by making a charitable gift to WE.
If you make a new or increased gift
by the end of the year, an anonymous donor will match it!

WE works tenaciously to change systems and build pathways to women's equity, and that work takes time—sometimes years of work on an issue before a big win. For this reason, we're asking you to help sustain WE throughout the year by becoming a monthly donor. Choose any amount that is meaningful to you!
Learn more about monthly giving and make your donation today
. Thank you!
Seeking a Better World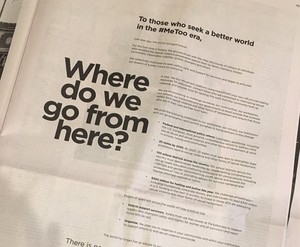 Just over one year ago, the #MeToo hashtag went viral, giving survivors a platform to speak and be heard. To mark the anniversary, we joined our partners to co-write a letter in the New York Times calling for a renewed commitment to ending sexual violence and harassment.
The 'me too' Movement, begun over a decade ago by visionary leader Tarana Burke, has given millions of survivors around the globe the space and the support to share their truths. And in the last year, with the conversation going viral, we have seen greater accountability for perpetrators and enablers.
Yet even so, there is still much to be done to create the lasting change we all need. So with our partners, we are calling on institutions both large and small to commit to concrete steps that will move us all forward. And there are actions individuals can take as well.
Read the full letter to learn more »
She Says: Kelly Fair
Throughout our 45th anniversary year, WE are highlighting the generations of women who've been impacted by our advocacy for gender equity.
Kelly Fair, the founder of
Polished Pebbles Girls Mentoring Program
, talks about how her involvement with Women Employed showed her the power of advocacy, and how those experiences inspired her to invest in and empower the next generation of girls.
Watch now »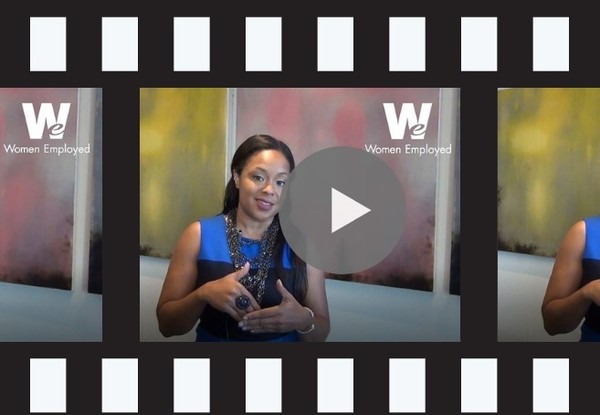 Policy Watch

Working people in Chicago now have more advocates in their corner. The City Council recently unanimously passed a measure to create an Office of Labor Standards—a group of people dedicated to enforcing the laws that protect low-paid working people, including the city's minimum wage, paid sick time, and anti-wage theft laws.

Women Employed joined our partners to advocate for the creation of the office, which will respond to complaints from working people, investigate employers that may be violating the city's labor laws, and collect and distribute pay owed to workers.

Read more about it in this recent Chicago Tribune article »

Share This

November 1st marked Latina Equal Pay Day—the day when the wages of the average Latina caught up to what the average white man earned in 2017. Share this graphic to let your networks know that 53 cents on the dollar is not enough!
What We're Reading
WSIU Public Broadcasting

Crain's Chicago Business

Luz Collective


Women Employed on Medium

Wall Street Journal