---
Next Complimentary Webinar
Supply Chain Talent: The Missing Link

Wednesday December 5, 2012
In this upcoming webinar, we will share insights from a recent online quantitative research study conducted by Supply Chain Insights in conjunction with Supply Chain Brain.
Moderator: Robert Bowman, Editor Supply Chain Brain

Presenter: Lora Cecere, founder of Supply Chain Ins

ights

Guest Panelist: Jake Barr, Global Director - Supply Network Operations Procter & Gamble

Guest Panelist: Joe Krkoska, Supply Chain Director and Business Manufacturing Leader for External Mfg Dow AgroSciences

Guest Panelist: Marcia Connor, Principal at Sens

ify
Sign up for all of our upcoming webinars including:
---
New! SCI's Exclusive Supply Chain Research Reports
We are proud to announce we have completed near 20
research reports
so far for 2012 based on our independent research and analysis. Here are our latest two:
---
Surveys Turn Into Actionable Reports
How are trade promotions planned, budgeted and measured?
What are the top barriers to excellence in trade promotion management?
Do companies have Digital Path to Purchase initiatives?
How are retailers redefining the "role of the store" in a world of increasing channel convergence?
What is the relative importance and performance of retailers' different channels?
What are the top challenges in the performance of the physical store?

---
Due Out Late December 2012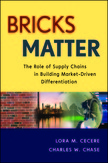 The new book by co-authors Lora Cecere
and Charles Chase, prepares the Supply Chain Executive for evolvement towards the race for Excellence in 2020.
---
Index Girl's Weekly Trivia

"The International Organization for Standardization (ISO) recognize
s 6 different standards for pallets."
Join our Supply Chain Insights Community for your one stop shop of Supply Chain networking, education, events, jobs and more.

---
---
Get the Newsletter
To ensure you do not miss out on our monthly newsletter with our latest research reports and happenings, subscribe here:

If you already receive this newsletter, please feel free to share it with others:
To ensure you get future emails from us, please add either this email's From Address or the domain @mail.vresp.com to your Address Book.
---
Lora Cecere founded
Supply Chain Insights
in February 2012. A company dedicated to research, turn to us when you want the latest insights on supply chain trends, technologies to know and metrics that matter.